Planes of Fame Air Museum
Grand Canyon - Valle Airport, Arizon
August 8, 2008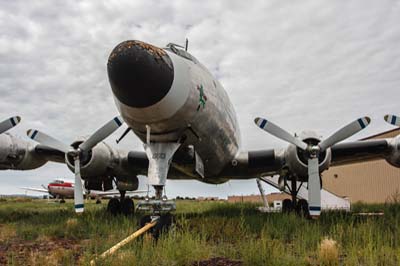 Travelling north from the town of Williams towards the Grand Canyon you can't help but notice the wonderful site of a C-121 Constellation on display by the roadside and outside a very modern hangar. You don't realise that you have found the airfield of Valle. The runway is lost amongst the scrub-land that covers this vast area of wilderness. I knew the famous Planes of Fame Air Museum at Chino dating back to 1957, California had a satellite museum here since 1995, so putting off the family visit to the Grand Canyon by just 30 minutes and under family protest I had a look. It was 09:00 and the charming and very helpful young lady took a few dollars from me and I was the first person to inspect the museum contents for that day.

Many of the exhibits are flyable, but the polished painted grey floor and the clean modern hangar built in 2000 lacks the character of the older more historic museums I love to visit. There was at least one full size replica on display and that's all I will say about them. The rope and post barriers which quite understandably are there to protect the aircraft, do get in the way of the serious photographer, but here they only obstruct some of the exhibits.
Outside there was a nice collection of 'cold war' jets which looked like they were to be restored at some point. These were much easier to photograph.

Top left: Lockheed C-121A Constellation (48-0613 / N422NA). Following operations during the Berlin Airlift it was converted to a high-speed VIP transport, becoming the personal aircraft of General Douglas MacArthur. He named it 'Bataan' after the peninsular in the Philippines which he defended against the Japanese in 1942. '613' was retired by the USAF in 1966 but following storage at Davis-Monthan it was acquired by NASA for the Apollo space program. In 1970 it entered retirement and public display although today it is still flyable. See the Planes of Fame official website for a full history of the aircraft.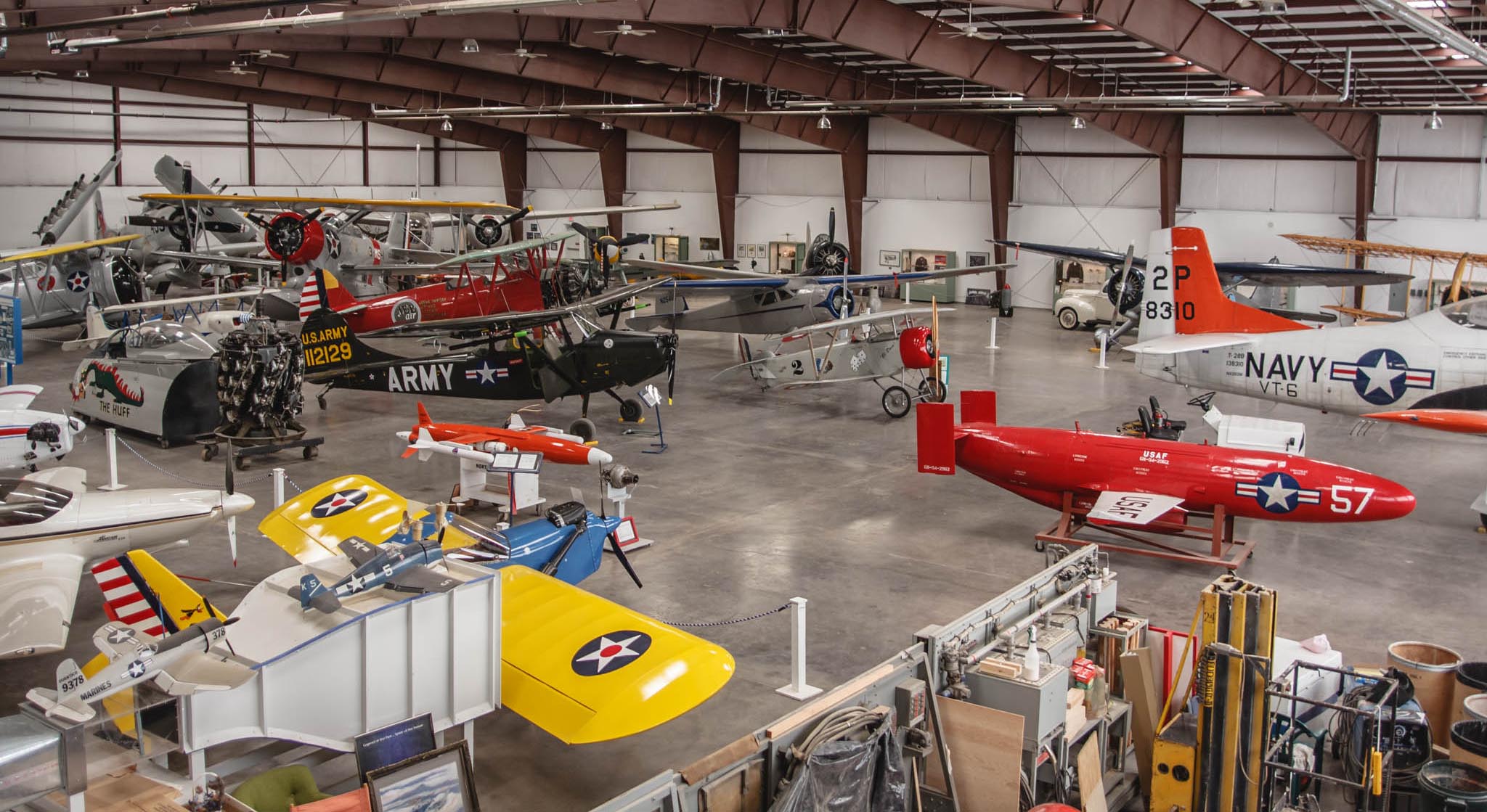 From a workshop and spare parts storage area inside the very modern museum hangar

Left to right:
Bristol F.2 Fighter
Grumman J2F-6 Duck (NL5SF / 33594 '3-MS-1').
Messerschmitt Bf.109G-10/U4 (611943 'Yellow 13'). It is one of three Bf.109s captured at the end of the World War Two and transported to the US for evaluation.
Aichi D3A2 'Val' (Tora BT-15 Conversion) painted in World War Two Japanese Air Force scheme.
Left to right:
Douglas AD-4N Skyraider(NX409Z / 126997 'JC-409').
Cessna L-19 Bird Dog (112129 / N305TA).
North American T-28B Trojan (NX393W / 138310 '651-2P').
Left to right:
Stinson AT-19 Reliant (NC79496) in Eastern Airways colours.
Cessna C-165 Airmaster (N25463) from 1940.
Boeing PT-17 /N2S Kaydet (NX5279X) 'JEB Air'.
Martin 404 (N636X) of Pacific Airways from 1952 and the last flyable example.
Republic P-84B Thunderjet (45-59556 'FS-556')

Left to right:
de Havilland Vampire Mk III (17018) ex RCAF.
Mikoyan-Gurevich MiG-15 'Fagot' (1301) ex Russian Air Force.
Republic P-84B Thunderjet (45-59556 'FS-556')
Left to right:
Aero L-29 Delfin (30 Red) ex Russian Air Force.
Lockheed T-33 Shooting Star (53-5341 but marked as '71-5262') in Japan Air Self-Defence Force colours.