Volandia Parco e Museo del Volo Malpensa
(Volandia Park and Museum of Flight)
Milan-Malpensa Airport, Italy
March 2017
The museum is situated on the original site of the former industrial premises of the Caproni company at Somma Lombardo, now cut off from the now international Milan airport. Volandia museum is located just 10-15 minutes' walk from Milan's Malpensa Airport Terminal 2. As such it feels very authentic with its period buildings. Considerable progress has been made since the museum opened in 2010.



The museum also presents a very modern look with a bright building with aircraft hanging from the roof and polished floors. Moving around the other hangars there are several scenes of aircraft with picture backdrops trying to portray the exhibit in a more realistic way. I am not always in favour of these but in some cases works well. Annoyingly for photographers a few of the exhibits have moving multi-coloured lighting.

On the extensive site there are many derelict buildings, hopefully giving the museum a huge potential for expansion. These unused buildings could be renovated and used for displays, storage or for restoration. Some units are already being used, a very rare Reggiane Re.2002 which was pulled up from the depths Mediterranean after 60 years of salt water corrosion which had taken its toll. It was being restored in an out building. I would like to add that much of this restoration appears to be of new materials, how much of it that is original appears to be very small. Also on display were two very well produced replicas of a Macchi MC-205 Veltro and a Macchi MC-202 Folgore. I have chosen not to present photographs of these as they are not real aircraft.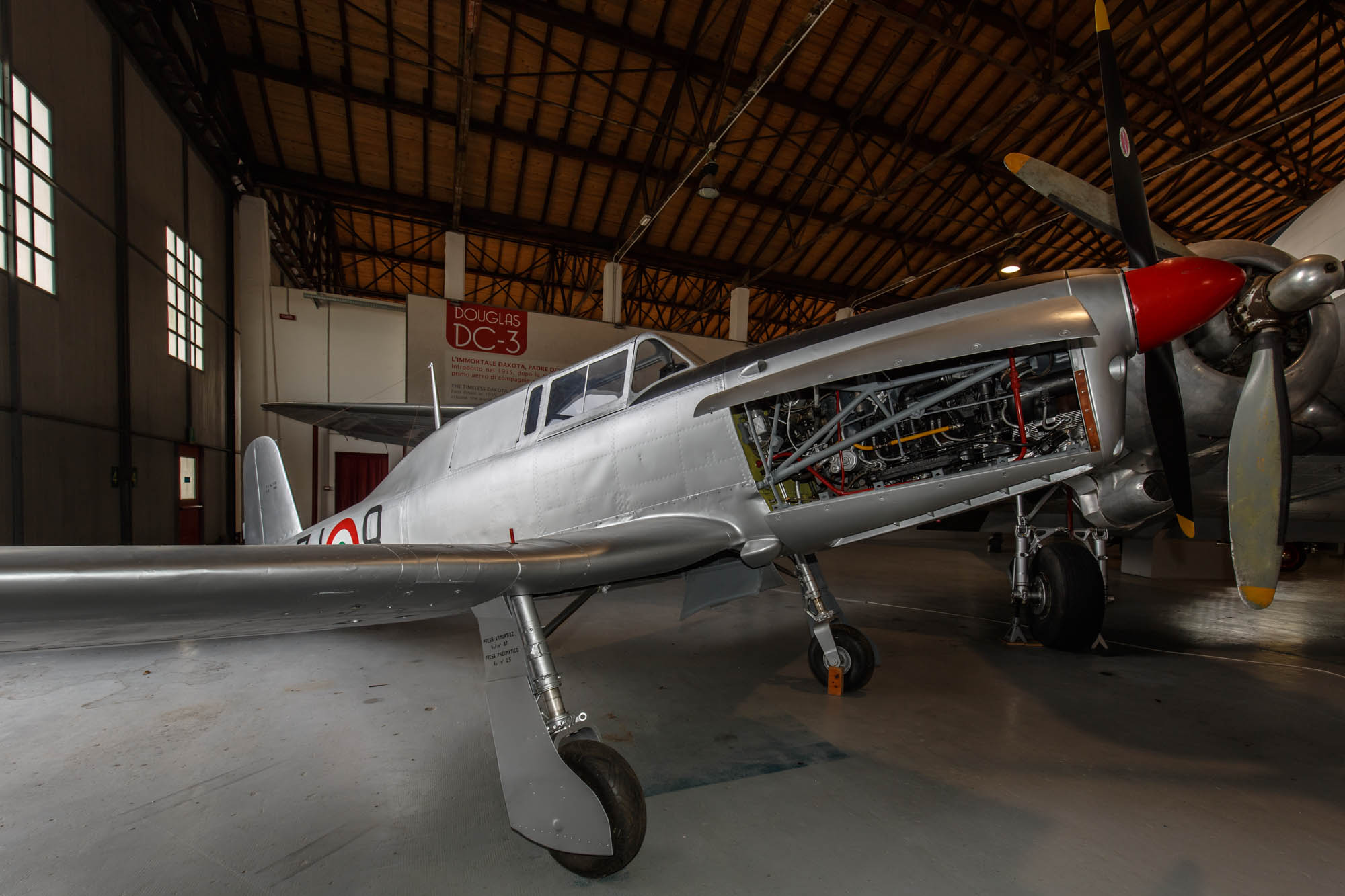 Fiat G.46-4A (MM53284 'Z-18' registered I-AEHQ).

Left to right: North American T-6H-2M Harvard (MM54148 'RM-10').
Stinson L-5 Sentinel (42-99119 registered I-AEEL).
Douglas C-47B Dakota IV (KJ952 registered I-RAGF).
Left to right: Caproni Ca.113 (I-MARY) from 1931.
Caproni Ca.1 dating back to 1910.
Left to right: Caproni Ca.18 (231) from 1913 it was used for reconnaissance from the early stages of the First World War.
CVV.6 Canguro (MM100002 registered I-IULI).
Sezione Sperimentale EC.40 Innominato (I-CNVR).
Left to right: SIAI Marchetti SM.80 Bis (I-ELIO).
Gabardini Idrovolante (I-AXAC).
Republic F-84F Thunderstreak (MM53-6805 '50-30')

Left to right: Republic F-84F Thunderstreak (MM53-6805 '50-30').
North American F-86K Sabre (MM55-4812 '51-3').
Left to right: de Havilland Vampire FB.6 (J-1159 '6-8' registered F-AZHJ) Swiss Air Force.
Fiat G-91R (MM6308 '2-16').
Left to right: Aermacchi MB-326 (MM571).
Aeritalia-Embraer AMX (MMX599) 3 RMV.
Left to right: Aermacchi MB.339 CD (I-AMDA).
SIAI Marchetti S-211 (I-SIJF).
Left to right: Mikoyan-Gurevich MiG-21PFM (6911) Polish Air Force.
Mikoyan - Gurevich MiG-15 bis? (3257?) ex Czech Air Force.
North American F-51D Mustang (MM4309) 92a Squadriglia C.T. of 2° Stormo, recovered from Lake Garda December 2016.
Left to right: SIAI Marchetti (S-211 (I-SMTE) 'JPATS'.
Douglas DC-9 (MM62021).
Caproni Vizzola C.22J (I-CAVT).
Left to right:
Aermacchi MB-308 (I-FABR).
Aermacchi-Lockheed 60 (I-MACE).
Mooney M.20E (I-CCAA).
Left to right: Bell 47G3B1 (I-TRIB).
Agusta Bell AB.47 G (MM80483 'CC-14') Carabinieri.
Agusta Bell AB.206 A-1 (MM80931 'CC-46') Carabinieri.
Left to right: Agusta A.109 A (MM81172 'GF-124') Guardia di Finanza.
Breda Nardi (Hughes) 500 NH-500C (MM81051 'GdiF-93' Guardia di Finanza.
Agusta Bell AB.204 AS (MM80369 'VF-31') Vigili del Fuoco.
Piaggio P.166 DL3-SEM1 (MM25165 '8-07') ex Guardia Costiera.

Left to right: Agusta Sea King SH-3D (MM5021N '6-20').
Boeing-Vertol Chinook CH-47C (MM80840) Esercito.