10th Waddington International Air Show
RAF Waddington
June 26-27, 2004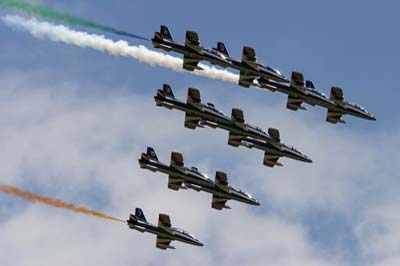 Waddington International Air Show in its 10th year, is the largest of the RAF's official air shows for 2004. RAF Waddington is home to the RAF's airborne surveillance and strategic reconnaissance aircraft. The three resident squadrons, 8, 23 and 51 operate the Boeing E-3D Sentry and the Nimrod R1. The E-3Ds of 8 and 23 Squadrons, form the UK component of the NATO Airborne Early Warning Force.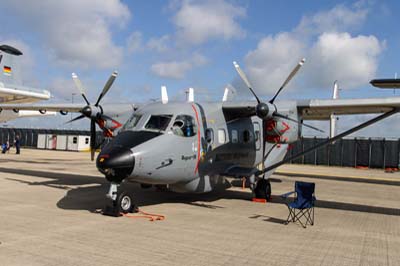 Saturday's event suffered with rain showers, but on Sunday the weather was bright all day. It is important to arrive early at this very popular show. The traffic queues build up very quickly. Once in, you are greeted with the static display aircraft areas. One area follows the line of the runway, but well inside the crowd line. Here it is difficult to get decent photographs, as the barriers are really quite close and the public can go along the front and back of the aircraft. The stars of this line up for me were the pair of Turkish Air Force RF-4E Phantoms (68-0342 and 68-0473). The other static area is, Alpha dispersal, which is by the large E-3 hanger. Here photography is much easier. The most interesting aircraft in this area was a PZL-Mielec An-28B-1R (1115) of the Polish Navy (left). An attractive Latvian Air Force LET L-410UVP (145) also caught the eye.

The flying display started at 10 a.m. with an E-3D take off, the scheduled Nimrod R-1 display did not materialise however. The two Boeing Stearman, which followed, of the St.Ival 'Utterly Buttery' wing walking display team, attracted a greater interest from the large crowds. They are Europe's only professional wing-walking team. Wing walking dates back to the 1930s when after too many non-harnessed people had fallen to their deaths, it was banned. Today it is much safer and despite speeds of 150 mph the Aerobabes' keep a stiff smile, whilst pulling up to 4Gs during the loops, rolls and tight turns. Clearly good family entertainment was the order of the day. Bouncy castles, food stands, vintage cars and all sorts of stands selling model aircraft to clothes, meant that there was something for everyone.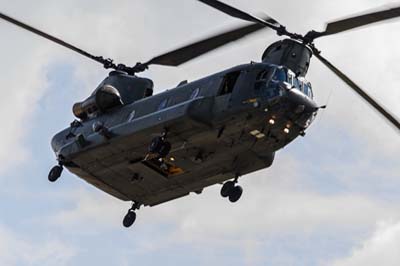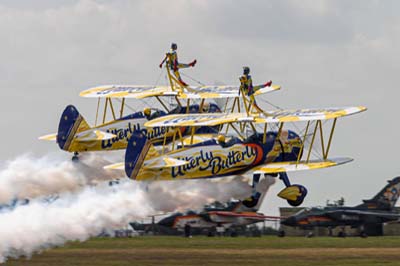 As a 'hardened' aviation photographer, I was looking for something special. I was not to be disappointed. Firstly, it was good to see a Chinook doing its thing. This was the first time the RAF had displayed their twin engine, twin rotor helicopter for ten years. Operational commitments around the world, had prevented more frequent displays. The RAF has 40 Chinooks, of 7, 18 and 27 Squadrons, based at RAF Odiham in Hampshire. Sqn Ldr Dave Morgan, an instructor from the Chinook OCU, flew an impressive display, including a 360 degree wing over, power climb and 360 degree spiral decent. A high speed run down wind completed the display. At this point I must say display aircraft photography until mid afternoon is very difficult, as you are shooting into the sun. The Chinook being almost matt black, was the most challenging.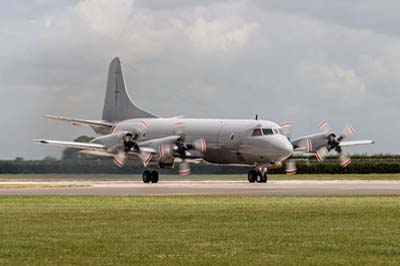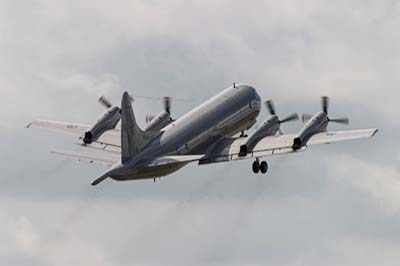 The Royal New Zealand Air Force P-3K Orion (NZ4205), you would think had flown the furthest specifically to get to the show, but would be wrong. It is currently based at RAF Kinloss in Scotland for a JMC exercise. It's gloss grey scheme with low-visibility markings, did not prevent me from getting some nice shots, once the sun played its part with added reflection and highlighting.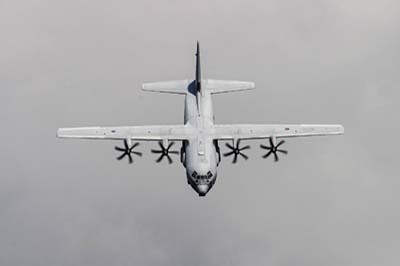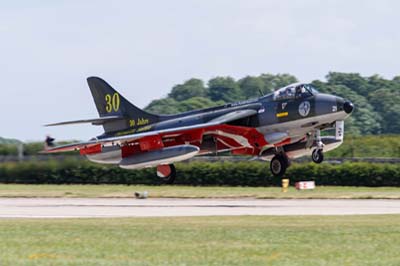 The RAF in its shorter but newer C-130J Hercules C.5 (ZH885), produced an impressive 'Khe Sanh' style approach and landing, diving onto the airfield.

Ex Swiss Air Force Hunter F.58 (J-4021) in 30th Anniversary scheme, but now operated by Hawker Hunter Aviation Ltd, made a welcome appearance.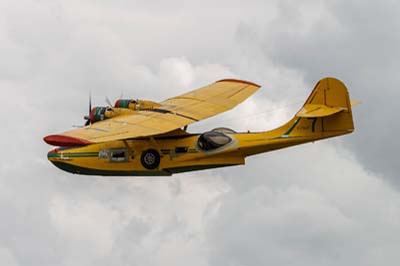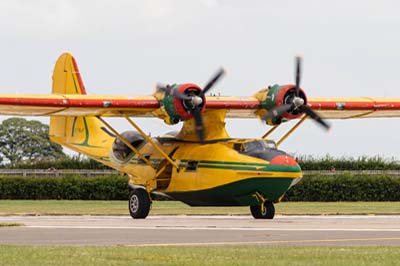 I was pleased to see the former Canadian Air Force PBY-5A Catalina taxi out for take-off. With Plane Sailing Air Displays, since 2002 and now based at Duxford, the Catalina is still painted in yellow and green from its more recent years as a water bomber at Prince Albert, Saskachewan in Canada, as C-FNJF.
The display by the wonderfully painted German Navy Tornado (45+30), was well worth seeing once again. Particularly because it was announced during the show, that this would be the final display ever of a MFG aircraft. Recent policy changes within the German Air Force and German Navy, brought in with immediate effect, have meant that three fast jet displays planned for the Royal International Air Tattoo 2004 have now been cancelled, including this Tornado.
What many people came to see was the RAF's latest and most expensive fighter, the Typhoon. Just what had our money been spent on? We were told that it would not be a display as such. The RAF were putting maximum effort into training the instructor crews for both the OEU and OCU, working up hours to become fully operational. Time and resources simply are not available to be 'wasted' on perfecting a full display. The 'display' started with a take off an immediate vertical climb to 15,000', followed by a series of passes and extremely tight turns. Unlike our Tornados, which use reverse thrust to reduce speed on landing, it was good to see the Typhoon finish its display with parachute deployed.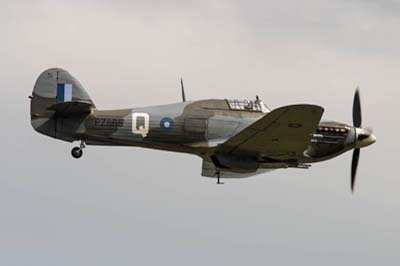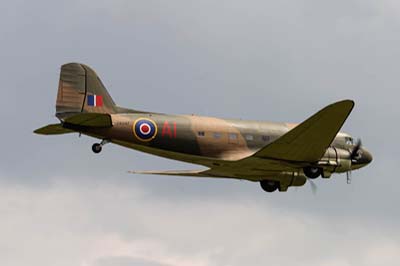 Naturally from nearby RAF Coningsby the BBMF flew their Lancaster, Spitfire and Hurricane (PZ865, last one ever built). Their DC-3 (ZA947) was a welcome sight, adding to the nuance of stirring piston engine sounds. The Royal Navy provided its special scheme Sea Harrier F/A.2 (ZH809).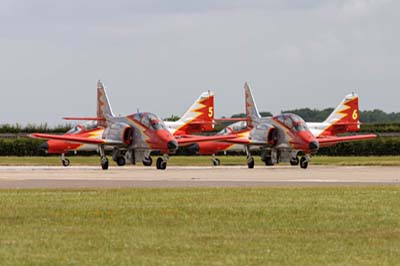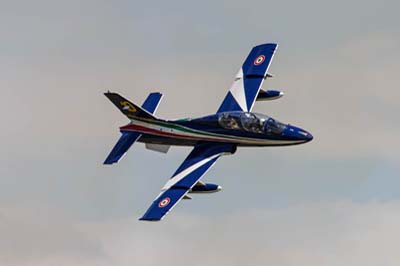 There was no shortage of display teams. The Spanish Air Forces, Patrulla Aguila in their silver and orange CASA 101s were eclipsed by the more exciting display of the Italians (Frecce Tricolori) in their more powerful MB339s. The Red Arrows in their 40th display year completed the event. This show remains one of UK's premier flying events.