RNAS Yeovilton (HMS Heron)
April 19, 2005
This base visit was made shortly after the disbandment (March 31, 2005) of 899 Naval Air Squadron (NAS), the Sea Harrier training squadron. Many of its airframes, resplendent in the Squadron's 'winged fist' insignia were either being reduced to spares or moved across to the last remaining Sea Harrier squadron (801 NAS). The visit produced the following images;
Two seat Sea Harrier T.8 (ZD990 '721')
The two seat Sea Harrier T.8s are continuing to fly with Yeovilton's Standards Flight.
From left to right: Sea Harrier T.8s (ZD990 '721') being checked by the pilot prior to a training sortie and later cleared to taxi. Two other T.8s (ZD993 '723') and (ZB603 '724') under the care of SHOPS.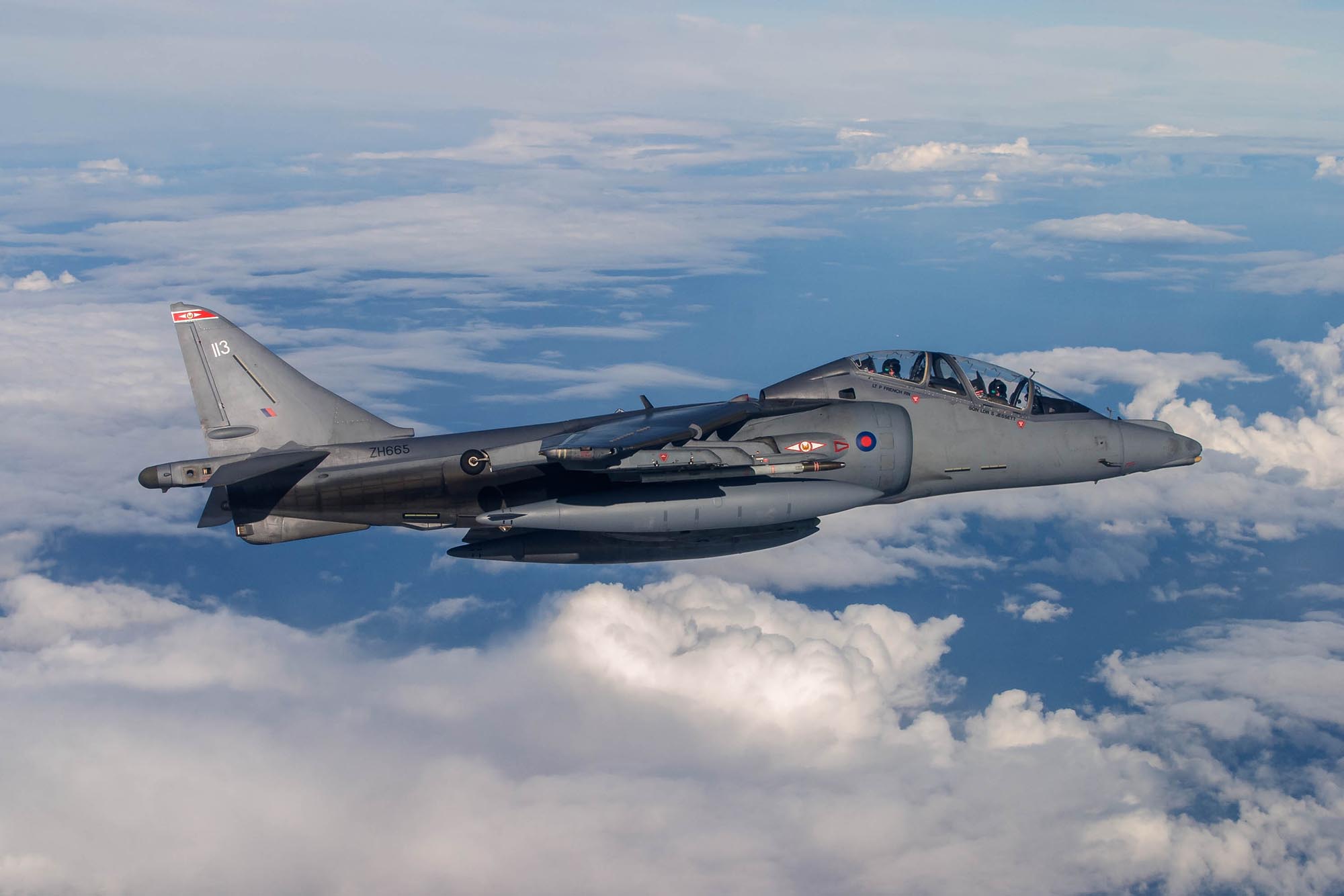 800 NAS was first of the three Sea Harrier squadrons to disband on March 31, 2004. It will reform however as a GR.9A squadron in April 2006. 899 NAS disbanding exactly a year later is unlikely ever to reform, bringing to an end an illustrious history, from its formation in 1942 with the Seafire, through to the Falklands and Bosnia with the Sea Harrier. 801 NAS as the last Sea Harrier squadron in operation, will also move to RAF Cottesmore and the GR.9A, operating as 'Joint Force Harrier'.
Left: 'Joint Force Harrier' Harrier T.10 (ZH665 '113') in October 2004.

Eventually the Harrier GR.9As will be replaced by the Joint Combat Aircraft (JCA), the RAF's version of the Lockheed Martin F-35 Joint Strike Fighter (JSF), the prototype is due to fly in September 2006 with planned deliveries to the RAF in 2012 or there about. 150 are on order for the RAF and Royal Navy.
The Sea Harriers of 801 NAS
Three images of Sea Harrier F/A.2 (ZH804 'R-007') and one of Sea Harrier F/A.2 (ZH796 'N-001') with 801 NAS.
Left to right: Returning to the 801 NAS ramp Sea Harrier F/A.2 (ZH797 '000'). Sea Harrier F/A.2 (ZH811 'N-005') which is just about to go out and two images of her returning to base, after a completed sortie. ZH811 was one of the last Sea Harriers to be delivered back in 1998, ZH813 being the last and has already been retired after just seven years service.

Former 899 NAS Sea Harrier F/A.2s currently wfu and awaiting their fate, (ZD579 'R715') and the pair (ZH801 'R716' and ZH802 'R711'). Sea Harrier F/A.2 (ZE692 'R712') is currently with SHOPS.
Left to right: Former 800 NAS Sea Harrier F/A.2 (ZE696 'R124') being slowly relieved of some of it's vital organs.
Sea Harrier F/A.2 (ZD610 '718') which looks like it has already been a victim of some part swapping.
Commando Helicopter Force (CHF) is a group of 4 squadrons and is based at Yeovilton.
Left to right: Westland Sea King HC.4s (above ZF119 'WY' and ZB507 'WN') of 848 NAS. 848 NAS are resonsible for operational training and to support the Royal Marines. Lynx AH.1 (XZ612 'N') of the Royal Marines of 847 NAS and is also part of the CHF. The principal task of 847 NAS is to provide armed action and reconnaissance capability, in support of 3 Commando Brigade Royal Marines (3 Cdo Bde RM), on deployments worldwide. Gazelle AH.1 (XX412) formally of the Royal Marines (847 NAS) was retired with all the other remaining Gazelles on March 18. They are now awaiting disposal.
Lynx in various stages of maintenance:
From left to right: HMS Gloucester's Westland Lynx HMA.8DSP (XZ691 '410') of 815 NAS, Ships Flight with a blue Rhino nose art. Lynx HAS.3S (XZ254 '303') of 815 NAS, HQ Flight and Lynx HAS.3S (XZ694 '444') of 815 NAS, Ships Flight.
Left to right: Lynx HAS.3S (ZD251 '637') of 702 NAS based at Yeovilton and is responsible to crew training and conversion to the Lynx HAS.3/HMA.8. Lynx HAS.3S (XZ237 '301') of 815 NAS, HQ Flight and Lynx HMA.8DSP (ZD257 '308') of 815 NAS, HQ Flight.

Two BAE Systems Hawk T.1s are based at Yeovilton (XX240 and XX173) at the disposal of Naval Flying Standards of all Fixed Wing Aircraft NFSF(FW). They are detached from their Parent Unit, the Fleet Requirements and Direction Unit (FRADU) at RNAS Culdrose.
Left to right: Also operating from Yeovilton as part of NFSF(FW) are up to four Jetstream T.3s (including ZE441 '79') with HMS Heron Flight. 750 NAS operate from RNAS Culdrose using the Jetstream T.2s.
Jetstream T.2 (XX478 'CU564') seen here about to return to Culdrose following a low-level navigational exercise which included the Welsh valleys.
Later in the year at Fairford the 'Black Cats' displayed with a Lynx HAS.3S (ZD250 '630') of 702 NAS and Lynx HMA.8 (XZ729 '417') of 815 NAS.