2010 Flying Program 14:00 to 17:30
- RAF and Lufwaffe Fighters: 8x Spitfire, Hurricane and Buchon
- Naval: 3x Skyraider, Seafire, Sea Fury, Fury, Bearcat and Corsair
- German: Ju-52, Me-108, 2x Jungmeister and Jungmann
- USAFFE: Ryan PT-22, 2x TF-51, 4x P-51D, P-40, B-17 and 2x L-4 Grasshopper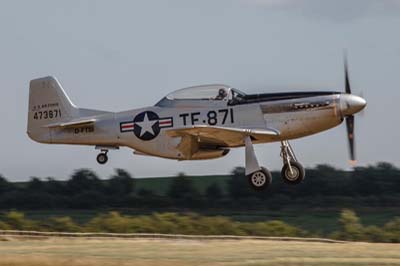 - Russian: 2x Yak 3, Yak 9 and I-16
- Classic British: Mew Gull, Magister, Arrow Active, Hind, Gladiator, Lysander, Nimrod and Demon
- Battle of Britain Memorial Flight: Spitfire, Hurricane and Lancaster
- Breitling Wing-walkers: 2x Stearman
- Transport: C-53
- French: MS406
- Balbo Finale: Mass formation.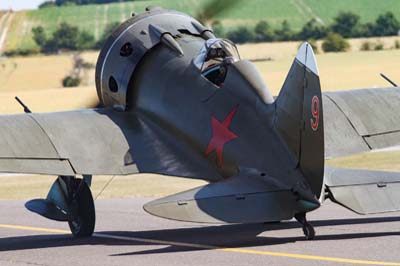 Living up to the shows reputation of coming up with something new each year, for 2010 Thomas Julch's Mannheim based Polikarpov I-16 Rata 'Rat' (D-EPRN) made the types first appearance in the United Kingdom. Flown by famed aerobatic pilot Jurgis Kairys, his unique and lively aerobatic routine was for many the highlight of the show. This is a very rare aircraft indeed, the revolutionary type first flew in December 1933 and was the first single-seat fighter with an enclosed cockpit and retractable undercarriage in the world.

Designed for speed and agility in could reach 270 mph, powered by a licence built Curtiss-Wright R-1820 Cyclone radial engine. It first saw combat in the Spanish Civil War where it was given its nickname of 'Rata' or rat. With the introduction of the Hurricane and Bf.109 in 1937 its air superiority was over. The example flown at Flying Legends was built in Gorky between 1939 and 1940 and rebuilt by the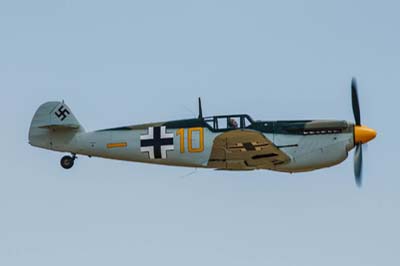 Siberian Aeronautical Research Institute from remains found near Kostomuksha at its 1941-1942 crash site. In 1996 when reconstruction was complete and it was exported to New Zealand. Its colour scheme of dark green with light blue undersides is typical for a Red Army Air Force of the period. In the next 12 years it only flew 44 hours before it was sold to its present owner Thomas Julch in Germany.

The 'Mystery Mustang' touted by TFC in the air show promotions turned out to be the Meier Motors TF-51D Mustang (D-FTSI) which was the aircrafts first visit to the UK. It was fitting that in the Battle of Britain's 70th anniversary year a flight of eight Spitfires with a Hurricane and Buchon opened the event. The British registered Spanish built Buchon was representing a Messerschmitt Bf.109 was understandable, as so few Bf.109's survived World War Two, Perhaps a little more confusing was a Spitfire which unusually was German registered. Further German registered aircraft represented other allied forces by way of Russian Yak's a Polikarpov and even a P-51D Mustang completed a modern day wartime scenario.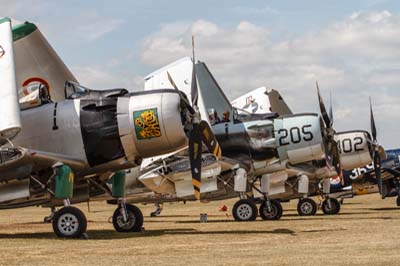 This year the Buchon was painted as 'Yellow 10' the paint scheme it wore when it was used with 26 other Buchon's in the making of the famous 1968 film, 'Battle of Britain'. A Naval theme saw a rare formation of three AD-4 Skyraiders. In past Legends displays Kennet Aviation's and Jean-Baptiste Salis Skyraiders (G-RADR and F-AZDP) have often played their part, this year they were joined by Christophe Bruneliere's Skyraider (F-AZHK) from Avignon-Caumont, it was flown by Carl Schofield (TFC).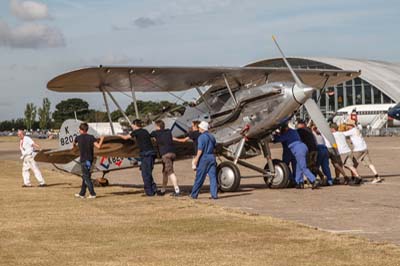 Around 50 rare warbirds were flown this year, most were old favourites some were new to the show, what was there and how many really was not important to the vast numbers of ticket paying aircraft enthusiasts which totalled and impressive 27,000 this year over the two days. They turn up each year to be entertained and never leave disappointed. This year's Flying Legends once again lived up to its reputation of being "The Greatest Warbird Show in Europe."


The hundreds of volunteers and carers should be recognised for the dedicated work they do to ensure these aircraft are availble for all of us enjoy.