Flying Legends 2011
The Flying Legends team has put a lot of effort and thought into making the event safe for the public and the pilots, however at the end of Sunday's display as the Balbo was breaking up into individual elements before recovering to the airfield the Amicale Jean Baptiste Salis Skyraider (F-AZDP) flown by Pierre Fages collided with P-51D Mustang (D-FBBD) 'Big Beautiful Doll' piloted by Rob Davies. The Skyraider lost a wing tip and dived towards the ground gathering air speed before pulling up and turning to land safely on the grass. Rob Davies was unable to regain control of his Mustang as he reported was "crippled in pitch", and was about to impact with the ground a mile or two south of the airfield. He scrambled out of the stricken aircraft, his parachute deploying only seconds before the Mustang crashed into a field. There were cry's from the crowd of "get out, get out!", followed by clapping by the relieved spectators. This was a real heart stopping moment, the tannoy later announced to everyone's huge relief that Rob Davies was uninjured.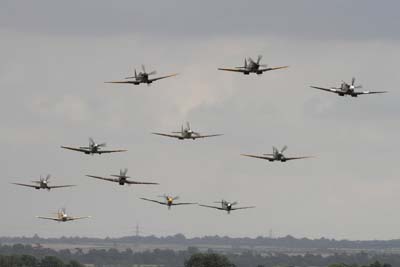 Flying Legends 2011 opened with a mass take off of seven Spitfires a Hurricane and three Buchón painted as German Me-109's they returned to beat-up the airfield with typical Flying Legends panache before starting a tail-chasing routine. Enter the heavyweights, three Douglas AD-4NA Skyraiders, including Kennet Aviation's Skyraider (G-RADR) in its new handsome dark blue US Navy paint scheme of VA-155 which was presented last month now took to the air. One of the two French Skyraiders (F-AZHK) was carrying a full range of rockets and bombs under its wings.

Following the Chance Vought F-4U Corsair (F-AZYS) of Max Alpha Aviation, which had not been previously seen at Legends was; 'The Horsemen' flying as a synchronised pair with Dan Friedkin and Ed Shipley at the controls returning after their first acclaimed appearance of 2009. The pair were joined by four more tail-chasing P-51D Mustangs, which although a familiar set-piece are still Legend's favourites, the formation included the ill-fated 'Big Beautiful Doll' which was now German registered.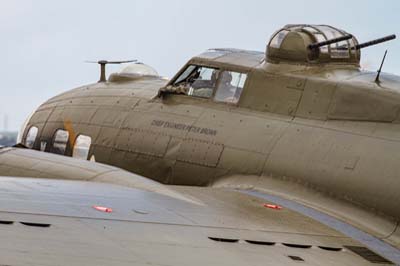 Duxford based Boeing B-17G Flying Fortress (G-BEDF) better known as 'Sally-B' now took to the air for the first time in some years and following a solo display was joined by a P-51 Mustang escort to conclude its display. Two de Havilland DH.84 Dragon (G-ECAN and EI-ABI) and a DH.89 Dragon Rapide (G-AGJG) passenger transports changed the pace of the show with graceful and seductive flying. The beautiful Aer Lingus' DH.84 named 'Iolar' was making its Legends debut. The Rapides had earlier been providing pleasure flights.

Curtiss built aircraft by way of a Hawk and three P-40 Warhawk/Kittyhawks were the next delight to take to the skies. Not seen before was the P-40F Warhawk resplendent in the fetching sand colours of the 85th Fighter Squadron, 79th Fighter Group from when based in Italy during the World War Two. Hawker continued with another quartet of aircraft comprising a more sedately flown; Hawker Demon and Hawker Hind with two Hawker Nimrods. This was a formation that had perhaps never been seen before. Hawker were not finished, a trio of Hawker Sea Fury now demonstrated how the company had progressed in ten or so years for the end of the World War Two. It was good to see the Royal Navy Historic Flight's Sea Fury T.20 (G-RNHF) accompanied by their Fairey Swordfish II (LS326) which was appearing after a very long absence from Flying Legends.

With demonstrations of the BBMF Lancaster, two Dakota's and some replica World War I aircraft, one of which had a landing mishap on the Sunday, it was time for the Flying Legends trade mark Balbo finale this time with a 28 strong mass launch and formation fly by.

What everyone was waiting for were the Austrian based team 'The Flying Bulls' which were making their first UK appearance at Flying Legends, which displays with their Chance Vought F4U-4 Corsair (OE-EAS) and Lockheed P-38L/F-5G Lightning (N25Y). The highlight of the show for most was the P-38 a type that had not flown in the UK for 15 years.