The McDonnell Douglas RF-4E Phantom IIs of
110 Combat Wing
(Pteriga Machis - 110 PM)
, 348 'Matia' (Eyes) Tactical Reconnaissance Squadron
(Mira Taktikis Anagnoriseos - 348 MTA)
The 348 Tactical Reconnaissance Squadron (Mira Taktikis Anagnoriseos, MTA) still operate three of the eight RF-4E Phantom II Block 66s received in 1979. They retain their original US South-East Asia era camouflage scheme.
Eight new RF-4E Phantom IIs of this reconnaissance version of the Phantom were ordered in 1978 and by September of the following year all were operational with the 348 MTA at Larissa.
Starting in 1993 a further 27 former German Air Force RF-4Es were delivered to 348 MTA, 20 of these were put into service while the remainder were held as a source of spare parts. On July 28, 1994 these additional aircraft became operational.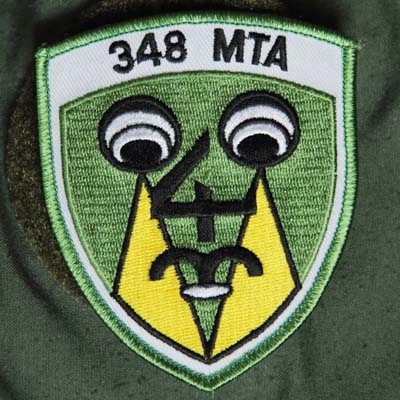 The HAF RF-4s are fitted with the KS-127A camera which enables the aircraft to photograph at long distance and therefore out of harm's way using Long-Range Oblique Photography (LOROP) technology. At low-level the KA-56E wide angle camera is used while a KA-91 camera is utilised at high-level. All images are recorded on 'wet' film which has to be processed after the aircraft has returned to its operating base.

Today there are 17 active RF-4Es of which only 3 are from the original batch of new build block 66 variants delivered in 1979. It is believed that they will remain in service until 2018 when their role will be taken over by F-16 Block 52+s equipped with Goodrich Airborne Reconnaissance DB-110 pods. Goodrich's DB-110 digital, real-time, tactical reconnaissance system allows pilots to capture images operated at low, medium and high altitudes by day or night using electro-optical sensor technology. Images can then be transmitted to analysts on the ground in real time for immediate exploitation and analysis.

The eight RF-4E new builds were supplied in USAF's standard south-east Asia two tone green and brown camouflage scheme. These Block 66 variants were all fitted with leading edge slats to the wings
The 27 ex German RF-4E Block 43-47 with non-slatted wings and retain the black and green camouflage scheme as worn when in Luftwaffe service.