Around 36 graduate pilots from 4 Flying Training School at RAF Valley and Weapon Systems Operators (WSO's) a year are transferred to the Tornado (GR.4) Operational Conversion Unit (TOCU) with 15(Reserve) Squadron at RAF Lossiemouth. Following ground school and time on the Tornado simulator, students start their 50 sorties and further simulator instruction. The student pilot for their first six sorties will fly with an instructor pilot. The student WSO's will get four sorties to complete their conversion to the Tornado. The WSO will then fly the first of three missions with an instructor navigator, before the first all student crew sortie. This is followed by a Terrain Referenced Navigation/Terrain Following Radar (TRN/TFR) sortie flown with an instructor navigator.
The next phase of four sorties involves student pilots and student WSO's formation flying, including tactical formations at low and medium level, both in the lead and wingman positions. Two dedicated sorties involve a student crew meeting up with an aerial refuelling tanker and repeatedly linking with the basket.
The fifth phase brings student crews in contact with the delivery of a basic range of weapons in a variety of flying profiles. A check mission by an instructor completes the phase.
Sorties with operational manoeuvring or air combat training follow, using AIM-9 Sidewinder air-to-air missiles at medium level during one versus one exercises. Defensive manoeuvres and the dispensing of chaff and flares are included. These sorties for the student pilots and WSO's are flown with instructor pilots and lead to handling surface to air missile threats, both at medium and low-level. The first of these sorties are flown as singletons, followed by five more as a pair. These sorties lead to students being issued a target for which they have to decide the attack profile and tactics to be employed.
The next phase involves night flying including the use of night-vision goggles (NVG), students will progress from flying as a singleton, a pair, a three and finally as a four-ship. Passing the final check-ride completes the course and the successful student's pass through to the front-line squadrons qualified to Limited Combat-Ready (LCR) status, before they are fully trained on a range of weapons carried by the GR.4.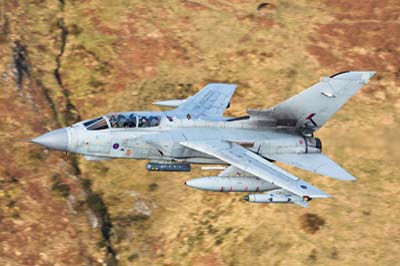 To increase their effectiveness, some GR.4 squadrons specialise on certain advanced weapon systems.
12(B) Squadron is the lead unit for Air Launched Anti-Radiation Missile (ALARM) for the Suppression of Enemy Air Defence (SEAD). It is a defensive missile used to destroy Surface to Air Missiles (SAM) sites.
14 Squadron were the lead unit utilising the new Litening III targeting pod with Precision Guided Munitions (PGM) such as Paveway II and III Laser Guided Bomb's (LGB) until they were disbaned in 2011.
Following live firing trials with Brimstone equipped GR.4s of 41(R) and 31 Squadron at the China Lake range in 2005, 31 Squadron was declared fully operational with the missile to become the lead unit with the weapon followed by 9(B) Squadron. Brimstone has been developed utilising both high altitude dive and low-level attack profiles. It is a fire-and-forget missile for use against armoured targets on the ground. Target designation can be made using the Head Up Display (HUD) and through the Thermal Imaging Airborne Laser Designator (TIALD) pod. The missile when fired from as far as six miles (10km) from the target, drops to a cruise height and using its own terrain avoidance radar, proceeds to the target.
Storm Shadow is a fire-and-forget missile and is used to destroy command bunkers. It uses terrain matching navigation and GPS positioning to follow at low-level a pre-programmed route to the target. The missile was first used in anger during Operation Telic over Iraq in 2003. The lead Squadron for Storm Shadow is 617.
Continuous and frequent low-level training is essential for GR.4 crews to perfect and maintain their skills. Low-level missions are flown over the Nevada Test and Training Range during Red Flag exercises to validate tactics. During adverse weather during Red Flag 07-02 the US SEAD assets were forced to cancel some night missions, while RAF's SEAD capable GR.4s completed their low-level sorties. During the Gulf War GR.4s flew at low-level 'Scud' missile hunting over a featureless Iraqi desert at night with great success.
2(AC) Squadron are tasked for the Tactical Reconnaissance role, initially using the GR.4A variant with the internally mounted TIRRS (Tornado infrared Reconnaissance System). However, the Reconnaissance Airborne Pod for Tornado (RAPTOR) is replacing the TIRRS system and can be mounted on both the GR.4 and GR.4A variants and is used by at least seven GR.4/4A squadrons. RAPTOR is a very advanced reconnaissance sensor capable of downloading in real-time, long stand-off range, oblique photography to ground stations for analysis during a sortie. The GR.4 is expected to be in service till 2025.