Air to Air Photography
John Beattie's Chipmunk (G-BARS)
Zoersel-Oostmalle, Belgium
August 16-19, 2012
I was on an assignment for Aviation News to write an article on Eric Coeckelberghs' Air to Air Academy. Full access was granted to the airfield from 05:30 to midnight. This gave me a fantastic opportunity to take some wonderful images, especially as the week ended for me with a Skyvan flight and the chance to shoot some warbirds air to air. Earlier I met up with John Beattie the Flying Legends Skyraider and former Historic Flight Sea Fury pilot. We discussed flying with a Stampe-Vertongen SV-4C which was like us part of the photo shoot that afternoon. I had some ideas he had a few of his own and these were put to the Flight Director and then to the Skyvan pilot Ashley Kemp.

As soon as we took to the air we climbed for some minutes with the Stampe in pursuit of the Skyvan which already had a Yak 50 behind it with a Stinson Reliant approaching. A Bulldog appeared to my left, I fired off a few shots as it slid by and soon we were both in close formation behind the Skyvan. A few shots were taken through the Chipmunk's canopy before Beattie was asked to rock side to side for the photographers in the Skyvan we were then told to leave to the left by the Flight Director.
The shoot over we returned to the airfield where John was anxious to get some more fuel, walking his aircraft to the pumps. The images were taken by myself in some cases but are mostly of me enjoying the ride by members of the Academy perched in the Skyvan above us.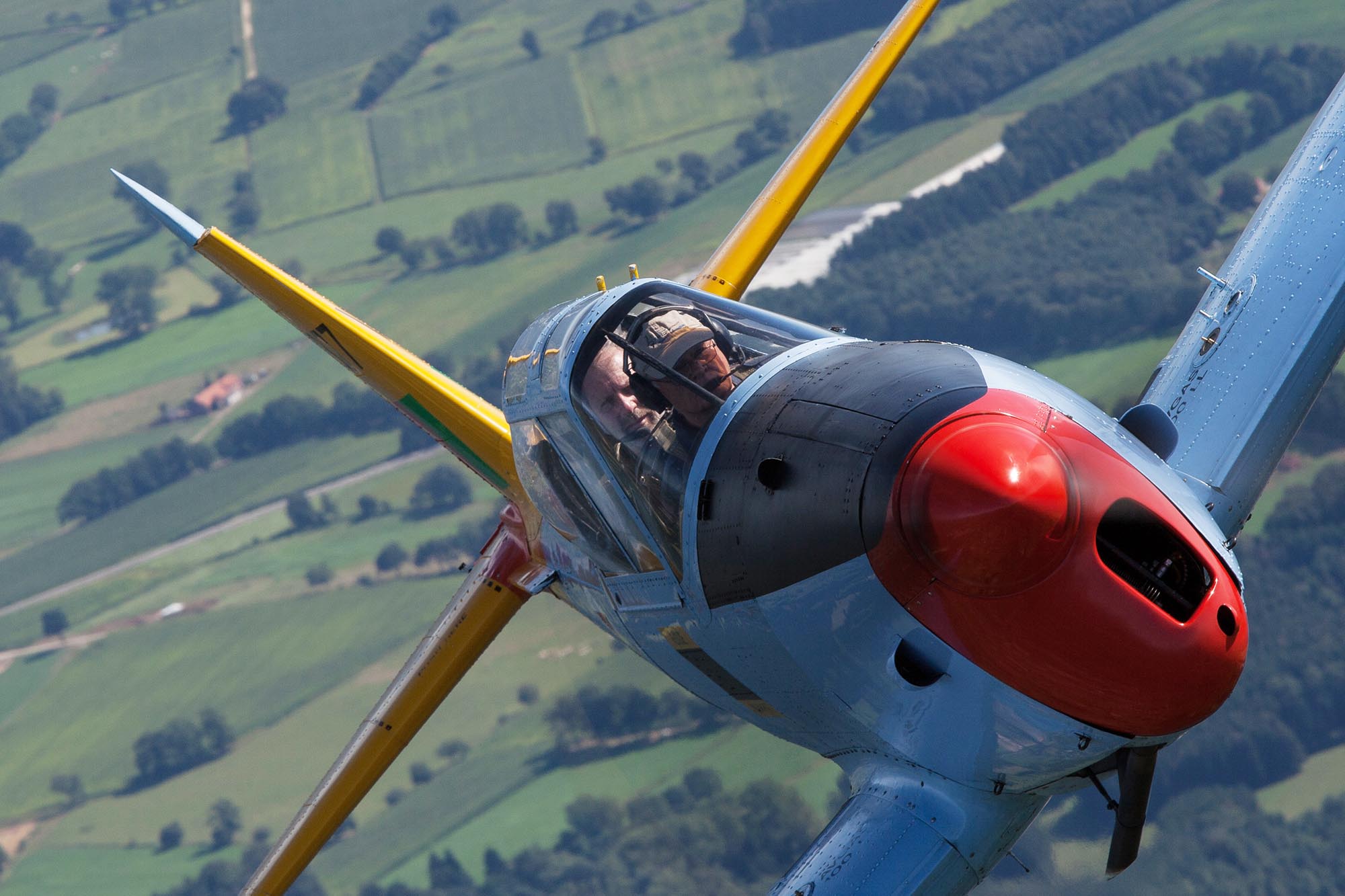 Stunning shot of John Beattie (front-seat) and Philip Stevens (back-seat) photographed by Peter Vinther.
de Havilland Canada DHC.1 Chipmunk 22 (G-BARS painted in spurious Portuguese Air Force colours as '1377' it was formerly RAF serial WK520) it is based at RNAS Yeovilton.
Left to right: John Beattie providing a back-seat ride for an Academy photographer. Note that the rear window has been removed to allow an unrestricted view for the photographer.
John Beattie hiding from the sun just before our sortie, it was hot that day, our Skyvan in the background is also just about to depart for the photo shoot.
John took my camera to photograph me after I was strapped in, note that the rear port window has been removed to help the photographers.
Tom Houquet (Aviation PhotoCrew) caught us as we were taxiing out.
3,000 feet above the runway at Zoersel-Oostmalle in Belgium
John Beattie and myself having fun behind the Skyvan, photographs by Peter Vinther and Robbie Shaw from the Skyvan.
Left to right: Up in the air and in persuit of the Skyvan and the restricted view from the back-seat.
We are just about to touch down after the sortie, Hans Linnet was ready with his camera.
John Beattie 'wing-walking' his Chippie to the fuel pump.