Air to Air Photography
Hunter F.6A (G-KAXF painted as 'N-294')
Belgium
September 15, 2013
Hawker Hunter F.6A (G-KAXF ex RAF XF515 painted as 'N-294') is currently operated by the Dutch Hawker Hunter Foundation based at Leeuwarden in Holland. It had been displaying at the Sanicole air show in Belgium and was on its way back home after its rendezvous with our Skyvan piloted by Tony de Bruyn, thanks Tony. Flying at 7,500 feet AGL this classic jet piloted by Patrick Tuit (RNLAF F-16 Demo Team display pilot 1997-1998) was with us for five minutes.

XF515 was built by Armstrong Whitworth at their Bitterswell in Leicestershire plant and first flew on May 23, 1956 as a single seater F.6. It was delivered to 43 Squadron at RAF Leuchars in Scotland where it served until 1964. Following a move to RAF Brawdy in Wales it was retired from service in 1995.

Following restoration with owners Kennet Aviation at North Weald and painted in it's former 43 Squadron colours it took to the air in August 1998. It was sold to it's Dutch owners in 2007 and painted in Royal Netherlands Air Force (RNAF) colours as 'N-294'. The Dutch Hawker Hunter Foundation (DHHF) also operate a Hunter T.8C. Visit their website where they say; "The DHHF was established in 2005 by a group of military aircraft enthusiasts with as its goal the operation and conservation of a Hawker Hunter ex-military jet, both as a tribute to a great classic fighter aircraft and as a memento to the history of the RNAF squadrons who flew the Hunter in great numbers during the fifties and sixties".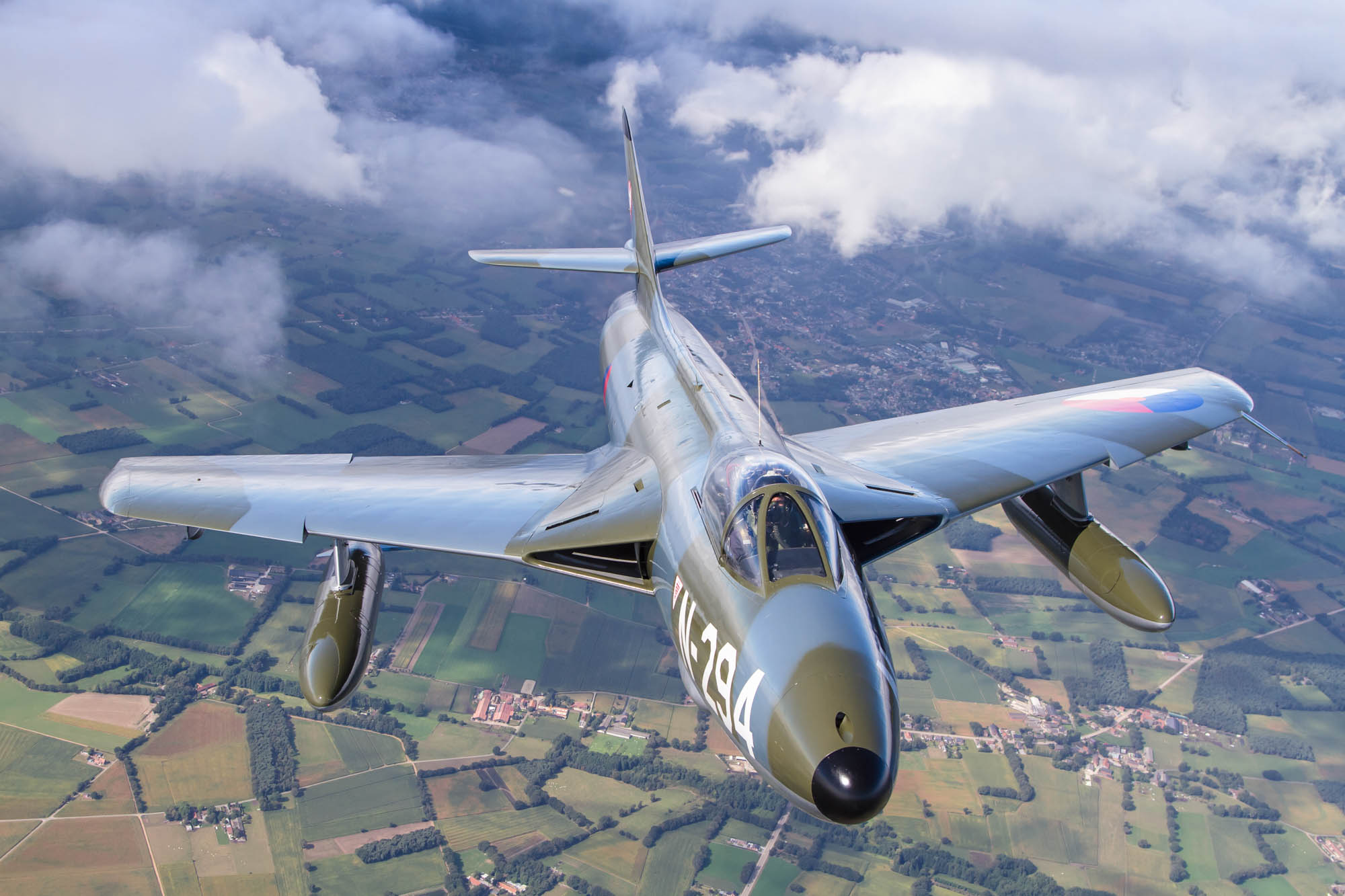 Hunter F.6A (G-KAXF painted in RNAF markings as 'N-294') - Canon 7D + Canon 24-105mm (32mm) f.5.6 1/800
Hunter F.6A (G-KAXF painted in RNAF markings as 'N-294') - Canon 5D Mk.III + Canon f2.8L IS 70-200mm (105mm) f.6.3 1/640
Hunter F.6A (G-KAXF) - Canon 5D Mk.III + Canon f2.8L IS 70-200mm (115mm) f.13 1/1000
Hunter F.6A (G-KAXF) - Canon 5D Mk.III + Canon f2.8L IS 70-200mm (70mm) f.7.1 1/1000
Hunter F.6A (G-KAXF) - Canon 7D + Canon 24-105mm (28mm) f.6.3 1/800