Royal Museum of the Armed Forces and of Military History
(Air & Space Department)
(Musée Royal de l'Armée et d'Histoire Militaire, Bruxelles)
Brussels
December 2005, December 2009 and May 2018
The Brussels Air Museum is located within the 'Musée Royal de l'Armée et d'Histoire Militaire', which looks more like a palace than a series of exhibition halls. This very impressive collection of aircraft and is made even more pleasing to the eye of the aviation photographer by the grandiose surroundings in which they are displayed.
Former SABENA Aérospatiale SE 210 Caravelle 6N (OO-SRA),
illuminated by the low winter light shining through the spectacular south facing window.
A Brief History of the Museum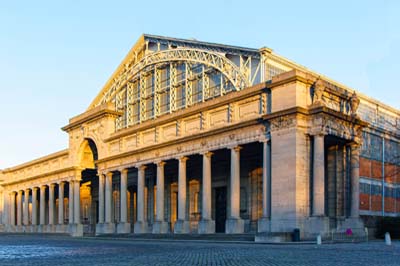 Musée Royal de l'Armée et d'Histoire Militaire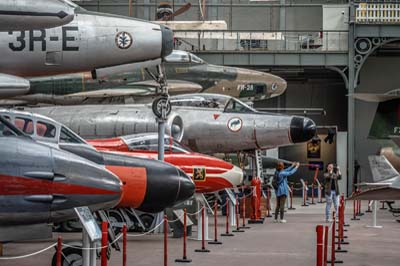 Some of the 1950s jets which are stacked to save space.

The exhibition halls were designed in 1875 to celebrate the Belgium's 50th anniversary. Construction continued for the 1910 in Jubilee Park (Jubelpark) and the Jubilee Palaces, as they became known, were used for successive equestrian events and exhibitions, including the World Exhibition in 1910. By 1923 the buildings moved over to its current role, as Belgium's main military museum. In 1972 a dedicated Air and Space department was formed, followed by an Armoured Vehicles section in 1980 and a Naval section in 1996.

The impressive Great Hall, which is built of stone, iron glass and part tin roof, is 560 feet (170m) long, 230 feet (70m) wide and 130 feet (40m) high. Around the entire hall is a balcony accessed by four sets of stairs located at each corner. Every inch of available space is used to display the aircraft, including the entire balcony area. Some aircraft hang from the roof whilst the biggest exhibit, a former SABENA Caravelle airliner is on three metal stilts. Similar metal supports are used to lift aircraft above those at floor level, thereby enabling considerably more aircraft to be exhibited. I first visited the museum in 1976. In those days the museum consisted of over 70 identifiable aircraft, 42 of which were still on display in 2005, many were still roughly in the same places even. By December 2005 I noted that the aircraft on display had grown to almost 100.
Above left: The 'Musée Royal de l'Armée et d'Histoire Militaire' from the front in 2005, showing the vast aviation hall rising above the grand museum entrance. In 2009 repairs to the south glass and iron work along with a new tin roof on the east side, was well under with extensive scaffolding in place. Many of the aircraft were covered up to protect them form numerous roof leaks.
Above: Three views from inside taken from upper tier in 2005. The first two images are from the front (south side) of the museum, the final image was from the rear of the hall looking over the C-119G Flying Boxcar.
Building up a collection, by trading and swapping


So what has happened to the collection in the intervening 30 years, particularly with regard to some missing exhibits? In the early years the collection comprised mostly of aircraft with a Belgian connection, there were also many duplicate types. Later a policy evolved where duplicates were traded or swapped (e.g. Royal Danish AF Chipmunk for an SV.4C Stampe (V-62) for aircraft from all over the world. Some aircraft were commendably returned to flying status e.g. a DH.82 Tiger Moth (OO-SOE) and Lysander (OO-SOT) and sold on. The Ju-52 and F-86F came from Portugal.

Today they have many Eastern European aircraft, including; an L-29R Delfin (in 2005, gone by 2009), a LET C.11 (Yak-11) and a MiG-15bis (in 2005, gone by 2009)from the Czech Air Force, an Auster AOP.6 (OO-FDI / A-16) went in the opposite direction to the museum at Kbely in the 1992. There is also a MiG-23BN 'Flogger' formally of the Egyptian Air Force, a Mil Mi-24D 'Hind' from the former East German Air Force (NVA) and a MiG-21F 'Fishbed' of the Indonesian Air Force (on display in 2005 and gone by 2009).

Other Western aircraft added to the collection in recent years have included; a F-86F Sabre from the Portuguese Air Force, an ex USAF RF-4C Phantom, a former West German Air Force G-91 and also a J35A Draken of the Royal Swedish Air Force. Where the Museum was unable to get original examples of former Belgian Air Force serving aircraft, they have been acquiring alternative examples, such as; a Caudron G.III, DHC.1 Chipmunk, CF-100 Canuck, Meteor NF.11, F-86F Sabre and DH.89 Dragon Rapide (Dominie).

In November 2007 Avro 652A Anson C.19 (G-AYWA formally OO-CFA, OO-DFA and OO-VIT) arrived by road at Beauvechain and later was transferred to the museum's storage facility at Vissenaken for restoration, it formally served with Sabena. In February 2008 a for Belgian Army Alouette II was exchanged for a British Sycamore HR.14, this type having operated in the Belgium Congo with the Belgian Air Force and so is a valuable addition to the museum. In July 2008 Dassault Mirage 5BA (BA-03), the former Temploux airfield gate guardian, was excahnged with the Polish Aviation Museum ('Muzeum Lotnictwa Polskiego') at Krakow for a Mil Mi-2 helicopter.



Great Hall restoration


Following discussions between the Museum owners (Régie des Bâtiments / Regie der Gebouwen) and the Museum administrators (KLM / MRA) a request for tender in June 2006 was issued for the refurbishement of the Great Hall. It was speculated with the extent of the restoration required on the building, that the museum may have to close for an extended period possibly years. In reality repairs were started without closure of the Aviation Hall. In December 2009 the south side frontage was covered with scaffolding erected. Most of the aircraft at that end of the hall were covered in plastic to protect them from the leaking roof and falling debris. The upper tier was also closed to the public.
December 2009, many of the aircraft are covered in plastics sheets to protect them from the water leaking through the roof.
Aircraft restoration - A work in progress


What I particularly like about the Museum is that it is a working museum. Volunteers perform painstaking restoration in workshops at the far end of the hall and also within the main exhibition area. Restoration is formally carried out by two groups, the Brussels Air Museum Fund (BAMF) and the Brussels Air Museum Restoration Society, both funded by donations and always looking for volunteers. Visitors are often able to see and talk to the dedicated enthusiasts while they are at work. In 2005 major work is being carried on the A-26B Invader (44-34765) in the main hall and on a DH-89 Dragon Rapide (OO-CNP) and LVG C.VI (5141/18) in the workshops. Numerous other disassembled airframes and equipment are stored adjacent to the workshops, awaiting some loving care and attention.
Left to right:
The aircraft hall in 2009 showing the south side restoration and some of the current restoration projects in the foreground.



LVG C.VI

(5141/18 note several serial numbers were found during restoration, so confirmation of it's true identity may never be known). It is a reconaissance aircraft of the German Air Force built in October 1918 and was later used by the Belgian Aéronautique Militaire after the war. This is the only complete example of a LVG C.VI and in 2005 was under long-term restoration. In the years following the World War One a number of these aircraft moved from Germany to the Belgian civil register and also on to the Belgian Air Force.



Douglas A-26B Invader

(N67160 ex D-CAFY and marked 44-34765 'AN-J') Pratt and Whitney R2800-70 Double Wasp engine being cleaned up by another of the many volunteers in 2005. Click here for a more detailed history, there is also more information below.
DH.89A Dragon Rapide

(OO-CNP ex OO-AFG and G-AKNV) under restoration in 2005 and on display in 2018 after the work was comlpeted.
Built for the RAF in 1939 as a Dominie (R5922) with whom it served until 1947 before being sold as G-AKNV. By 1955 it had been bought by Fairy Aviation and transferred to Avions Fairey at Gosselies in Belgium as OO-AFG and later Air Affaires, before becoming OO-CNP in 1964. It was cancelled from the register in 1970 after an emergency landing and was given to the museum in 1973 following many years in open storage at Wevelgem. The restoration was properly started in 1993, by 2001 the cabin's refurbishment was complete. It is intended to present the aircraft in it's Lancashire Aircraft Corporation colours of 1947.
The Dominie was built by de Havilland as a military version of the DH 89 Dragon Rapide. The DH 89 was first flown in 1934 and by the time production ended about 10 years later, 728 had been built over 530 Dominies served with the Royal Air Force.
The Belgian Air Force received seven ex RAF DH.89 Dominies in 1946 for 367 Squadron (Smaldeel/Escadrille) later renumbered 21 Squadron (serials D-1 to D-7).

Aircraft in Storage


Inheriting many of its aircraft from the Belgian Air Force as they become withdrawn, has meant that over the years the Museum has needed to store aircraft away from main exhibition halls. At the end of the 1970s they were using a store at Tongerlo for numerous F-84s and other surplus aircraft. Tielen was also used at this time for the Museum's Austers, Stampes and Super Cubs. Later the air base at Koksijde was used for storage along with Saffraanberg which was used for the Bolingbroke restoration. Later still, the majority of stored aircraft were moved to a store at Kapellen. The Museum then had a new and sole storage facility at Vissenaken, located between Brustem and Bevekom/Beauvechain. Aircraft previously stored at Kapellen which were moved to Vissenaken are scheduled to move to Landen from 2010.



The Belgian Air Force, a brief history


Belgium is a country divided into two languages, Flemish/French, consequently names can be presented in two ways. Naturally I am mostly using the English versions, but have added the Flemish and French versions in brackets. The Belgian Air Force (Belgische Luchtmacht/Force Aérienne Belge) was founded in 1909, as a branch of the Belgian Army with balloons. By 1913 the aircraft became part of a separate section. In 1915 the Aviation Militaire was formed, this was renamed Aeronautique Militaire in 1925. After World War II there needed to be extensive rebuilding of Belgium's military forces. On October 1, 1946 the Belgian Air Force (Belgische Luchtmacht/Force Aérienne Belge) was formed, using Belgian wartime squadron numbers from the Royal Air Force. On January 2, 2002 each branch of the Belgian Armed Forces were combined under a single command. The Belgian Air Force became the Air Component (Luchtcomposant/Composant Aérienne).



The Aircraft on Display
Aircraft from World War I
Schreck FBA Type H

(5.160). Designed by Louis Schreck in Argenteuil, France from 1913. Production was halted from 1918 to 1920 and later the Franco-British Aviation (FBA) Company went in to Liquidation in 1934. These FBA seaplanes were used for maritime patrol. Five Schreck FBA.H versions were issued to the "Escadrille des Hydroaviations" of the Belgian Air Force, founded in 1917 and based in Calais. They assisted the French Navy in searching for submarines and floating mines, till the end of the War.
Left to right:


Farman MF-11A2 'Shorthorn'

(unmarked) It was designed by Maurice and Henri Farman at the Farman Aviation Works in France as a light bomber it went into service in 1914 and was withdrawn from the Western Front in 1915. The Farman brothers designed and built over 200 types of aircraft between 1908 and 1941.



Farman MF-XI

dating from 1914.
Left to right:


Caudron G.III

(C.2531). The Caudron G.III was designed by Gaston and Rene Caudron was built from May 1914. Around 36 G.III served with the Belgian Air Force from 1918. They were finally retired from Belgian military service in 1928. The example on display (No.2531) was received from the Paris Air Museum following an exchange.

Left to right:


Royal Aircraft Factory RE.8

(8) is one of only two in existance the other is in the IWM Museum at Duxford. Built by the Royal Aircraft Factory in England, the Reconnaissance Experimental 8 (R.E.8) was a successor to the R.E.7 and entered service in 1916. Initially used for reconnaissance, it was later employed for ground attack missions. Despite being very vulnerable to enemy attack, due to its poor manoeuvrability and an initial tendency to spin, over 4000 were built. 22 R.E.8s served with the Belgian Air Force. All examples were quickly withdrawn from service after the War. Only two survive today, the second (F3556) is at the Imperial War Museum at Duxford.



Nieuport 23C-1

(N5024) it equipped all french squadrons by 1916. Acquired in the 1920's it was restored and put on display in 2006. It is the only surviving Nieuport 23.
Left to right:


Sopwith 1½ Strutter

(S-85). It was the first allied fighter aircraft to be equipped with a synchronised machine gun, mounted above the engine and designed to fire between the propeller blades. It was designed and built by Sopwith Aviation Company in Kingston on Thames, England, it's first flight being in 1916. Called the 1½ Strutter, because the upper and lower wings on each side of the aircraft were connected by a pair of full struts near the wing tip with a pair of half struts connected the upper wing to the fuselage. 27 of the 6000 built were sold to Belgium, by 1920 but in the same year the Sopwith Company was wound up and the 1½ Strutter was declared obsolete by the military. The example on display is painted the colours of the 3rd Reconnaissance Squadron (3éme Escadrille d'Observation) of the Belgian Air Force.
Left to right:


Bristol F.2B

(BAPC19 marked 'B4/'66'). Built by the Bristol Aeroplane Company, the prototype F.2A made its first flight in September 1916. After some modifications the F.2B went into production. Eventually 5,329 examples were delivered, some serving until 1932. Belgium received some 16 F.2Bs along with a number of other countries. SABCA (Societe Anonyme Belge de Constructions Aeronautiques) in Belgium built another 40 F.2B mark IVs. The example exhibited was constructed from various parts at Weston-On-The-Green and acquired for the Museum in exchange for a Spitfire IX (MK912) in 1989.
Left to right: 


Sopwith F.1 Camel

(SC-11 / B5747). Developed from the Sopwith Pup, it was the most successful aircraft of World War I. It's name was derived from a slight hump forward of the cockpit. 5,490 were produced from 1916 and they claimed more kills (1,294) of German aircraft than any other allied fighter. Eleven companies apart from Sopwith Aviation Company built the Camel, including Fairey Aviation. It was found to be a difficult aircraft to fly due to its rotary engine that generated torque, which unless full right rudder was used on take off, caused inexperienced pilots to ground loop. During World War I, 413 Sopwith Camel pilots died in action with 385 pilots being killed through accidents. 58 Sopwith Camels served with the Belgian Air Force (serials SK- and SC-) from March 1918 until 1922.



Blériot SPAD XIII C.1

(SP-49) in the markings of 10 Squadron. The red comet markings with five pointed star and tail was first used in 1917 by 5 Squadron (Smaldeel/Escadrille) before it was re-designated 10 Squadron. The red comet was later adopted by 2 Wing. The aircraft were originally built by 'Societie des Productions Armand Deperdussin' (SPAD) in France. Later the company was then taken over by Louis Blériot in 1913, when it was renamed 'Societe Pour l'Aviation et ses Derives' (also SPAD). The SPAD V first flew in 1915 and was the prototype for the SPAD VII, which entered service one year later. The larger and improved SPAD XIII followed, first entering service in September 1917, with double the fire power of the SPAD VII. The SPAD quickly became a much sort after aircraft. Eight factories in France (including Blériot), two in England and one in Russia built this rugged fighter. The Belgian Air Force introduced the SPAD S.VII C1 (serials SP-1 to SP-22) and later the SPAD XIII in March 1918. At least 37 SPAD XIIIs were allocated to 10 Squadron (10me Escadrille de Chasse).
Left to right:


Hanriot HD.1

(HD-78). The Hanriot-Dupont HD.1 was designed by Pierre Dupont and built at the Hanriot factory at Billancourt in France in 1916. At least 79 HD.1s were delivered to Belgium from 1917 (serials HD-1 to HD-79). The example on display (HD-78) is the actual aircraft flown by Belgian's highest scoring fighter pilot, Baron Willy Coppens de Houthulst during World War I, when with 9 Squadron (9me Escadrille). The Baron, who trained to fly at Hendon, England in 1914, is credited with 37 victories 34 of which were observation balloons. In the course of claiming his 37th victory in October 1918 and another balloon, he was hit in the leg and crashed. Unfortunately his leg had to be amputated, it was just a month before the war ended. After the war he served military attaché to France and was the first person to congratulate Charles Lindberg after his historic flight. He was also military attaché to Britain, Italy and Switzerland before retiring in 1940. He died in 1986 at the grand old age of 94. (HD-75 is on display at the RAF Museum at Hendon).



Halberstadt C.V

(3471/18 marked '3470/18') is the only Halberstadt C V still in existence. The first German biplane fighter to enter air combat was built by Halberstadt. The example exhibited was built in 1918, unrestored it is still in it's original markings.
Left to right:


de Havilland DH.82A Tiger Moth

(OO-EVT c/n 84875). This former Centre National de Vol à Voile (CNVV) Tiger Moth returned to the Museum in December 2005 for display. It had been previously been on display at the Sabena Old Timers Association. It is now been restored in its original Royal Air Force colours as T6534.



Miles Magister 1

(T9800 later G-1 and OO-NIC) It was delivered to the Saffrenberg Technical School for ground instruction in 1946. This restored aircraft is thought to be a composite, it was found at Ghent airfield (now closed) where it had been derelict for some years. I saw it there in a very poor state in 1973.
Left to right:


Bücker Bü181B Bestmann

(TP+CP Luftwaffe c/n 021969, later OO-SNE ntu and OO-RVD) .The prototype made its first flight in 1939 andt was later used by the Luftwaffe as a primary trainer. The Bücker factory at Rangsdorf built most of the Bu181, supplemented by the Fokker factory which built 708 aircraft of which 373 were delivered to Germany from 1942 to 1943. Hägglund & Söner AB in Sweden built 125 Bu181's for the Swedish Air Force as the Sk.25. The Zlin plant in Czechoslovakia built 783 aircraft as the C.6 and C.106 for the Czech' Air Force and also the Zlin Z.281 and Z.381 which were for civilian use.
The example on display joined the Belgian register as OO-RVD in 1949 and was then based at Grimbergen. It ended its flying days at Ostend where it was found in a derelict state before it was passed to the museum.



Nord N.1002 Pingouin

(F-BERF ex 184 AdlA, painted in false Luftwaffe colours) . This is a French built version of the Messerschmitt Bf.108 Taifun. From 1942 production of the Bf.108 moved to SNCAN Société Nationale de Constructions Aéronautiques du Nord) at Les Mureaux in France, where before the end of the war, 170 Bf.108's had been built. From the end of the war production continued as the Nord 1000 (with a German Argus engine), 1001 Pingouin I and later the 1002 Pingouin II which both had Renault engines. Eventually 286 were built by SNCAN for the AdlA to be used as communications aircraft. Later when they were retired they were sold on for civilian use.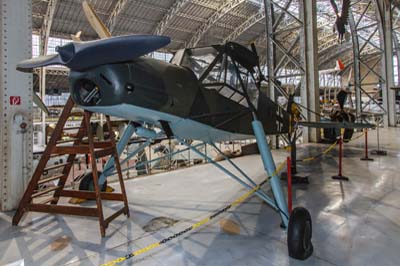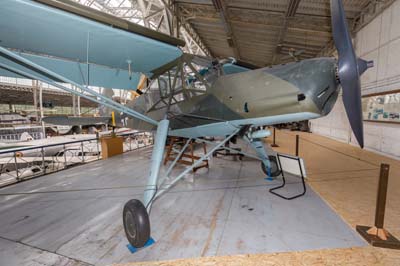 Left to right:


Fieseler Fi-156C-3 Storch 'Stork'

(KR+QX later Fv3822 SwAF and then OE-ADT). The Storch was designed in 1935 and widely used by German military forces throughout the war. More than 2,900 were put into service between 1939 and 1945 as light transports and as air ambulances. During the way the Fi-156 was produced in Germany an in occupied countries. It was built at the MRAZ factory, in Czechoslovakia and in France by Morane-Saulnier at Puteaux. Post war two versions were built in France, the MS-500 with the Argus in-line and the MS-502 with a Salmson radial. It is highly maneuverable with an extremely low stalling speed. It can take off in less than 200 feet at just 25 mph.
The Fi-156 on display was originally built in 1941 at Kessel with Werke Number 5503. Just before the end of the war it landed at Äkesholm, Sweden with two others after they got lost in fog. It later served with the Swedish Air Force from 1948 as the S-14b with serial Fv-3822.
Rebuilding an Air Force after World War II
Supermarine Spitfire FR.14e

(SG55 'GE-R' formally MV246). This Spitfire originated from the Aldermaston factory in 1944, but went into store with 9MU at RAF Cosford. In 1948 it was sold to the Belgian Air Force, moving to 348 Squadron of 1 Wing at Bevekom/Beauvechain as SG-55 and coded 'GE-R'. A landing accident in 1948 ended it's flying days after only 23 hours. It later moved to Evere and was passed to the Museum of the Army. The restoration of SG-55 and using parts from SG-37 and SG-46 which collided in 1949, was started in 1977 and finally completed in 1997. Between 1946 and 1954, 43 LF.9s and 135 FR.14s were sold or loaned to Belgium (serials SM-1 to SM-43 and SG-1 to SG-132). Click here for a more detailed history.
Supermarine Spitfire LF.9c

(SM15 painted as 'MJ360 GE-B' really ex MJ783 RAF).



Hawker Hurricane Mk.IIc

(LF658 marked 'LF345 ZA-P'). It was designed in 1934 and entered service in 1937 as the fastest fighter in service by 100 mph. By 1939 500 were in service with eventually 32 squadrons being equipped with them. Hurricanes shot down more enemy aircraft during the Battle of Britain than all the other air and ground defences combined. They later were used in North Africa and in the Far East against Japan. At the end of the war they were deemed obsolete, replaced by the more effective Tempest and Typhoons.
Four Hurricanes were passed to the 367 Squadron Belgian Air Force in 1946, the first of which was the original LF345 'ZA-P' the last of which was LF658.
Airspeed AS.10 Oxford 1

(O-16 ex MP455) of 21 Squadron Belgian Air Force. Following the end of the World War Two, 42 Oxfords (serials O-1 to O-42) were transferred to Belgium for use as communications aircraft with 367 Squadron. They remained in service until their retirement in 1954.
Fairey Battle 1

(1899 RCAF marked 'T-70' ex R3950 RAF) It was designed as a two-seat day bomber in the UK by the Fairey Aircraft Company and first flew in 1936 and entered service in 1937. 18 Battles were delivered to Belgium in 1938. 2,185 were built and were in operation until 1949, only five examples still exist today across four continents.



North American AT-6D Harvard III

(H21 ex 42-84169 (USAAF), ex EZ256 (RAF), ex 7630 (SAAF). 17,096 AT-6s were built before and during the World War Two. In USAAF service it was known as the AT-6 Texan, the 5,000 supplied to British and Commonwealth Air Forces were known as the Harvard. The first order for the Harvard was placed in June 1938. Belgium received 213 aircraft, 58 of which were transferred from the RAF in 1947 and 1949, the rest coming from the USAF in 1951.Ten more came from Holland in 1953, after eight others were loaned from 1948 to 1949.
The example on display served with the RAF before being transferred to the Belgian Air Force in 1947. The museum had another AT-6 (B-67 RNAF) which was exchanged for the Yak-11 in 1992 at the Prague Museum.
de Havilland DH-98 Mosquito NF.30

(MB24 'ND-N' of Belgian Air Force). The Belgian Air Force received 39 Mosquito's from 1947. The ex RAF aircraft were either converted to target tugs (TT.3/6) or to night fighters (NF.30). Serials were MA-1 to MA-7 for the TT.3s, MC-1 to MC-3 for the TT.6s and MB-1 to MB-24 for the NF.30s. MB-24 (formally RK952) which is exhibited, was the second of the final two aircraft delivered in September 1953, following modifications by Fairey Aviation at Ringway, Manchester. The surviving aircraft were all scrapped in 1956, with the exception of MB-24, which was struck off charge on October 17, 1956 at Beauvechain. It was transferred to the Museum in March 1957. Restoration started in 1979 with the final painting completed in 1984.
Auster AOP.6

(OO-FDE c/n 2826 marked with its original military serial A-11). The Auster was based on the pre-war Taylorcraft D model and were manufactured by Auster Aircraft Limited. In military service they were used as a light spotter and observation aircraft. The RAF took delivery of 274 Auster AOP.6s 22 of which were transferred as new to Belgium (serials A-1 to A-22) in 1947 and 1948 for 369 Squadron. The Austers were eventually replaced by Piper Super Cubs during 1954 and 1955. The surviving Austers were then sold on the civil register. The Auster AOP.6 exhibited (A-11 ex VT990) moved to Belgian civil register in 1958, eventually ending up in a scrap yard by 1970. The museum has had at least ten Austers in it's charge since the 1970s and were to be used for possible exchanges. Five Austers are currently in storage. One Auster (OO-FDI / A-16) went to Kbely, Czech Republic in 1992.

Piper L-18C Super Cub

(OL-L87 ex 53-4749 c/n 18-3149). The Super Cub was developed from the L-4 Cub (Grasshopper), production of the PA-18 starting in 1949. 157 L-18Cs (OL-L01 to OL-L157) were delivered from 1952 for the Belgian Army Light Aviation (Licht Vliegwezen van het Landmacht/Aviation Légère de la Force Terrestre) to replace the Austers. Additionally six of the more powerful L-21Bs (LB01 to LB06) were acquired from Holland in 1975, operating as glider tugs with the Air Cadets.
Left to right:


Percival P31C Proctor 4

(P-4). The Percival Proctor was a development of the pre-war Vega Gull. During World War I Proctors were used as communication and radio training aircraft. Six surplus RAF aircraft (P-1 to P-6) were delivered to 367 Squadron of the Belgian Air Force, between 1947 and 1948. They were withdrawn from service in 1954. P-4 which is on show (ex RAF NP171) crashed in May 1949. Another Proctor V (OO-ARM) was displayed in the museum in the 1970s.



Dornier Do-27J-1

(D04). The first flight was made in 1954 and 626 were built up to 1965. Twelve Do 27s entered service with the Light Aviation branch of the Belgian Army in 1960. They were utilised as a six 6 seat communications hack and as a platform for free fall parachute training. In March 1977 the final Dornier Do 27 flight was made. D04 was transferred to the museum in August 1977.
The SV-4 Stampe


Jean Stampe was a pilot in the Belgian Air Force during World War I. At the end of the War he joined forces with another World War I pilot to form Stampe & Vertongen Aircraft based at Antwerp, Deurne in 1923. Originally Tiger Moth dealers they decided in 1933 to design a comparable bi-plane training aircraft. Eight prototype demonstrator SV-4s were built in the 1930s leading up to World War I. Following demonstrations to the Belgian and French Air Forces, they won orders for 30 and 300 respectively. 50 of the French order were built in Belgium before production was moved to Farmanns in France. Only ten were delivered before the start of the war halted all production.
At the end of the World War Two production of the SV-4 was resumed. Alfred Renard rejoined the team and Societe Stampe et Renard in Belgium produced the SV-4B and SNCA du Nord in France produced the SV-4C. To replace the Tiger Moth, the Belgian Air Force received 20 SV-4Bs (serials V-1 to V20) in 1948, followed by 45 SV-4Cs (serials V-21 to V-64) delivered between 1951 and 1955. The Stampe SV-4s were withdrawn by 1975, to be replaced by the SIAI Marchetti SF.260MB. The museum has had at least eight SV-4B/Cs to be used as collateral for exchanges. SV-4B (V-62) was exchanged for a Danish Air Force Chipmunk in 1977. V-21 was exchanged for two Tipsy Trainers in 1989.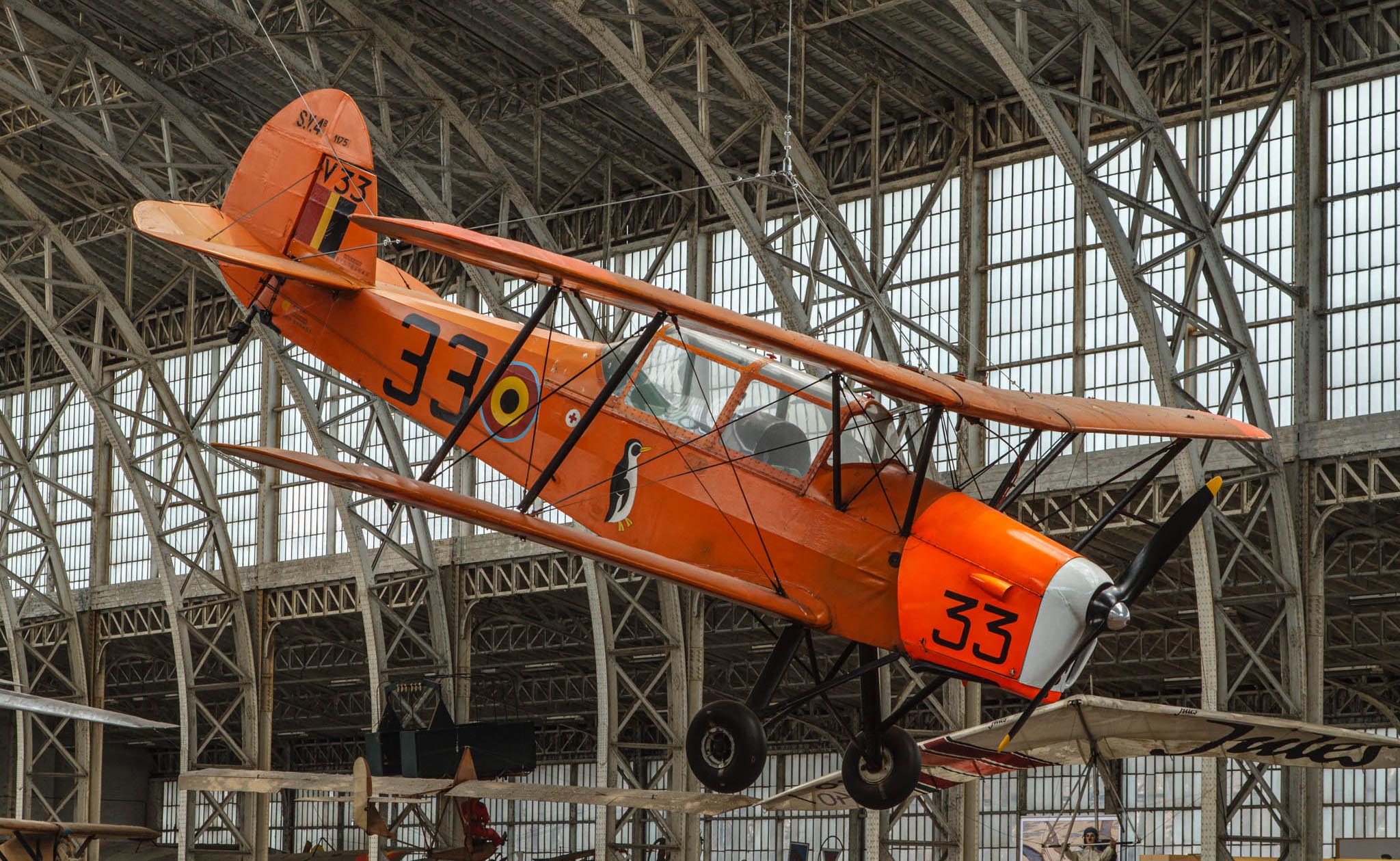 Stampe SV-4B

(V-33) back at the museum after its prolonged display from the roof in the departure terminal at Brussels (Zaventem) airport since 1995.
In March 2008 it returned this time to be hung from the roof of the aircraft hall.
SV-4B Stampe

(V-33 c/n 1175) ex Elementary Flying School (EVS) in its original orange colour scheme. V-33 first flew in 1952 and spent most of its working life with at Goetsenhoven and Nivelles in the flying training role. It later operated as a glider tug at Beauvechain. In August 1970 it was put in storage at Koksijde until it was struck off charge in May 1976. After a period as a travelling exhibit It was donated to the museum in 1980.
Left to right:


SV-4B Stampe

(V-56 c/n 1198) behind glass inside a 'sealed' side room.



SV-4C Stampe

(OO-CLH c/n 28 ex F-BFZC and 28 AdlA) Registered in Belgium in 1962. Although it originally served with the French Air Force (Armée de l'Aire) as No.28, before becoming F-BFZC, it has been painted in a spurious French Navy (Aeronavale) scheme as '102/5.S.25'.
Left to right:


SV-4B Stampe

(V-57 c/n 1199) all white, unmarked previously marked 'OO-ATD' to represent the famous aircraft which escaped to England at the start of the World War Two. It was retired in 1957, becoming the gate guard at Evere before being handed over to the Museum in 1964.



SV-4B Stampe

(V-64 c/n 1206) ex Belgian Air Force Elementary Flying School (Elementaire Vlieg School or EVS) in yellow-black "Les Manchots" (French for Penguins) aerobatic team colours. It was no longer on display by December 2009.



SV-4B Stampe

(V-28 c/n 1170) ex Elementary Flying School (EVS) in white-black-red "Les Manchots" colours and modified to a single seat. It was retired in 1970 and went into storage at Koksijde. (Stampe V-56 c/n 1198 is in a mock workshop within the Museum, minus it's upper wing which was part of the exchange deal for two Tipsy Nippers).
Left to right:


Stampe SV-4D

(OO-SRS c/n 1208) Registered in March 1967 to Stampe and Renard SA at Gosselies and became Jean Renard's personal aircraft. It was donated to the museum in 1978.



Stampe-Renard SR-7B Monitor

(OO-SRZ c/n 1003) Registered to Stampe and Renard SA in April 1954, its C of A expired in 1978. Renard was eventually absorbed into Avions Fairey SA. The SR-7 was designed to replace the SV-4 in the Belgian Air Force, but lost out to the SIAI Marchetti SF.260.
Fairchild C-119G Flying Boxcar

(CP-46 'OT-CEH' of Belgian Air Force ex 53-8151).
Fairchild C-119G Flying Boxcar

(CP-46 'OT-CEH' of Belgian Air Force ex 53-8151). The C-119 followed on from the C-82 Packet built by Fairchild between 1945 and 1948. The C-119 made it's first flight in 1947 and by 1955, when production ended, 1184 had been built. The USAF used the C-119 as a transport and as a gunship during the Korean and Vietnam wars. The first batch of 18 C-119Fs (serials CP-1 to CP-18) for the Belgium Air Force were delivered between 1952 and 1956. A second batch of 38 C-119Gs (serials CP-9 to CP-46) were delivered from 1953 to 1958. The Flying Boxcar continued in service with the Belgium Air Force till their eventual retirement in 1972. The example on display (CP-46 'OT-CEH') built by Kaiser, a Fairchild subcontractor and was the last Belgian aircraft to be delivered. Ending it's service with 20 Squadron of the 15th Wing at Brussels-Melsbroek, many of the remaining fleet weren't quite so lucky and were scrapped at Koksijde during 1973.
The elevated angle reveals what is currently being worked on in the restoration and assembly area.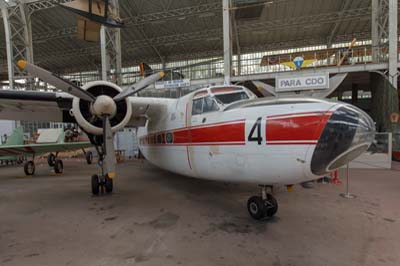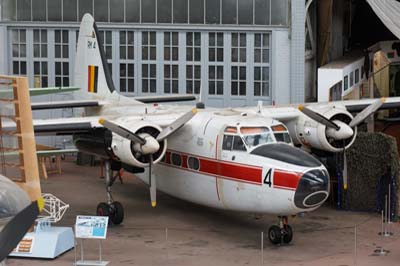 Left to right:


P.66 Percival Pembroke C.51

(RM-4 'OT-ZAD'). The Pembroke entered service with the Royal Air Force as the Percival Pembroke C.1 in 1953 to replace the Avro Anson for light transport duties. Belgian Air Force operated 12 C.51s from 1954 to 1976.
Douglas C-47 Dakota

(K16 'OT-CWG' of Belgian Air Force c/n 20823 ex 43-16357 USAAF). Delivered to the Belgian Air Force in 1947 as K16 for 366 Squadron, it was later converted to be a VIP transport before being damaged beyond economic repair in 1972 and transferred to the museum the following year.
Republic F-84G Thunderjet

(FZ-107 but painted as 'FZ-153/3R-E'). The F-84E Thunderjet first flew in 1949 with 843 being built. 21 aircraft were delivered to the Belgian Air Force (serials FS-1 to FS-21) under funding from the Mutual Defence Aid Program (MDAP) from 1951, which was superceded by the Military Assistance Program (MAP) from the early 1960s. They remained in service until 1956. This was only the second jet to be operated by the Belgian Air Force, the first being the Meteor. The F-84G entered service in 1951, 3,025 were built with 1,936 being transferred to NATO countries in Europe. 213 F-84Gs (serials FZ-1 to FZ-213) were supplied to Belgium, starting in 1952. Before they were retired in 1957, 54 aircraft had been lost in accidents. The example on display (FZ-107 ex 51-10667) is marked as 'FZ-153' and is coded '3R-E' of 1 Squadron, 2 Wing (badge on tail)
Republic F-84F Thunderstreak

(FU-30 ex 52-7169). The F-84F was developed after the F-84G and was a vastly different aircraft. It had 40 degree swept back wings, instead of the straight wings of the F-84G. It was originally designated the YF-96A and was capable of speeds of 695 m.p.h. The F-84F was supplied to NATO countries, of the 2,711 built 1,301 went to Europe. Belgium took delivery of 197 aircraft from 1955 (serials FU-1 to FU-197) to replace the F-84G. They remained in service until 1972. These in turn were replaced by the F-104G Starfighter starting from the 1960s.
Republic RF-84F Thunderflash

(FR-28 ex 51-1945). The RF-84F was the first jet aircraft to be designed solely for photo-reconnaissance, which could be achieved both day and night. The Belgian Air Force took delivery of 34 of these innovative aircraft (serials FR-1 to FR-34). They entered service in 1955, operating with 42 Squadron until there final retirement in 1972. The Museum had up to nine F-84Fs and a RF-84F in storage for many years, but these are believed to have now been scrapped.
The F-84s flew in the silver colour scheme until 1967 when a Vietnam camouflage scheme was applied.
Left to right:


Fouga CM-170 Magister

(MT-24 of Belgian Air Force). The CM-170 Magister was designed as a jet trainer to NATO specifications in the 1950s. It is fully aerobatic and served with the French 'Patrouille de France' and Belgian 'Red Devils' display teams for many years. The Belgium Air Force took delivery of 54 Potez-Fouga built Magisters from 1960 with another five refurbished (ex Luftwaffe) Messerschmitt built aircraft arriving between 1960 and 1962. They remained in service till 1998. The Magister serials were MT-1 to MT-50 with some serials being used twice following write-offs. The example on display (MT-24) was withdrawn after landing accident at Solenzara in November 1978, transferring to the Museum in 1979.
Left to right:


Lockheed T-33A Shooting Star

(FT-34 ex 55-3043). The T-33A was based on the single seat P-80, first flying in 1948. From 1952 till 1956 the Belgian Air Force received 39 T-33As (serials FT-1 to FT-38), eight were later transferred to the Dutch Air Force. They were needed to train pilots on the new F-84s that were now being delivered. They remained in service until 1979 as jet trainers.



Lockheed F-104G Starfighter

(FX-12). The first F-104A Starfighter flew in 1954. Production of this multi-role, all-weather strike fighter was started in many of the countries which adopted this unique aircraft, such as Fokker in Holland, Fiat in Italy, Messerschmitt in Germany and SABCA in Belgium. The two-seat TF-104G Starfighter's were manufactured by Lockheed. The F-104G had a maximum speed of 1,328 m.p.h. at 35,000 feet and could climb to 90,000 feet. The Belgian Air Force were supplied 101 F-104Gs (serials FX-1 to FX-100). An extra one was required to replace FX-27, which crashed during testing. They were delivered between 1963 and 1965. 12 TF-104Gs (serials FC-01 to FC-12) were delivered in 1965. The Starfighter was notoriously difficult to fly in some situations. The Belgian Air Force lost 41 F-104Gs and three TF-104Gs before their retirement in 1983. The Starfighter was replaced by the F-16A. The aircraft on display (FX-12) arrived at the museum in 1983.
Dassault Mirage 5BA

(BA-15). The Mirage 5 is based on the Mirage 3, but having simplified avionics. 106 Mirage 5s were delivered to Belgium, comprising of; 63 BA 'strike', 16 BD 'two seat' and 27 BR 'reconnaissance' variants. Most of them were license built by SABCA/Avions Fairey at Gosselies and were produced from 1970. The aircraft exhibited (BA-15) has the tail badge of 8 Squadron (silver cygnet of folded paper on blue background). The Mirage 5 was withdrawn from service in 1994.
General Dynamics F-16A Fighting Falcon

(FA-01). The YF-16 first flew in 1974, entering service a year later. To date over 4,400 F-16s have been delivered to at least 23 countries, with production in Europe in both Holland and Belgium. SABCA initially received an order to build 96 single seat F-16As, which was increased in 1983 to 136 (serials FA-01 to FA-136) and 20 (increased to 24) two-seat F-16Bs (serials FB-01 to FB-24). The assembly line opened in 1978. The first F-16 a two-seat, was delivered in 1979, by 1981 the first squadron (349) was fully operational. The final aircraft was delivered in 1985. The example on display (FA-01), had a period of storage with another 30 redundant F-16s, at Weelde from 1994. It was delivered from Weelde to the Museum in 1996.
Helicopters of the Belgian Air Force (Luchtmacht), Belgian Navy (Zeemacht) and Army (Landmacht).
Bristol 171 Sycamore HR.14

(XG547 'S-T' later G-HAPR). The Sycamore was the first British helcopter to serve with the RAF, it first flew in 1947. 88 HR.14s were built, 85 of which served with the RAF and three HR.14s were delivered to the Belgian Air Force for operations in the Belgian Congo.
XG547 had previously been on display at The Helicopter Museum (THM) at Weston-Super-Mare from 1988 to 2008, following its repaint at Yeovilton in 2003. It was exchanged in 2008 for a former Belgian Army Alouette II which is now on display at THM.
Left to right:


Sikorsky UH-34G HSS-1

(B6 'OT-ZKF'). The Belgian Navy (Zeemacht) ordered eight Sud-Aviation HSS-1 Seabat (serials B-1 to B-8) in 1961 to fulfil a Search and Rescue (SAR) role in 1961. Later the Air Force bought from SABENA, seven S-58C (B-9 to B-15) for short range transport duties. They remained in service till 1986, some having been already replaced by the Sea King in 1976 and 1977. The S-58C on display (B-13 'OT-ZKM') arrived at the Museum on August 20, 1981.



Aerospatiale (Sud Aviation) Alouette II

(A-11 c/n 1535). The Alouette first flew in 1955, it was the first Gas turbine powered helicopter, by 1975 1500 had been built. The Belgian Air Force (Landmacht/Force Aerienne) starting receiving them in 1959 (serials A-1 to A-81). Later a further six were received for the Police (Rijkswacht/Gendarmerie) (serials A-90 to A-95) in 1967. 90 Alouette II were delivered, again some serials were used twice. They were finally withdrawn from service in 1999.
Left to right:


Westland Mk.48 Sea King

(RS01) In December 2008 the first of five Sea Kings to be delivered to the Belgian Air Force (inscribed on aircraft 'Belgische Luchtmacht') was flown to the museum for permanent display. In poor weather the helicopter landed right in front of the museum at the end of its final flight from Koksijde where it operated with 40 Squadron (Smaldeel/Escadrille) on Search and Rescue duties. The helicopter have clocked 10,583 hours since it first flew in 1976.



Agusta A-109BA Hirundo 'Swallow'

(H-08). The A-109 first flew in 1971 and is a light-weight, twin engine, eight seat multi-purpose helicopter. In Belgian Army service the A-109s arrival was the subject of a bribing scandal. It was discovered that Belgian Socialists had received over 50 million francs for the purchase. Willy Claes, former NATO Secretary General was forced to resign and was later convicted. 46 A-109s were delivered (H-01 to H-46) from 1992 and most are still in operation. The example in the Museum (H-08) arrived September 7, 2005, having served with Belgian Army 'Light Aviation/Heli Wing' for eleven years before being withdrawn from service at Zutendaal in 2003.



Britten-Norman (Fairey) BN-2A Defender

(B-06) The prototype Islander flew in 1965, with a military version called the Defender being launched in 1970. Fairey at their factory at Gosselies, Belgium started building the Islander from 1973. The Belgian Army received 12 Defenders (B-01 to B-12) from 1976. Following their retirement from service in December 2004, the seven remaining Defenders (including one wreck) were put up for sale in January 2006. B-11 is preserved at Brasschaat air base, B-02 and B-09 will be used by the Management Unit of the North Sea Mathematic Models for pollution control. The Museum's example (B-06 callsign 'OT-ALF' with 'LF' on nose) was withdrawn from service after hangar fire at Butzweilerhof.
Aircraft types that have served with the Belgian Air Force.....
Left to right:


Gloster Meteor F.8

(EG-224 'K5-K'). 240 Meteors saw Belgian service, EG-224 was from the first of a batch of 37 built by Gloster but assembled in Belgium by Fairey at Gosselies. They were in service from 1952 to September 1963.



Gloster Meteor NF.11

(NF11-3). The Belgian Air Force flew four variants of Meteor. The first was the Meteor F.4, when 48 new Gloster built examples were delivered from June 1949. The F.4s were replaced by 240 F.8s from 1950 to 1954 this time built by Fokker. 24 of the F.4s were modified to a two-seat T.7 standard by Avions Fairey at Gosselies. The T.7s were retired in 1962, the F.8s followed into retirement a year later. Development of the NF.11 Night Fighter variant started in 1948, with 335 being built by Armstrong-Whitworth. In 1952 12 ex RAF Meteor NF.11s were delivered, with an additional 12 in 1956. By 1958 the Meteor had been fully withdrawn in favour of the new CF-100 Canuck. The Meteor NF.11 (NF11-3) on display did not actually fly with the Belgian Air Force, but was delivered to the French Air Force (Armée de l'Aire) in the 1950s.



Hawker Hunter F.4

(ID46 painted as 'IF70') in Red Devils display team colours. The Belgian Air Force received 112 Hunter F.4s between 1956 and 1957 to replace the Gloster Meteor F.8. They were built under licence in both Belgium and the Netherlands.
Avro Canada CF-100 Mk.5 Canuck

(18534 RCAF). The CF-100 was designed to be an all weather jet interceptor. The prototype's first flight was on January 19, 1950. The second prototype sadly crashed on the official date of delivery to the Royal Canadian Air Force (RCAF), killing both crew on April 5, 1951. Service with the RCAF continued until it's eventual retirement in 1981, 693 Canucks (Mk.1 to Mk.5) were produced in total.
The Belgian Air Force received 53 (AX-1 to AX-53) Canucks, these being operated by 1 Wing from 1957. They were withdrawn in the early 1960s, all being scrapped from 1964. The Museum's aircraft is an ex RCAF machine which did not actually serve with the Belgian Air Force.
North American F-86F Sabre

(5316 Portuguese Air Force and ex 52-5242). Belgium is believed to have evaluated the F-86F, but none actually served with the Air Force. The Sabre on display served with the Portuguese Air Force arriving at the Museum during May 1981.
Belgian Civilian Aircraft....
SABCA Poncelet Vivette

(OO-AFH c/n 2 and painted in its former markings of O-BAFH). Achieved an endurance record for a single seat glider of 10 hours 19 minutes in 1925. It was registered in 1923 as O-BAFH before being moving to the new Belgium register in 1929 as OO-AFH, the registration was cancelled just two years later.
Left to right:


Schleicher Grunau Baby III

(PL-37). The first Grunau Baby was designed by German Edmund Schneider in Grunau (now in Poland), it first flew in 1931. Eventually over 6,000 were built in over 20 countries. Nine Schleicher (DFS) Grunau Baby II/IIIs were operated by the Belgian Air Cadets (serials PL-30 to PL-38) from 1952 to 1975 (PL-37 exhibited is the only surviving Baby III). They also acquired two Grunau Baby IIbs (serials PL-39 and PL-40) in the 1960s. The Museum also has a Grunau SG-38 (PL-21) and two Grunau Baby IIs (PL-33 and PL-36) in storage at Vissenaken.



Caudron C.800 Epervier 'Hawk'

(F-CBTZ c/n 9816/256). The vertical unmarked silver glider hanging up at the window. It is a two-seat side-by-side glider built by the Caudron Airplane Company (Société des avions Caudron) in France. Caudron was founded in 1909 but was acquired by Renault in 1933. The prototype C.800 first flew in 1942 with mass-production starting at the end of the war.
Left to right:


Schleicher KA-6CR

(OO-SZP) registered in 1962, German built single-seat glider dating back to 1959 based on a design from 1956 which was fitted with a skid, main wheel were introduced in 1959.



PZL Bielsko-SZD 8bis 'Jaskółka'

(OO-ZSA) registered in 1960. Polish built high performance glider from 1951, holding 15 world records from 1954 to 1960.



Kreit-Lambrickx KL-2

(OO-ANP). Kreit and Lambrickx were two Belgian Air Force airmen and the KL-2 was their only aircraft. It was registered and first flew in 1934. Following a period in storage it was cancelled from the register in 1946.
Left to right:


Henri Mignet HM-293 Pou du Ciel 'Flying Flea'

(OO-33). The original HM-14 'Flying Flea', designed in 1934 by Henri Mignet was probably the first home-built to be offered to the public for home construction. Following a number of fatal accidents and the discovery of aerodynamic design errors the French authorities banned it from flying in 1936, the British authorities following suit in 1937. The HM-293 was more streamlined and had a more powerful engine than the original HM.14 and many were sold as home-builds in the 1960s.
The example on display is also marked 'EX.OO 33' and was previously marked 'OO-BAM' in 1997. 'OO-33' is a Belgian homebuilt registration dating back to the 1960s, it was based at Ghent at one time.



Henri Mignet HM-293 Pou du Ciel 'Flying Flea'

(OO-11) another home-built from the 1960s and was based at Temploux before transfer to the museum.
Left to right:


Tipsy Trainer 1

(G-AFRV) Designed by Ernest Oscar Tips a Belgian who formed Société Anonyme Belge Avions Fairey at Gosselies, Belgium in 1931 and also Avions Tipsy in 1935. The first Tipsy flew in 1933 followed by the Tipsy Junior in 1946 and Tipsy Nipper in 1957. G-AFRV has been under restoration since 2005, following a heavy crash. It required a new wing and tail and was finally completed in December 2009 when this image was taken.



Tipsy Trainer 1B 'Belfair'

(G-AFJR '46' c/n 2). The museum restored this Tipsey B which was modified in Belfair in the 1950s. It went on display from around 2014.



Tipsy T.66 Nipper

(OO-NIP c/n 01) OO-NIP was the first prototype and flew for the first time in December 1957. By 1961 59 aircraft had been delivered following which production was transferred to Cobelavia (Compagnie Belge d'Aviation) at Herten, Belgium. Nipper Aircraft of Castle Donington produced 33 aircraft between 1966 and 1971 before they went into liquidation.
Left to right:


Tipsy S.2

(OO-ASB marked as 'OO-TIP'). Originally built by Fairey at their factory at Gosselies the S.2 was later built under licence by Tipsy Aircraft at Hanworth, UK. This aircraft was built in 1936 and registered to E. Tips in 1937 as OO-ASB. It was immediately sold in the UK as G-AFVH.
SAI KZ III

(OO-MAA c/n 72). Scandinavian Aero Industry (SAI) built eleven KZ types from the KZ I to KZ X between 1937 and 1953 in Denmark. 64 KZ IIIs were built, the prototype flying in 1944. The example on display was first registered in Belgium in 1946 and was flying until 1971. Following its donation to the Museum it was dismantled and stored. In 1998 it was reassembled and put on display.
Percival Gull Four II

(G-ACGR). This aircraft was ordered by Sir Philip Sassoon, then Under Secretary of State for Air in the United Kingdom. In 1933 and 1934, it took part in the Kings Cup air races. However on a flight across to Europe it was written off in a forced landing in a river in Belgium and was consequently taken off the British aircraft register. Amazingly it was re-discovered by E. De Deurwaerder in 1973, wrecked in a barn near Nieuport, Belgium. Two years later he donated it to the Museum.
Morane Saulnier MS-315

(F-BCNT c/n 350 unmarked ). SA des Aéroplanes Morane-Saulnier was established in 1911 by Raymond Saulnier and the Morane Brothers. Following on from their first parasol-wing aircraft the MS.230, which was flown first in February 1929, the MS-315 first flew in 1932. Designed as fighters they quickly ended up as trainers due to their lack of basic speed. Once they were disposed of by the military they became popular with civilian flying clubs.
Left to right:


Morane Saulnier MS-230

(F-BEJO c/n 403 or 1066 it is unmarked).



Fairchild UC-61K Forwarder/Argus III

(OO-LUT and marked as 43-14987 c/n 951). The civil version the Fairchild 24 Argus first flew in 1932. During the World War Two the USAAF ordered a utility transport and communications version of the Argus, known as the UC-61 Forwarder. The Museum's Argus was originally USAAF UC-61K (43-14987) and is displayed as such. Following its military career it was registered in France as F-BAMB before moving to Belgium in 1962 as OO-LUT. It was retired in 1970. Another Argus, OO-LMV c/n 1069, was also on display at the Museum for many years from 1979.
de Havilland Canada DHC-3 Otter

(OO-SUD). Following on from the small but very successful DHC-2 Beaver, the Otter first flew in 1951. 450 aircraft were built. This aircraft was formally with US Navy. It was later used by the 'Centre National des Recherches Polaires' until its retirement in 1972.
Douglas A-26B Invader

(N67160 ex D-CAFY, restored with its former markings as 44-34765 'AN-J'). This aircraft did not serve with the USAAF, but was eventually sold on in 1946 and registered N67160. It passed through many civilian operators before being grounded in 1965 with cracks in the wing spars. It was donated to and restored by the Institute of Aviation at the University of Illinois. It was later sold in Germany where the registration D-CAFY was allocated. From 1969 it was operated from Antwerp Deurne, before being impounded due to non-payment of landing fees. I recall seeing it at Deurne parked outside in March 1973. It was finally donated to the Museum in 1976, arriving there in November 1979. It is currently under restoration, having a turret and other military equipment re-installed, including eight .50 inch guns mounted in the nose. It is has been painted in USAAF markings to represent the only A-26 Squadron to serve in Belgium.
Junkers Ju-52/3m

(OO-AGU formally 7U+IK Luftwaffe and 6309 Portuguese Air Force). Designed in 1929, the Ju-52 first flew in 1930, by 1932 a third engine had been added (Ju-52/3m). It quickly became a very successful transport for the Luftwaffe. The Portuguese Air Force operated the Ju-52 from 1936. The Museum's aircraft was formally operated by the Portuguese Air Force, arriving from Alverca, Portugal on April 24, 1985. This Ju-52 was received in exchange for an Alouette II and a Sikorsky H-19. The BAMF started working on her in 1990 and it was finally restored as 'OO-AGU' to represent a SABENA operated aircraft from the 1930s. She was put on display in September 2001.
Sud SE.210 Caravelle 6N (OO-SRA) Delivered to SABENA in 1961 and withdrawn from service in 1974. It moved to the Museum in October 1977.
Classic Military Aircraft but with No Connection to Belgium....
Bristol 149 Bolingbroke IVT

(9895 but marked as '10038 XD-A' Royal Canadian Air Force). Designed and built by Bristol the Mk.142 Bolingbroke was later renamed the Blenheim prior to its service with the RAF in 1937. It was designed as a long-range daylight bomber. Later Fairchild in Canada manufactured aircraft who retained the original Bolingbroke name.
de Havilland DH-115 Vampire T.11

(XH292). The Vampire first flew in 1943. The Vampire T.11 was produced from 1950 remaining in service till 1967 with the RAF. The T.11 on display, following a period of storage at Woodford, UK. was transferred to the Museum in 1973.
Left to right:


Mikoyan-Gurevich MiG-21F-13 'Fishbed-C'

(F-2157 Indonesian Air Force, marked '77 red'). The MiG-21F-13 entered service in 1960, as a single-seat short-range day-fighter. Over the next 30 years 6,000 were built, many under license in a number of countries. The Indonesian Air Force (TNI-AU) received around 50 between 1962 and 1967. Following the fall of the President Sukarno in 1967, Russian designed aircraft were transferred to the West. The example on display is apparently on loan from the US Government and is presumed to be one of those aircraft tested secretly at Groom Lake in Nevada. It was no longer on display by December 2009, having made room for the Sea King.



Mikoyan-Gurevich MiG-15bis 'Fagot-B'

(3911 Czech Air Force). The MiG-15bis first flew in 1949 as a single-seat fighter. The former Czech Air Force aircraft on display arrived March 6, 1989 following swap for a Meteor F.8 (EG247) which went to the Kbely museum. It was no longer on display by December 2009.



Aero Let L-29R 'Delfin'

(2808 Czech Air Force). The L-29 entered operational service in 1963, with production continuing until 1974 at the Aero Vodochody factory in Czechoslovakia. The Museum's aircraft (2808) was with Czech Air Force before its transfer to the Museum on December 12, 1991. It was no longer on display by December 2009.
Left to right:


Mil Mi-24D 'Hind'

(96+33 unmarked ex 528 NVA/LSK). Russian designed helicopter gunship which went into service from 1972. The German Air Force received 51 Mi-24's from the former East German Air Force after reunification in 1990 which were mostly passed on to the Polish and Hungarian Air Forces.



Let C.11

(1317 Czech AF painted '1706'). The Yak-11 was used as a trainer by the Russian Air Force from 1947 until 1962, its design was based on the Yak-3 fighter. From 1953, 707 were licence-built by Let in Czechoslovakia as the C-11. This example was obtained by the museum in 1992 when it was exchanged for a surplus AT-6 (B-67 ex RNAF).
Left to right:


Dassault MD.450 Ouragan 'Hurricane'

(320 'UQ' of GE.314 AdlA). The Avions Marcel Dassault MD.450 Ouragan was the first mass-produced French built jet fighter, taking to the air for the first time in February 28, 1949.



Mikoyan-Gurevich MiG-23BN 'Flogger'

(4421 Egyptian Air Force, marked '23 red'). The Egyptian Air Force was the first foreign air force to receive the 'Flogger' from the Soviet Union, receiving eight MiG-23BNs in 1974. The example on display could be the aircraft transferred to Manching in Germany in 1986 for testing by the West, before finding it's way to a museum outside Ramstein before moving to Brussels.
Left to right:


McDonnell Douglas RF-4C Phantom I

I (68-0590sW'). Work on the photo-reconnaissance version of the F-4 was started in 1962, with the RF-4Cs first flight in 1964. 505 examples were produced. The Museum's aircraft wears the colours of 363rd Tactical Fighter Wing when operated from Shaw AFB, South Carolina from 1982 to 1989.



Dassault Mirage F1

(100 '33-LA') Manufactured by Dassault Aviation as a interceptor aircraft and ground attack aircraft and a successor to the Mirage III. It first flew in December 1966.



Aeritalia/Fiat G-91R3

(30+85 WGAF). NATO invited European aircraft manufacturers in 1953 to design a 'Light Weight Strike Fighter'. Resulting from this competition the G.91 was the most successful, with orders from the West German, Italian and Portuguese air forces. Aeritalia built 174 for the Italian and 144 for the West German air forces. A consortium of Messerschmitt, Dornier and Heinkel built 294 in West Germany. The example on display is in the colours of JBG 41 of West German Air Force and was a Strike Reconnaissance version of the 'Gina' which was operated by them from 1960 till 1981. It was no longer on display by December 2009.



SAAB J35A Draken 'Dragon'

(35067 Royal Swedish Air Force). SAAB started work on their double-delta wing designed single seat fighter in 1949. It entered service with the Royal Swedish Air Force (RSAF) a year later and flew for the next 40 years, production ending as late as 1974. The Draken on display arrived on November 20, 1978 and wears the RSAF markings of F16 wing and is coded '34'. It was no longer on display by December 2009.
How do you get to the Museum?


The Museum is very easy to get to, it is situated close to the centre of Brussels. Take the train or subway to Brussels Mérode or Schuman stations. The opening times are 9 a.m. to 4.30 p.m. but is closed on Mondays and National holidays (January 1, May 1, November 1 and December 25). Entrance is free but it may not be possible to enter the aircraft hall during lunchtime which is between 12 till 1 p.m.
Parc du Cinquantenaire
3, Jubelpark
B-1040 Bruxelles,
Belgium
Tel: +32 (0)2 734 2157 Additional information on the Belgian Air Force can be found on Daniel Brackx's excellent site,

Belgian Aviation History Association