Planes of Fame Air Museum
Chino, California
May 1981, October 2000 and October 2017
Left to right: North American Mustang P-51D (44-84961 'G4-U' registered NL7715C)
Mustang P-51D (45-11582 '607' registered NL5441V).
Left to right: Curtiss Kittyhawk P-40M (43-5508 'OK-D')
Curtiss Warhawk P-40N (42-105192 registered N85104)
North American Mustang P-51A (43-6251 '13' registered N4235Y)
Cessna Bird Dog L-19A (51-12129 registered N305TA).
Left to right: Seversky Guardsman AT-12 (41-17529 registered NX55539).
Douglas Dauntless SBD-5 (28536 '39' registered N670AM).
North American Texan SNJ-5 (90608 '08').
Left to right: Douglas Skyraider AD-4NA (126997 'JC-409' registered NX409Z).
Grumman Avenger TBM-3 (91264 '46' registered N7835C).
Beech Expeditor TC-45J (89468)
Grumman Mohawk OV-1A (59-2604 registered N4235Z)
Lockheed P-38L Litening (44-53186 '83' registered N505MH).
Left to right: North American Mitchell B-25J (44-30423 registered N3675G)
Lockheed P-38 L (44-23314 '162').
Grumman Tigercat F7F-3N (80382 '382').
Lockheed Lodestar C-60A (FK261 'AM-T' painted as 'AM711').
Left to right: Bristol F.2B Fighter (E2624).
Boeing P-12 G (32-017 registered N3360G)
Boeing Hawk FB-5 (A-7104 '6-F-11')
Left to right: Boeing Peashooter P-26A (33-123 registered NX3378G),
Rider R-8 (NX96Y) 'Eight Ball'
Republic Thunderflash GRF-84K (52-7265 'FS-265').
Left to right: North American Sabre F-86F (52-5012 'FU-834' registered N186AM)
Sabre F-86F (51-13067 'FU-067' registered N186SE)
Republic Thunderstreak F-84F (51-1378).
North American Fury DF-1D (135867 'L-313')
Left to right: North American Sabre QF-86H (53-1351).
Lockheed Shooting Star F-80A (44-85488 'PN-488').
North American Super Sabre QF-100D (56-3141 '291').
Rockwell Buckeye T-2A (147469).
Left to right: Douglas Skyhawk A-4E (151064 '10')
Douglas Skyhawk A-4L (148316 registered N157AT)
LTV Corsair II A-7A (152673 'NF-300')
LTV Crusader F-8A (145336 'DW-16').
Yokosuka D4Y 1 (7483 '60I-35')
Left to right: Mitsubishi Raiden 3D (3014 'D1158'),
Mitsubishi Zero A6M-5 (5357 '6I-I20' registered N46770),
Yokosuka MXY-7 Ohka Model 11 (1049 'I-I8'). 755 of these air launched rocket propelled suicide attack aircraft. This Ohka (1049) was captured at Yontan Airfield on Okinawa on April 1, 1945. A total of four Ohka were captured in 1945 and evaluated at the Royal Aircraft Establishment - Rocket Propulsion Research at Westcot, UK.
Others on display are at the Museum of Science and Industry in Manchester, UK and another is Yanks Air Museum also at Chino, and at Cosford IWM in the UK.
Mitsubishi Shusui J8M-1 (403 'T"-300')

Left to right: Supermarine Spitfire LFIXE (ML417 '21-T' registered NX2TF),
Heinkel He 162A-2 Volksjäger (120077),
Focke-Wulf Fw 190 (980574 'White 14').
Left to right: Yakovlev Yak-18 (1432030 '30' registered N18YK) ex Chinese Air Force.
Yakovlev Yak-3 U (533 'White 6' registered NX130AM) ex Egyptian Air Force.
Aero Delfin L-29 (194150 '34' registered N88LK).
PZL Lim-5 (1529 registered NX117BR).
Left to right: Mikoyan - Gurevich MiG-21 R (2149) ex Czech Air Force.
Hispano Saeta HA.200 A (E.14A-5 registered N5486Y) ex Spanish Air Force.
Lockheed Starfighter F-104G (FX-82) ex Belgian Air Force.
Left to right: Gloster Meteor F4 (VT260) ex RAF.
de Havilland Vampire FB6 (J-1129 registered N4024S) ex Swiss Air Force.
Pilatus P-2 (U-142) ex Swiss Air Force.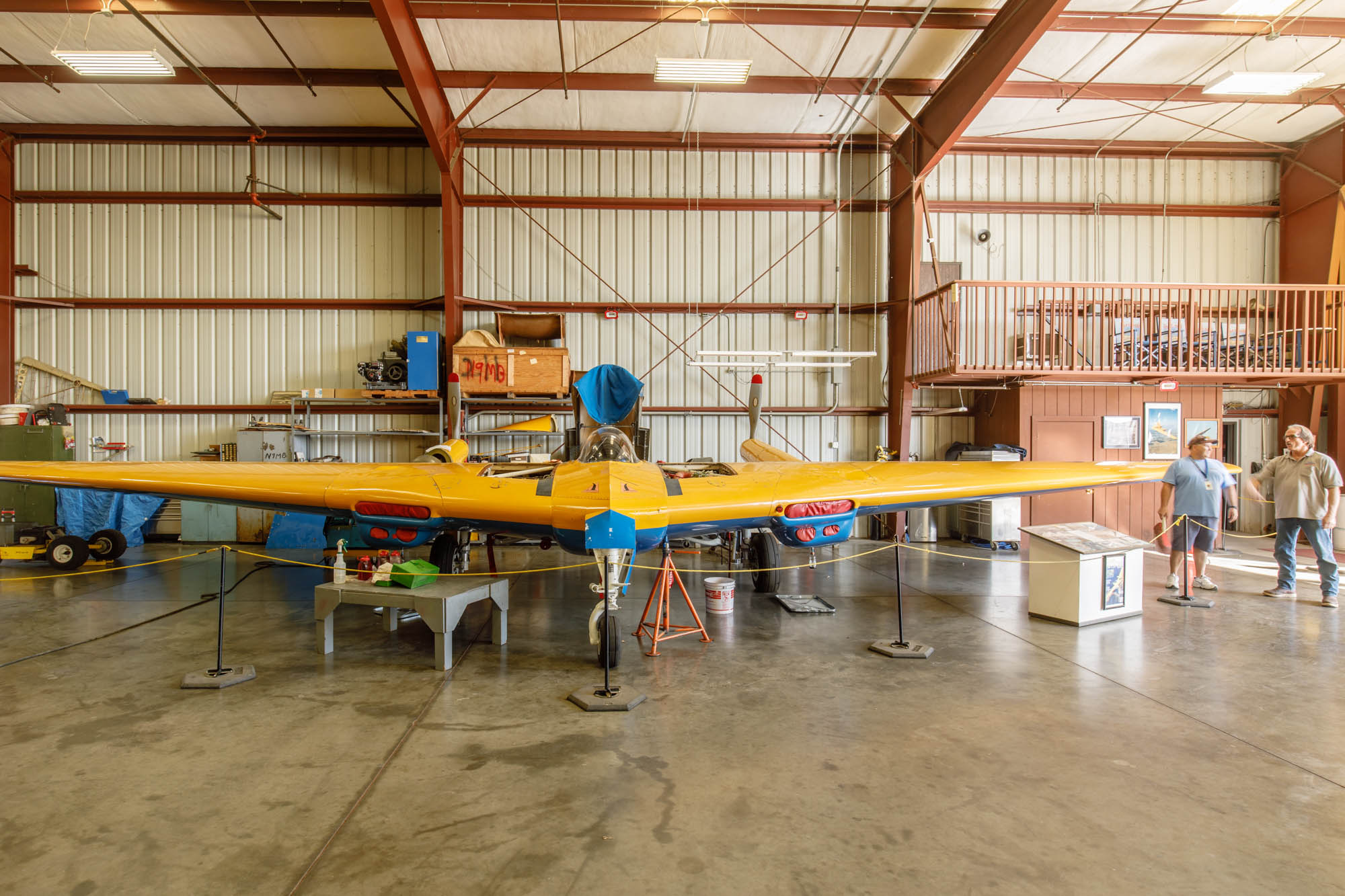 Northrop designed the N-9M in the early 1940s resulting from a wartime contract to create a long-range bomber. Jack Northrop believed in the flying wing design to reduce drag, create lift and improve the overall performance of aircraft. The Northrop N-9M made its first flight in 1940 and before its retirementin 1945 it under went several hundred hours of flight testing at Muroc Dry Lake Bed (later Edwards Air Force Base). There were only 4 prototypes made during the aircraft's development. The program was cancelled and 3 of the 4 were scrapped. The remaining airframe ended up in a scrapyard in the desert until Planes of Fame rescued it some 30 years later in 1982 and it was restored to flying condition and participated in many air shows.
On April 22, 2019 the pilot lost control and the only surviving N-9M (N9MB) crashed into the California Rehabilitation Center prison yard in Riverside County, California. The pilot was killed and the aircraft totally destroyed.
Left to right: Douglas A-1D Skyraider (126997 'JC-409' registered NX409Z).
Lockheed P-38J Lightning (42-3314) named 'Joltin Josie'
Douglas SBD-5 Dauntless (NZ5062 RNZAF registered NX670AM).
Supermarine Spitfire PR.XIX (PS890 registered F-AZJS).

Left to right: Republic P-47G Thunderbolt (28487 registered NX3395G).
Messerschmitt Me 262 Schwalbe (500453 'white 9') just before its move to Flying Heritage Collection in 2000.
Grumman Tigercat F7F-3N (80382 '382').
Convair F-102A Delta Dagger (56-1413).
Left to right: Republic Thunderflash GRF-84K (52-7265 'FS-265').
Republic F-84E Thunderjet (49-2155 'FS-155'). Arrived in 1988 but later transferred to the Yanks Museum at Chino.
Fouga CM.170R Magister (511 '312-TP' registered N511FM).
Fouga CM.170R Magisters (508 registered N508F with 221 registered N221FM).
Left to right: P-38L-LO Lightning (44-27183 registered N517PA),
P-38J Lightning Lightning (44-23314 'N2' registered N29Q later N38BP) it was estored to airworthy status at Chino in 1987,
North American F-86A Sabre (49-1217 painted as 49-1318 'FU-318'), former California Air National Guard F-86A 49-1217 at the Planes of Fame Museum marked as 49-1318 that was lost in Korea in January 1952. Later the aircraft was painted with it's original serial and displayed at the museum at Valle, Arizona.
Hawker Sea Fury T.20 (N924G '924') previously Royal Navy as VX300.
Left to right: Bristol 149 Bolingbroke IVT (10073 RCAF), It was struck off charge in 1946. Sold to a farmer and stored outdoors until acquired by David Tallichet in 1972. Shipped to Chino by rail. Later transferred to Pima Air and Space Museum and displayed as RAF Blenheim Z9592.
North American B-25J Mitchell (44-31032 registered N3174G) 'Free, Fast and Ready' also with David Tallichet/Military Aircraft Restoration Corp. As photographed in October 2000.
Beech SNB-1 Kansan (N2880D) later to Fantasy of Flight Museum, Florida.
Curtiss SB2C-3 Helldiver (19075 '8' USN, registered N4250Y) with David Tallichet/Military Aircraft Restoration Corp.
Visitors
Left to right: Stinson Sentinel L-5 (42-98180 registered N63094) ex USAAF, identity unconfirmed.
Boeing Stearman PT-13D Kaydet (42-16959 registered XB-BYI),
Lockheed Howard 250 (N5088),
Globe GC-1 Swift (N2344B).