Royal Air Force Museum
RAF Cosford
2003 - 2023
2022: RAF Cosford Museum

is a very friendly location and a place I frequently enjoy photographing aircraft. The exhibits are rare if not unique covering the United Kingdom's aircraft development along with many examples of captured enemy aircraft from World War Two. The permanent staff and volunteers are ready to assist with any request and they can provide some interesting facts about the aircraft. Some valued restoration is carried out onsite although that is not usually available for viewing. In December 2022 lottery funding was awarded to them for an expansion in the number of exhibits for viewing. As announced; "The National Lottery Heritage Fund has generously supported the RAF Museum's application for £5m at first round towards its £22.1m RAF Museum Midlands Development Programme. The Museum will now enter into a development phase, before building work commences in early 2025, and is expected to be complete by summer 2027." In January 2023 five aircraft at least were taken out of hangar 1 and placed outside.
February 2007: The National Cold War Exhibition is opened.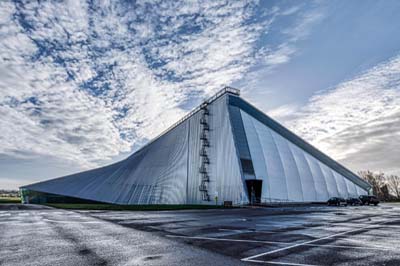 National Cold War Exhibition hangar was opened in June 2007.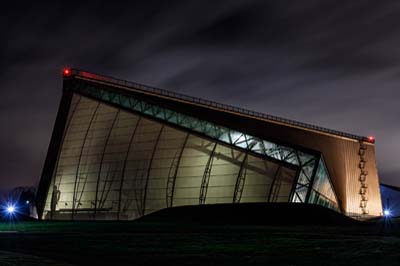 March 2020 during a night shoot.
Housed in a unique and architecturally ground breaking building, the new National Cold War Exhibition was opened to the public on February 8, 2007. The purpose built building is both tall and dazzling, its design of flowing contours is difficult to describe. It cost £12.4m with £4.9m coming from the Heritage Lottery Fund (HLF). The humidity inside is controlled, there is no doubt that the twenty or so aircraft and aircraft noses exhibited are well looked after.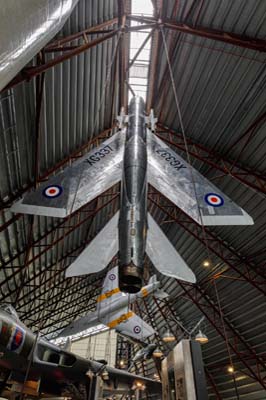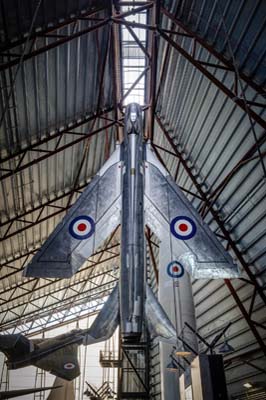 The National Cold War Exhibition aircraft represent those involved during the 'Cold War', a period of tension between the two superpowers from the end of the World War Two to the early 1990s. As a key member of NATO the United Kingdom played a major part in the stand-off, which lasted almost 50 years. However some of the aircraft exhibited are an odd choice to represent the 'Cold War'. The collection has not been gathered together from scratch, so those in charge have had their hands tied with regard the selection of aircraft available for display. It is more an assembly of aircraft that did not have a roof over them and so needed protection from the elements. It's good the see all three V-Bombers, the ex Hendon Valiant, Victor and Vulcan in one place. However the Belfast, Twin Pioneer and Jetstream, don't to my mind represent aircraft that took part directly in the 'Cold War'. To show that it was not just the RAF involved in the 'Cold War' an ex Polish Air Force Chinese built Lim-2, a copy of a Soviet MiG-15bis, is displayed with an ex Hungarian Air Force MiG-21PF. From the United States Air Force is a recently restored F-111F painted in the colours of 48th Tactical Fighter Wing when based at RAF Lakenheath. This aircraft returned to the UK from storage at Davis Monthan, Arizona in a C-5 Galaxy in 2005. Aircraft from the famous Berlin Airlift which started in 1948 when the Russians closed the road border to Berlin, are quite rightly well represented, notably the Avro York, a Dakota and a Hastings which entered service during the three years of the airlift.

The building is another bone of contention for me, its good that our aviation heritage is preserved for all to see, but why design something that patently does not fit in with the period buildings that surround it. To me its 'warped' design is an eye sore that should have been built as a modern representation of a traditional aircraft hangar. The reason for this is apparently down to the HLF insisting on a 'landmark' design before funding is awarded. Well it is here to stay as are its inmates, indeed it apparently would cost £3,000 to take down enough side panels to allow an aircraft to be swapped.

Seven aircraft are suspended from the roof, some at incredible angles. The Lightning for example hangs from its nose to depict a vertical climb of which it was famous, when in service with the RAF. The pose is dramatic and different. Decent photography within the new building, due to the obvious need to pack the aircraft in tightly, is very difficult, you find yourself too often walking under a very large V-Bomber.

Walking around the other original three hangars which house the collection of many unique aircraft is still as enjoyable as it ever was. Many of this countries prototypes and development aircraft from the jet age it started, can be found here at Cosford. They ranged at one time (aircraft are frequently swapped between Hendon and Cosford) from the first jet aircraft, the Gloster F.9/40, to the first operational jet the Gloster Meteor and up through many of the RAF's operational jets to the Tornado and the first jet powered airliner, the de Havilland Comet. World War Two aircraft are very well represented and include; a Spitfire, Hurricane, Mosquito, Mustang, Messerschmitt Me 410 and Japanese Ki 46 'Dinah'.

Photography in these older hangars is good providing you use a tri-pod and wide-angle lens. The barriers which surround the aircraft are quite low and so don't intrude too much in to the images.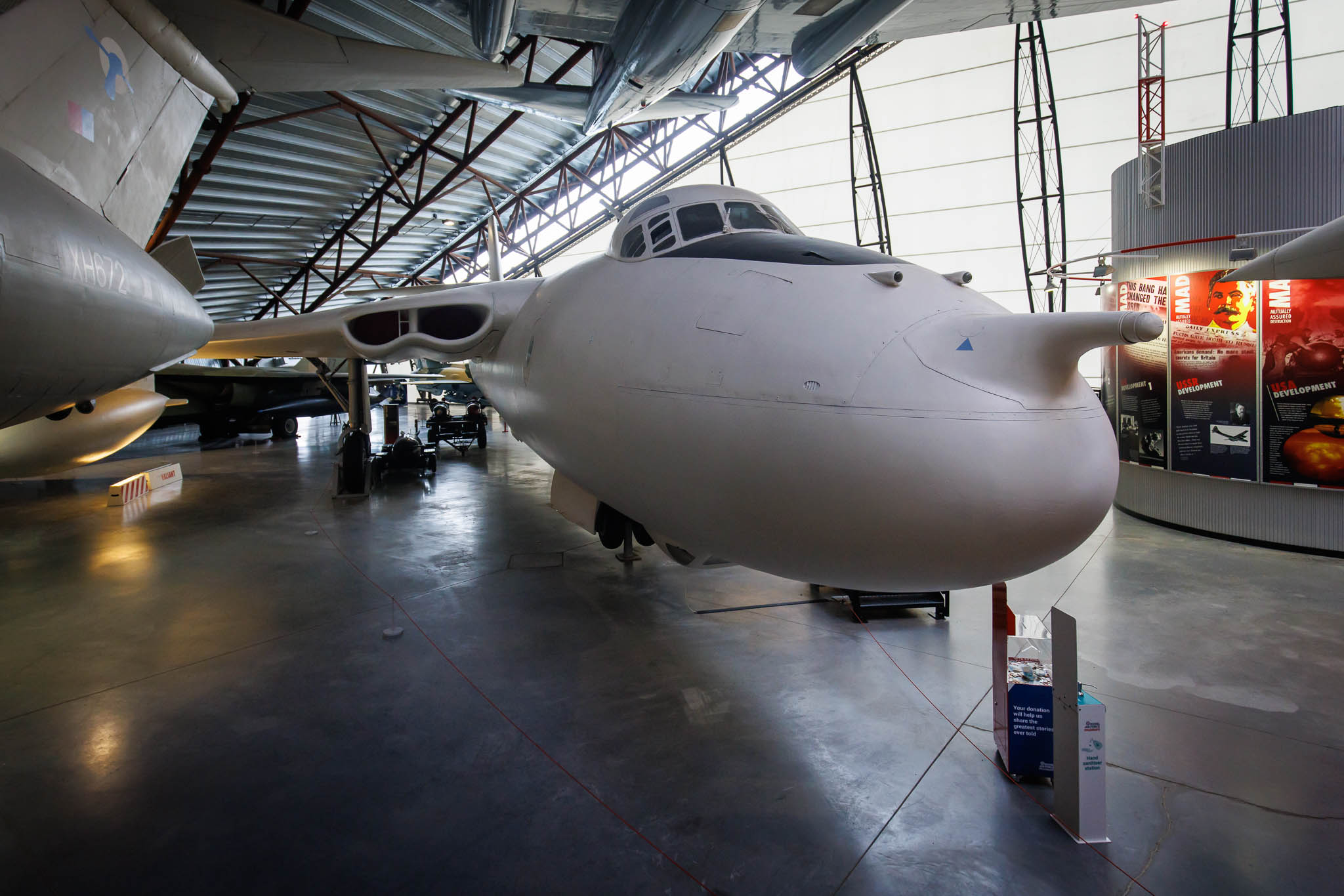 Left to right:


Vickers Valiant BK.1

(XD818) was developed in the 1950s but following a series of crashes and cracks found in the wing spars they were withdrawn from service in 1964.
Left to right:


Handley Page Victor K.2

(XH672) 'Maid Marian'. The K.2 could carry 91,000 pounds of fuel (41 metric tonnes), it had a cruising speed of 640 mph (Mach 0.92) at 40,000 feet with a range of 3,500 miles. Victor K.2s performed well during the Falklands War, flying 600 sorties from Ascension Island in support of the Vulcans, Nimrods, Hercules and Harriers. XH672 with other Victor K.2s remained in service until the first Gulf War refuelling when it was utilised by the Tornado.
Only four complete Victors survive today, a B.1A at Duxford (XH648) and three K.2s at Cosford (XH672), Bruntingthorpe (XM715) and Elvington (XL231).
Left to right:


Hawker Hunter T.7A

(XL568). Based on the Hawker Sea Hawk, the first production Hunter F.1 flew in 1951, following flight testing of the P.1052 and P.1081 test aircraft. Neville Duke broke the world speed record in a Hunter F.3 in 1953 when flying at 727.63 mph. Eventually 1,972 Hunters were built serving with 19 air forces to 1994. In 2007 two of a large number of privately operated Hunters were contracted to fly once again for the RAF. The T.7 variant was a two-seat trainer.
Left to right:


Armstrong Whitworth (Gloster) Meteor NF.14

(WS843 'J'). As photographed as 'Y' in 2002.



Canadair Sabre F4

(XB812 / 9227M previously MM19666). First flew in 1953 as RCAF 19666 before delivery to RAF in same year. To Italian Air Force in 1966 as MM19666. On retirement in 1976 it went to a technical school before it went to Museum at Vigna di Valle in 1991 for preparation to transfer to RAFM 1993 when allocated 9227M.



Lightning F.1

(XG337 later 8056M) first flew in September 1959 it was used for Red Top missile trials at Warton and Boscombe Down. Utilised for ground instructional use at Cosford and Halton before returning to Cosford for display, eventually to be hung vertically from the roof of the new Cold War Exhibition building.
Left to right:


English Electric Canberra PR.9

(XH171) entered service in 1960 with 58 Squadron and later 39 Squadron at RAF Wyton. Its final flight to RAF Cosford was on July 13, 1982. Transferred to the museum in 1992.

Left to right:

Scottish Aviation Twin Pioneer CC.2

(XL993). The Twin Pioneer was a follow-up to the same company's single-engine short take-off and landing (STOL) transport, the Pioneer. Initially designed as a 16-passenger civil transport aircraft the Twin Pioneer first flew in 1955. The RAF ordered 39 examples which entered service in October 1958 the last aircraft on frontline duties was retired in 1968. In 1965 an additional aircraft was acquired for use by the Empire Test Pilots School.
Left to right:


Sikorsky MH-53M Pave Low IV

(68-8284). Between 1986 and 1990 nine MH-53Hs and 32 HH-53s were later converted to 'MH-53J Pave Low III Enhanced' for low-level, long-range Special Operations. This example served with the 352 SOG at RAF Mildenhall until it was retired in 2008.
Left to right:


Mikoyan-Gurevich MiG-15bs 'Fagot' Lim-2

(01120 ex Polish Air Force). As photographed at Hendon in 1989.
Left to right:


Mikoyan-Gurevich MiG-21PF

(503 later N610DM and G-BRAM) Hungarian Air Force (Magyar Legiero). The MiG-21 was the first Soviet fighter capable of flying faster than twice the speed of sound. Deliveries of the MiG-21PF fighter variant to Hungary started in 1966 and by 1988 they were relegated to the training role. This was the second production version of the MiG-21, with all-weather capability it entered production in 1962.
Left to right:


General Dynamics F-111F

(74-0177 'LN'). 106 of the F variant were built from 1972, this example finished its days at RAF Lakenheath.
Left to right:


Short Brothers Belfast

(XR371). Designed as a long-range, strategic transport aircraft the first flight was made in January 1964. Only ten aircraft were built serving around the World with the RAF until 1976. As photographed in 2002.
Left to right:


Douglas DC-3 Dakota C.4

(KN645).
Left to right:


Handley Page Hastings T.5

(TG517). Based on the civilian Handley Page Hermes it was designed to replace the Avro York, at the time it was the largest transport aircraft supplied to the RAF, in total 147 were delivered from 1948. The last few were not retired until 1977. Only four complete aircraft survive today.
Left to right:


Gloster Javelin FAW.1

(XA564). The Javelin was the world's first twin-jet delta-wing fighter, designed to intercept bombers at high altitudes and at high subsonic speeds.
Left to right:


Avro Vulcan B.2

(XM598) The Vulcan B.1 took to the air in 1952 followed by the B.2 variant in 1956, which was modified to carry the Blue Steel stand-off nuclear missile. The Vulcan's mission changed from high level to low-level in 1966 with the withdrawal of their nuclear weapons in 1970. As a conventional bomber and within flight refuelling it continued in service until 1984.
XM598 was withdrawn from service when 44 Squadron disbanded on December 21, 1982. It was delivered to Cosford in January 1983 and held outside until the new National Cold War Exhibition building was opened in 2007.
Left to right:


Avro 685 York C.1

(TS798) development of the Avro 685 started in 1941, the first civilian version going to BOAC in 1944. Eventually 50 civilian and 208 military versions were delivered. Most of the aircraft delivered to the RAF were later converted for civilian use. This particular aircraft saw most of its service with BOAC as G-AGNV and was originally put on display at the old 'Skyfame' museum at Staverton.
Left to right:


Henri Mignet HM.14 Pou du Ciel 'Flying Flea'

(G-AEEH). The 'Flying Flea', designed in 1934 by Henri Mignet was probably the first home-built to be offered to the public for home construction. Following a number of fatal accidents and the discovery of aerodynamic design errors the French authorities banned it from flying in 1936, the British authorities following suit in 1937. The example on display was built between 1935 and 1936 and flew from Whitchurch airfield over the next two years. For almost thirty years it remained in the owners garage before being loaned to the RAF Colerne Museum in 1966. In 1976 it was moved to St Athan and on to Cosford in 1994 to be restored and put on display.
Left to right:


Comper CLA.7 Swift

(G-ACGL). In 1923 Flying Officer Nicholas Comper formed the 'Cranwell Light Aeroplane Club' (CLAC) for apprentices at RAF Cranwell who built three aircraft. Later the Comper Aircraft Company was created to build the Comper Swift which were produced from 1929 until 1934. The example on display was built in 1933 for Alex Henshaw who want on to win the Siddeley Trophy at the 1933 Kings Cup air race.

Left to right:


Hawker Cygnet

(G-EBMB). The Royal Aero Club in 1924 organised a light aircraft competition. The famous aircraft designer Sydney Camm designed the Cygnet, only two were built coming third and fourth in the competition held at Lympne. Two years later in another competition they came first and second. In 1929 this example was put into store and was rebuilt in 1948 for a number of exhibitions. In 1961 it was again put in store before moving from Dunsfold to the RAF Museum for display in 1972.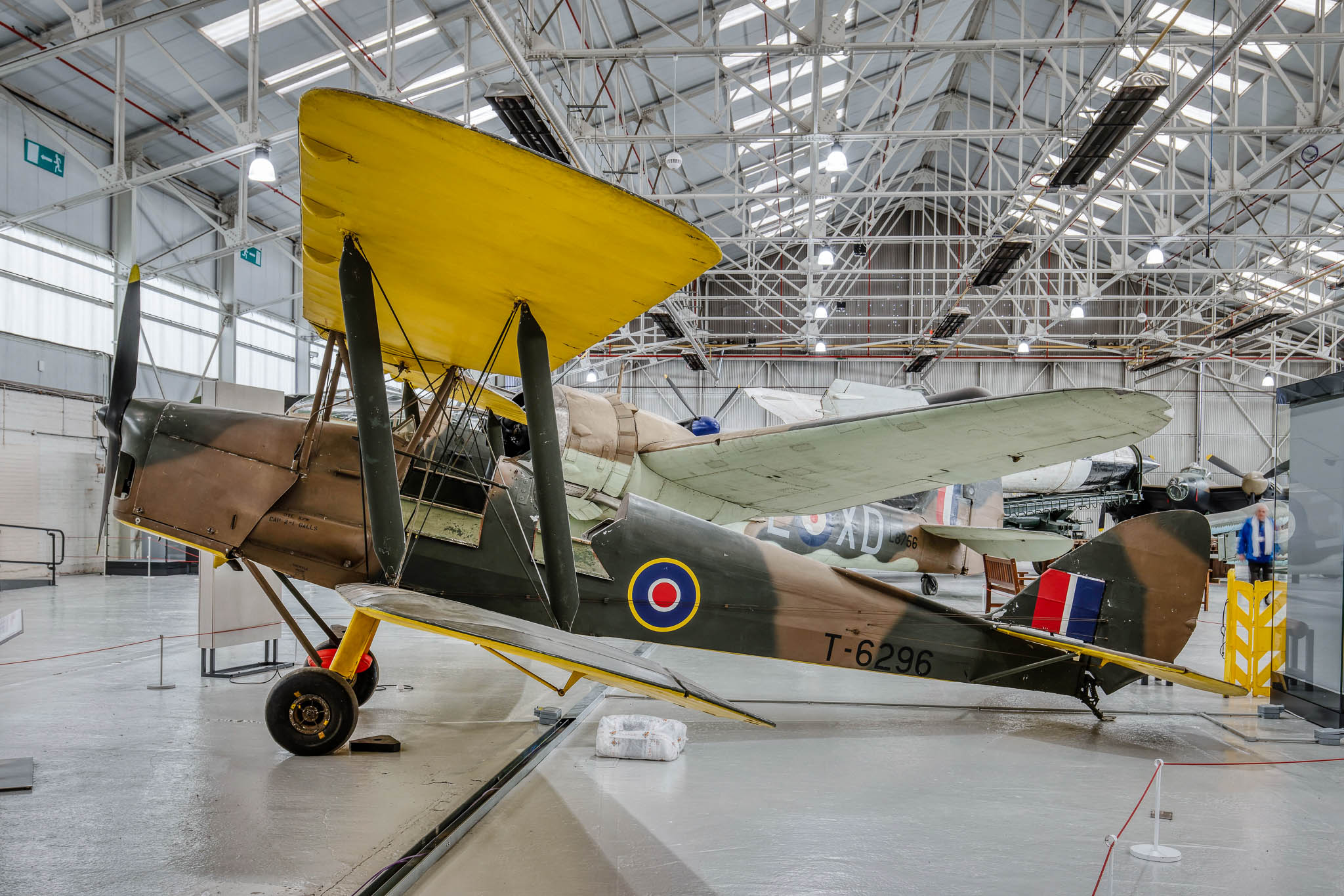 Left to right:


de Havilland DH.82 Tiger Moth

(T6296 later 8387M). The Tiger Moth was used by Elementary Flying Training Schools (EFTS) from 1932 to 1951. This example started its military service with 1 EFTS in 1941 and later 7 EFTS in 1942. At the end of the war it was transferred to the Fleet Air Arm and was in use at a number Royal Navy Air Stations until 1966. Following a period of storage at RNAS Fleetlands its was transferred to RAF Henlow in 1972 for the RAFM later in the year. In 1990 it was moved from the Main Hall to the Battle of Britain Hall. In 2016 it was transferred here from Hendon.
Left to right:


Miles M.14 Magister

(T9708 later 8378M registered G-AKKR painted as 'T9707'). The Miles M.14 Magister was designed as a low wing cantilever monoplane, single-engine two-seat basic trainer capable of aerobatics for the RAF. It was based Miles Hawk Trainer. The first prototype's first flight was made in 1937.
Built in 1940, T9708 was taken on charge with the Army Air Corps. After retirement from service it was rebuilt using the wings from Magister T9967, in 1981 it was on display in the Royal Air Force Museum (RAFM), Hendon before moving to RAF Cardington by 1999. Previously on display at the Museum of Berkshire Aviation at Woodley. In 2010 it was loaned to The Museum of Army Flying at Middle Wallop now marked as T9707. The original T9707 crashed in 1942 when also with 16EFTS (Elementary Flying Training School) at Burnaston, it stalled on approach to Tatenhill. In 2020 it was returned to the RAFM.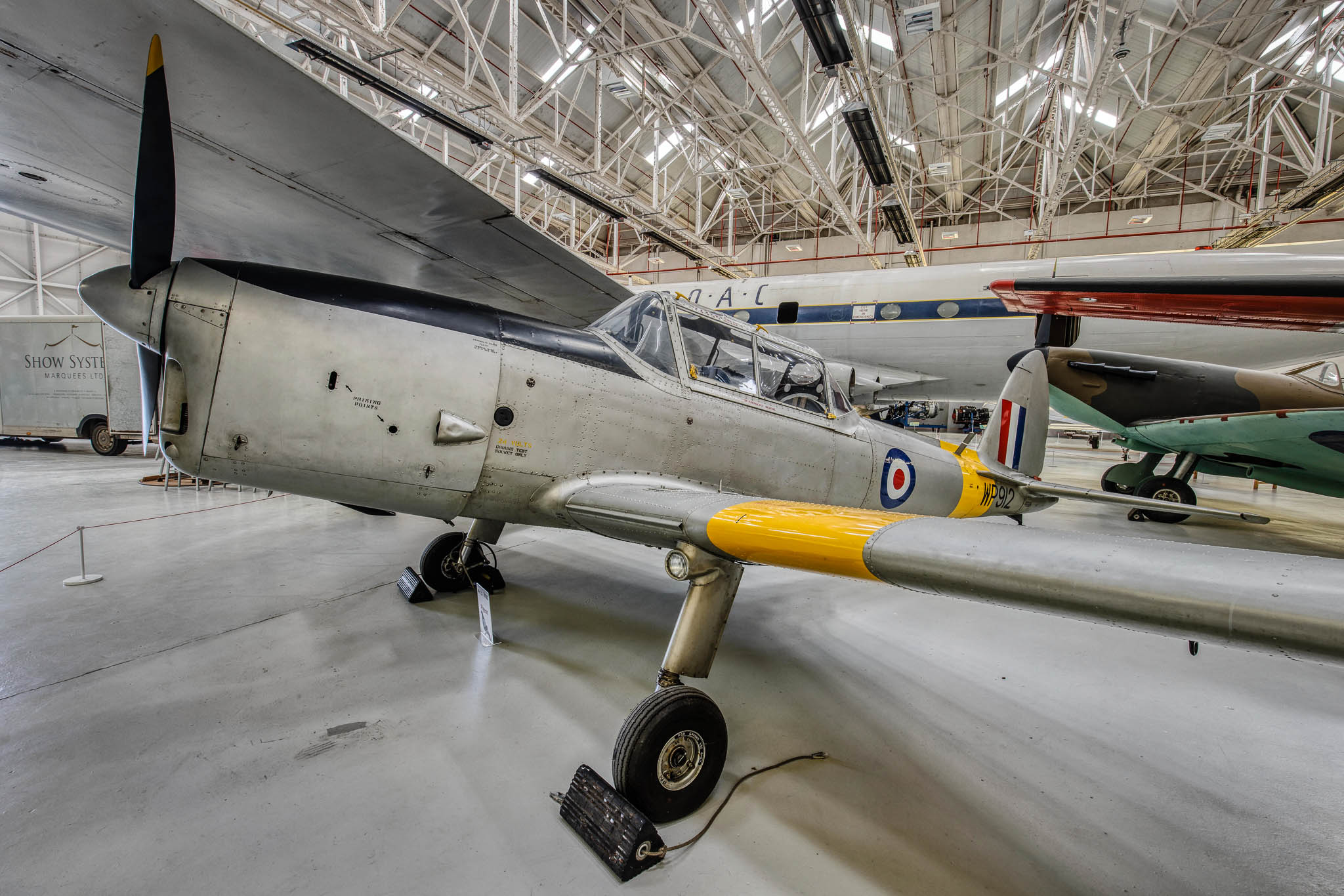 Left to right:


de Havilland Chipmunk

(WP912) entered RAF service in 1950 replacing the Tiger Moth as an initial pilot trainer. The example on display was retired in 1974 and was transferred to Hendon and then on to Cosford in 1977.
Left to right:


Hunting Jet Provost T.1

(XD674 later 7570M).
Left to right:


Percival Provost T.1

(WV562 'P-C' later 7606M). Designed as a basic trainer in 1953 and 397 examples were delivered to the RAF. The Provost remained in service until it was replaced by a development of the design, the Jet Provost, in 1961.
Left to right:


de Havilland Devon C.1

(VP952 later 8820M) was designed for the RAF from the civil de Havilland Dove 4 as a light communications and transport aircraft supplied from 1947, serving till 1984 VP952 was donated to the museum in 1998.
Left to right:


Avro Anson C.19

(TX214). The Anson was designed in 1936. 263 were built for maritime reconnaissance duties for which it quickly became obsolete when war broke out and it was more ably employed as a crew trainer and communications aircraft. By 1952 over 8,000 examples had been built by Avro in Great Britain with nearly 3,00 more built in Canada by Canadian Federal Aircraft. The Anson remained in service with the RAF until 1954 and 1968 for the later redesigned C.19 variant, with many moving on to civilian operations.
Delivered in 1946 TX214 was struck off charge on the in 1963 it was transferred to the Historical Aircraft Museum at RAF Henlow and then on to RAF Cosford Museum in 1978. As photographed in 1989.
Left to right:


Hunting Percival Pembroke C.1

(WV746). Entering service in 1953, the Pembroke took over from the venerable Anson in the light transport and communications role.
Left to right:


Fairchild F-24 Argus

(G-AIZE painted as FS628) The civil version the Fairchild 24 Argus first flew in 1932. During the World War Two the USAAF ordered a utility transport and communications version of the Argus, known as the UC-61 Forwarder. The Argus was used in the light communications role by the RAF. The example on display was delivered to United States Army Air Force as 43-14601 and registered G-AIZE in 1946 and later purchased for the museum in 1966 going to RAF Henlow and after restoration it was transferred to Cosford in 1999.
Left to right:


Scottish Aviation Jetstream T.1

(XX496 'D'). The Jetstream served as the RAF's standard multi-engine pilot trainer for many years and was the last aircraft of Handley Page design to enter RAF service, it later served with the Royal Navy until the type was retired in 2011.
Left to right:


Scottish Aviation Bulldog T.1

(XX654 '3'). The first Bulldog flew in 1969 with Beagle Aircraft at Shoreham who ceased trading and Scottish Aviation took over the production at their factory at Prestwick in Scotland. In 1972 the RAF ordered 130 Bulldogs following on from an order by the Swedish Air Force for 72 aircraft. In 2001 the Bulldog was retired from service.
Left to right:


de Havilland 106 Comet 1XB

(G-APAS). The Comet was the first commercial jet airliner, its first flight was in July 1949. BOAC commenced operations in 1952. However following a series of tragic crashes due to metal fatigue, the Comet 1 was withdrawn from service and redesigned. The Comet 4 was the result four years later but the impetus was lost and the Boeing 707 subsequently dominated the early jet airliner market. The example on display, painted in original BOAC colours, was delivered to Air France and is the only remaining Comet 1 in existence.
Left to right:


Hawker Siddeley Andover E.3A

(XS639 later 9241M) was used as a navigation aid calibration. Built in 1967 its final flight was in 1994 and donated to museum in 1998 where it was repainted in 2000.
Left to right:


Armstrong Whitworth Argosy C.1

(XP411). The RAF ordered 56 Argosies for use as medium range transport. The prototype first flew on March 4,1961 and served with the RAF until their retirement in 1975 when many were sold to the civilian market.
Left to right:


Vickers Varsity T.1

(WL679). The Varsity entered service in 1951 in the multi-engine crew training and also the flight engineers, radio operators, navigators and for bomb aimers, it took over from the Wellington. 163 were built. WL679 served with the Royal Aircraft Establishment and after 43 years arrived at RAF Museum Cosford in 1992.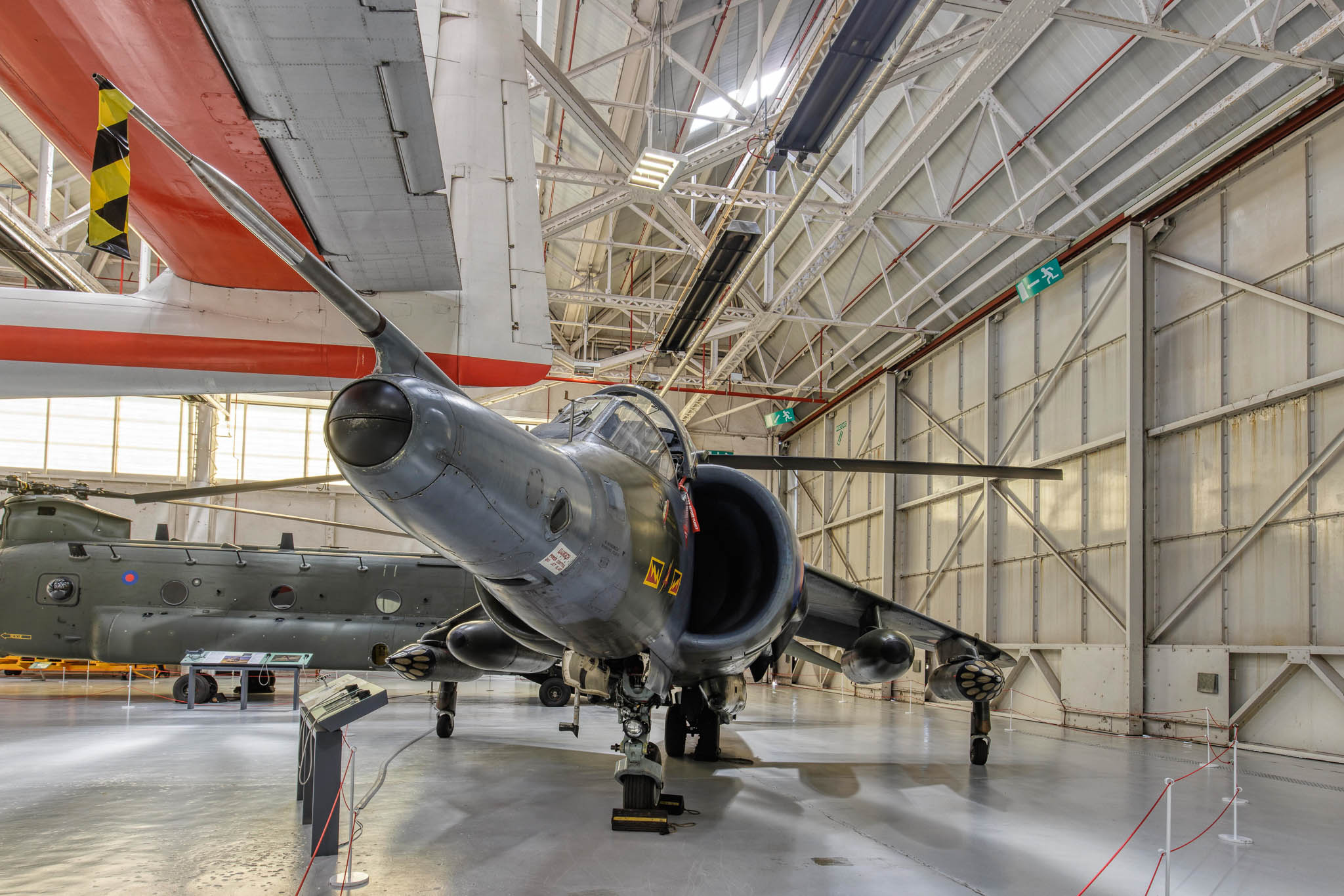 Left to right:


BAE Harrier GR.3

(XZ997 'V' later 9122M). XZ997 was first allocated to 4 Squadron at Gütersloh with RAF Germany in 1982 and later that year moved to Yeovilton for ski-jump training prior to being involved in the Falklands War on HMS Hermes. After the war it returned to 4 Squadron at Gütersloh before a spell with 1435 Flight for the Air Defence of the Falklands. In 1986 it was with 1 Squadron and 233 OCU at Wittering. From 1988 to 1989 it was back with 4 Squadron before it was withdrawn from service and transferred to St Athan for storage making its final flight with a total of 2,200 hours and 6,050 landings. In 1991 it was allotted to the RAF Museum at Hendon. In 2003 it was put on display in the new Milestones of Flight Building, before moving to Cosford by 2019 and on to Hendon by the end of the year.
Left to right:


Westland Wessex HC.2

(XR525 'G'). The Wessex was a development of the Sikorsky S-58 and was produced at the Westland factory in 1956 at Yeovil initially for the Royal Navy with deliveries of HAS.1s commencing in 1958. In 1962 the HC.2 variant commenced deliveries to the RAF with 18 Squadron at RAF Odiham.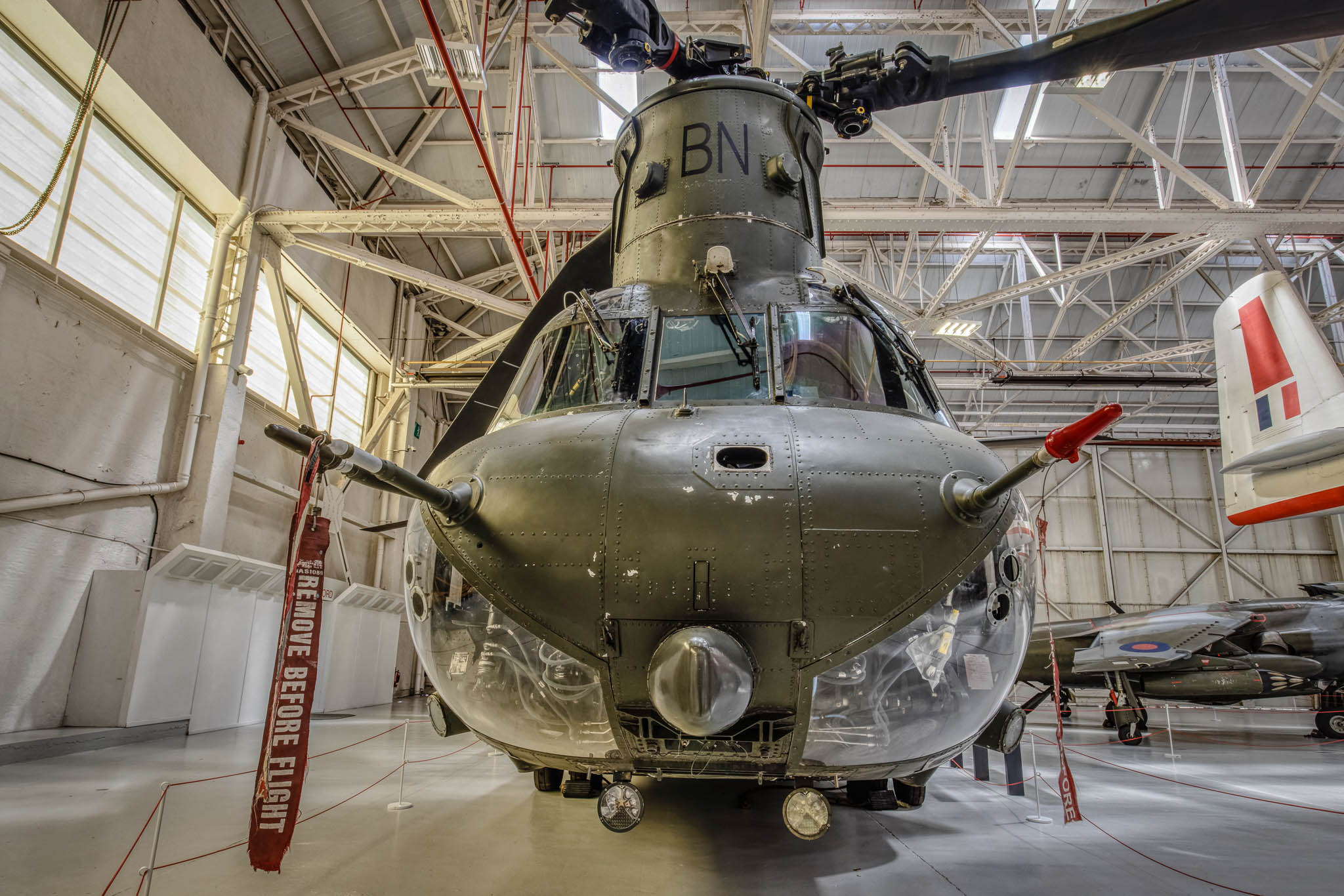 Left to right:


Boeing Chinook HC.6A

(ZA718 'BN'). ZA718 was delivered as part of a batch of 30 to the RAF in 1980 as a HC.1 variant for the heavy-lift duties. It was to serve in every major conflict of the next 40 years. 'Bravo November' was with 18 Squadron at RAF Odiham in 1982 when it was deployed to the South Atlantic and the Falkland's war. As a veteran of the Falklands, Iraq and Afghanistan, ZA718 remarkably has seen four of its pilots awarded the Distinguished Flying Cross (DFC) for actions whilst flying the aircraft.
ZA718 last flying duties was with 1310 Flight in the Falklands where it suffered a major structural failure resulting in it being declared CAT 4 and uneconomical for repair. It moved from RAF Odiham to Cosford by road in March 2022. After a five day rebuild by technicians from RAF Odiham, Royal Air Force Cosford and JARTS (Joint Aircraft Recovery and Transportation Squadron) it was ready for display.
Hangar 2 - Research and Development
Left to right:


Gloster Meteor F.8 (Prone)

(WK935). This was the last of the 430 Meteor F.8s manufactured by Armstrong Whitworth at Bagington, Coventry. Following modifications to allow the pilot to flying the aircraft lying down in the prone position it took to the air for the first time in February 1954. The object of the exercise was to test the reduced effects of high G forces on the pilot when in the prone position. 14 flights were made from Bitteswell before it was transferred to the Institute of Medicine at Farnborough in August of that year. After a further 55 flights testing was completed by July 1955 and it was decided that the advantages of reduced effects of 'G' were out-weighed by the difficulties of flying the aircraft lying down. The test aircraft was put into storage after its final flight in 1959. It arrived at Cosford from RAF Colerne in 1977.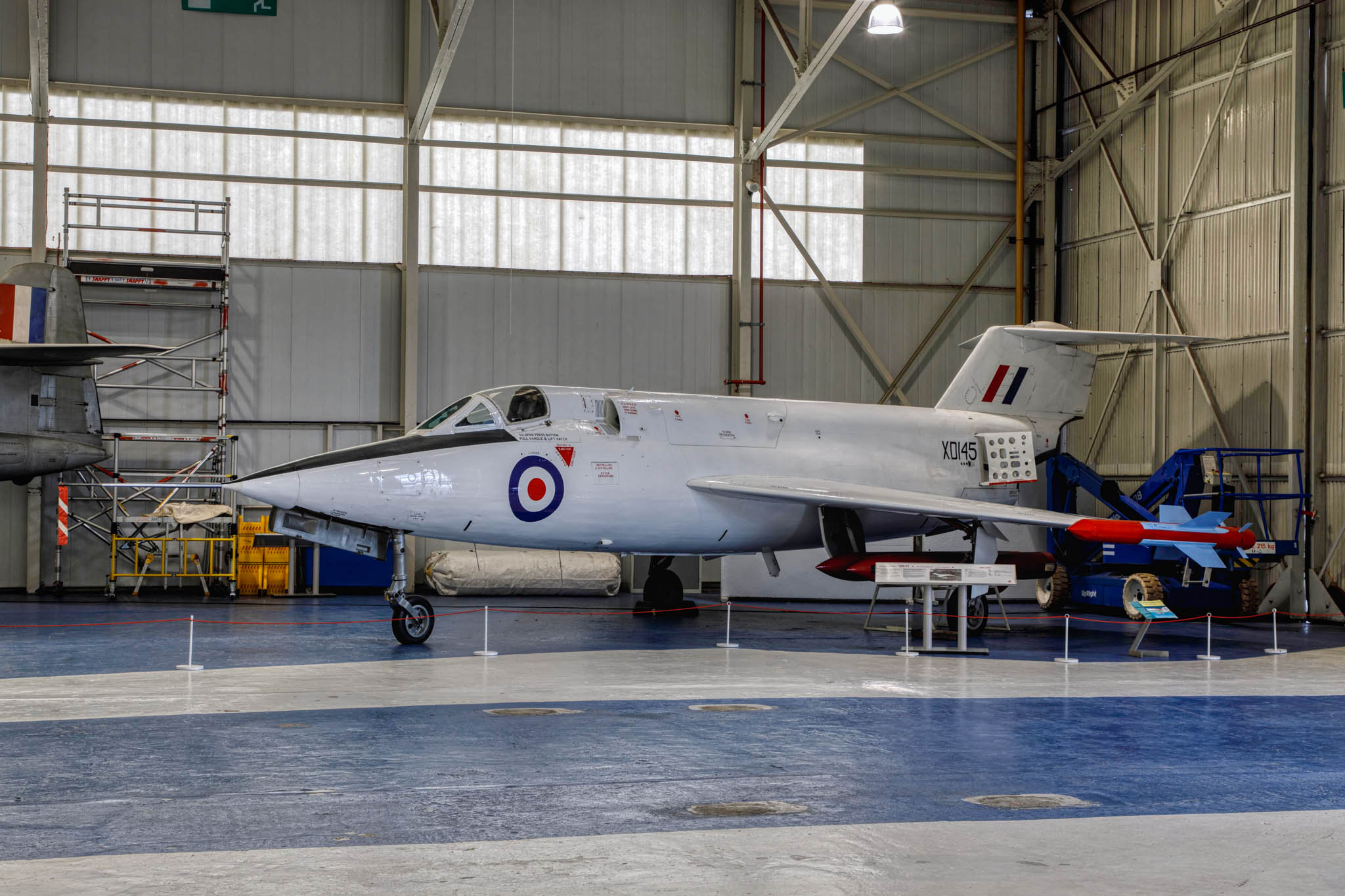 Left to right:


Saunders Roe SR.53

(XD145) it was designed as a prototype interceptor aircraft using both jet and rocket power, it first flew in 1957. Two were built but the project was cancelled after just 42 flights and after XD151 had crashed in June 1958. It was moved to Henlow in 1969 and to Brize for restoration in 1978 and on to Cosford in 1982.
Left to right:


British Aircraft Corporation TSR 2

(XR220 and 7933M). This controversial aircraft was designed from 1957 as a very high-speed low-level strike aircraft. The first prototype (XR219) first flew in September 1964. Testing continued with impressive results for six months attaining a speed of Mach 1.2. The project however was cancelled in April 1965 in favour of the General Dynamics F-111 which was later cancelled as well. The aircraft on display never actually flew and is one of only two that survive, the other XR222 is at the Imperial War Museum at Duxford.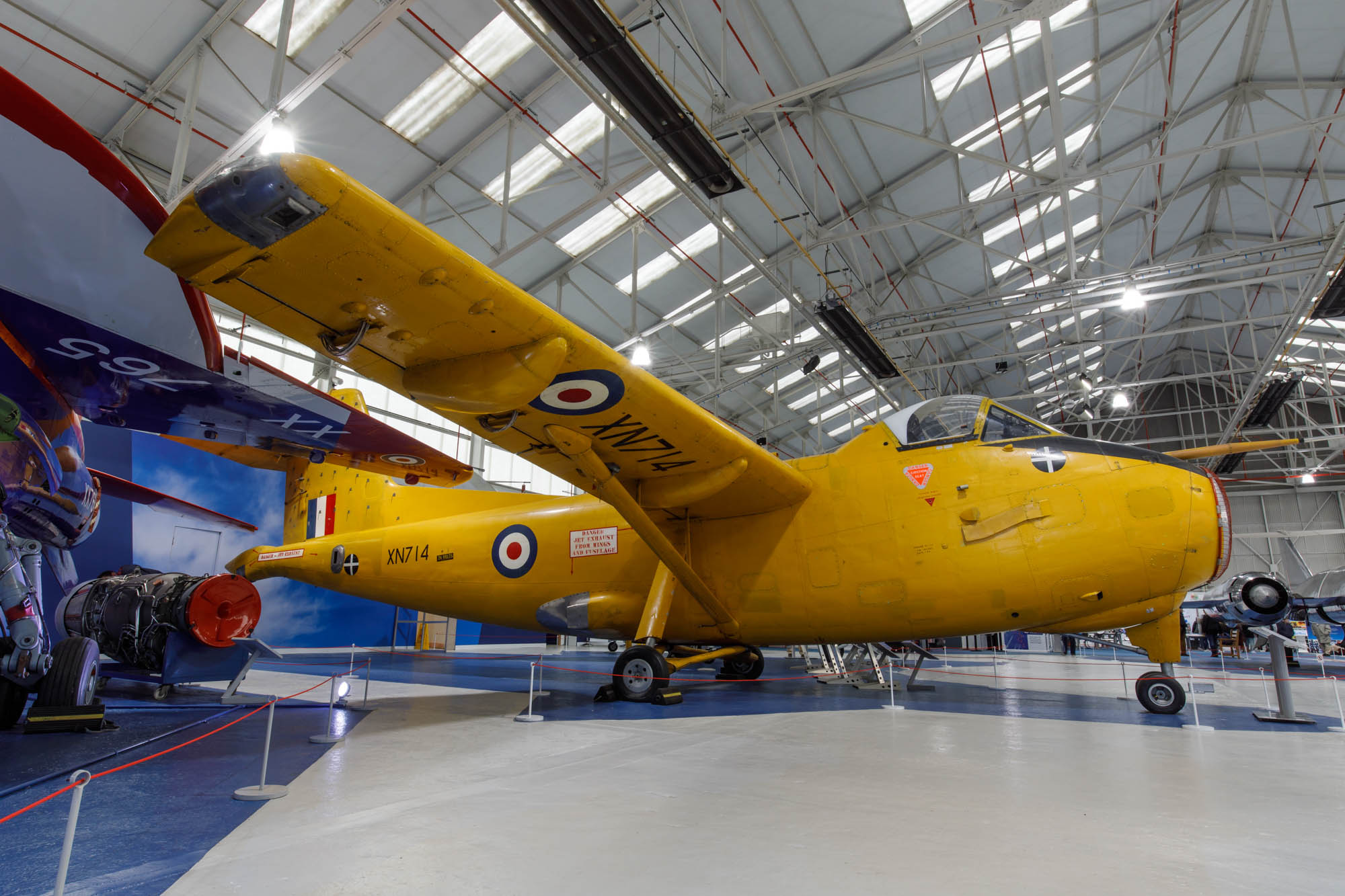 Left to right:


Hunting H.126

(XN714). This was an experimental aircraft designed to test the concept of 'jet flaps' or 'blown flaps' where 60% of the jet engine's exhaust was channelled to the trailing edge of the wing to provide higher lift. Only one of the two prototypes proposed flew, its maiden flight was in March 1963. Test flights continued until 1967. In 1969 it was shipped to NASA for further evaluation before being returned in 1970 for storage.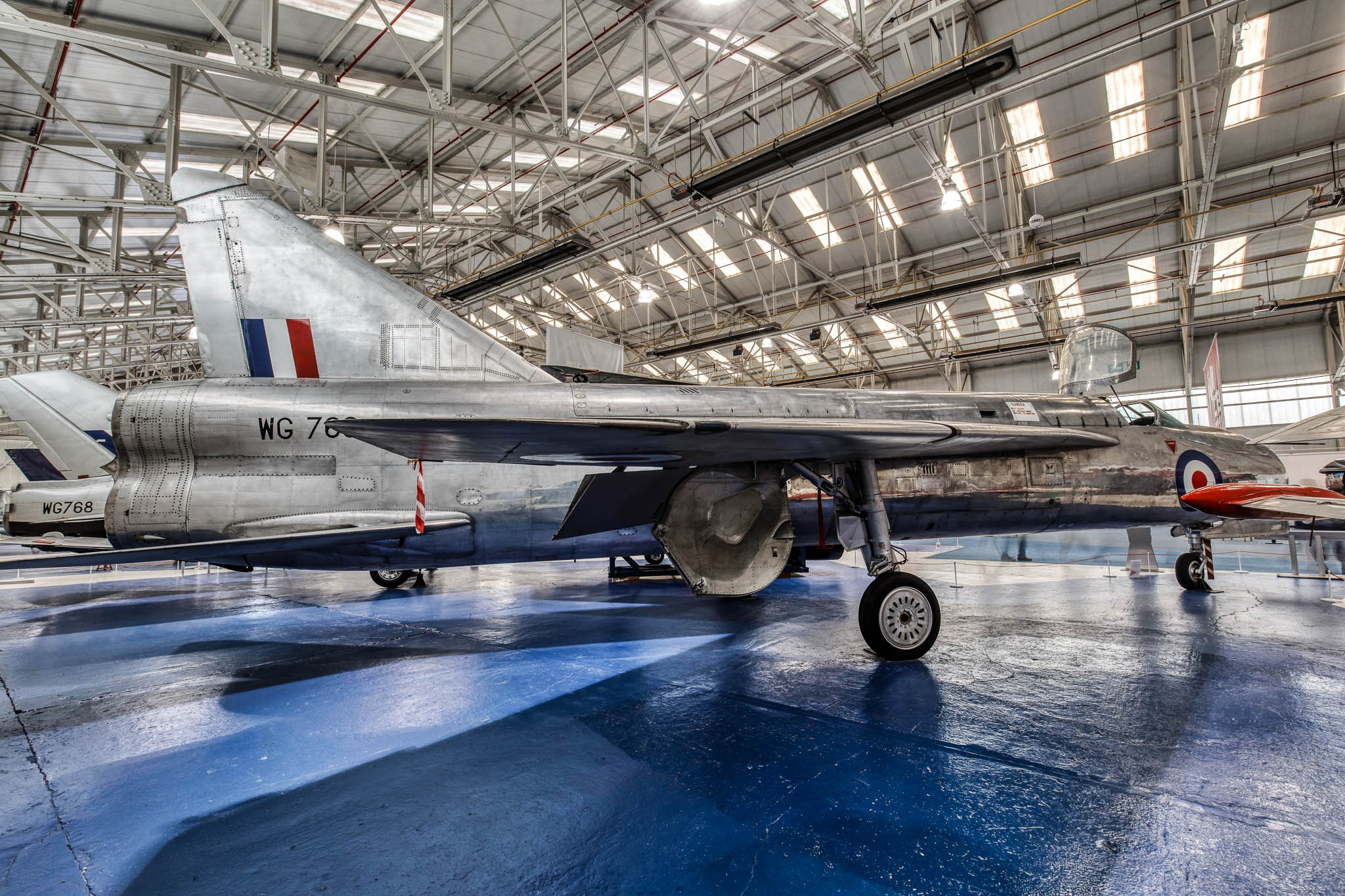 Left to right:


English Electric P.1A

(WG760). Leading to the design of the Lightning the English Electric P.1 was built to an Air Ministry specification from 1947. The main purpose was to test low-speed handling characteristics of the revolutionary swept wing. The P.1A's maiden flight was in August 1954 from Boscombe Down. Handling was good with the aircraft achieved Mach 1 seven days later. WG760 was later fitted with an afterburner and achieved a speed of Mach 1.53 in January 1956.
A second P.1A prototype (WG763) joined the program a year later, it was at the Manchester Museum of Science and Industry. The museum closed 2021 and its collection was split up and moved to new homes. In January 2022, WG763 was moved on to the Boscombe Down Aviation Collection at Old Sarum airfield. As photographed at Old Sarum in 2023. As photographed in 1989 at Cosford.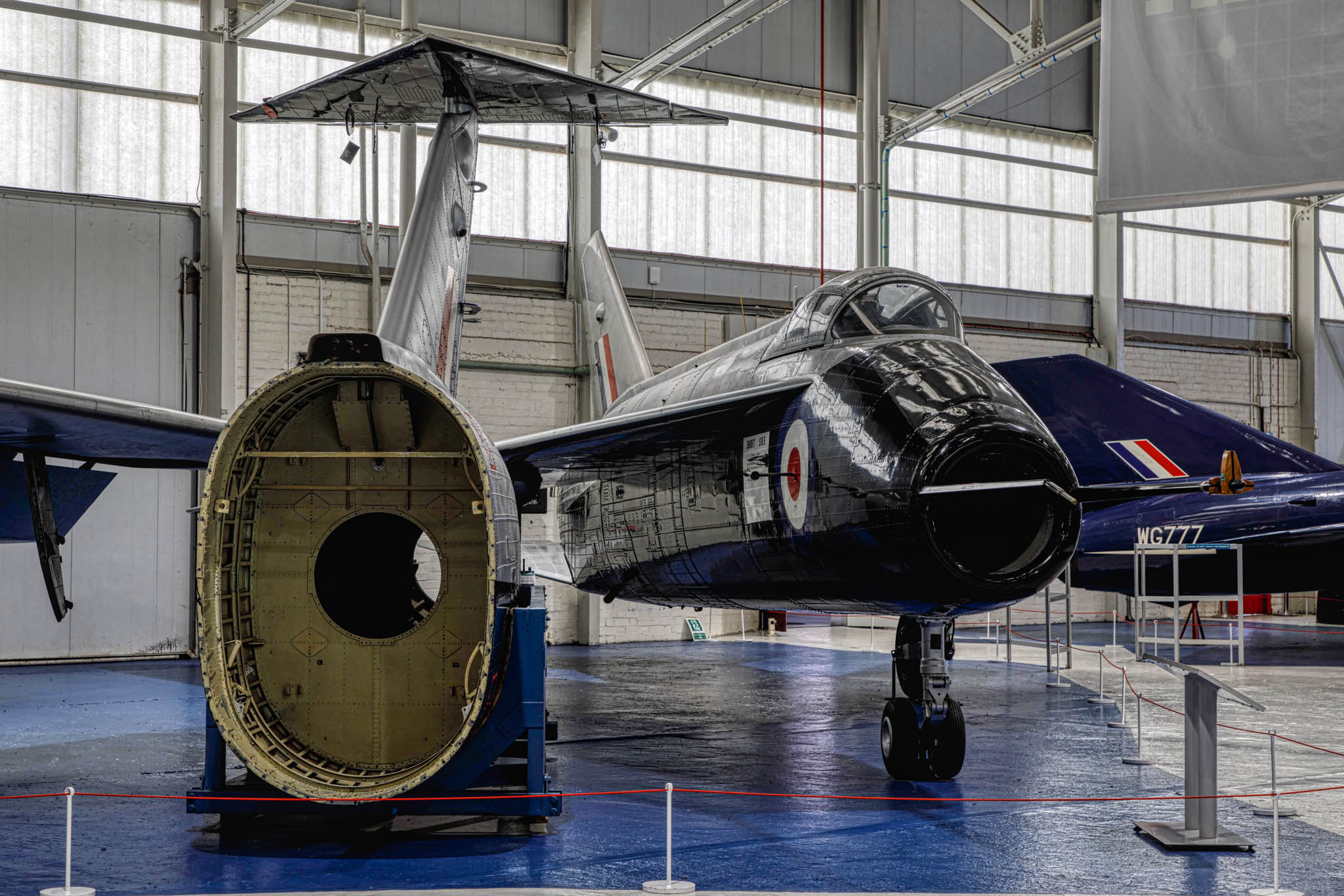 Left to right:


Short SB.5

(WG768 later 8005M). The testing of the swept wing design continued with the Short SB.5. As photographed in 1988.
Left to right:


Fairey Delta 2 or FD.2

(WG777). This is the second of the only two aircraft built. It was designed as an advanced supersonic all weather interceptor and uniquely at the time had a nose which could droop to improve visibility during landing. It first flew in 1954 and eventually broke the world speed record on March 10, 1956 with a speed of 1,132 mph (1,811 km/h) some 300 mph faster than the existing holder from the year before, a F-100 Super Sabre. Flight testing continued until 1966 when it was retired to RAE Bedford for storage, eventually arriving at Cosford in 1973. The first prototype (WG774) was later modified to become the BAC221 by the British Aircraft Corporation, who took over Fairey in 1960, for flight testing as part of the Concorde development program.
Left to right:


Percival 84 Jet Provost T.3

(XM351 'Y'). The Hunting Percival Jet Provost first flew in 1954 and was the first jet powered basic trainer to go into service anywhere in the world and was based on the piston powered Percival Provost. Ten T.1 variants were initially ordered followed by 201 T.3s which had an improved engine, an ejector seat and retractable tricycle undercarriage. 70 T.3s were later upgraded to T.3A standard with improved avionics.
XM351 was built in 1958, by 1970 it had been transferred to 1 SoTT RAF Halton for ground instructional use. Placed on display in 1996 at RAFM Cosford and is used as a sit-in cockpit exhibit.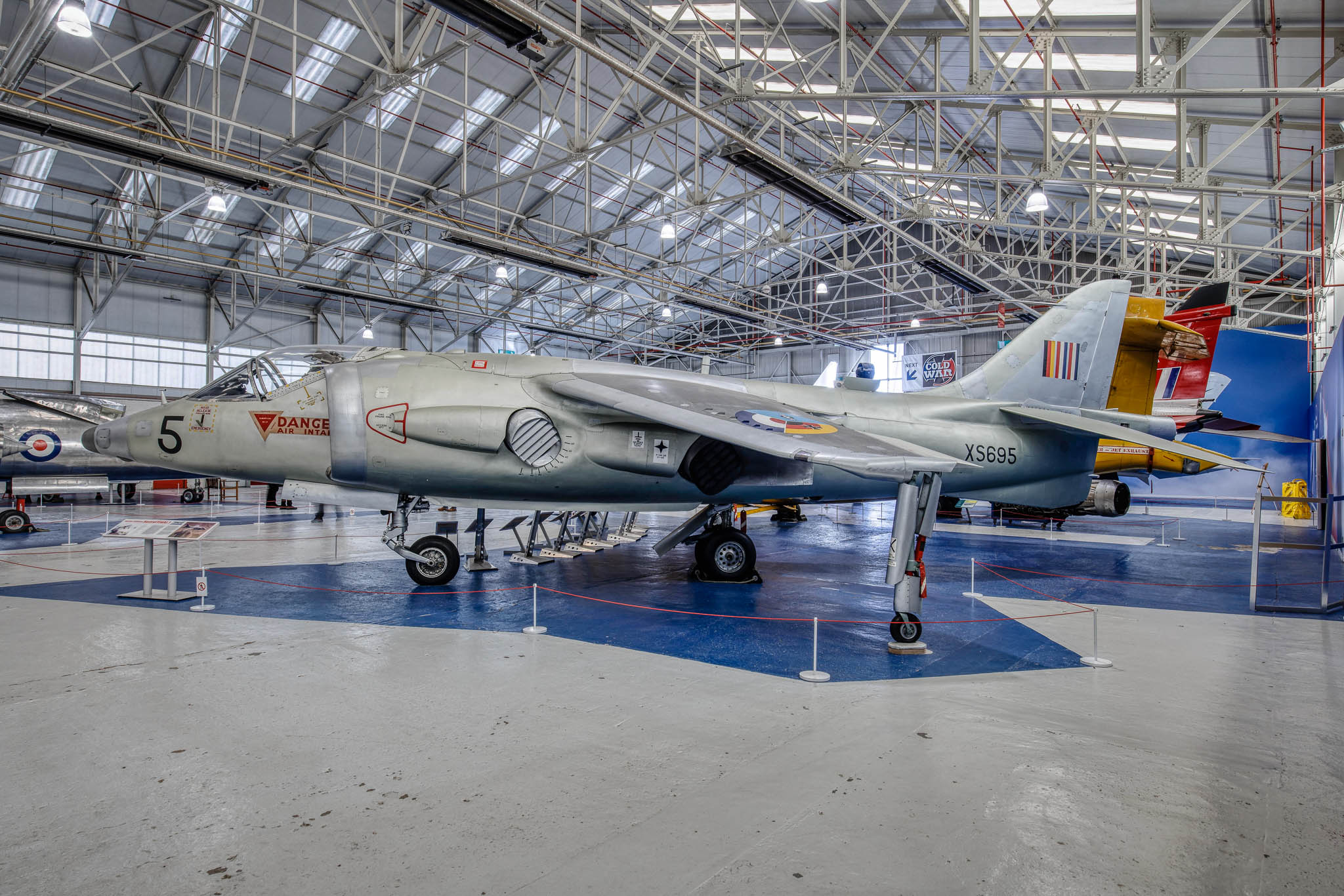 Left to right:


Hawker Siddeley Kestrel FGA.1

(XS695). It was one of nine built to evaluate vertical take-off in near service conditions from 1965. After flying 153 sorties by 1972 it was transferred to the Royal Navy Engineering College at Manadon, Devon and later used for apprentice training and to simulate aircraft handling and flight deck procedures before moving to Cosford for storage in 2001. It finally went on display in 2012.
Left to right:


SEPECAT Jaguar GR.1 ACT

(XX765). It has been modified to demonstrate Active Control Technology (ACT) or 'fly-by-wire'. Trials started in 1981 ending in September 1984 after 96 flights when it was transferred to Loughborough University for study by aeronautical engineering students before moving to Cosford in September 1996.
Left to right:


British Aerospace EAP

(Experimental Aircraft Programme) (ZF534) technology demonstrator for the Eurofighter Typhoon. It first flew in August 1986 and was retired in May 1991 and transferred to the Aeronautical and Automotive Engineering department of Loughborough University and later to Cosford in March 2012.
In January 2023 five aircraft were towed outside of hangar 1 to allow contractors greater access to the building in preparation for the first part of the RAF Museum Midlands Development Programme. Apparently access to hangar 1 and 2 will resume in May 2023.

Gloster Meteor F.8 (Prone)

(WK935).

Hunting H.126

(XN714).

Saunders Roe SR.53

(XD145).

SEPECAT Jaguar GR.1 ACT

(XX765).
Left to right:
Gloster Meteor F.8 (Prone) (WK935), Hunting H.126 (XN714), Saunders Roe SR.53 (XD145) and SEPECAT Jaguar GR.1 ACT (XX765).
Left to right:
Gloster Meteor F.8 (Prone) (WK935).
Left to right: Hunting H.126 (XN714).
Left to right: Saunders Roe SR.53 (XD145).
Left to right: SEPECAT Jaguar GR.1 ACT (XX765).
By February 2023 these four aircraft had been moved to other outside locations and now with their information display boards.
Left to right: Saunders Roe SR.53 (XD145).
Gloster Meteor F.8 (Prone) (WK935).
Hunting H.126 (XN714).
SEPECAT Jaguar GR.1 ACT (XX765).