Royal Air Force Museum
RAF Cosford
2003 - 2019
The National Cold War Exhibition opened in February 2007
Housed in a unique and architecturally ground breaking building, the new National Cold War Exhibition was opened to the public on February 8, 2007. The purpose built building both tall and dazzling, its design of flowing contours is difficult to describe. It cost £12.4m with 4.9m coming from the Heritage Lottery Fund (HLF). The humidity inside is controlled and there is no doubt that the twenty or so aircraft and aircraft noses exhibited, are well looked after.

The housed aircraft are billed to represent those involved during the 'Cold War', a period of tension between the two superpowers from the end of the World War Two to the early 1990s. As a key member of NATO the United Kingdom played a major part in the stand-off, which lasted almost 50 years. However some of the aircraft exhibited are an odd choice to represent the 'Cold War'. The collection has not been gathered together from scratch, so those in charge have had their hands tied with regard the selection of aircraft to put on display. It is more an assembly of aircraft that did not have a roof over them and so needed protection from the elements. It's good the see all three V-Bombers, the ex Hendon Valiant, Victor and Vulcan in one place. However the Belfast, Twin Pioneer and Jetstream, don't to my mind represent aircraft that took part directly in the 'Cold War'. To show that it was not just the RAF involved in the 'Cold War' an ex Polish Air Force Chinese built Lim-2, a copy of a Soviet MiG-15bis, is displayed with a ex Hungarian Air Force MiG-21PF. The sole representative from the United States Air Force is a recently restored F-111F painted in the colours of 48th Tactical Fighter Wing when based at RAF Lakenheath. This aircraft returned to the UK from storage at Davis Monthan, Arizona in a C-5 Galaxy in 2005. Aircraft from the famous Berlin Airlift which started in 1948 when the Russians closed the road border to Berlin, are quite rightly well represented, notably the Avro York, a Dakota and a Hastings which entered service during the three years of the airlift.


The building is another bone of contention for me, its good that our aviation heritage is preserved for all to see, but why design something that patently does not fit in with the period buildings that surround it. To me its 'warped' design is an eye sore that should have been built as a modern representation of a proper aircraft hangar. The reason for this is apparently down to the HLF insisting on a 'landmark' design before funding is awarded. Well it is here to stay as are its inmates, indeed it apparently would cost £3,000 to take down enough side panels to allow an aircraft to be swapped.
Seven aircraft are suspended from the roof, some at incredible angles. The Lightning for example hangs from its nose as to depict a vertical climb of which it was famous when in service with the RAF. The pose is dramatic and different.
Decent photography within the new building, due to the obvious need to pack the aircraft in tightly, is very difficult, you find yourself often walking under a very large V-Bomber.
Walking around the other original three hangars which have housed the collection of many unique aircraft is still as enjoyable as it ever was. Many of this countries prototypes and development aircraft from the jet age it started can be found at Cosford. They range from the first jet aircraft, the Gloster F.9/40, to the first operational jet the Gloster Meteor and up through many of the RAF's operational jets to the Tornado and the first jet powered airliner, the de Havilland Comet. World War Two aircraft are very well represented and include; a Spitfire, Hurricane, Mosquito, Mustang, Messerschmitt Me410 and Japanese Ki 46 'Dinah'.

Photography in these older hangars is quite good providing you use a tri-pod and wide angle lens. The barriers which surround the aircraft are just a few inches high and so don't intrude too much in the images.
Left to right:


Vickers Valiant BK.1

(XD818) was developed in the 1950s but following a series of crashes and cracks found in the wing spars they were withdrawn from service in 1964.
Left to right:


Armstrong Whitworth (Gloster) Meteor NF.14

(WS843 'J').



Hawker Hunter T.7A

(XL568). Based on the Hawker Sea Hawk, the first production Hunter F.1 flew in 1951, following flight testing of the P.1052 and P.1081 test aircraft. Neville Duke broke the world speed record in a Hunter F.3 in 1953 when flying at 727.63 mph. Eventually 1,972 Hunters were built serving with 19 air forces to 1994. In 2007 two of a large number of privately operated Hunters were contracted to fly once again for the RAF. The T.7 variant was a two-seat trainer.



Canadair Sabre F4

(XB812 / 9227M previously MM19666). First flew in 1953 as RCAF 19666 before delivery to RAF in same year. To Italian Air Force in 1966 as MM19666. On retirement in 1976 it went to a technical school before it went to Museum at Vigna di Valle in 1991 for preparation to transfer to RAFM 1993 when allocated 9227M.



Sikorsky MH-53M Pave Low IV

(68-8284). Between 1986 and 1990 nine MH-53Hs and 32 HH-53s were later converted to 'MH-53J Pave Low III Enhanced' for low-level, long-range Special Operations. This example served wit hte 352 SOG at RAF Mildenhall until it was retired in 2008.
Left to right:


Mikoyan-Gurevich MiG-15bs 'Fagot' Lim-2

(01120 ex Polish Air Force).



Mikoyan-Gurevich MiG-21PF

(503 later N610DM and G-BRAM) Hungarian Air Force (Magyar Legiero). The MiG-21 was the first Soviet fighter capable of flying faster than twice the speed of sound. Deliveries of the MiG-21PF fighter variant to Hungary started in 1966 and by 1988 they were relegated to the training role. This was the second production version of the MiG-21, with all-weather capability it entered production in 1962.



General Dynamics F-111F

(74-0177 'LN'). 106 of the F variant were built from 1972, this example finbished its day at RAF Lakenheath.
Left to right:


Douglas DC-3 Dakota C.4

(KN645).



Handley Page Hastings T.5

(TG517). Based on the civilian Handley Page Hermes it was designed to replace the Avro York, at the time it was the largest transport aircraft supplied to the RAF, in total 147 were delivered from 1948. The last few were not retired until 1977. Only four complete aircraft survive today.

Left to right:


Short Brothers Belfast

(XR371). Designed as a long-range, strategic transport aircraft the first flight was made in January 1964. Only ten aircraft were built serving around the World with the RAF until 1976.



Scottish Aviation Twin Pioneer CC.2

(XL993). The Twin Pioneer was a follow-up to the same company's single-engined short take-off and landing (STOL) transport, the Pioneer. Initially designed as a 16-passenger civil transport aircraft the Twin Pioneer first flew in 1955. The RAF ordered 39 examples which entered service in October 1958 the last aircraft on frontline duties was retired in 1968. In 1965 an additional aircraft was acquired for use by the Empire Test Pilots School.



Gloster Javelin FAW.1

(XA564). The Javelin was the world's first twin-jet delta-wing fighter, designed to intercept bombers at high altitudes and at high subsonic speeds.



Avro 685 York C.1

(TS798) development of the Avro 685 started in 1941, the first civilian version going to BOAC in 1944. Eventually 50 civilian and 208 military versions were delivered. Most of the aircraft delivered to the RAF were later converted for civilian use. This particular aircraft saw most of its service with BOAC as G-AGNV and was originally put on display at the old 'Skyfame' museum at Staverton.

Hangar 2 - Research and Development
Left to right:


Gloster Meteor F.8 (Prone)

(WK935). This was the last of the 430 Meteor F.8s manufactured by Armstrong Whitworth at Bagington, Coventry. Following modifications to allow the pilot to flying the aircraft lying down in the prone position it took to the air for the first time in February 1954. The object of the exercise was to test the reduced effects of high G forces on the pilot when in the prone position. 14 flights were made from Bitteswell before it was transferred to the Institute of Medicine at Farnborough in August of that year. After a further 55 flights testing was completed by July 1955 and it was decided that the advantages of reduced effects of 'G' were out weighed by the difficulties of flying the aircraft lying down. The test aircraft was put into storage after its final flight in 1959. It arrived at Duxford from RAF Colerne in 1977.
Left to right:


Bristol 188

(XF926). Mostly built of stainless steel this research aircraft was designed to test the effect of heat build-up when flown at very high speeds. It first flew in April 1962 and eventually achieved a speed of Mach 1.88. Failing to reach the planned Mach 2 the project was abandoned in 1964 with only two aircraft built. Following storage at Filton and some years at the Proof and Experimental Establishment at Shoeburyness, XF926 eluded destruction to be moved to Cosford in 1974 for display.
Left to right:


Saunders Roe SR.53

(XD145) it was designed as a prototype interceptor aircraft using both jet and rocket power, it first flew in 1957. Two were built but the project was cancelled after just 42 flights and after XD151 had crashed in June 1958. It was moved to Henlow in 1969 and to Brize for restoration in 1978 and on to Cosford in 1982.
Left to right:


British Aircraft Corporation TSR 2

(XR220 and 7933M). This controversial aircraft was designed from 1957 as a very high-speed low-level strike aircraft. The first prototype (XR219) first flew in September 1964. Testing continued with impressive results for six months attaining a speed of Mach 1.2. The project however was cancelled in April 1965 in favour of the General Dynamics F-111 which was later cancelled as well. The aircraft on display never actually flew and is one of only two that survive, the other XR222 is at the Imperial War Museum at Duxford.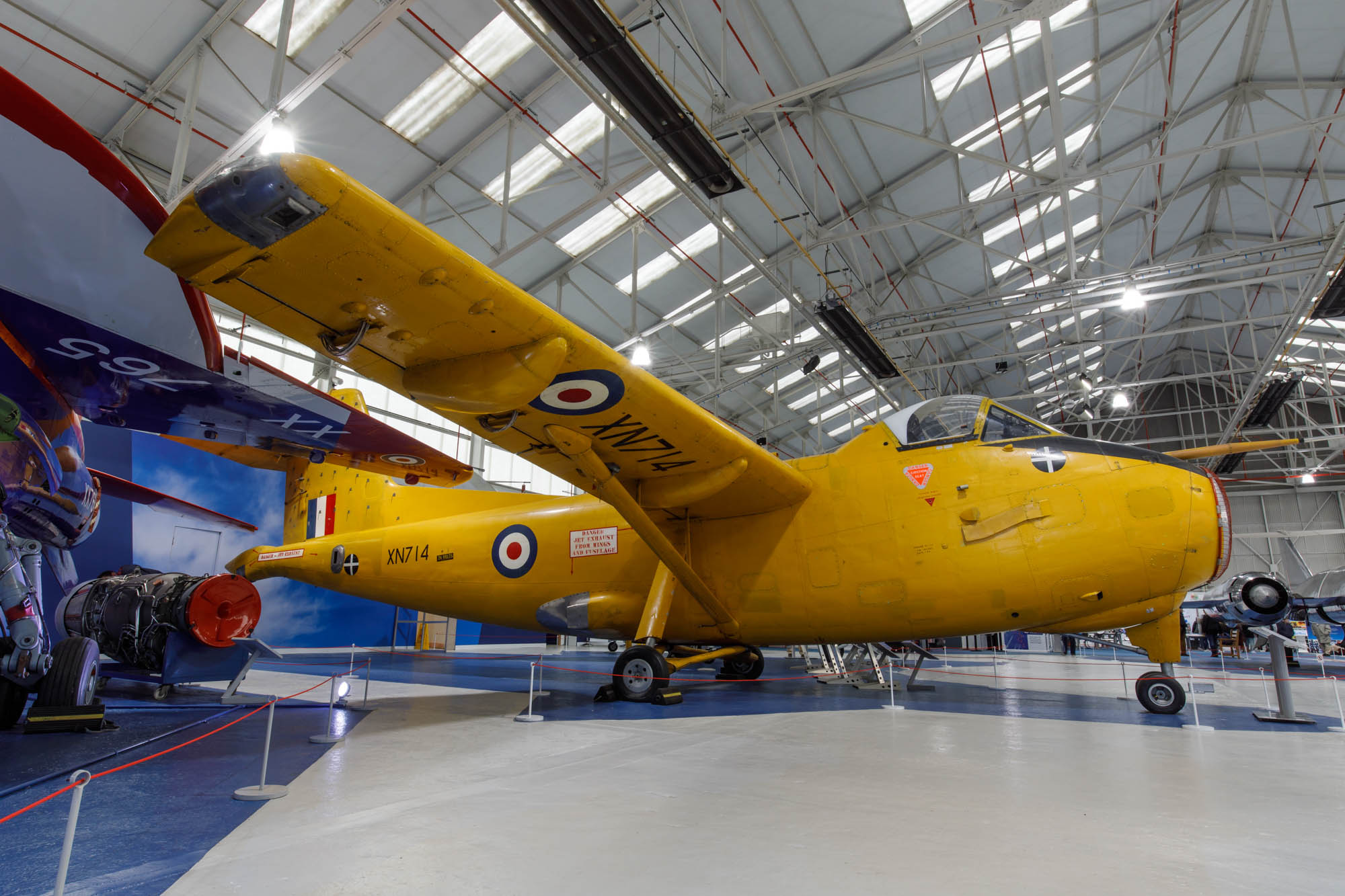 Left to right:


Hunting H.126

(XN714). This was an experimental aircraft designed to test the concept of 'jet flaps' or 'blown flaps' where 60% of the jet engine's exhaust was channelled to the trailing edge of the wing to provide higher lift. Only one of the two prototypes proposed flew, its maiden flight was in March 1963. Test flights continued until 1967. In 1969 it was shipped to NASA for further evaluation before being returned in 1970 for storage.

Left to right:


English Electric P.1A

(WG760). Leading to the design of the Lightning the English Electric P.1 was built to an Air Ministry specification from 1947. The main purpose was to test low-speed handling characteristics of the revolutionary swept wing. The P.1A's maiden flight was in August 1954 from Boscombe Down. Handling was good with the aircraft achieved Mach 1 seven days later. A second P.1A prototype (WG763) joined the program a year later, it is currently at the Manchester Museum of Science and Industry. WG760 was later fitted with an afterburner and achieved a speed of Mach 1.53 in January 1956. The testing of the swept wing design continued with the Short SB.5 (WG768).



Short SB.5

(WG768).
Avro 707C

(WZ744). The Avro 707 was designed for research purposes with the intention of eventually using them as jet trainers, to provide pilots with experience of handling a delta-winged aircraft using fly-by-wire technology in advance of the introduction of the Avro Vulcan. The one-third scale design was the first British built delta-winged aircraft. Vital data was gathered during testing for the Avro Vulcan project. The first Avro 707A (VX784) first flew on September 4, 1949 from Boscombe Down, however tragically 26 days later while testing its slow speed handling characteristics, Eric Esler lost control and crashed he was tragically killed.
The Avro 707B (VX790) with an extended nose section flew for the first time on September 5, 1950. It flew until 1956 when it was damaged beyond economical repair in a landing accident, ending its days on the dump at RAE Bedford. Another prototype (WD280) was transported to Australia for testing in 1954 with a modified wing. It was eventually struck off charge in 1967 and is now in the RAAF Museum at Point Cook passing from a private owner in 1999. In 1951 three additional Avro 707s were ordered as two-seat (side-by-side) trainers and were designated Avro 707Cs. Only two were built (WZ736 and WZ744) as the first Vulcan's were found to be easy to fly and these trainers were deemed unnecessary. Both aircraft survived WZ736 is on display at the Manchester Museum of Science and Industry and WZ744 is here at Cosford. WZ744 first flew on July 1, 1953 from RAF Waddington eventually totalling 200 hours testing fly-by-wire electrically signalled hydraulic flying controls, it was retired in 1967.

Left to right:


Fairey Delta 2 or FD.2

(WG777). This is the second of the only two aircraft built. It was designed as an advanced supersonic all weather interceptor and uniquely at the time had a nose which could droop to improve visibility during landing. It first flew in 1954 and eventually broke the world speed record on March 10, 1956 with a speed of 1,132 mph (1,811 km/h) some 300 mph faster than the existing holder from the year before, a F-100 Super Sabre. Flight testing continued until 1966 when it was retired to RAE Bedford for storage, eventually arriving at Cosford in 1973. The first prototype (WG774) was later modified to become the BAC221 by the British Aircraft Corporation, who took over Fairey in 1960, for flight testing as part of the Concorde development program.
Left to right:


Folland Gnat F.1

(XK724) The single-seat Gnat F.1 fighter was the forerunner of the sucessful two-seat Gnat T.1 trainer.



Hawker Siddeley Gnat T1

(XR977) First flew in August 1959 and entered service in February 1962. 105 Gnats served with the RAF until November 1978. The Red Arrows flew the Gnat from 1966 until 1979. It was transported from Cosford to Hendon in 2018.

Left to right:


Panavia Tornado P02

(XX946) prototype. Panavia was a consortium put together by the United Kingdon, West Germany and Italy to develop a combat aircraft in three main versions; Tornado IDS (Interdictor/Strike), Tornado ECR (Electronic Combat/Reconnaissance and Tornado ADV (Air Defence Variant). 992 Tornados were built including 72 for Saudi Arabia.
The first British prototype flew in 1974 and was initially the designated the GR.1 when it entered service in 1980, 142 Tornados were later upgraded to GR.4/4A standard as a mid life update, entering service in 1998. It still is the RAF's primary long-range strike attack aircraft and is fitted on each side of the nose two 25mm cannons. Capable of flying in all weather and at low-level, using its terrain-following, ground-mapping radar. It has Forward Looking infrared (FLIR) and linescan imaging systems to help fulfil its reconnaissance role, along with a 'RAPTOR' (Reconnaissance Airborne Pod TORnado) reconnaissance pod. For close air support and interdiction, the aircraft would be equipped with iron bombs, cluster bombs and laser-guided bombs. In the defence suppression role, it is equipped with anti-radar missiles. The Tornado GR.4/4A can also carry 'TIALD' (Thermal Imaging and Laser Designator) pod, first introduced during the first Gulf War in 1990.



SEPECAT Jaguar ACT

(XX765) modified to demonstrate Active Control Technology (ACT) or 'fly-by-wire'. Trials started in 1981 ending in September 1984 after 96 flights when it was transferred to Loughborough University for study by aeronautical engineering students before moving to Cosford in September 1996.

Left to right:


Hawker-Siddeley Kestrel FGA.1

(XS695) It was one of nine built to evaluate vertical take-off in near service conditions from 1965. After flying 153 sorties by 1972 it was transferred to the Royal Navy Engineering College at Manadon, Devon and later used for apprentice training and to simulate aircraft handling and flight deck procedures before moving to Cosford for storage in 2001. It finally went on display in 2012.
Left to right:


BAE Harrier GR.9A

(ZG477). The Harrier was the first operational jet fighter capable of vertical take-off and landing. It was utilised by the RAF in the ground attack and reconnaissance role and for Close Air Support (CAS). The GR.9A on dislpay was the final variant and was retired in December 2010.



British Aerospace EAP

(Experimental Aircraft Programme) (ZF534) technology demonstrator for the Eurofighter Typhoon. It first flew in August 1986 and was retired in May 1991 and transferred to the Aeronautical and Automotive Engineering department of Loughborough University and later to Cosford in March 2012.
Hangar 3 - The World War Two
Left to right:


Hawker Hind

(Royal Afghan Air Force). Designed as a day bomber the Hind entered service with the RAF in 1935. By 1937 452 Hind were in operation but were soon to be replaced by Battles, Blenheims and Hampdens at the start of the World War Two. This particular aircraft was sold to the Royal Afghan Air Force in the 1930s and was given to the RAF Museum in 1968.
Left to right:


Sopwith Pup

(N5182 later 9213M). The Pup was in service between 1916 and 1918 as a single-seat scout-fighter, it had a top speed of 111 mph (179 kmh). The aircraft on display was built by the Sopwith Aviation Company at Kingston-upon-Thames, it was delivered to 8 (Naval) Squadron in September 1916. The Royal Naval Air Service squadron was then operating from Dunkirk before moving to Vert Galand. By the end of the year pilots flying N5182 were credited with three victories. In 1917 N5182 was transferred to 3 (Naval) Squadron before it was withdrawn from service in August 1917. By around 1960 she was found in the Musée de l'Air's reserve collection store and was moved to the United Kingdom for restoration. Thirteen years later and fully restored to flying condition it suffered a force landing on a delivery flight to Blackbushe in 1974. By 1982 the RAF Museum had acquired the aircraft for display. On display at Cosford by 2017.



Gloster Gladiator

(K8042). The Gladiator was the last biplane fighter when it entered service with the RAF in 1937. Unfortunately it was no match for the technologically more advanced German aircraft at the start for World War II.
K8042 was delivered in 1937 and immediately went in to storage. By 1941 it was put into service as the Station Flight at RAF Boscombe Down with the A&AEE. In 1942 it was transferred to 5(Pilots) Advanced Flying Unit at RAF Turnhill, before moving on in 1943 to 61 Operational Training Unit at RAF Rednal. Damaged in 1944 it went into storage at Little Rissington until being struck off charge in 1948 but being retained for historical reasons. In 1965 it emerged from the RAF Museum store at Henlow to be restored in in 1967 for display at the RAF's 50th Anniversary Royal Review in 1968. In 1971 it arrived at the RAF Museum at Hendon moving to the Battle of Britain Hall in 1978 and it had arrived at Cosford by June 2018.



North American P-51D Mustang

('44-73415' composite painted as '44-13573' coded 'B6-V' 'Isabel III' also N6526D). Perhaps the best fighter of World War II, the P-51 Mustang was built from 1940 by North American Aviation to a British specification. By 1941 the first Mustang was delivered to the RAF for testing. In 1942 a Rolls-Royce Merlin engine was fitted to the P-51B giving the aircraft at 30,000 feet an extra 100 mph to 440 mph over the Allison engine. In June 1944 the first of 8,000 P-51Ds with the British designed bubble canopy were produced. It had now become a vital long-range fighter escort, equipped with drop tanks, which could be jettisoned when empty of fuel, to improve the aircraft's performance. Over 2,600 Mustangs were supplied to the RAF flying with 31 squadrons during the war. They were all withdrawn from RAF service by November 1946. This example completed a rebuild in 1989 using parts from 44-73415 which had recently crashed as N6526D and using an ex Indonesian AF fuselage. It moved to Cosford in 2003.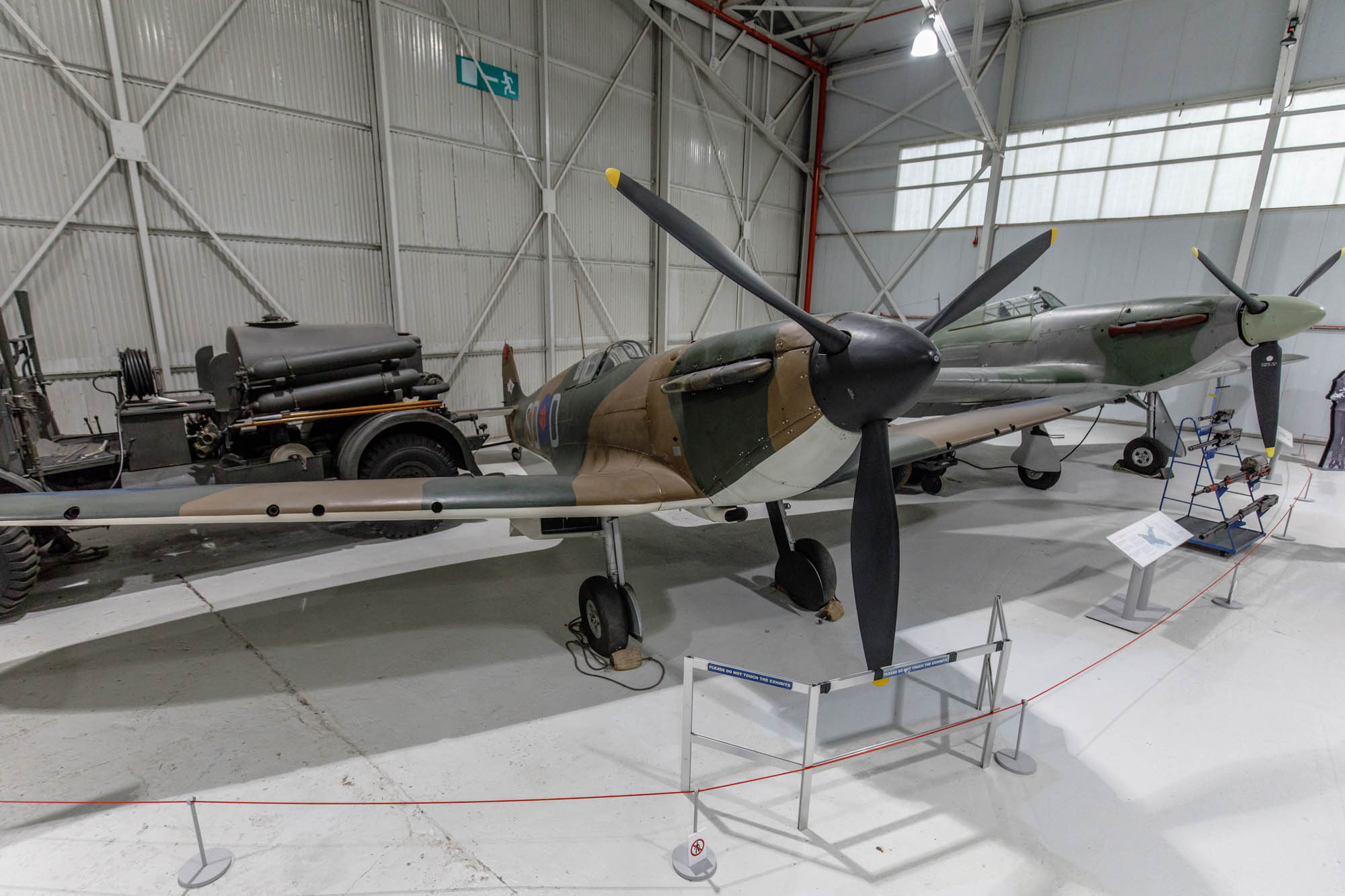 Left to right:


Supermarine Spitfire IA

, (K9942 'SD-D' / 8383M). The first Spitfire Mk.1s entered service in August 1938 with 19 Squadron and by the outbreak of war nine squadrons were equipped with them. The Spitfire was the only aircraft that could match the German Messerschmitt Bf-109E in aerial combat during the Battle of Britain. This very early Spitfire (155th built) was constructed at Southampton and flown from Eastleigh in April 1939. It flew operationally throughout the war before being earmarked for preservation in 1944. Following periods of storage and occasional exhibitions around the country it ended up at Hendon in 1971. After restoration in 1998 at RAF Bicester it moved back to Hendon and later on to Cosford in 2002.



Hawker Hurricane IIc

(LF738 'UH-A'). The Hurricane was designed in 1934 and entered service in 1937 and was the fastest fighter in service by 100 mph at that time. By 1939 500 were in service with eventually 32 squadrons being equipped with them. Hurricanes shot down more enemy aircraft during the Battle of Britain than all the other air and ground defences combined. They later were used in North Africa and in the Far East against Japan. This example was built in 1944 and used for pilot training until it was utilised for ground instruction at the end of the war. Following gate guard duties at Biggin Hill from 1954 it was restored by the Royal Aeronautical Society and finally moved to Cosford in 1995.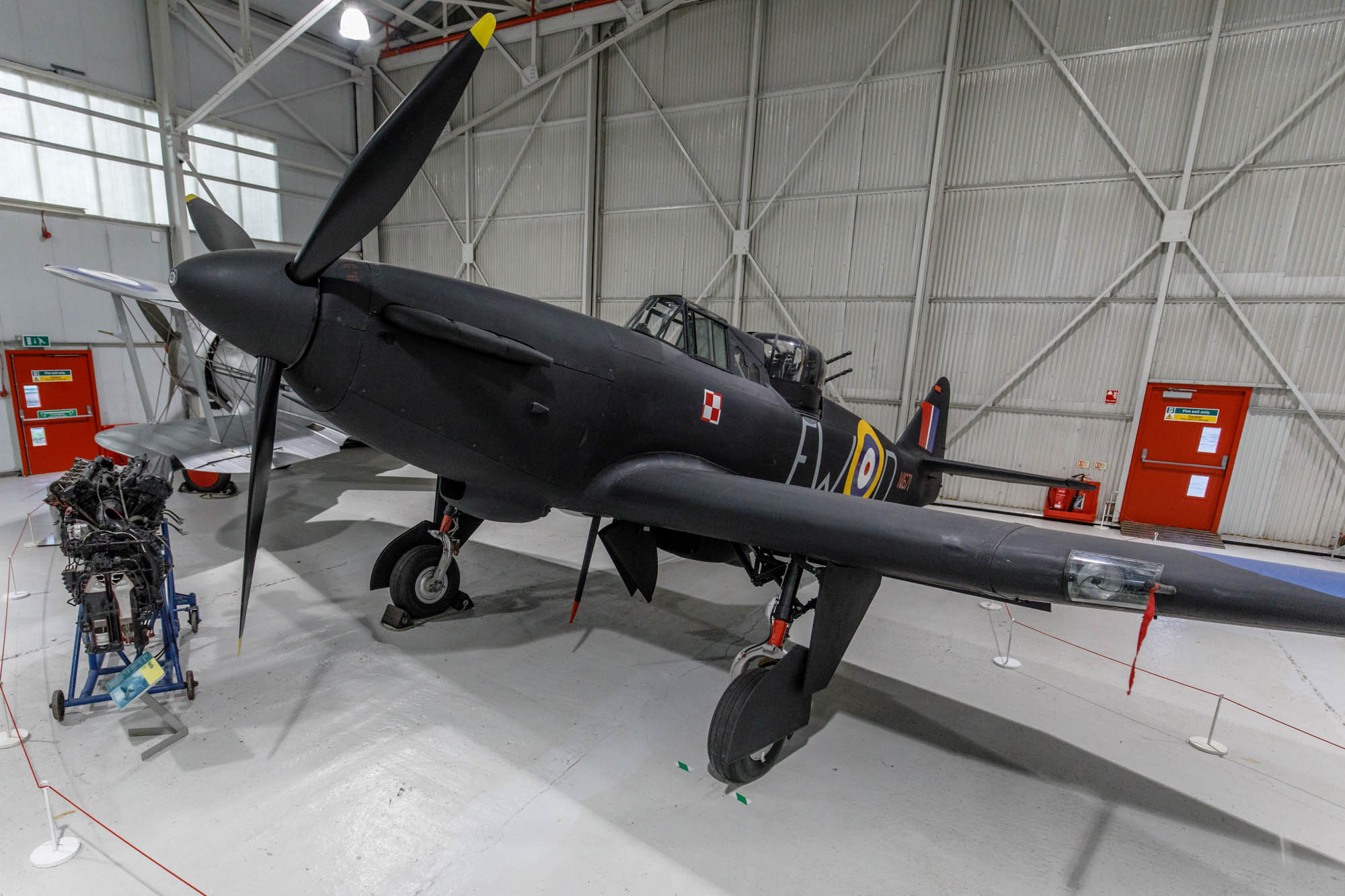 Boulton Paul Defiant I

(N1671 'EW-D' also 8370M). The Defiant entered service in 1939 as a two-seat turret armed fighter. Unfortunately the concept of a rear facing turret and no forward facing guns was not very successful. After suffering considerable losses in daylight its operations were switched to night-time. Despite adding radar to improve its effectiveness, the Defiants were withdrawn in favour of Beaufighters and Mosquitos.
N1671 entered service in August 1940 with 307 Zwowski (Polish) Squadron at RAF Kirton-in-Lindsey and later at Blackpool, Colerne and Exeter. After transfer to 153 Squadron at Ballyhalbert and 285 Squadron at Honily in 1942 it was withdrawn from service in 1943. Following periods of storage at various airfields it ended up at St Athan in 1960 before moving on to Finningley in 1968. It was transferred to Hendon in 1971 and moved to the Battle of Britain Hall in 1978. It was no longer on display by December 2009. It was put on display at Cosford in December 2017.
Avro 694 Lincoln B.II

(RF398 later 8376M). Designed as a long-range bomber to supersede the Lancaster, the first Lincoln flew in 1944, but production did not get underway until the war had ended. 583 were built but with the introduction of jet-fighters their effectiveness was lost and they were withdrawn from frontline service in 1955. The example on show was used for Radar development trials until 1963. It was moved to Cosford in 1968 for storage and later on to the museum.

de Havilland Mosquito TT.35

(TA639 'AZ-E'). The Mosquito was designed to be fast, very fast. Constructed out of wood it was light and with conventional armament eliminated it was very light. It could carry 1,000 lb of bombs 1,500 miles at a speed of almost 400 mph. This was twice the speed of contemporary British bombers. Using the experience of building the DH.88 Comet Racer de Havilland conceived the aircraft in 1938, with the prototype day bomber taking to the air for the first time in November 1940. The Mosquito would eventually be used in a variety of roles, including; low-level tactical daytime bomber, high altitude night bomber, pathfinder, day and night fighter, trainer and for reconnaissance. Towards the end of its career it was used as a target tug. 7,781 were built the last was completed in 1950.
TA639 was delivered at the close of the World War Two and went in to storage till 1952 when it was converted to a target tug and served as such until 1963. It was put in to storage at Cosford where later in 1988 it was repainted.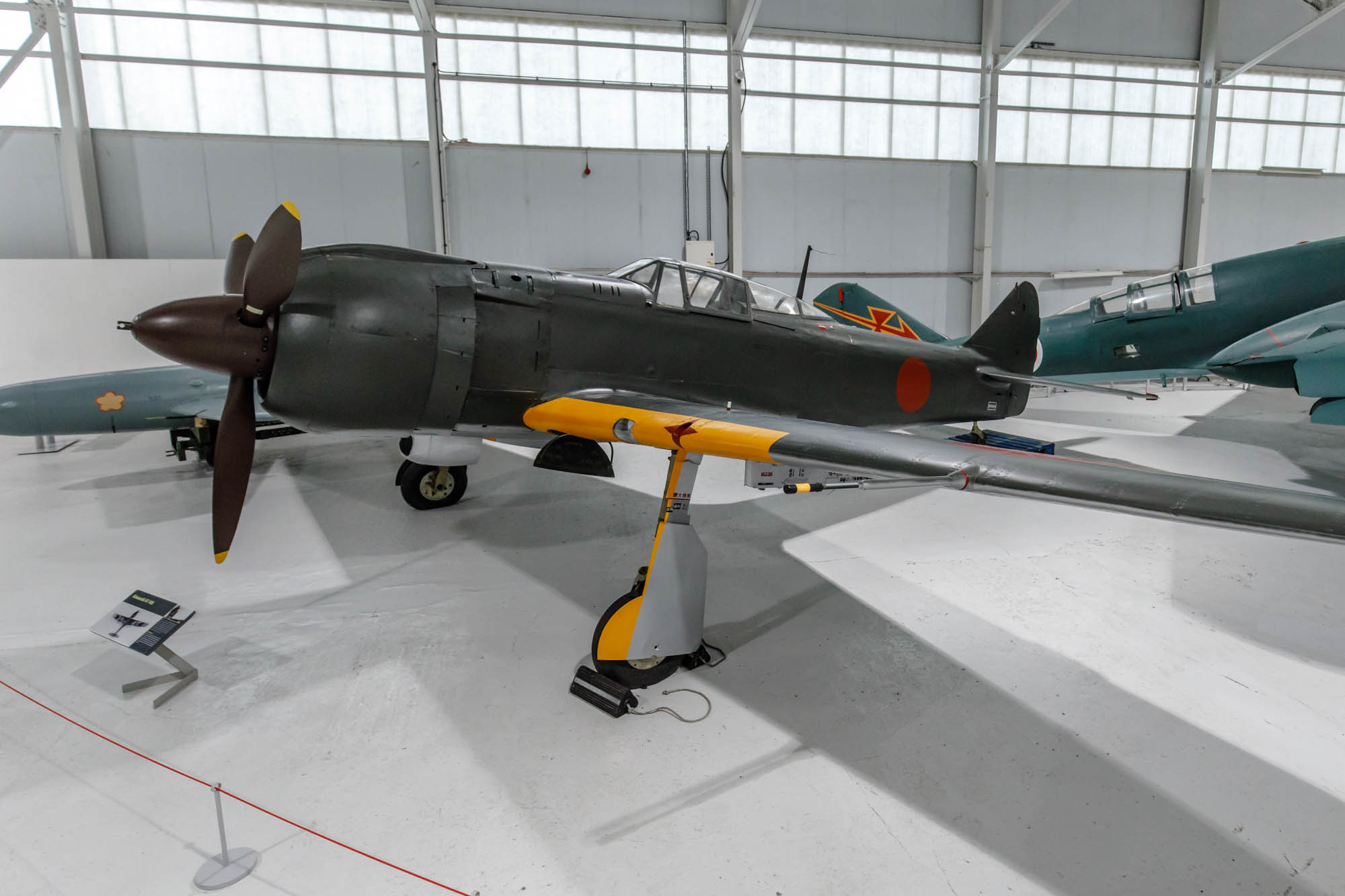 Left to right:


Kawasaki Ki-1001b

(c/n 16336). The first prototype made its maiden flight on February 1, 1945. 272 were built from stored Ki61s with another 118 built from scratch up to June 1945, this example on display is the only one to survive.
Left to right:


Mitsubishi Ki-46-III 'Dinah'

. Designed as a fighter and for ground attack it later excelled as a high-altitude reconnaissance aircraft, its first flight was in 1939. This rare example was captured and passed to the Allied Technical Air Intelligence Unit in South East Asia at Tebrau along with a number of Japanese aircraft, four of which were selected for shipment to the UK. This aircraft was never to fly again, eventually leaving storage in 1989 to go to Cosford. Here it was extensively restored (1992-1994) with help from Mitsubishi of Japan and put on display.
Left to right:


Yokosuka MXY-7 Ohka II

(8486M also BAPC99). 755 of these air launched rocket propelled suicide attack aircraft. Four were captured in 1945 and evaluated at the Royal Aircraft Establishment - Rocket Propulsion Research at Westcot, Bucks. Transferred to Cosford in 1976 and later refurbished at St Athan.
Other examples can be found at the Museum of Science and Industry in Manchester, UK plus one at the Planes of Fame Museum and another Yanks Air Museum also at Chino.



de Havilland DH-112 Venom FB.54

(J-1704) ex Swiss Air Force. The first Venom prototype flew on September 2, 1949. It served with the Royal Air Force as a single-seat fighter-bomber and two-seat night fighter. The 22 FB.54s built were purchased by Venezuela and Switzerland in the 1950s.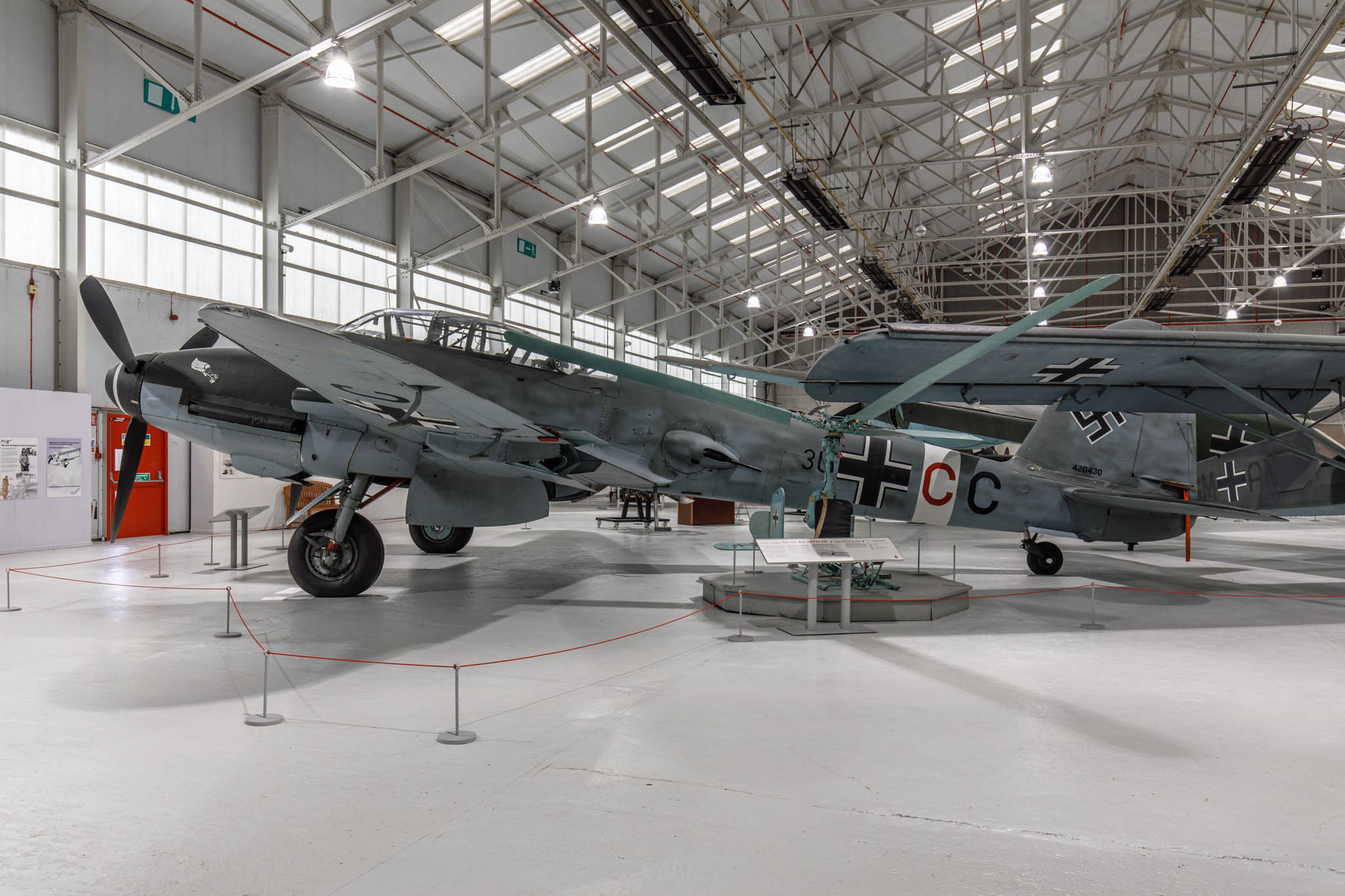 Left to right:


Messerschmitt Me410A-1/U2

Hornisse

"Hornet" (420430 '3U+CC' and AM.72). Based on the flawed Me210, the Me410 entered service in 1943 as a night-bomber. With the introduction of two 20mm MG 151/20 cannon, as with the 'U2' variant on display, they were used to effectively attack unescorted formations of Allied bombers. The aircraft on show was built in 1943 and captured at Vaerlose in Denmark in 1945 and ferried back to RAE Farnborough for evaluation. After thirty years in storage, half of which was at Cosford, it was put on display at Hendon in 1975. Following a move to St.Athan it was transferred back to Cosford in 1989.

Left to right:


Junkers Ju-88R-1

(360043 'D5+EV' later PJ876 and 8474M). The Ju-88 was one of the most versatile and successful German aircraft of World War II. It was employed as a bomber and later as a night fighter and also for long-range reconnaissance. The first Ju-88As were delivered in September 1939, they were immediately used to attack British shipping and later for the Battle of Britain. Insufficient defensive armament meant that they suffered heavy losses before their role was switched to night-fighting.
The example on display was license-built by Heinkel in 1942 and was converted to R-1 standard in 1943. On May 9, 1943 it took off from Aalborg in Denmark landing at Kristiansand in Norway. After falsely reporting that it had an engine fire it headed for Scotland. British Secret Service had somehow previously convinced the German aircrew (Oberleutnant Heinrich Schmitt, veteran of the Spanish Civil War and the Battle of Britain, radar operator Oberfeldwebels Paul Rosenberger and mechanic Oberfeldwebels Erich Kantwill), to defect and fly the aircraft to Great Britain with its radar secrets. It landed at RAF Dyce at Aberdeen to be met by Professor RV Jones a German radar expert. It was flown to RAE Farnborough a few days later under escort for evaluation and testing. British markings were applied and it was transferred to 1426 (Enemy Aircraft) Flight. At the end of the War the Flight was disbanded and the Ju-88 was transferred to RAF Sealand with 47 MU, destined for a museum. It passed through several other airfields and storage, before going to St Athan in 1973 for restoration. Restoration was completed in 1975 and it was moved to Battle of Britain Hall at Hendon in 1978. It had arrived at Cosford by March 2018.



Messerschmitt Bf-109G-2

(10639 'Black 6' later RN228 and 8478M and G-USTV). The Bf-109 was one of the finest single seat fighters from World War II with 33,000 being produced. It was designed in 1935 and performed very well during the Spanish Civil War. It was only matched by the Spitfire's and Hurricane's performance. It could out climb both and was faster than the Hurricane but not the Spitfire. Its main limiting factor was its limited endurance as it could only engage in combat over England for a few minutes. A fighter-bomber version was introduced in 1940. In January 2012 it was moved to the Bomber Command Hall and by June 2018 it had arrived at Cosford.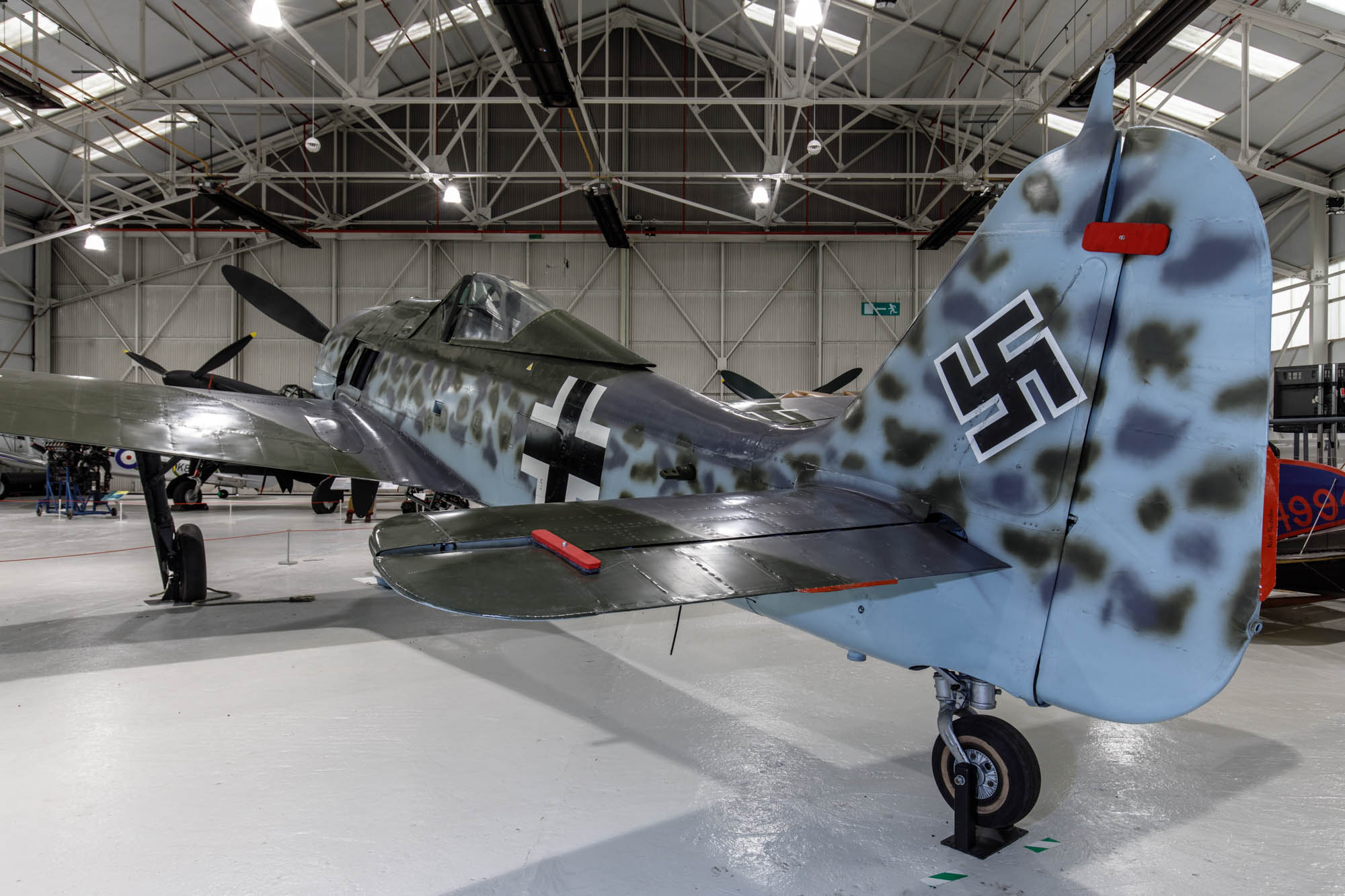 Left to right:


Focke-Wulf Fw 190 A-8

(Wk. Nr. 733685) The FW-190 operated very successfully from its introduction in 1941 and throughout the war, as a day fighter alongside the Messerschmitt Bf-109. The example in display was a survivor of a Mistel S-3B composite surrendered in Denmark in May 1945. Previously on display at Imperial War Museum South Lambeth it moved to Cosford in 2012.

Left to right:


Fieseler Fi156C-7 Storch

"Stork" (475081 / VP546 / 7362M / AM.101). Designed in 1935 the Storch was able to fulfil a variety of roles due to its incredible Short-Take-Off and Landing (STOL) capabilities. 2,549 examples were built in Germany, Czechoslovakia and France. This particular example was built by Mraz in Czechoslovakia and was captured in 1945. Shipped back to Farnborough it was test flown until 1955 before being shipped to Halton. It emerged from storage at various locations to be put on display at St Athan in 1973, before it was moved to Cosford in 1989.
Left to right:


Messerschmitt Me 163B-1a Komet

(191614 later became 'Yellow 14' after restoration) The only rocket propelled aircraft to enter service. Flying the very fast but volatile Me163, Luftwaffe pilots of Jagdgeschwader (JG) 400 managed to shoot down nine allied aircraft from August 1944. This Me163 was found at Husum airfield on May 8, 1945 and transported back to Farnborough. By July 1945 it was in store at Brize Norton eventually finding its way to Cosford in 1975.
Left to right:


Messerschmitt Me-262A-2a Schwalbe 'Swallow'

(112372 '4' later VK893 and 8482M). This was the most advanced fighter of World War II. Design work began in 1938 but problems with the revolutionary turbojets delayed the first flight till July 1942. An interfering Hitler insisted that it be manufactured as a fighter bomber and as such it was not operational till summer 1944. As an fighter the Me262 was formidable but the small numbers produced meant that it had little impact during the war. It was on display at the Milestones of Flight Exhibition before moving to Cosford by 2018.
Left to right:


Henri Mignet HM-14 Pou du Ciel 'Flying Flea'

(G-AEEH). The 'Flying Flea', designed in 1934 by Henri Mignet was probably the first home-built to be offered to the public for home construction. Following a number of fatal accidents and the discovery of aerodynamic design errors the French authorities banned it from flying in 1936, the British authorities following suit in 1937. The example on display was built between 1935 and 1936 and flew from Whichurch airfield over the next two years. For almost thirty years it remained in the owners garage before being loaned to the RAF Colerne Museum in 1966. In 1976 it was moved to St Athan and on to Cosford in 1994 to be restored and put on display.



Comper CLA.7 Swift

(G-ACGL). In 1923 Flying Officer Nicholas Comper formed the 'Cranwell Light Aeroplane Club' (CLAC) for apprentices at RAF Cranwell who built three aircraft. Later the Comper Aircraft Company was created to build the Comper Swift which were produced from 1929 until 1934. The example on display was built in 1933 for Alex Henshaw who wnt on to win the Siddeley Trophy at the 1933 Kings Cup air race.

Left to right:


Hawker Cygnet

(G-EBMB). The Royal Aero Club in 1924 organised a light aircraft competition. The famous aircraft designer Sydney Camm designed the Cygnet, only two were built coming third and fourth in the competition held at Lympne. Two years later in another competition they came first and second. In 1929 this example was put into store and was rebuilt in 1948 for a number of exhibitions. In 1961 it was again put in store before moving from Dunsfold to the RAF Museum for display in 1972.



de Havilland Chipmunk

(WP912) entered RAF service in 1950 replacing the Tiger Moth as an initial pilot trainer. The example on display was retired in 1974 and was transferred to Hendon and then on to Cosford in 1977.

Left to right:


Percival Provost T.1

(WV562 'P-C' later 7606M). Designed as a basic trainer in 1953 and 397 examples were delivered to the RAF. The Provost remained in service until it was replaced by a development of the design, the Jet Provost, in 1961.



Hunting Jet Provost T.1

(XD674 later 7570M).
Left to right:


Auster T.7 'Antarctic'

(WE600) It was modified for the 1956 Trans Antarctic Expedition. The T.7 was based on the AOP.6 version and first flew in 1947. 77 examples were built.



Hawker Hart Trainer

(K4972). The Hart trainer was a two-seat advanced trainer and was in service from 1935 to 1944. The example on display started life at 2 Flying Training School at RAF Digby in 1935 before moving to 2 FTS at Brize Norton two years later. By 1938 it passed through various Maintenance Units and in 1943 it was transferred to 1546 Squadron at Wigton for instructional use. In 1962 the dismantled aircraft was found in a loft at Nelson Thomlinson School in Wigton, by Solway Group of Aviation Enthusiasts. Following a brief period of display at Carlisle Crosby airport it was presented to the RAF Museum and put in to store at Henlow a year later. In 1968 it went to St Athan for restoration and display. In 1972 it was put on display at Hendon and in 1987 further restoration was carried out at Cardington prior to its move to Cosford for display in 1992. By 2002 it was back at Hendon and later Cosford by 2018.
Left to right:


Boulton Paul Sea Balliol T.21

(WL732) Developed as an advanced trainer aircraft for the RAF (Balliol) and the Royal Navy Fleet Air Arm (Sea Balliol) in the late 1940s. 30 were supplied to the FAA from 1954 and served until 1963.

Left to right:


de Havilland Devon C.1

(VP952 8820M) was designed for the RAF from the civil de Havilland Dove 4 as a light communications and transport aircraft supplied from 1947, serving till 1984 VP952 it was donated to the museum in 1998.



Hunting Percival Pembroke C.1

(WV746). Entering service in 1953, the Pembroke took over from the venerable Anson in the light transport and communications role.



Avro Anson C.19

(TX214). The Anson was designed in 1936. 263 were built for maritime reconnaissance duties for which it quickly became obsolete when war broke out and it was more ably employed as a crew trainer and communications aircraft. By 1952 over 8,000 examples had been built by Avro in Great Britain with nearly 3,00 more built in Canada by Canadian Federal Aircraft. The Anson remained in service with the RAF until 1954 and 1968 for the later redesigned C.19 variant, with many moving on to civilian operations.
Delievered in 1946 TX214 was struck off charge on the in 1963 it was transferred to the Historical Aircraft Museum at RAF Henlow and then on to RAF Cosford Museum in 1978.
Left to right:


British Aircraft Corporation Jet Provost T.5A

(XW418). The Hunting Percival Jet Provost first flew in 1954 and was the first jet powered basic trainer to go into service any where in the world and was based on the piston powered Percival Provost. Ten T.1 variants were initially ordered followed by 201 T.3s which had an improved engine, an ejector seat and retractable tricycle undercarriage. 70 T.3s were later upgraded to T.3A standard with improved avionics. From 1961, 185 T.4s were delivered incorporating further improvements to the engine. The T.5 variant took to the air in 1967 and introduced the much needed pressurised cockpit. The first of 110 T.5s were handed over to the Central Flying School in 1969. 94 were later upgraded to T.5A standard between 1973 and 1976 with the introduction of improved avionics. XW418 finished its life with DCAE at RAF Cosford.



Fairchild F-24 Argus

(G-AIZE painted as FS628) The civil version the Fairchild 24 Argus first flew in 1932. During the World War Two the USAAF ordered a utility transport and communications version of the Argus, known as the UC-61 Forwarder. The Argus was used in the light communications role by the RAF.The example on display was delivered to United States Army Air Force as 43-14601 and registered G-AIZE in 1946 and later purchased for the museum in 1966 going to RAF Henlow and after restoration it was transferred to Cosford in 1999.

Left to right:


Scottish Aviation Jetstream T.1

(XX496 'D'). The Jetstream served as the RAF's standard multi-engined pilot trainer for many years and was the last aircraft of Handley Page design to enter RAF service, it later served with the Royal Navy until the type was retired in 2011.
Left to right:


Casa 352L

(T.2B-272 marked 'G-AFAP'). Built in 1954 for the Spanish Air Force and retired in 1972. Purchased by the RAF Museum in 1977 and flown to the UK in 1978 and painted in ficticious British Airways markings due to their sponsorship.



Scottish Aviation Bulldog T.1

(XX654 '3'). The first Bulldog flew in 1969 with Beagle Aircraft at Shoreham who ceased trading and Scottish Aviation took over the production at their factory at Prestwick in Scotland. In 1972 the RAF ordered 130 Bulldogs following on from an order by the Swedish Air Force for 72 aircraft. In 2001 the Bulldog was retired from service.
Left to right:


de Havilland 106 Comet 1XB

(G-APAS). The Comet was the first commercial jet airliner, its first flight was in July 1949. BOAC commenced operations in 1952. However following a series of tragic crashes due to metal fatigue, the Comet 1 was withdrawn from service and redesigned. The Comet 4 was the result four years later but the impetus was lost and the Boeing 707 subsequently dominated the early jet airliner market. The example on display, painted in original BOAC colours, was delivered to Air France and is the only remaining Comet 1 in existence.

Left to right:


Hawker Siddeley Andover E.3A

(XS639 9241M) was used as a navigation aid calibration. Built in 1967 its final flight was in 1994 and donated to museum in 1998 where it was repainted in 2000.



Armstrong Whitworth Argosy C.1

(XP411). The RAF ordered 56 Argosies for use as medium range transport. The prototype first flew on March 4,1961 and served with the RAF until their retirement in 1975 when many were sold to the civilian market.



Scottish Aviation Pioneer CC.1

(XL703). The prototype first flew in 1947 with deliveries to the RAF starting in 1953. Only a small number were built mostly served in the Far East. XL703 is the sole serviving example which was delivered to the RAF in 1956, only two more followed before production ended. In 1968 it was retired and delivered to Cosford for preservation, going on display in 1989.
Left to right:


Vickers Varsity T.1

(WL679). The Varsity entered service in 1951 in the multi-engine crew training and also the flight engineers, radio operators, navigators and for bomb aimers, it took over from the Wellington. 163 were built. WL679 served with the Royal Aircraft Establishment and after 43 years arrived at RAF Museum Cosford in 1992.

Left to right:


Westland Wessex HC.2

(XR525 'G'). The Wessex was a development of the Sikorsky S-58 and was produced at the Westland factory in 1956 at Yeovil initially for the Royal Navy with deliveries of HAS.1s commencing in 1958. In 1962 the HC.2 variant commenced deliveries to the RAF with 18 Squadron at RAF Odiham.



Westland Dragonfly HR.3

(WP495 painted as 'G-AJOV'). The Dragonfly was built from 1948 by Westland under license from Sikorsky (S-51) for the Royal Navy who had 72 and the RAF who had 15. British European Airways operated the Dragonfly for a few years in the early 1950s.



Bristol 171 Sycamore HR.14

(XJ918 8190M). The Bristol Sycamore is one of the first production helicopters to be developed. XJ918 was relocated to the RAF Museum Cosford in 1983.
Left to right:


FMA 1A58 Pucara

(A-??? later ZD485).
Left to right:


Bristol 175 Britannia 312F

(G-AOVF painted as 'XM497'). The Britannia was designed as a medium to long-range airliner. Powered by four turbo-prop engines it was nicknamed the 'whispering giant'. The aircraft first flew in July 1956. With the advent of jet powered airliners the Britannia failed to compete and by 1960, when production ended, only 85 had been built. The RAF bought 23 Britannia C.1/C.2s which they operated until 1975. The Britannia continued to fly until the 1990s. The example on display was ordered by BOAC and later flew with British Eagle, Donaldson, IAS and Invicta.
Left to right:


Consolidated PBY-6A Catalina

(L-866 ex Royal Danish Air Force). This very successful flying boat took to the air for the first time in March 1935. It was designed as a patrol bomber and had a very long range. Over 4,000 Catalinas were built, the later models were fitted with retractable tricycle undercarriage. Excelling in the maritime reconnaissance role they continued in service for many decades. The example on display was transferred to the Royal Danish Air Force in 1957 and remained in service until the 1970s. It arrived at Cosford in 1975.
Lockheed SP-2H Neptune

(204 'V'). The P-2H Neptune was designed in the World War Two as a land based maritime patrol and anti-submarine aircraft, eventually 1,100 were built and were operated by many air forces around the world, including the RAF and Royal Netherlands Navy (Koninklijke Marine) who provided this example for display at the museum, which had previously operated from Valkenberg in Holland .
Left to right:


Hawker Siddeley Nimrod R.Mk.1

(XV249) was transported to RAFM Cosford in 2012 and once reassembled was put on display in 2015.

Left to right:


Hawker Siddeley Dominie T.1

(XS709 'M') First flew in December 1964, it was based HS 125 executive jet. It was finally retired with the rest of the remaining fleet at RAF Cranwell in 2011 and wsa almost immediately flown to Cosford for display.



Lockheed Hercules C-130K Mk3

(XV202) was delivered in 1967 and served until 2011 when it was delivered from RAF Brize Norton directly to Cosford for display.
Left to right:


Hawker Siddeley Hunter F.6A

(XG225) Based on the Hawker Sea Hawk, the first production Hunter F.1 flew in 1951, following flight testing of the P.1052 and P.1081 test aircraft. Eventually 1,972 Hunters were built serving with 19 air forces to 1994. A single seat fighter, 415 Hunter F Mk 6s were produced, some 380 of them for the RAF. XG225 first flew in 1956 and finally retired and put in to storage in 1980 as 8713M moving to Cosford in 1988 and moved to the entrance in 2004.
Left to right:


Vickers VC-10 C.1K

(XR808) The VC-10 served with the RAF for 47 years, the last flights was in September 2013. XR808 served with 10 squadron from RAF Brize Norton and was given the name Bob based on the 808 in the serial. It arrived at Cosford by road in June 2015 and was assembled and put on display in November 2015.