Imperial War Museum
Duxford
2008, 2009, 2012 and 2016
The Imperial War Museum (IWM)

at Duxford in Cambridgeshire has got to be one of United Kingdom's most impressive aircraft museums, mostly because of its size and number of exhibits rather than for the rarity of its aircraft on display. The collection has grown since it was first opened to the public in 1976. The aircraft on display and available for close inspection, are dispersed around the famous former Battle of Britain airfield, at a number of distinct locations. Since my first visit over thirty years two major buildings have been constructed and now most of the collection is protected from the elements.



A Brief History of Duxford


Duxford airfield dates back to 1918 when the Royal Flying Corps and the Airco DH.9 arrived along with an American forces contingent tasked with assembling aircraft shipped from the United States. Many of the original buildings still stand including the wonderful double-bay Belfast hangars with their distinctive lattice effect roof supports and wooden hangar doors. By 1939 and the start of the World War Two, 19 Squadron RAF's first Spitfire squadron was operating from Duxford. In 1943 the RAF made way for the USAAF's 78th Fighter Group with their P-47 Thunderbolts, these were replaced by the P-51 Mustang by the end of 1944. The airfield was handed back to the RAF after the war and Meteors, Hunters and then the Javelin were flown from here until the airfields closure in 1961. In 1971 the IWM moved surplus aircraft to Duxford for storage.

The Old Flying Machine Company (OFMC) and The Fighter Collection (TFC) moved to Duxford in 1983. Also operating from Duxford is the Aircraft Restoration Company (ARCo) and the Historic Aircraft Collection (HAC) which has six warbirds based at Duxford, mostly in hangar 4.

This summary does not do justice to what is on display, the aircraft at the IWM are very impressive, where else could you see over twelve Spitfires for example? A full day's visit is required to properly appreciate the wealth of exhibits on show. Yes you can see everything during the flying displays held throughout the year at Duxford, but those shows really warrant your full attention not really leaving enough time for the hangared museum aircraft.



AirSpace


The impressive AirSpace building at the eastern end of the airfield was built at a cost of £25 million. It has recently been extended and re-opened in July 2007. Over thirty of the UK's most famous and ground braking aircraft are housed in the main section, twelve of which are suspended from the ceiling. Access is excellent at ground level and by using the stairs and walkways that go around three sides of this vast building. Exhibits range from the Vulcan, through to the TSR.2, Comet and Concorde. A Canberra, Lightning, Harrier, Jaguar and Tornado show how our military jets have evolved since the 1950s. First and World War Two aircraft are squeezed into the few remaining gaps, notably an RE.8, DH.9, Oxford, Anson, Lysander, Swordfish, Spitfire, Mosquito and Lancaster. There is also still room for a York, Sunderland and Hastings and quite a few more. At the time of my visit on long-term preservation and in a separate preparation area, were a Viscount, Shackleton and Victor.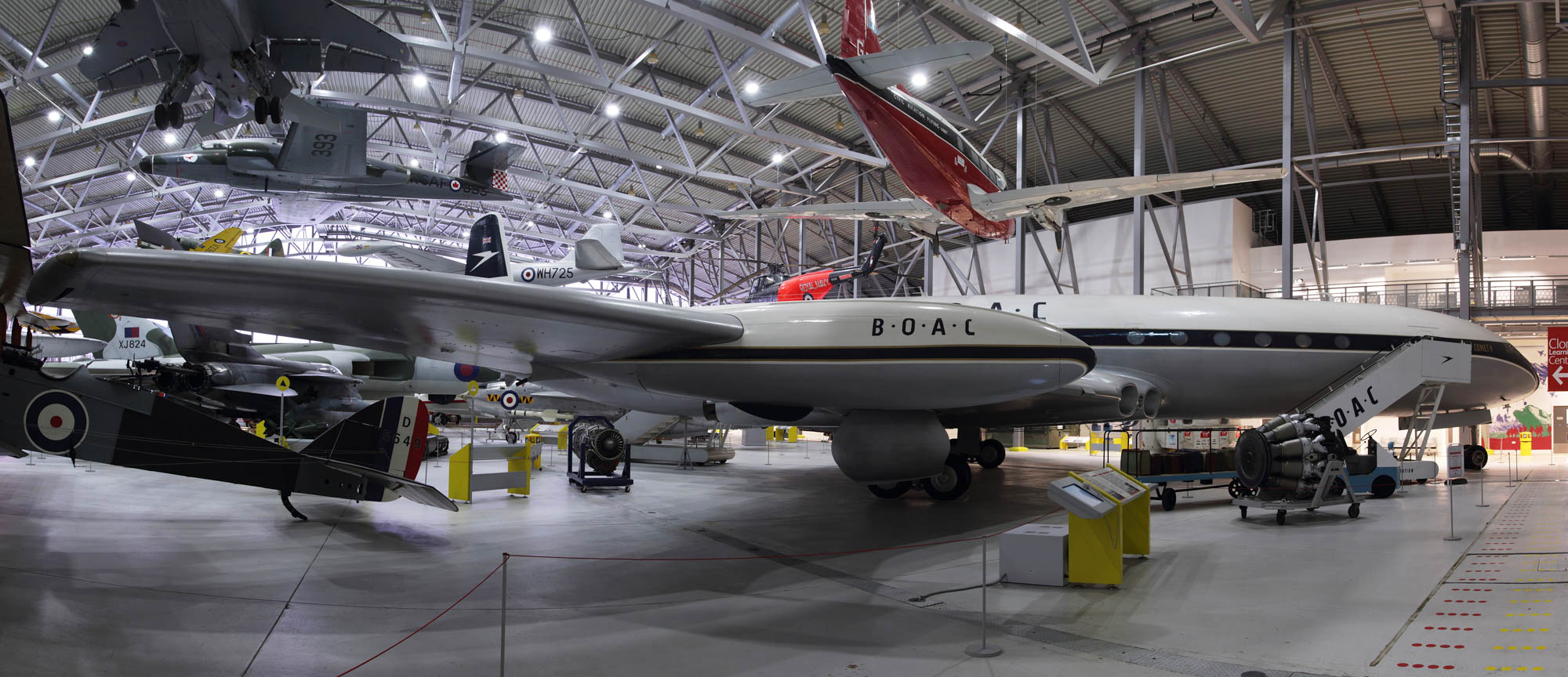 Panoramic image of de Havilland DH 106 Comet 4 (G-APDB).
Left to right:

Royal Aircraft Factory RE.8

(F3556) is one of only two in existance the other is in the Brussel's Museum. Built by the Royal Aircraft Factory in England, the Reconnaissance Experimental 8 (R.E.8) was a successor to the R.E.7 and entered service in 1916. Initially used for reconnaissance, it was later employed for ground attack missions. Despite being very vulnerable to enemy attack, due to its poor manoeuvrability and an initial tendency to spin, over 4000 were built.



de Havilland (Airco) DH.9

(D5649). The DH.9A was built by Aircraft Manufacturing Co. (Airco) of Hendon (with several sub-contractors) and designed by Capt. Geoffrey de Havilland. He later formed is own company when Airco were taken over by BSA in 1920. The DH.9A was in service from 1918 to 1931 as a two-seat bomber. 900 were built during 1918 in Great Britain, the Russians even produced unlicensed aircraft for the Red Air Force. After the World War One the DH.9A was used extensively in Iraq and India.
Left to right:

Miles Magister or Miles M.14A Hawk T.3

in military service (G-AFBS previously BB661)



Airspeed Oxford 1

(V3388 / G-AHTW)



de Havilland DH 82A Tiger Moth

(N6635 '25') It is a composite painted as 22 EFTS Cambridge.
Left to right:

Avro Anson Mk.1

(N4877 'MK-V' also G-AMDA)



Avro 683 Lancaster Mk X

(KB889 'NA-I' / G-LANC)
Left to right:

Fairey Swordfish Mk.III

(NF370 'NH-L') It was delivered on April 1, 1944 from the Blackburn Aircraft Ltd plant at Sherburn-in-Elmet in Yorkshire it is one of only two Mark IIIs left in the world.



Westland Lysander III

(V9673 'MA-J' / G-LIZY). The Lysander was designed to operate closely with the Army as a special transport and observation aircraft. It was a very rugged aircraft able to land on small and unprepared landing fields. Four squadrons with 170 Lysanders, were moved to France in 1939. At the end of their time in France only 50 aircraft returned. They were later used to patrol coastal areas for downed airmen and could deploy dinghies when necessary. The Lysander operated with the RAF from 1938 to 1946.
Left to right:

Supermarine Spitfire F.24

(VN485)



de Havilland Mosquito B.35

(TA719 '56' and G-ASKC) was built at Hatfield in June 1945 and was put into store until 1953 when it was converted to a TT.35. It served as a target tug with 4 CAACU till its retirement in 1963, when its was tranferred to the Skyfame museum at Staverton. It moved to Duxford when the museum closed in 1978.

Left to right:

de Havilland DH 104 Dove 6

(G-ALFU)



Avro York C.1

(G-ANTK). Development of the Avro 685 started in 1941, the first civilian version going to BOAC in 1944. Eventually 50 civilian and 208 military versions were delivered. Most of the aircraft delivered to the RAF were later converted for civilian use.

Left to right:

de Havilland DH 106 Comet 4

(G-APDB)



Short Sunderland MR.5

(ML796)

Handley Page Hastings C.1A

(TG528 'T'). This is one of several aircraft to arrive here from the Skyfame museum at Staverton after its closure in 1979. It was originally delivery to the RAF in 1948. Based on the civilian Handley Page Hermes it was designed to replace the Avro York, at the time it was the largest transport aircraft supplied to the RAF, in total 147 were delivered from 1948. The last few were not retired until 1977. Only four complete aircraft survive today.

The

BAe Harrier GR.3

(XZ133 '10') pictured above the Hastings was delivered to the RAF in 1976 and arrived at Duxford in 1993.

Panoramic image of Avro Vulcan B.2 (XJ824)
Left to right:

Avro 698 Vulcan B.2

(XJ824)


English Electric Canberra B.2

(WH725). The B.2 variant was the first production Canberra entering service with the RAF in 1951.


English Electric Lightning F.1

(XM135 'B')

Left to right:

BAC 167 Strikemaster 80A

(1133 RSAF)


Panavia Tornado GR.1

(ZA465 'FF') in the colours of 12 Squadron.


Westland Wessex HAS.1

(XS863 '304 R-04')


Westland Whirlwind HAS.7

(XK936 '62')
Avro Shackleton MR.3

(XF708 'C'). This nose-wheel variant of the Shackleton was delivered in 1959 and was used for maritime reconnaissance before flying to Duxford in 1972 for the IWM.

Vickers Viscount 701

(G-ALWF) was delivered in 1953 to British European Airways and in whose original colours it has been restored. It later flew with Channel Airways and finally Cambrian Airways before being retired in 1971.
Panoramic image of Handley Page Victor K.1A (XH648)
Left to right:

Handley Page Victor K.1A

(XH648) in its final 57 Squadron colours, it arrived at the IWM in 1976.



Eurofighter EF-2000 Typhoon T.1

(ZH590 c/n DA4) BAE Systems two-seat prototype.

American Air Museum


At the other end of the airfield is the very modern looking American Air Museum which stands as a memorial to the 30,000 American airmen who gave their lives when flying from UK bases in the World War Two. The museum also honours those who fought in Korea and Vietnam and in other conflicts since. The building's sleek design disguises its size. Walking around at ground level and along the sweeping aerial walkway you will be amazed to find that the building houses a B-24 Liberator, B-25 Mitchell, C-47, B-17 Flying Fortress and B-29 Superfortress from the World War Two, with a B-52D Stratofortress, SR-71 Blackbird, F-111 and U-2 from the resulting Cold War. Twelve other aircraft are again skilfully squeezed into the remaining space. The ceiling is used once more to make best use of the space and creates a dynamic 'flying' effect.
Panoramic image of restored (2012) Boeing B-17G Flying Fortress
Left to right: General view of the AAM looking out from the back towards the large semi-circular glass frontage with a

Douglas C-47A

(315509 'W7-S' and G-BHUB) suspended from the ceiling with a composite AT-6 Texan beside it.



Boeing B-17G Flying Fortress

(231983 'IY-G' / F-BDRS) Over 12,600 B-17s were produced during the World War Two.



North American B-25J Mitchell

(31171 / N7614C). The prototype B-25 Mitchell first flew in 1940 with initial deliveries commencing in the following year for the United States Army Air Forces (USAAF).
Left to right:

Consolidated B-24M Liberator

(44-51228 '493') inscribed 'Dugan' to represent a Liberator based at Wendling, Norfolk, with the 392nd Bomb Group. It was actually built by the Ford Motor Company at their Willow Run plant, Michigan and is possibly the last Liberator in service with the USAF. Redesignated as an EZB-24M it was used for ice research, finally retiring to Lackland Air Force Base, Texas in 1956. It was transferred to Duxford in 1999.



Grumman TBM-3E Avenger AS.3

(69327 'X-3' and CF-KCG) hanging from the ceiling. It is painted to represent the Avenger flown by President George Bush when he served with the US Navy in the Pacific during 1944, it was named 'Barbara' after his wife. 9,836 Avengers were built by Grumman and General Motors (Eastern Aircraft Division) as a torpedo bomber for the US Navy to avenge the Japanese attack on Pearl Harbour.



Republic P-47D Thunderbolt

(226413 'ZU-N' / N47DD ) painted to represent a 78th FG aircraft when based at Duxford during the World War Two which were to be replaced by P-51 Mustangs. The prototype Thunderbolt first flew in May 1941 entering service the following year, eventually 12,956 were constructed.
Left to right:

Boeing PT-17 Stearman Kaydet

(41-8169 '25'). The PT-17 first entered service in 1936. They were used by the USAAF and US Navy as the N2S, in total 6,110 of all variants of Stearman were built. The aircraft on display at the American Air Museum was previously used by Evergreen Aviation Services. A replica Spad is in the background.



Lockheed T-33A

(51-4286 ex French Air Force). Developed as a jet trainer for the US Air Force the T-33A was developed from the single-seat P-80 (later F-80) Shooting Star, 4,992 T-33s were built and supplied to many air forces around the World, some under the Military Aid Program of the 1950s. The example on display was built in 1951 and supplied to France under MAP and returned under the terms of the agreement to USAF in 1978.
Left to right:

Lockheed U2C

(56-6692). The U2 on display was originally a U-2A and first flew in October 1956. Operated by the Central Intelligence Agency it flew on spying missions over the Soviet Union and China. Its final flight was in December 1987.



Lockheed SR-71A Blackbird

(64-17962). Flying at Mach 3 or 2,000mph the Blackbird is certainly the most impressive aerial reconnaissance aircraft ever built. From the 1980s SR-71s were operated from RAF Mildenhall and the one on display is the only one to be found outside the US, since they were finally retired in favour of spy satellites in 1999.

The Double-bay Belfast hangars 2, 3, 4 and 5.
P-51D Mustang (413704 registered G-BTCD coded 'B7-H' 'Ferocious Frankie'). The P-51D Mustang was arguably the most successful long-range escort fighter of the World War Two. The Spitfire's Merlin engine, license built by Packard in the USA, was fitted to the D model, giving it a level speed of 437 mph at 25,000 feet and a maximum dive speed of 505 mph. Its range was an incredible 2,055nm.
Hangar 2

houses a large fleet of flyable warbirds which are frequently flown by the OFMC and TFC and others at air shows throughout the year, most notably Duxford's Flying Legends air show held every July. On going restorations to flying condition including a Firefly and Beaufighter were in here in January 2008.

Left to right:

Grumman F6F-5K Hellcat

(40467 '19' / G-BTCC) with The Fighter Collection (TFC) it is being serviced. It is painted in a US Navy scheme from its time in the Pacific during World War II. This Hellcat is the only example flying outside the States. It was built in 1943 and flew with VF-6 (as depicted) and VF-18 before being retired with only 318 flying hours on the clock in 1944. Restoration started in 1990 at 'Planes of Fame' of Chino, California before being completed by TFC. She has a maximum speed of 380 mph and range of 945 miles.



Boeing B-17G Flying Fortress

('124485 DF-A' / 44-85784 / G-BEDF) 'Sally B' owned by Elly Sallingboe and operated by the B-17 Preservation based at Duxford



Hawker Nimrod II

(K3661 / G-BURZ) was built in 1934 and after recovery from a dump in 1972 it passed to the Royal Air Force Museum. Restoration started in 1992 before and the aircraft was acquired by the Historic Aircraft Collection (HAC) based at Duxford in 1993 and restored to flying condition in November 2006.
Hangar 3 houses around 25 aircraft including a Sea Vampire, Sea Hawk, Sea Venom, Sea Vixen and Gannet which were operated by the Royal Navy's Fleet Air Arm from the 1950s to 1970s. A Fairy Firefly TT.1 (SE-BRG) acquired from Sweden was here awaiting restoration as a static exhibit.

Left to right:

Fairy Gannet ECM.6

(XG797 '277'). The Gannet first flew in 1948, 346 were built serving principally with the Royal Navy from 1951 to the 1970s as anti-submarine and as airborne early warning aircraft. They were powered unusually by two Double Mamba turboprop engines mounted side-by-side and utilised two contra-rotating propellers. It arrived at Duxford in 1973 shortly after its retirement.

de Havilland DH.110 Sea Vixen FAW.2 (XS576 'E-125') of 899 Squadron. The Sea Vixen went into service as the Royal Navy's principal carrier-borne fighter in 1959. 146 were built, the last remaining in service until 1971. It arrived at Duxford in 1972.



Fairy Firefly TT.1

(SE-BRG ex DT989) originally served with the Royal Navy between 1944 and 1946. Later a number were converted for use as Target Tugs from 1950 to 1954 when some were sold to the Swedish Navy, as was this example in 1950. It remained in service until 1964. The Aircraft Restoration Company bought two Firefly's from Sweden in 2003, the other is being restored to flying condition in hangar 2.

Hangar 4

with almost twenty aircraft on display in its two bays includes; a Vampire, Meteor, Hunter, Javelin and F-4 Phantom. These former RAF jets share space with much earlier warbirds, notably a Bristol F.2B, Spitfire, Hurricane and Bf.109.

Left to right:

Avro 671 Rota I (Cierva C.30A)

(HM580 'KX-K' / G-ACUU). In 1934 Juan de la Cierva, a Spaniard, developed the C.30A autogyro. This unique aircraft was eventually license built by A V Roe & Co as the Rota 1 for the civil and military market, subsequently building 66 examples. Twelve Avro built Rota 1 autogyro's were supplied to the RAF in the mid 1930s, serving with the School of Army Co-operation at Old Sarum. They were used by 1448 (Rota) Flight at Duxford, (later reformed at Halton as 529 Squadron), in great secrecy to calibrate Britain's coastal radar stations during the war.



Bristol F.2B Fighter

(E.2581 '13'). This example served with the 39 Home Defence Squadron at North Weald from 1918. F.2 operated from Duxford in the early 1920s as pilot trainers. Built by the Bristol Aeroplane Company, the prototype F.2A made its first flight in September 1916. After some modifications the F.2B went into production. It carried a pilot and observer, both of which were armed with a machine gun. Its maximum speed was 113mph (182kmh). Eventually 5,329 examples were delivered, some serving until 1932.

Hangar 4

with almost twenty aircraft on display in its two bays includes; a Vampire, Meteor, Hunter, Javelin and F-4 Phantom. These former RAF jets share space with much earlier warbirds, notably a Bristol F.2B, Spitfire, Hurricane and Bf.109.

Left to right:
Royal Aircraft Factory BE.2c (2699) ex Lambeth. The RAF BE.2 (Blériot Experimental) was a British single-engine two-seat biplane which was in service with the Royal Flying Corps (RFC) from 1912 until the end of World War I. The 'Blériot' in its designation is due to Blériot types having a tractor configuration, that is having a propeller in front. Around BE.2s 3,500 were built.



Hawker Hurricane IIB

('Z2315/JU-E'). The Hurricane was designed in 1934 and entered service in 1937 as the fastest fighter in service by 100 mph. By 1939 500 were in service with eventually 32 squadrons being equipped with them. Hurricanes shot down more enemy aircraft during the Battle of Britain than all the other air and ground defences combined. They later were used in North Africa and in the Far East against Japan.
The static example on display has been constructed using parts recovered from at least one crash site in Russia. Two Hurricane squadrons (310 and 242) operated from Duxford during the World War Two and were flown by Czech pilots, commanded by Douglas Bader.



Percival Proctor III

(LZ766 / G-ALCK)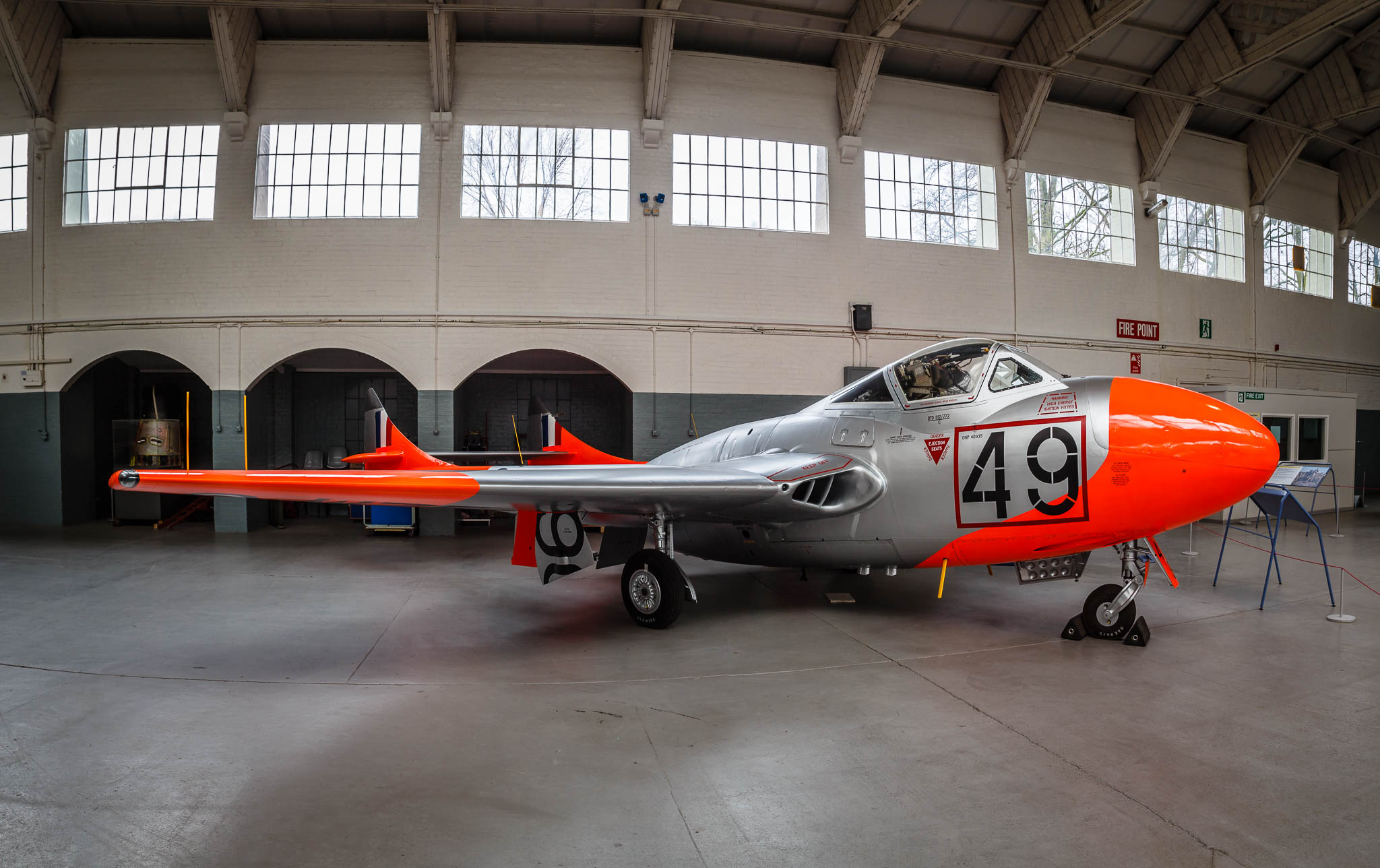 Panoramic image of De Havilland DH 100 Vampire T.11 (WZ590 '49')
Left to right:

De Havilland DH 100 Vampire T.11

(WZ590 '49') restored in 2012.
Panoramic image of Gloster Javelin FAW.7 (XH897).
The Javelin was the world's first twin-jet delta-wing fighter, designed to intercept bombers at high altitudes and at high subsonic speeds.
Left to right:

Gloster Meteor F.8

(WK991)



McDonnell Douglas F-4M Phantom FGR.2

(XV474 'T') was in service from 1969 till delivery to Duxford in 1992. It is painted in the colours of 74 Squadron. It is owned by the Old Flying Machine Company.



Hawker Siddeley Buccaneer S.2B

(XV865 '865'). The Blackburn Buccaneer was designed for the low-level strike role and was in service with the Royal Navy from 1962 to the 1970s when they were transferred to the RAF who operated the Bucc' between 1969 to 1994. The aircraft on display is in 208 Squadron markings.
Hangar 5

in 2008 it contained a Varsity which was being slowly restored (by 2012 dismantled outside) along with an Ambassador (by 2012 nearly fully restored). In a poor state of repair is an ex Argentinean Pucara, USAF F-105 Thunderchief and East German Mil-24 Hind. An ex Portuguese Casa 352 (Ju-52) in German markings is housed here in fine condition.

Left to right:

Vickers Varsity T.1

(WJ945 '21' and G-BEDV). One of 164 Varsity's built, it was delivered to the RAF in 1953 as a crew trainer for navigators and bomb aimers. It arrived at Duxford in 1974 and flew as G-BEDV in 1976 with the Duxford Aviation Society. It is painted in the colours of the Central Flying School when at Little Rissington and is currently being restored.



BAE Harrier GR.9A

(ZD461 '51A') arrived in March 2012 for preservation from RAF Cottesmore where the type was retired in December 2010.



Heinkel He-162A-2

(120235 '6 yellow). The German aircraft industry were pushed towards the end of the war to produce aircraft designs that could reverse an ever increasingly desperate situation. The He-162 jet fighter took just 69 days from initial design to its first flight. It was the first aircraft to be fitted with an ejection seat. Deliveries began in February 1945, with 200 only being delivered. Due to a shortage of supplies it was mostly built of wood.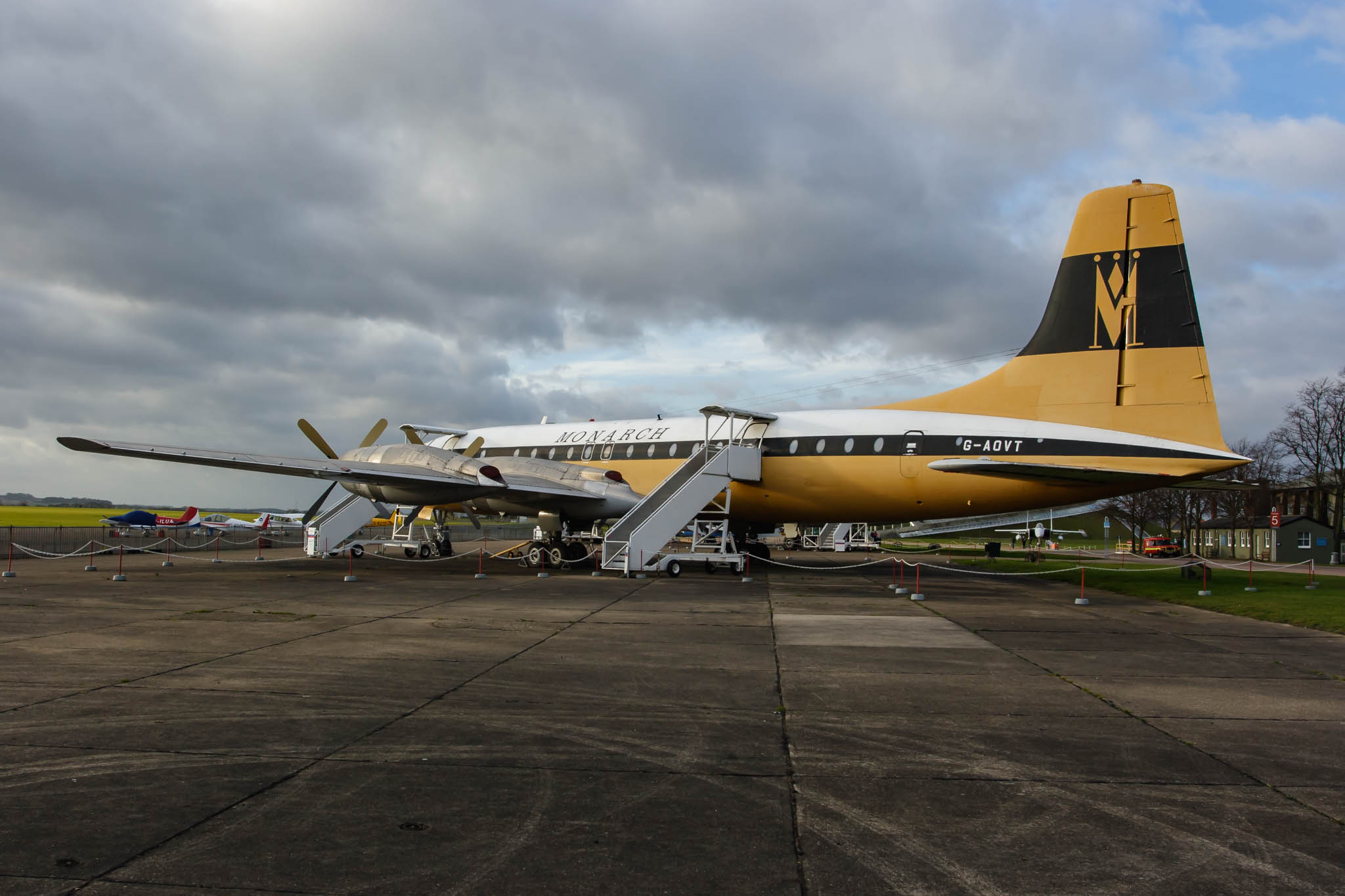 Outside

and braving the elements are a fleet of Britain's finest home produced airliners dating from the 1960s to the 1970s. These are Britannia, Super VC-10, Trident 2 and BAC One-Eleven.


Above:

Bristol Britannia 312 (G-AOVT) was delivered to BOAC in 1959 and later operated principally with British Eagle and Monarch Airlines and in whose colours it has been restored.

Left to right:

Airspeed AS.57 Ambassador 2

(G-ALZO) recently restored by the Duxford Aviation Society in the colours of Dan-Air London.
Photography:


The new hangars were built at considerable expense to protect a valuable collection of aircraft, some of which had suffered during their time out in the open. Consequently to get the best value for money aircraft are packed ingeniously into these modern buildings making individual aircraft photography very difficult indeed. The aircraft in the original hangars are much more accessible to the camera with a wide-angle lens.