Air Atlantique - Classic Flight
Night Engine Run
Coventry - Bagington airport
December 13, 2009
Air Atlantique Classic Flight opened its doors to photographers and enthusiasts for its now annual night engine run. Nine classic aircraft were powered up under the cover of darkness, illuminated by powerful mobile lighting units. The aircraft involved this year were; Dakota, Meteor, Auster, Anson, Heron, Venom (twice), Dragon Rapide, Chipmunk and Jet Provost. With other members of the fleet on static display, photographers were given a unique opportunity to capture some very unusual and attractive images. Some aircraft were even taxied around the apron to provide a series of interesting photogenic angles with the nostalgic sound of the engines.



Just days before the scheduled night engine run the operators of Coventry Airport announced that they no longer had sufficient funds to keep the airport open and all flying at this historic airfield ceased. Steve Bridgewater, Air Atlantique Classic Flight's commercial manager was quick to announce that the night shoot was still on. Unfortunately he was forced to cancel the Christmas pleasure flight day scheduled for the day before. On the afternoon of the night engine run the glorious sunset gave way to a persistent heavy drizzle. Despite the finger numbing cold the praise worthy Classic Flight staff enthusiastically started up each aircraft in turn. I really hope it is not another year before the next night engine run.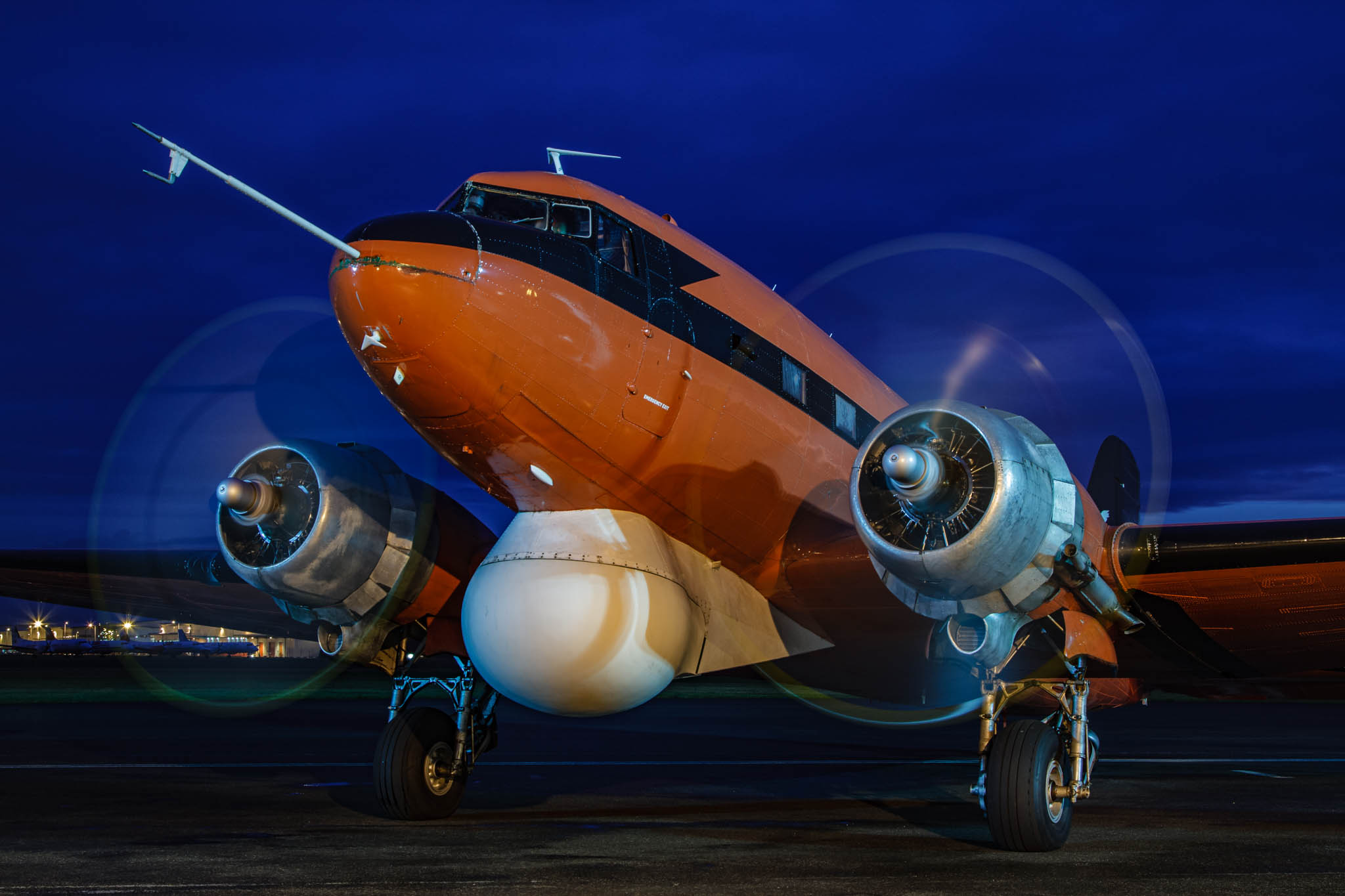 Left to right: Douglas C-47B Dakota 3 (G-ANAF originally 44-77104). I was built at Santa Monica in 1944 for USAF as 44-77104 and transferred to the RAF in 1945 as KP220. It later served with 435 Squadron RCAF. Its military service ended in 1953 when it was registered to BKS Aerocharter as G-ANAF. In 1977 it was purchased by Air Atlantique and in 1988 by Atlantic Air Transport and converted for MoD contract work by Racal Radar, (now THALES) with on-board test equipment, a chin radar and additional external aerials. It also has a jet-powered auxiliary power supply fitted.
Left to right: Avro Anson (G-VROE formally WD413).
Meteor NF.11 (WM167 registered G-LOSM)
Left to right: Gloster Meteor NF.11 (WM167 registered G-LOSM).
Left to right: de Havilland DH.89A Dominie Mk II (G-AGTM). Built in 1944 it initially served with the RAF before being civilianised at the end of the war when it was sold to the Iraq Petroleum Transport for operation in the Middle East where it remained until 1964. Returning to the UK it was utilised as a parachute trainer for the Army Parachute Association. Following a period operating as an air taxi it joined Air Atlantique in 1999. In the background is Scottish Aviation Twin Pioneer 3 (G-APRS) which is currently under restoration.
Left to right: Taylorcraft Auster J1 (G-AJRE).
In the care of the Shackleton Preservation Trust is Avro Shackleton AEW.2 (WR963 'X').
WR963 first flew in March 1953 and eventually operated with 224 Squadron in Gibraltar. It was converted from MR.2 standard to AEW.2 and entered service in the Airborne Early Warning (AEW) role in July 1972 with 8 Squadron at Lossiemouth till its retirement from service in March 1989. It was purchased from the MOD in 1991 and moved to Coventry.
Left to right: de Havilland DH.114 Heron 2 (G-AORG) of

Jersey Airlines

and inscribed 'Duchess of Brittany' on the nose. It has been with Air Atlantique engineers since 2007 for major anti-corrosion work.
Left to right: de Havilland Venom FB.50 (G-DHVM as 'WR470'). In the background in Douglas DC-6A (G-SIXC).
de Havilland Chipmunk T.10 (G-APLO formally WD379).
Left to right: BAC Jet Provost T.5A (G-JPRO formally XW433).
Late afternoon sunset
Left to right: C-47B Dakota 3 (G-ANAF).
Douglas DC-6A (G-APSA) in the colours of British Eagle.
Air Atlantique Classic Flight Hangar
Left to right: DH.89A Dragon Rapide 6 (G-AIDL).
Percival P.40 Prentice T.1 (G-APJB formally VR259 'M') which ws built in 1947 and entered service with the RAF in 1948. Also in the restoration hangar and in the background is Percival P.31 Proctor 5 (G-AKIU) which is under restoration.
In the mid-afternoon sunlight.
Left to right: DH.114 Heron 2 (G-AORG), Jet Provost T.5A (G-JPRO), Shackleton AEW.2 (WR963 'X') and C-47B Dakota 3 (G-ANAF).