Air Atlantique - Classic Flight
Night Engine Run
Coventry - Bagington airport
December 11, 2010
Air Atlantique Classic Flight once again opened its doors to photographers and enthusiasts for a night engine run. This year eight classic aircraft from their expanding collection were started up for the benefit of group of excited photographers and aircraft enthusiasts.



The first aircraft to be powered up was a Jet Provost which subsequently taxied out and disappeared in to the rapidly fading light. The group then shuffled down the line of aircraft with their tripods to the Douglas DC-6A which soon started up all four engines. We were actually asked if we wanted the aircraft lights on, this offer was eagerly accepted and the pilot obliged also switching an internal light in the nose wheel bay for another variation of images. This offer was typical of the way ground staff were keen to please the paying guests. The Douglas DC-3 was next and as with some other aircraft only started up one engine. The rare Howard 500 was followed by the de Havilland Heron, Percival Protor, DHC-1 Chipmunk and finally the de Havilland Venom. For this last exhibit ground staff gave us a five second countdown to the smoky explosive cartridge start-up so that we could all capture the plume of sooty exhaust.

Every effort was made to accommodate the photographers in a very relaxed atmosphere. Many of the aircraft that were engine run were different to those of last December's night engine run. The event which ran from 14:00 to 19:00 was a pleasure to attend and the photographs taken were a valuable addition to everyone's personal collection.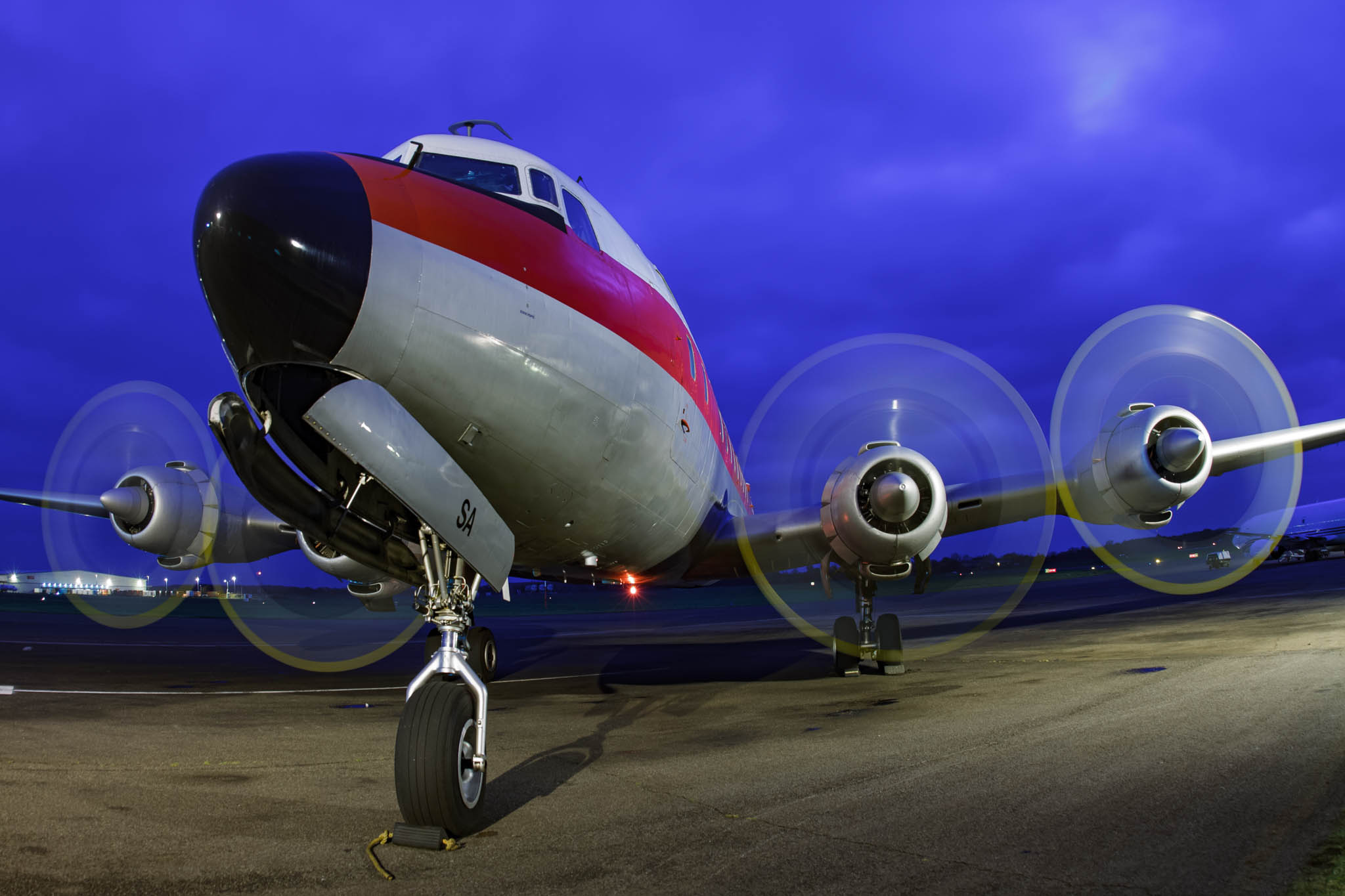 Douglas DC-6A (G-APSA) in the colours of British Eagle.
Left to right: Douglas DC-6A (G-APSA) at different stages as the sun went down. The aircraft was powered up and the lights were put on brifely as were internal lights in the nose wheel well. Hunting Jet Provost T.3A (G-BWDS formally XM424) was first to start-up and eventually taxied out for a brief flight.
Left to right: Douglas DC-3 (C-47B) Dakota (G-AMRA).
The elegant Howard 500 (N500LN)
Left to right: Lockheed PV-1 Ventura - Howard 500 conversion (N500LN) this is one of only two airworthy examples and only 17 remain in existance. It arrived at Coventry in May 2010 from Exeter where it had not flown since 2000. It was bought by the Tpaero Group from Duncan Baker in October 2009 and will eventually be based at the Anoka County Airport, Minnesota.
Left to right: Gloster Meteor NF11 (WM167 registered G-LOSM) along with English Electric Canberra T.4 (WJ874 painted as the Canberra prototype 'VN799') were not called into action.
Classic Flight's Percival P.31 Proctor 5 (G-AKIU) under the new 'air base' banner on Hangar 7
Left to right: Percival P.31 Proctor 5 (G-AKIU).
Left to right: de Havilland DH.114 Heron 2 (G-AORG) of

Jersey Airlines

and inscribed 'Duchess of Brittany' on the nose. It has been with Air Atlantique engineers since 2007 for major anti-corrosion work.
Left to right: de Havilland Chipmunk T.10 (G-APLO formally WD379) with a little blue flame from the exhaust when the engine sputtered in to life. In the air base hangar, DH.89A Dragon Rapide 6 (G-AIDL formally TX310) under overhaul.
Left to right: The finale to the show was the cartridge start-up of de Havilland Venom FB.50 (G-DHVM formally WR470), we were given a countdown from five to make sure we captured the plume of smoke when it was fired up.
In the care of the Shackleton Preservation Trust is Avro Shackleton AEW.2 (WR963), now all white.
WR963 first flew in March 1953 and eventually operated with 224 Squadron in Gibraltar. It was converted from MR.2 standard to AEW.2 and entered service in the Airborne Early Warning (AEW) role in July 1972 with 8 Squadron at Lossiemouth till its retirement from service in March 1989. It was purchased from the MOD in 1991 and moved to Coventry.
Left to right: Avro Shackleton AEW.2 (WR963) and BAE Systems Nimrod MR.2 (XV232).
Left to right: DC-3 Dakota (G-AMPY painted as 'KK116' really ex KN442) and Hawker Hunter T.8C (G-BWGN formally WT722 '878').