Shackleton WR963 Engine Run
Shackleton Aviation Group
Coventry - Bagington airport
January 21, 2023
From their website: "The Shackleton Aviation Group was formed around core members of the old Shackleton Preservation Trust which owned WR963 after its sale by Air Atlantique. Their aim remains; "The preservation, maintenance and operation of Avro Shackleton WR963 in taxying condition with the intent to return it to flight."

The preservation of WR963 is a very noble cause for this heritage aircraft. Whether WR963 will eventually be ready for flight or perhaps this is beyond their reach is debateable, especially without a wealthy benefactor. What can be said is they have a very dedicated team of volunteers who work very hard to keep this wonderful aircraft in good engine running order. Today's event was for a routine engine run, which may well be its last at Coventry. This is because the Group has decided that their long term future is more secure at their proposed new home at the Yorkshire Air Museum at Elvington. The move has been planned right down to include the final miles down narrow roads and bridges close to Elvington airfield by potentially six low loaders carrying the dismantled Avro Shackleton.
Not unusually for the aging Shackleton the challenge of getting all four Rolls-Royce Griffon 58 engines each with two 13 foot diameter de Havilland contra-rotating propellers running simultaneously was beyond the team today. As number two engine, then three and four burst into life, engine one turned but failed to fire up. Never-the-less three of the engines were running for around 30 minutes before number two was shut down as a precaution due to the emitted black smoke. Richard Woods, team leader later spoke, "We were annoyed at No 1 for not starting. We resolved the issue and test ran it the next work day, and it started and ran beautifully this time."

WR963 first flew in March 1953 and eventually operated with 224 Squadron in Gibraltar. It was converted from MR.2 standard to AEW.2 and entered service in the Airborne Early Warning (AEW) role in July 1972 with 8 Squadron at RAF Lossiemouth till its retirement from service in March 1989. It was purchased from the MOD in 1991 and moved to Coventry.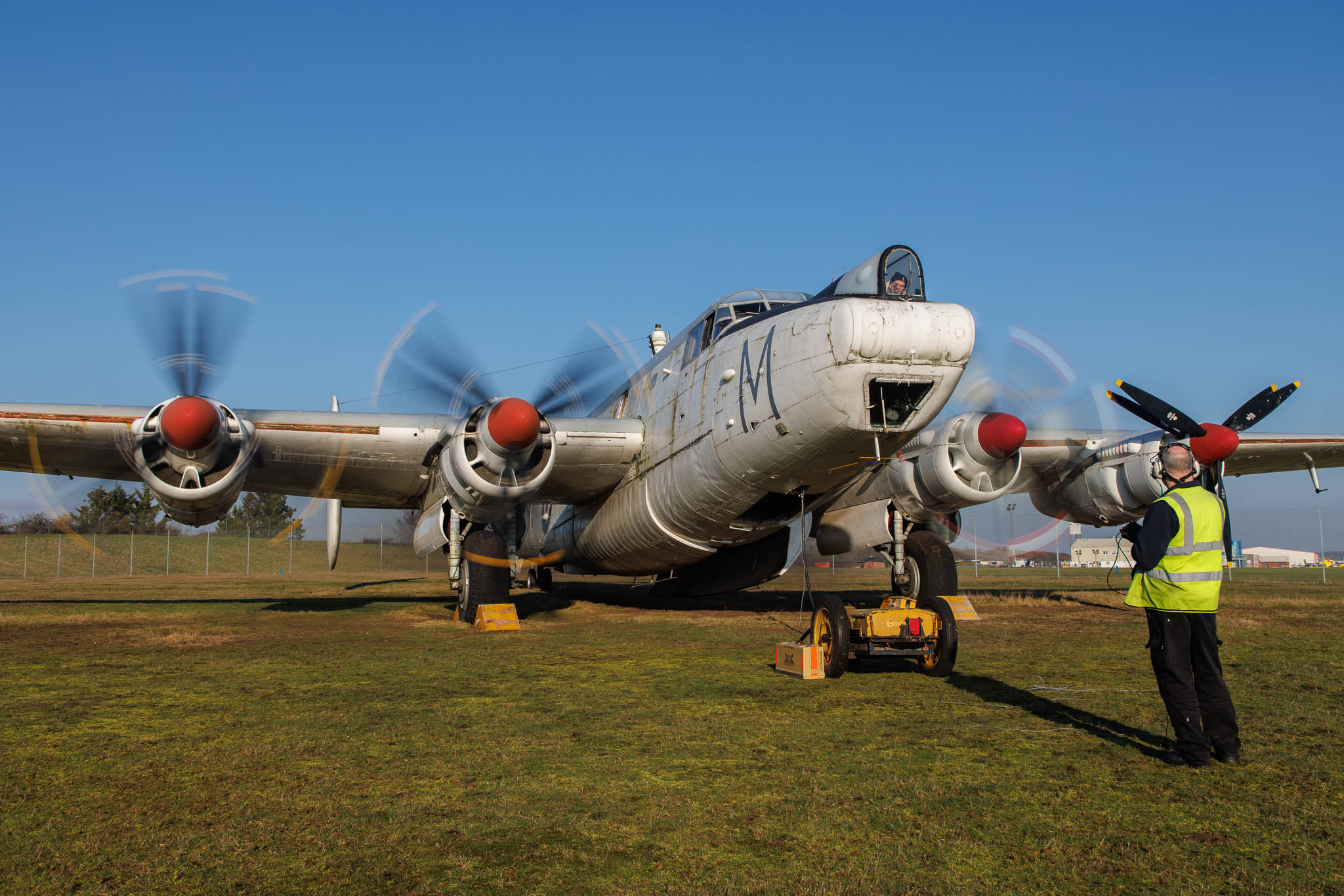 Waiting for number one engine to start.
Left to right: Avro Shackleton AEW.2 (WR963 'B-M').
Pre-engine run preparations (composite).
Black smoke from number two engine and it is shut-down as a precaution.
Left to right: The steam from number four engine, at the end of the engine run did not cause any concern.
Hawker Siddeley (later BAE Systems) Nimrod MR.2 (XV232) with the Nimrod Preservation Group.
Left to right: Hawker Siddeley Nimrod MR.2 (XV232) with the Nimrod Preservation Group was also engine running today. XV232 holds the distance record for a reconnaissance flight when in 1982 it flew for 18 hours and 50 minutes covering 8,453 miles in the South Atlantic during the Falklands War in 1982. XV232's last flight from RAF Kinloss to Coventry was made on May 11, 2010.