Air Atlantique - Classic Flight
Night Engine Run
Coventry - Bagington airport
December 10, 2011
The annual December night engine run at Air Atlantique Classic Flight lived up to expectations, photographers and enthusiasts were treated to a varied selection of aircraft, many of which had not participated in previous events. This year ten classic aircraft from the air base collection were fired up to provide photographers with a unique opportunity to get some incredible images.



Arriving just before the sun set in the almost clear sky I was able to get some golden sunset shots of some of the exhibits which would not be running their engines, such as the Nimrod, Heron and Dakota. Unfortunately the layout of the hangars and aircraft made it very difficult to get the shots I would have liked. It was soon dark and the improved lighting equipment over that used for previous events was put in place and the first aircraft to pose for the photographers were ready. The first aircraft to be powered up was the Chipmunk shortly followed by the Super Ace. A Prentice and Provost taxied in to complete the first phase of the photo shoot. For me it was disappointing that the organisers chose to place the photographers facing away from the hangars and towards other aircraft on the field, the background was too cluttered and spoiled the 'studio' effect of having an aircraft illuminated with a black and non-distracting background.
Richard Woods, of the Shackleton Preservation Trust was able to explain the reasoning behind the positioning of the aircraft and the constraints they have to adhere to; "There is a limited amount of space we can use for taxiing aircraft, without causing problems for the other airport users, as there are several operators to the side and behind air base's hangar that operate 24hrs a day. Therefore the static engine runs have to be done inside the compound… the Vampire and Venom have to start up in a particular area in front of the hangar as the proximity of their jet-pipe to the ground can cause problems to tarmac and other surfaces."
The next phase was much better. We were invited to move alongside the apron where the Anson and Dakota were waiting for us, in due time they started up and taxied around for two or three photographic angles. Here the background is an empty airfield providing the black almost featureless backdrop to the shots which eliminates any distractions for those perfect shots. The Meteor and Dragon Rapide taxied around to this area to complete a wonderful sequence of images.
A Vampire was now ready to be powered up but beside the hangar doors, this time we were able to face the hangar, unfortunately the doors remained open spoiling any chance a good background to these shots. The final aircraft and star of the night was the Shackleton, resplendent in its relatively new white scheme was ready for its turn, some photographers did not linger too long with the Vampire before hurrying towards the Shackleton. The Shackleton was missing the port inner propellers but this did not matter too much especially if you got a good position on its starboard wing for your shots.
I hope I don't sound too critical over the backgrounds and the missed opportunities to place photographers and aircraft in better positions for perfect shots. Rich Woods sympathetic to the needs of the photographers commented, "The event is always a delicate balancing act though (with timings, lighting and those noise regulations…) and its interesting to watch it come together from our little corner of the field." The event is fantastic and the officials and volunteers work very hard to satisfy the eager photographers. I will be looking out for the announcement for next year's event which I hope will be every bit as good as this year, or perhaps even better!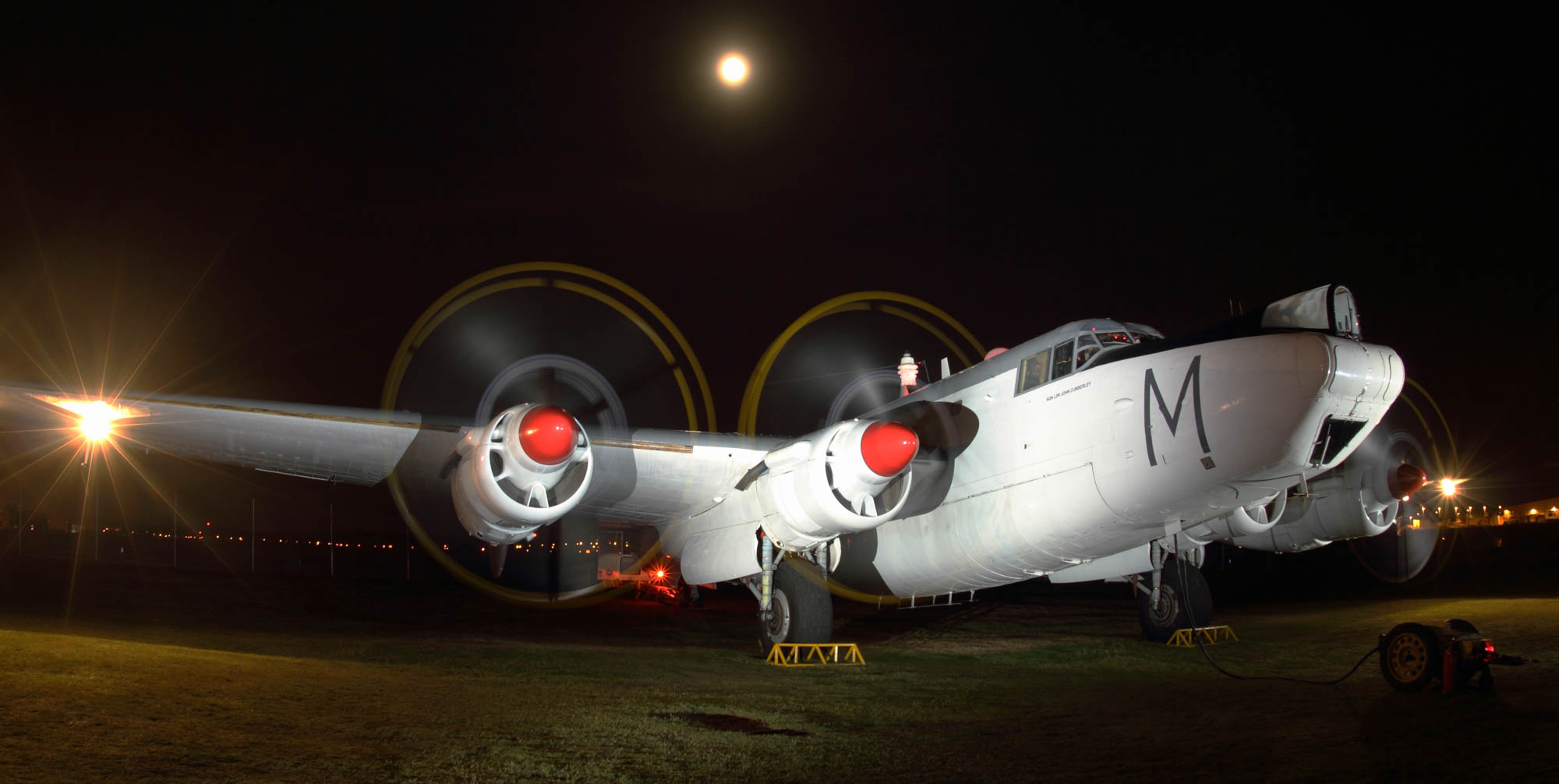 In the care of the Shackleton Preservation Trust is Avro Shackleton AEW.2 (WR963 'B-M').
Richard Woods, the Shackleton's engineer for the event dedicates a lot of his spare time to working on the Shackleton, he was very happy with how his pride and joy looked on the night, "We are kind of lucky with the Shackleton in that being in the corner she's away from the lights of the hangar, so the lighting guys could paint her nicely." He shed some light as to the challenges faced in getting WR963 to perform on the night, "She was getting ever more temperamental as the temperature dropped."
At first sight the collection of airframes scattered around the Air Atlantique hangars at Coventry look like a museum, consisting a range of more than 20 classic aircraft. Air Atlantique have created a vintage airline named 'Classic Flight' with an aim to provide nostalgic pleasure flights for the public. Their aircraft are either flyable or in the process of being restored to full working order. In May 2010 Air Atlantique Classic Flight launched 'air base' as a means to promote the aircraft collection and keep the aircraft flying. The 'air base' concept is aimed at moving them away from a museum to a fully operational air base, where aircraft are being serviced and frequently flown and to offer an experience to its visitors. Currently there are pleasure flights readily available and some of the aircraft regularly attend air shows. In the future it is hoped to have upwards of 30 different types of aircraft fully maintained in pristine condition. If they can't be flown then they will at least be able to be taxied. It is hoped that more owners will bring their classic aircraft to Coventry to be maintained, free hangarage has been offered.
From April to Autumn their three de Havilland Dragon Rapides will tour around 25 airfields to give the public the chance to experience 1930's luxury air travel. Carefully restored and painstakingly maintained at Coventry they now have more than 20 irreplaceable classic aircraft, another five or more airframes are cared for at other airfields. The Classic Flight fleet includes; Dragon Rapides (3), Dove, Dakotas (3), DC-6s (2), Pembroke, Prentice, Proctor, Twin Pioneer, Anson, Chipmunk, Vampire, Venoms (2), Meteors (2), Canberras (2), Jet Provost's (2), Auster and a RAF Nimrod which arrived in May 2010. The Aviation Twin Pioneer is the World's only remaining flyable example.



How it all began


It all began in 1969 with the founding of General Aviation Services in Jersey by Mike Collett progressing from aircraft maintenance to an air taxi operation. A sales operation followed when they became UK distributor for American Aviation, to sell the AA-1 Trainer and AA-5 Traveller. In 1971 they moved to Sherburn in Elmet and later to Doncaster as Eastern Aviation which was sold on in 1974. Later in 1974 Air Atlantique was formed and from 1976 a number of Douglas DC-3 Dakotas were purchased making them the largest Dakota fleet operator in the World. By 1981 the eight strong fleet of Dakotas relocated, with two additional DC-6s, to Blackpool and were later joined by another Dakota. In 1984 they moved to Stansted and two years later they relocated to Coventry. The business at this time, involved in air freight, aerial survey and pollution control for the Department of Transport.
Realising that they had a real love of classic aircraft their keen eye for business gave way to a desire to own and restore to flying condition and maintain an impressive fleet of classic British aircraft.
The owners and staff must be congratulated for all the work they put into keeping these wonderful aircraft flying and for putting on a series of imaginative events to help fund the operation.
BAE Systems Nimrod MR.2 (XV232) in the setting sun.
WR963 first flew in March 1953 and eventually operated with 224 Squadron in Gibraltar. It was converted from MR.2 standard to AEW.2 and entered service in the Airborne Early Warning (AEW) role in July 1972 with 8 Squadron at Lossiemouth till its retirement from service in March 1989. It was purchased from the MOD in 1991 and moved to Coventry.
Left to right: Avro Shackleton AEW.2 (WR963 'M') and de Havilland DH.114 Heron 2 (G-AORG) of

Jersey Airlines

and inscribed 'Duchess of Brittany' on the nose. It has been with Air Atlantique engineers since 2007 for major anti-corrosion work.
Left to right: Chrislea CH.3 Super Ace 2 (G-AKVF) and Percival P.40 Prentice T.1 (G-APJB formally VR259 'M') which ws built in 1947 and entered service with the RAF in 1948.
Left to right: Percival P.31 Proctor 5 (G-AKIU) despite taxiing in minutes refused to restart for its engine run, the moon made for any interesting back drop, shame the Heron added unwelcome clutter to the background.
DC-3 Dakota (G-AMPY painted as 'KK116' really ex KN442).
Left to right: DC-3 Dakota (G-AMPY painted as 'KK116' really ex KN442).
Left to right: DC-3 Dakota (G-AMPY painted as 'KK116' really ex KN442).
Avro Anson (G-VROE formally WD413).
Left to right: Avro 652A Anson (G-VROE formally WD413).
The recently restored Gloster Meteor T.7 (WA591 'FMK-Q').
Left to right: Gloster Meteor T.7 (WA591 'FMK-Q' also G-BWMF) it arrived at Coventry in July after a £500,000 rebuild at Kemble. Built in 1949 it is currently Britain's oldest flying jet.
de Havilland DH.89A Dominie Mk II (G-AGTM).
Left to right: de Havilland DH.89A Dominie Mk II (G-AGTM). Built in 1944 it initially served with the RAF before being civilianised at the end of the war when it was sold to the Iraq Petroleum Transport for operation in the Middle East where it remained until 1964. Returning to the UK it was utilised as a parachute trainer for the Army Parachute Association. Following a period operating as an air taxi it joined Air Atlantique in 1999.
Left to right: de Havilland DH115 Vampire T.55 (ex Swiss U-1215 now G-HELV painted as 'XJ771').
Left to right: Avro Shackleton AEW.2 (WR963 'B-M').
Left to right: Avro Shackleton AEW.2 (WR963 'B-M').
Left to right: Douglas DC-6A (G-APSA) in the colours of British Eagle and Douglas DC-3 (C-47B) Dakota (G-AMRA).
Left to right: English Electric Canberra B.6 (ex WK163 now G-BVWC) and Canberra T.4 (WJ874 painted as the Canberra prototype 'VN799') which is now parked outside the Air Atlantique office block.