VE-Day 60th Anniversary Air Show, Duxford
"Meet the People"
May 7-8, 2005
On Sunday May 8, 2005, Duxford played host to the first major air show of the new year in the United Kingdom and was commemorating the 60th anniversary of the end of the World War Two or Victory in Europe (VE) day.



The three-hour flying display featured around forty aircraft ranging from classic World War Two warbirds to the latest jet fighters from the RAF and USAF. The weather conditions to say the least were changeable. In reality the very heavy showers, which fell infrequently on both days, did nothing to dampen the spirit of the very appreciative crowds, even despite the few cancellations that resulted. What the weather did give (from a photographer's perspective) were some very interesting spells of superb light combined with very dark and threatening clouds, wonderful.

Sadly however there was one severe disappointment for all who came to see the B-17 Flying Fortress 'Sally B'. She has recently been grounded by Red Tape. A new European insurance regulation as classified her in the same category as a Boeing 737 airliner. Consequently the premiums are so prohibitive that she is now unable to fly. The owners of 'Sally B', B-17 Preservation Ltd. a registered charity, are hoping that a solution can be found. A petition was started at the show.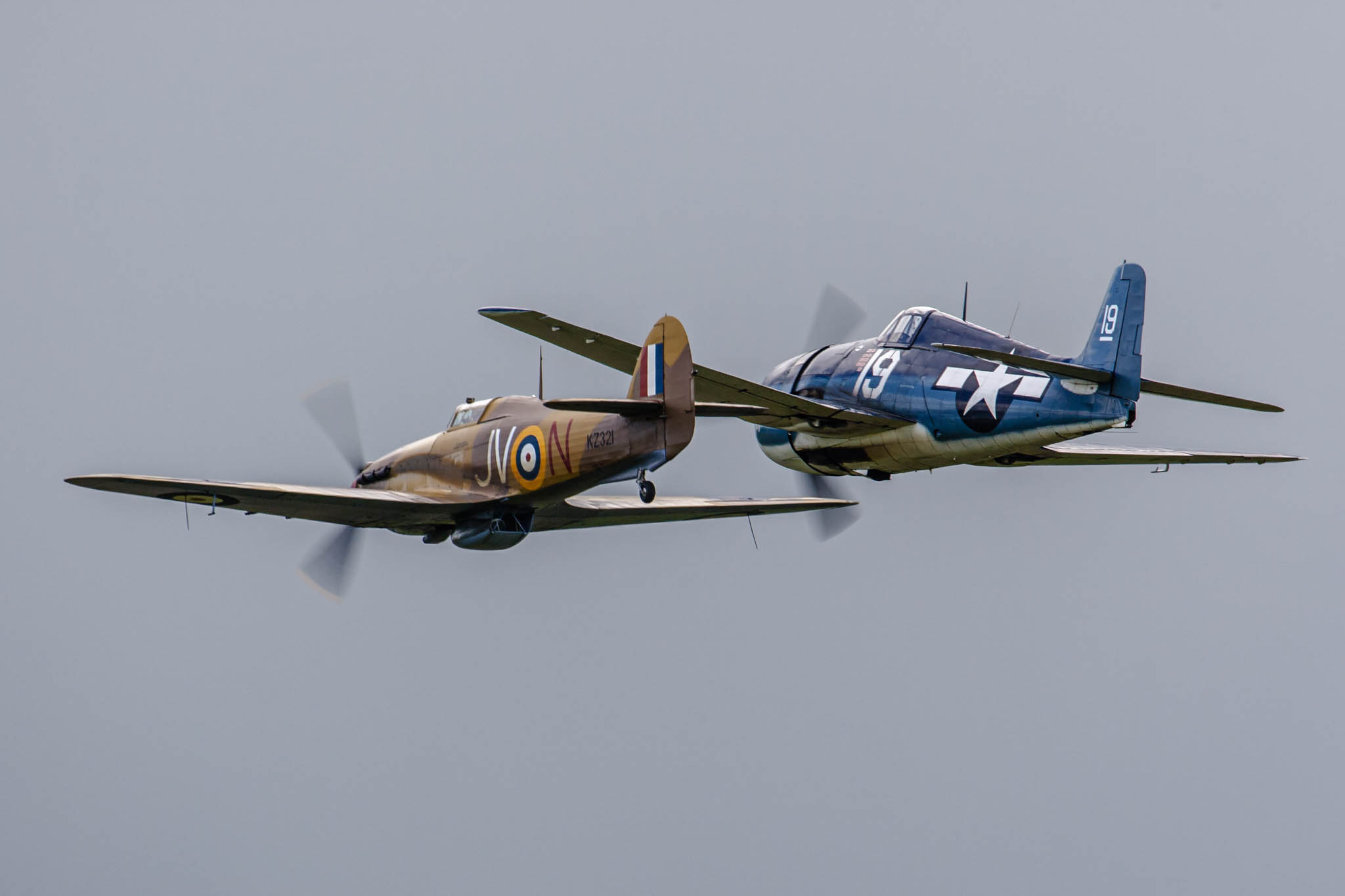 Hurricane IV (KZ321/G-HURY) and F-6F Hellcat (40467 registered G-BTCC), they are sooo close

It is very evident at all the events organised at Duxford that it relies on the many people that volunteer their services. As members of the Duxford Aviation Society (DAS) they are responsible for many aspects associated with running Duxford. These include; aircraft conservation, fire service, radio equipment, military vehicles, guides and ancillary services. It is obvious that the volunteers are helping out because they love the aircraft. Days and hours before the public arrive aircraft are being lovingly cared for and readied for the show. Ask anyone involved a question about the show and its aircraft, you will get an informed reply. Last year I chatted with a chap who comes over from the States every year just to help out. What do you get out of it, I asked? Well I get to meet you guys and at the end of the day I can go down the flight line taking pictures. "
You are really close to the action here, pilots will give you a wave as they go by. When they have the time, they will chat to you about their aircraft, you try stopping them sometimes.
The star of the VE-Day show for many was the Duxford first timer, Hawker Hurricane Mk.1 (R4118). This rare aircraft is thought to be the only surviving Hurricane from the Battle of Britain. It flew for the first time in 60 years in December last year, following a three-year restoration. R4118 flew 49 combat sorties during the Battle of Britain and shot down a number of enemy aircraft. One of the pilots who flew this actual aircraft during the Battle was Wing Commander Bob Foster DFC, seen here standing next to his old aircraft (top left).
He damaged two JU-88 and shared a kill of another JU-88 in this very aircraft. R4118 was transferred to Bombay, India in 1943 and was stored in poor conditions until its 'discovery' by Peter Vacher in 1982 and its eventual recovery to England in 2002. Hawker Restorations Ltd. in Suffolk undertook the restoration work which included installing all the equipment that was installed during the Battle, such as the first VHF radios, the Identification Friend or Foe (IFF). Bob Foster was available to sign the new book 'Hurricane R4118' by Peter Vacher during the event.
The Hurricane as a fighter was very popular with pilots; it could take a considerable amount of punishment and was a very steady gun platform. 14,500 were built from 1936 and 1944.
Everyone was delighted to see R4118 flying for the first time, it was joined by the The Fighter Collection's (TFC) own Hurricane IV (KZ321 coded 'JV-N').
The Fighter Collection (TFC) is based at Duxford and provides many of the larger radial engine warbirds most of which are unique to Europe.
Grumman FM-2 Wildcat (JV579 'F' registered G-RUMW / N4845V). The Royal Navy Fleet Air Arm employed Wildcats from 1940 in the fighter escort role. This particular aircraft flew for the first time in 30 years in 1993, following restoration by the Yanks Air Museum and Fighter Rebuilders of Chino, California. It was later transported by sea to the UK and onto Duxford. It is currently the only Wildcat flying in Europe. It has a maximum speed of 332 mph and range of 900 miles.

Grumman F6F-5K Hellcat 40467 '19' (G-BTCC / 80141). This Hellcat is the only example flying outside the States. It was built in 1943 and flew with VF-6 (as depicted) and VF-18 before being retired with only 318 flying hours on the clock in 1944. Restoration started in 1990 at 'Planes of Fame' of Chino, California before being completed by TFC. She has a maximum speed of 380 mph and range of 945 miles.
Left to right: P-47D Thunderbolt (42-26671 registered G-THUN) inscribed 'No Guts No Glory!' This 'Jug' as P-47s are affectionately called, was built in 1945 with the serial 45-49192. Following a period of storage, it was restored in 1952 and transferred to the Peruvian Air Force in 1953. It was eventually retired from military service in 1967. By 1971 it had been bought by enthusiast Ed Jurist and returned to the States. Following a succession of private owners it made its way to TFC at Duxford towards the end of 1984. TFC chose to apply serial 42-26671 and code MX-X to depict the aircraft flown by Lt Col Ben Mayo, CO of the 82nd Fighter Squadron, 78th Fighter Group when based at Duxford for the last two years of the war.

Spitfire T.9 (PV202 registered G-CCCA) making its first appearance on Sunday, was another highlight of the show. A rare two-seat, it is painted in distinctive green Irish Air Corps markings (161) and has a it's original blister rear cockpit canopy. It was joined by many other Spitfires for the final flypast finale, including Spitfire 9 (MH434).
The Royal Navy Historic Flight provided its Sea Fury FB.11 (VR930 '110') based at RNAS Yeovilton. The Sea Fury was the Fleet Air Arm's last piston engine fighter, the prototype flying for the first time on February 21, 1945. From 1946 to 1952, 50 Sea Fury F.10s and 615 FB.11s were delivered.
Two of the P-51D Mustangs, (472218 coded WZ-I 'Big Beautiful Doll' and 413704 registered G-BTCD coded 'B7-H' 'Ferocious Frankie'). The P-51D Mustang was arguably the most successful long-range escort fighter of the World War Two. The Spitfire's Merlin engine, license built by Packard in the USA, was fitted to the D model, giving it a level speed of 437 mph at 25,000 feet and a maximum dive speed of 505 mph. Its range was an incredible 2,055nm.

The Fieseler Storch (Stork) was designed in 1935 and widely used by German military forces throughout the war. It is highly maneuverable with an extremely low stalling speed. It can take off in less than 200 feet at just 25 mph. The example on display demonstrating these extraordinary capabilities and painted in German military markings (TA+RC), was in fact built in France in 1942 by Morane-Saulnier as a MS.505 Criquet. It is currently registered as G-BPHZ.
Angie Soper flying Yak-11/C-11 'White 1' in it's Russian Air Force Grey/green camouflage, one of two similar examples present at the show and imported from Eastern Europe in recent years. The Yak's were joined by the similar AT-6 Texan/Harvard resplendent in its former Portuguese Air Force markings (1747).
Adding a bit of speed and grace was the two-seat jet trainer CT-133 Silver Star (21261 registered G-TBRD) in it's former Canadian Armed Forces scheme. More commonly known as the T-33 it is based on the single seat P/F-80 Shooting Star. Between 1949 and 1959 Lockheed built 5,691 T-33s supplying almost 30 countries.
C-45G (1164/G-BKGL) in USAAF scheme is the only airworthy aircraft of its type flying in Europe. The Beech C-45G Expeditor began development as far back as 1935 as the Beech 18. Production continued from 1937 to 1969. From 1963 onwards the G and H models were designed with tricycle under-carriage, following 30 odd years of tail dragging.

This Consolidated PBY-5A Catalina was bought by Catalina Aircraft Ltd. in 2002 and is Duxford based. It was originally struck off charge from the military in Canada in 1961 after nearly 20 years with the RCAF. It was later converted to a water bomber and was registered as CF-NJF (later C-FNJF). It also operated with the Protection Civile (as F-ZBAY and F-ZBBD) in France, fighting fires during the French summers. By 1974, it had moved on Prince Albert, Saskatchewan with Norcanair for more water bombing duties. By the 1990s the water tanks had been removed and it was carrying passengers. It is now registered in the UK as G-PBYA and should soon be painted in a World War Two colour scheme.
Perhaps out of context with VE-Day events, but never-the-less no less entertaining, were several items of modern military hardware. These included the latest RAF helicopter the Merlin HC.3 of 28(AC) Squadron (ZJ127 'L') and a 15(R) Squadron GR.4 Tornado (ZA469 coded TM) operating from nearby Cambridge airport for the weekend, flying fast and low in poor conditions.