Flying Legends 2005
Duxford
July 9-10, 2005
Each year thousands of people, many of which were here last year, to see a Warbird extravaganza which is probably the best such show in Europe. This years event lived up to everyone's expectations. The main commentator as usual was Sean Maffet, his soft and informative tones this year as in previous years, harmonised with the wonderful French historic aircraft owner (Lockheed 12), Bernard Chabbert. I could listen to these two characters all day, come to think of it I did!

I hope the following images explain why we go back year after year, then add the fact that at every Flying Legends there is always something new. Each year there is an aircraft that has just been restored or perhaps is displaying for the first time in years or ever in some cases. Another up and coming star of the show was TFC's painstakingly restored P-51C Mustang (43-25147/G-PSIC) named 'Princess Elizabeth'. It flew with stable mate P-51D 'Twilight Tear' providing rare photographic opportunities to compare both variants. Three other Mustangs flew with this pair ('Big Beautiful Doll', 'Ferocious Frankie' and the attractive 'Susy' from Breighton) in a superb display of speed and grace.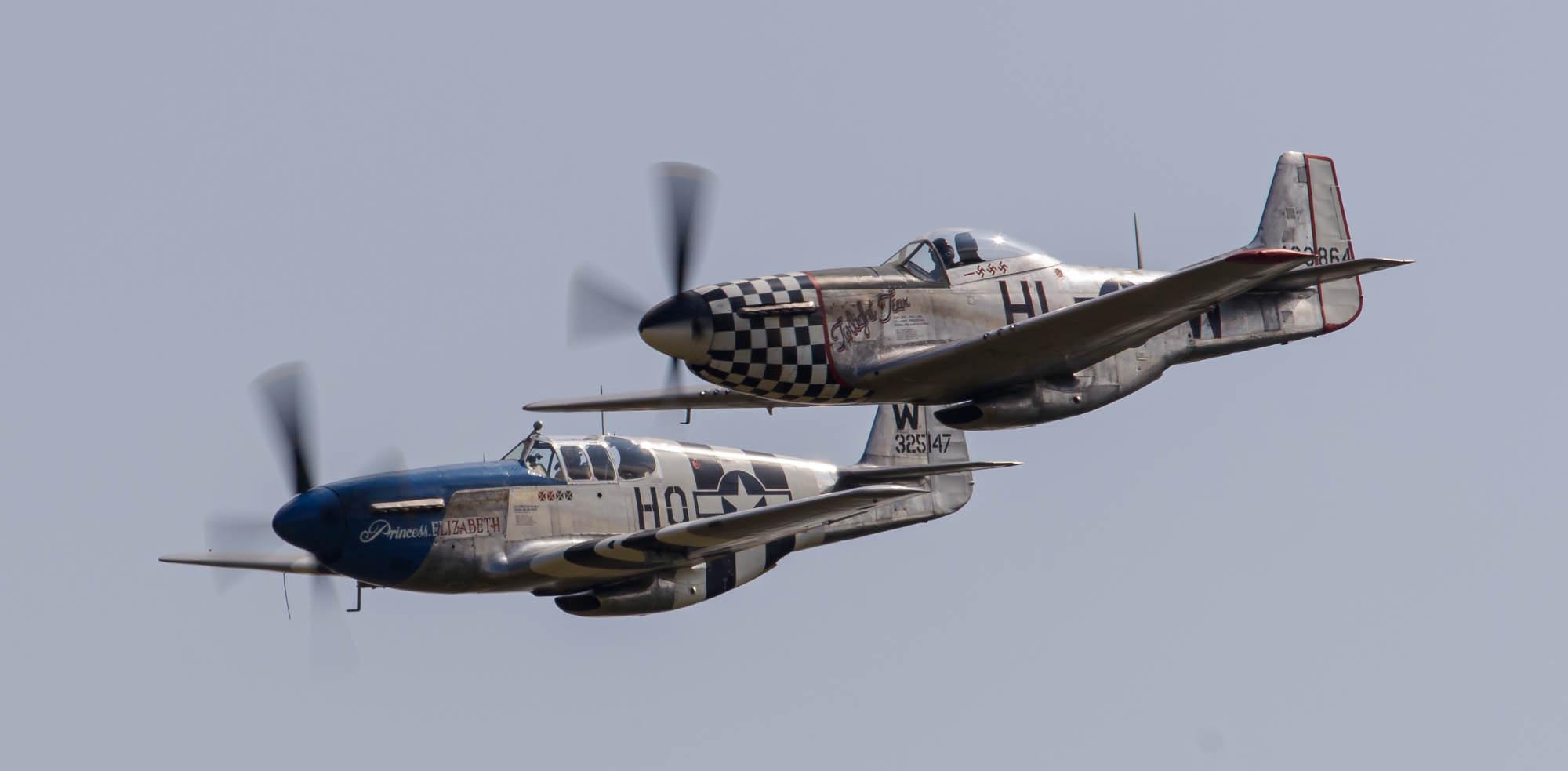 P-51C Mustang 'Princess Elizabeth' (43-25147 'HO-W' / G-PSIC) with TFC stable mate P-51D Mustang 'Twilight Tear' (44-63864/G-CBNM).
Spitfires left to right: One of the unusual visitors to the show was Corsair Warbird's Spitfire PR.19 (PS890/F-AZJS) sporting a contra-rotating propeller powered by a Griffon engine taken straight from an Avro Shackleton. Duxford based Spitfire 5B (BM597 'JH-C' / G-MKVB) of HAC and Rolls Royce's own Spitfire PR.19 (PS853 'C' / G-RRGN).
Hurricanes left to right: Hurricane Mk.12 (RCAF 5589 'LK-A' / G-HURR) of the Real Aircraft Company (RAC) at Breighton. Sadly Hurricane Mk.12 (as 'BD707' / G-HURR) crashed killing the pilot on September 15, 2007 during a Battle of Britain display at Shoreham.
Sand-camo Hurricane (KZ321 'JV-N' / G-HURY) also of RAC.
Mustangs left to right: P-51D Mustang (44-72773 'QP-M' / G-SUSY) called 'Susy' again of the Real Aircraft Company at Breighton with 'Ferocious Frankie' P-51D (44-13704 'B7-H' / G-BTCD) of OFMC.
A rare (it's the only one still in existence) and unusual aircraft, which immediately caught the eye in it's second year at Duxford, was the Polikarpov I-15 (02089). Over the weekend it was flown by Oleg Federov a champion aerobatic pilot.
Above and below: Unusual visitor for this years show was the only flyable SAAB B17A (17239 / SE-BYH) formally of the Swedish Air Force and now with the Flygvapen Museum. It was designed as a dive bomber and is one of just over 383 B17s that were built. It's odd looking undercarriage doubles as air brakes in the dive.
SAAB B17A (17239 / SE-BYH)
Above: Curtis Hawk 75A-1 (No.82 'X8-81') of TFC. Recently restored it is the only flyable ex L'Armée de l'Air Hawk in existence.
Above: With 'Sally B' the French based B-17G Flying Fortress (44-8846 coded 'DS-M' / F-AZDX) tail chased around the Duxford skies. It is operated by the Association Fortresse Toujours Volant en France. Yet more bombers in the shape of B-25J Mitchell (45-8811) of Jet Alpine Fighter and B-25J Mitchell (44-29507) of the Dutch based Duke of Brabant Air Force.
Left to right: TFC's Curtis P-40M Kittyhawk (43-5802 '49' / G-KITT), F-6F Hellcat (40467 '19' /G-BTCC) and Kennet Aviation's AD-4NA Skyraider (126922 'AK-402' / G-RADR ex G-RAID). Also taxiing out for its display was Corsair Warbirds F-4U Corsair (97264 'B-210' / F-AZVJ).