Exercise 'ELITE 2007'
Lechfeld Air Base, Germany
June 14-28, 2007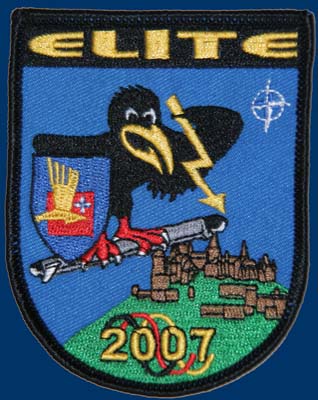 Held annually for the last twelve years, ELITE (Electronic Warfare Live Training Exercise) is the biggest exercise in the German Air Force's (GAF) calendar. This year 17 nations were involved, including Romania for the first time.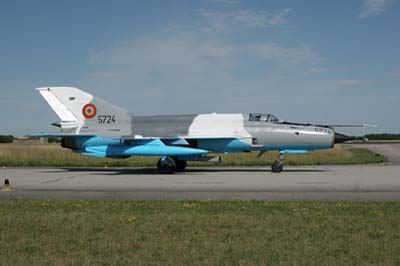 Four other nations were there as observers. This large electronic warfare exercise is unique within NATO. Most of the activity is in southern Germany centred around the Heuberg Training Range, which is south of Stuttgart and the largest in Germany.

Attending personnel spoke highly of the value of the exercise, their experiences and of the knowledge they gained over the two weeks. German Air Force Commander Lt Gen Aarne Kreuzinger-Janik said; "ELITE offers a spectacular opportunity to conduct exchanges of ideas and experience, not only militarily, but culturally as well." ELITE is designed to improve combat success and survivability during electronic warfare. Multiple jamming and deception techniques combined with the tactical procedures to counter them are analysed to improve efficiency. Capt Gregor 'Beppo' Brehm, ELITE 2007 project officer, said; "ELITE's main aim is to provide electronic combat training for the aircrews and the Ground Based Air Defence (GBAD) guys that are sitting inside the Surface-to-air Missile Sites (SAMS) on the ground." Capt Brehm is a former Tornado pilot who once served at RAF Cottesmore, UK.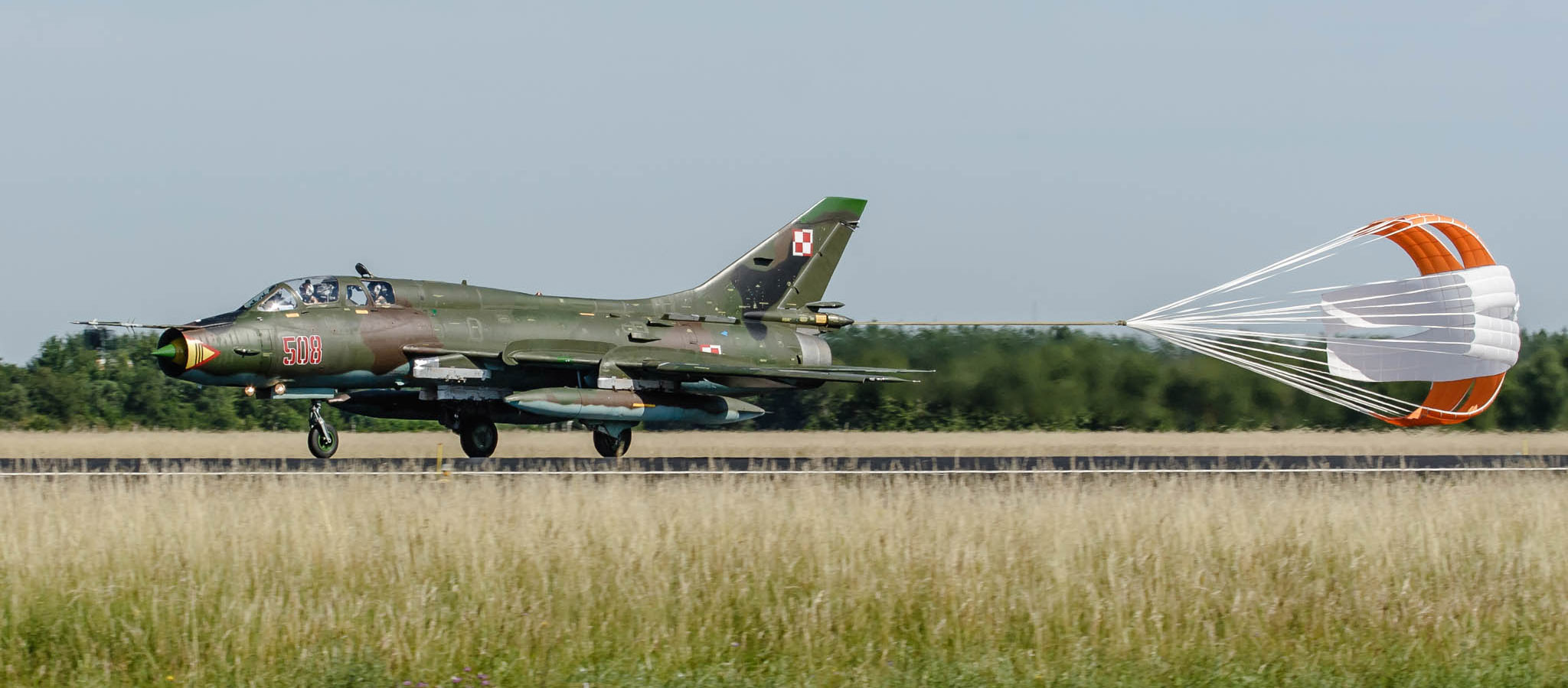 Polish Air Force Sukhoi Su-22UM-3K Fitter (508) returns to Lechfeld.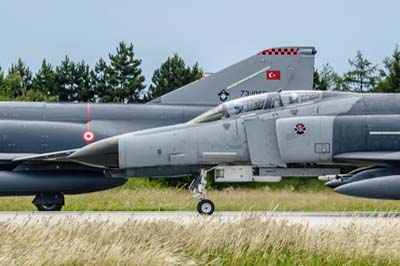 As there is insufficient space for all aircraft involved only 80% of the aircraft fly from Lechfeld air base. Nations flying from Tornado air base at Lechfeld this year were; United Kingdom (Tornado GR.4), Greece (F-16), Norway (Falcon 20ECM), Italy (Tornado ECR), Turkey (F-4 and F-16), Poland (Su-22) and Romania ( MiG-21 LanceR). The GAF were flying Tornado ECM and IDS.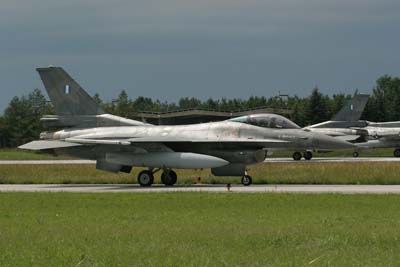 Manching , as in recent years, was used by the Swiss Air Force (F/A-18 and F-5F) and by some of the aircraft used for electronic counter-measures. In total 45 jet aircraft, 15 helicopters with 13 transport and support aircraft took part. Some aircraft were flying from their home bases, including GAF Eurofighter Typhoons, which were participating for the first time, were flying Neuburg, which is only ten minutes extra flying time from the exercise area. Also participating were French Air Force Mirage 2000Ds from Nancy, Tornado IDS from Nörvenich and Büchel and NATO E-3As from Geilenkirchen. A considerable amount of ground forces play their part in the exercise. 1,500 soldiers are at the air bases with 1,000 at the Heuberg range utilising 200 vehicles ten of which are tracked.

Although the main purpose of the exercise is the Suppression of Enemy Air Defence (SEAD), for added realism there is a Combined Air Operations (COMAO) element. The COMAO's often consisted of between 15 and 30 aircraft. The air-to-air threats are only used on the way to the range for both the morning and afternoon missions and not used on their return. Chaff and flares are dispensed, but no live weapons are used during the 1 to 1½ hour sorties.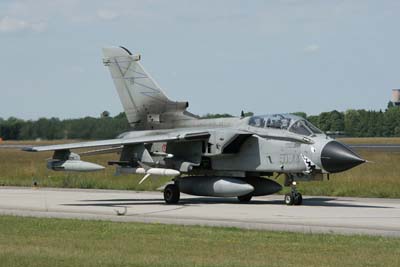 Pilots usually flew once a day in either the morning or afternoon wave, giving them each ten missions over the two weeks. Participating air forces brought around 2½ pilots per aircraft to allow for two missions a day, sickness and for pilot planning on the ground. To increase pilot flying experience, a Guest Flight Program is operated to allow pilots to fly aircraft from other nations. It was limited to around two or three guest rides per nation, which included Germany.

Left: Italian AF Tornado ECR (MM7062 '50-44').
Exercise history


ELITE has developed over the years, originally back in 1991 Tornados based from JBG-32 at Lechfeld and a SAM group, used the Hohenfels range for practise prior to attending the 'Red Flag' exercise in the United States. The exercise scenario continued expanding each year until in 1995 the first ELITE exercise took place. Starting out as a national exercise eventually other nations asked to attend. Invitations currently go out to NATO, EU and 'Partnership for Peace' nations. In 2002 the exercise was moved to the Heuberg range.



A more complex future


Hungary will be participating next year for first time. As more nations are added, the exercise gets more complex. There are now problems with air space and access to the range, consequently they may have to offer a range with EPICCCS (Enhanced Polygon Integrated Command Control and Communication System) or 'Polygon' to de-conflict aircraft in the future, we were told. Despite some flying limitations, there are no plans to move. More bases in the future may have to be used, with Memmingen, which is now civilian, being considered under a rental agreement. ELITE 2008 will run from July 3-17.
German Air Force - Luftwaffe
The Tornado ECRs of JBG 32 were in the element operating from their home base.
Left to right: Tornado IDS (45+35 x 3) and Tornado ECR (46+53) of Jagdbombergeschwader 32 (JBG 32).
Left to right: Tornado ECRs (46+53 x2, 46+32 and 46+38) of JBG 32 based at Lechfeld.
Left to right: Tornado ECR (46+54 x2 and 46+29 x2).
Romanian Air Force - Forţele Aeriene Române
Left to right: MiG-21 LanceR-Cs (5724 and 6807).
Left to right: Panavia Tornado GR.4A (ZG714 '124') unmarked.
Left to right: Tornado GR.4A (ZA469 '029') of 9 Squadron based at RAF Marham painted in a special '25 years of the GR.4 Tornado' commemorative scheme.
Left to right: Tornado GR.4 (ZD848 'TI') of 9 Squadron.
Polish Air Force - Sily Powietrzne Rzeczpospolitej Polskiej
Left to right: Sukhoi Su-22M-4 Fitter (8308) 8 ELT at Miroslawiec. The Su-22s have been in service since 1984 with the Polish Air Force.
Left to right: Sukhoi Su-22UM-3K Fitter (508).
Left to right: Sukhoi Su-22UM-3K Fitter (508) and Sukhoi Su-22M-4 Fitter (8308).
Left to right: Sukhoi Su-22M-4 Fitter (8103).
Hellenic Air Force - Elliniki Polemiki Aeroporia (EPA)
Lockheed F-16D Block 52 Fighting Falcon (618) of 343 Mira.
343 is a Hellenic Air Force specialist SEAD Squadron created less than two years ago. They brought ten pilots and 30 technicians to operate their F-16 Block 52+ Fighting Falcons.
Left to right: Lockheed F-16C Fighting Falcon (509) of 343 Mira. The F-16Cs were delivered to Greece from November 1988.
Left to right: Lockheed F-16D Fighting Falcon (618) of 343 Mira.
Left to right: Lockheed F-16C Fighting Falcon (500) of 343 Mira.
Turkish Air Force - Turk Hava Kuvvetleri (THK)
Left to right: General Dynamics F-16C Fighting Falcon (90-0016 of 161 Filo x2, 93-0664 and 91-0005 of 151 Filo). The F-16s were delivered to Turkey from 1987.
Left to right: McDonnell Douglas F-4E Phantom II (73-1055 x2, 77-0286 x2) of 171 Filo 'Korsar'. Based at Erhac, these F-4Es have been upgraded to F-4E 2020 Terminator status.
Italian Air Force - Aeronautica Militare Italiana (AMI)
50° Stormo from Piacenza were operating six Tornado ECR (Electronic Combat/Reconnaissance) using nine pilots and navigators and were employed in the Suppression of Enemy Air Defence (SEAD) role, simulating attacks with the Raytheon AGM-88 High Speed Anti-Radiation Missiles (HARM).
Left to right: Panavia Tornado ECR (MM7047 '50-43', MM7062 '50-44', MM7052 '50-02' and MM7021 '50-01').
Royal Norwegian Air Force - Luftforsvaret
Left to right: AMD Falcon 20ECM (041, 053) of 717 Skvadron/FEKS based at Rygge, they have been in service since 1973.
Royal Norwegian Air Force Falcon 20ECMs (041and 053) about to depart on another Electronic Counter Measures mission.