Yorkshire Air Museum
Elvington
2009 to 2023
The former RAF Elvington has been the home of the museum since 1985. With around 36 aircraft on display and an increasing membership with 160 staff and volunteers. It is one of the largest independent museums of aviation in the United Kingdom and has been granted charitable status.


RAF Elvington was utilised as a bomber base during World War Two, three hardened runways were constructed in 1942. 77 Squadron moved there with Whitley's which were soon replaced by the Halifax, which were used in raids on German industry. In 1944 two French Squadrons, 346 'Guyenne' and 347 'Tunisie' continued bombing from Elvington till 1945. The US Strategic Air Command utilised the airfield from 1952 to 1958 and lengthened the runway to 1.92 miles (3.08 km), making it the longest in northern England. In the 1960s the airfield was used for test flying the Buccaneer by Blackburn Aircraft Company based at Brough and later by RAF flying training schools which used the airfield for circuits and landings. RAF Elvington was closed in 1992.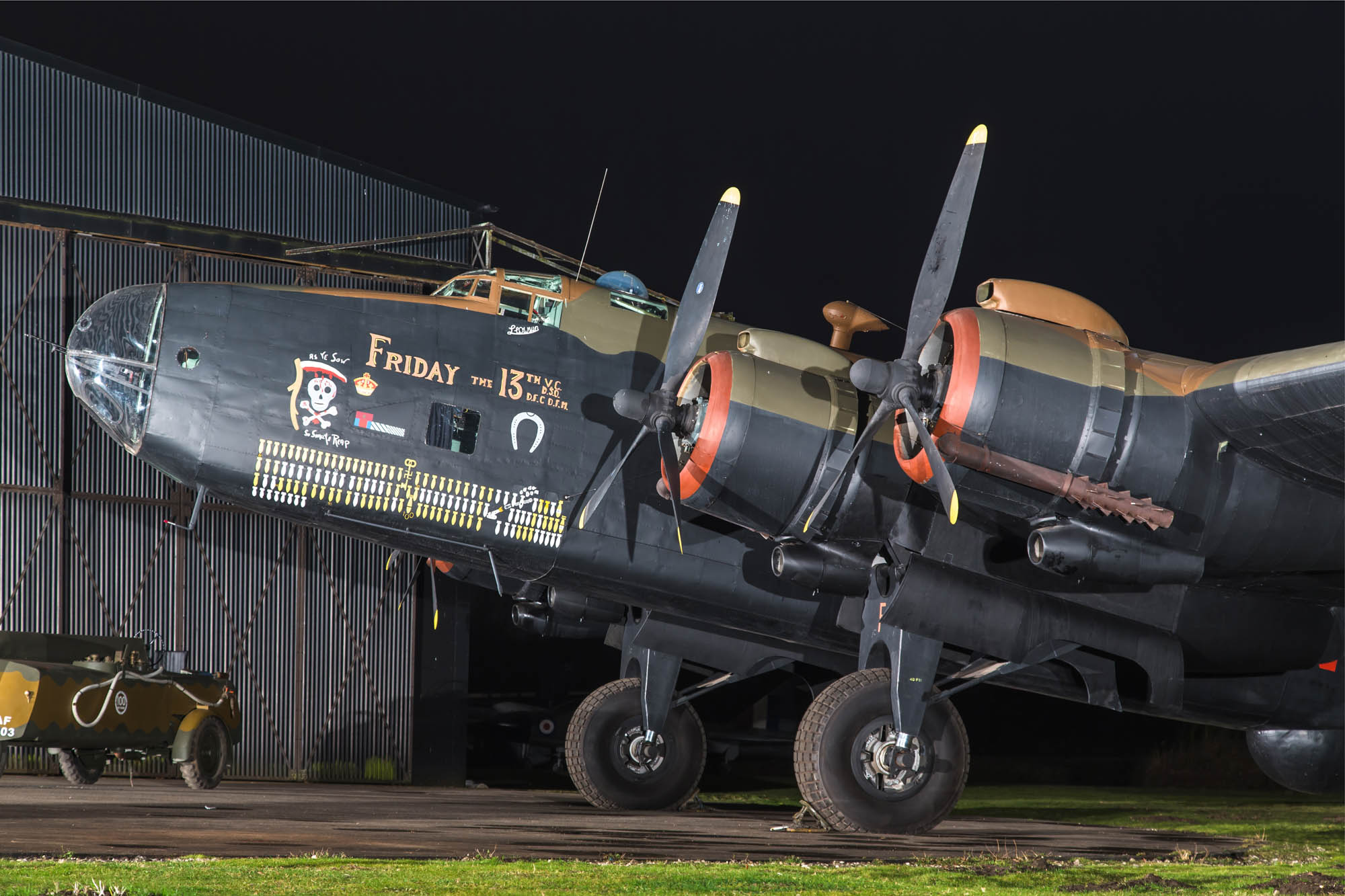 Handley Page Halifax III (HR792 painted as 'LV907' Friday the 13th) during a night-shoot.
Left to right: Handley Page Halifax III (HR792 painted as 'LV907'). The Halifax on display was reconstructed using part of a fuselage from Halifax II, HR792, which emergency landed on the Isle of Lewis in 1945 and the wings from a Hastings (TG536). It is named 'Friday the 13th' in honour of a Halifax (LV907), which completed 128 operations with 158 Squadron.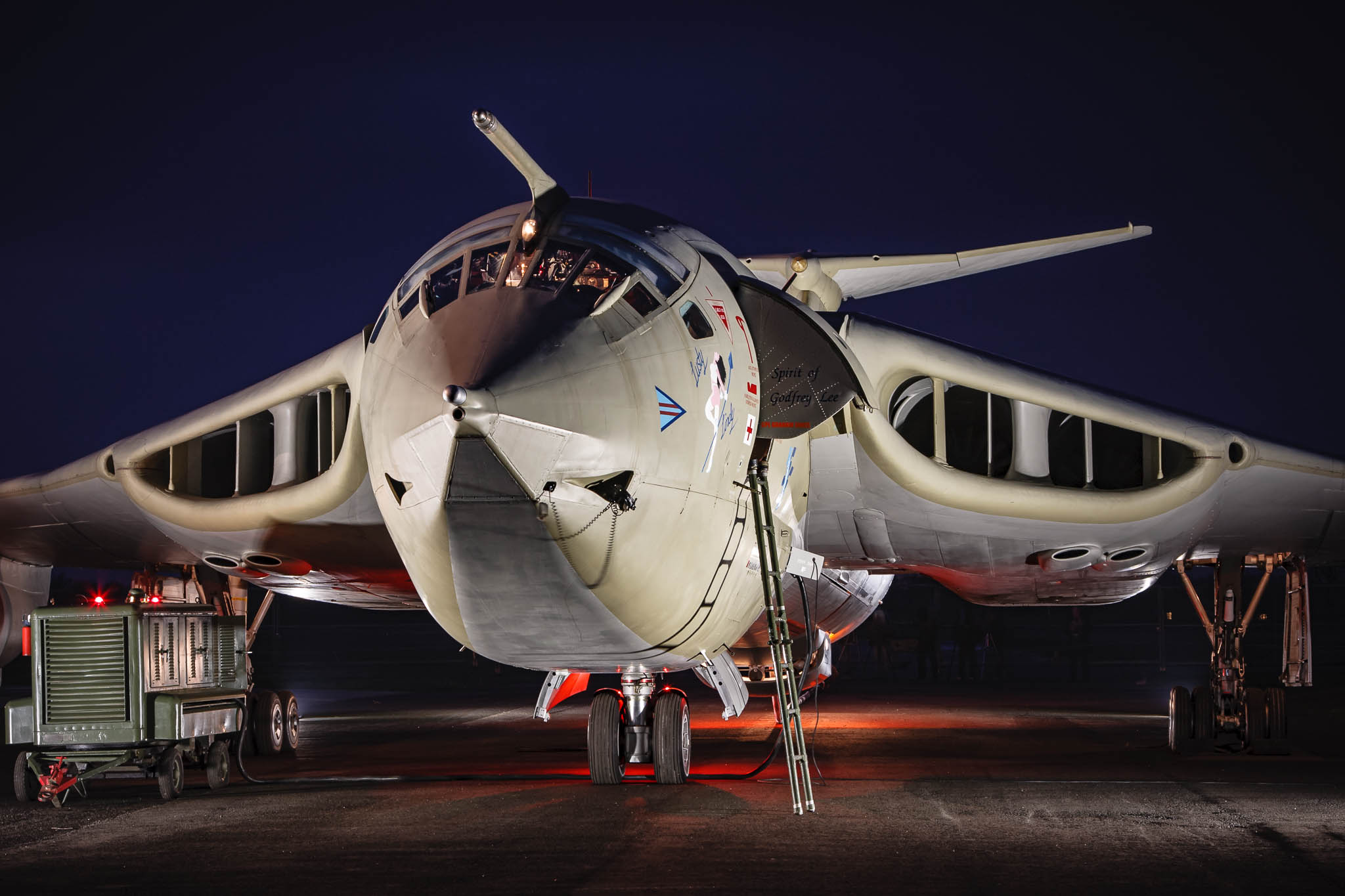 Left to right: Victor K.2 (XL231). The Victor was the third and final aircraft design in the 'V' bomber fleet, the less well known Valiant and the more famous Vulcan completed a trio of cold war nuclear capable bombers.
'Lusty Lindy' joined 139 Squadron in 1962, before being converted to B.2 standard the following year. It was the first of 24 Victor B.2 bombers to be converted K.2 standard as air refuelling tankers in 1972. The K.2 could carry 91,000 pounds of fuel (41 metric tonnes), it had a cruising speed of 640 mph (Mach 0.92) at 40,000 feet with a range of 3,500 miles. Victor K.2s performed well during the Falklands War, flying 600 sorties from Ascension Island in support of the Vulcans, Nimrods, Hercules and Harriers. XL231 with other Victor K.2s remained in service until the first Gulf War refuelling when it was utilised by the Tornado. In November 1993 following the Victor's retirement from service 'Lusty Lindy' was flown to Elvington for the museum.
Only five complete Victors survive today, a B.1A at Duxford (XH648) and three K.2s at Cosford XH672), Bruntingthorpe (XM715) and Elvington (XL231).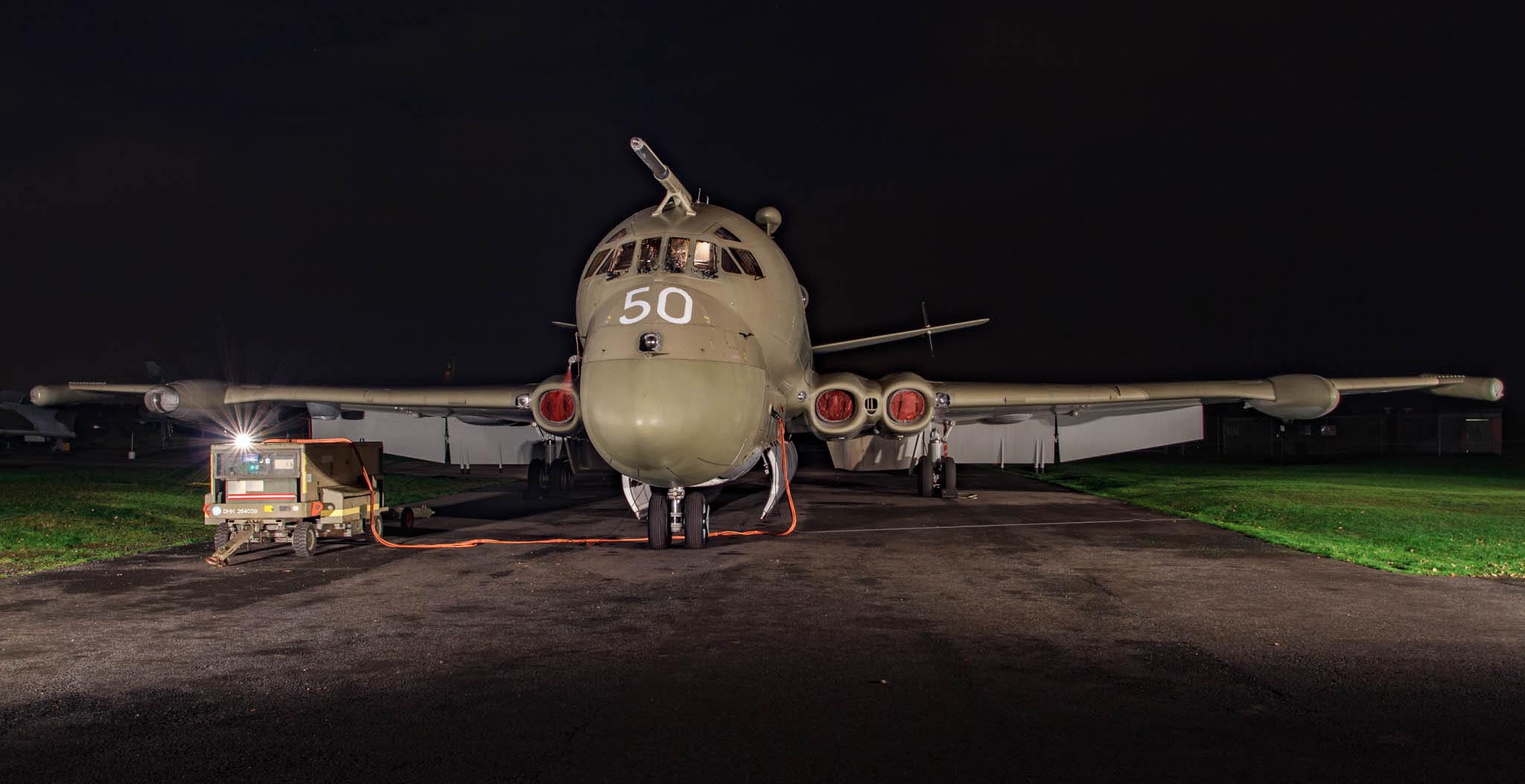 Left to right: Hawker Siddeley Nimrod MR.2 (XV250 '50') flew in to Elvington on April 13, 2010 to be greeted by an estimated 2,000 spectators. The aircraft is still on RAF charge and is being kept in flying condition with regular public ground engine runs.
The Nimrod MR.2 was retired from RAF service on March 31, 2010 after over 40 years of service, it had three main roles; Anti-Submarine Warfare (ASW), Anti-Surface Unit Warfare (ASUW) and Search and Rescue (SAR).
Gloster Javilin F(AW).9 (XH767).
Left to right: Gloster Javilin F(AW).9 (XH767).
Left to right: Gloster Meteor NF.14 (WS788 'Z').
Buccaneer S.2B (XV168 'A') was stored at Brough, East Yorkshire where it was built in the 1960s since its retirement in 1993 when the BAE Systems site was sold. It was moved to the Yorkshire Air Museum in August 1993. Repainted in 2023.
Left to right: Buccaneer S.2 (XN974) was the first production S.2 taking to the air for the first time in 1964. XN974 was initially used for trials at the Royal Aeronautical Establishment at Bedford, before sea trials on HMS Eagle and hot weather trials in the USA.Taken on charge by the museum in 1991.
Left to right: Buccaneer S.2 (XN974) after a repaint into her original Royal Navy colours of dark sea grey on top, and anti-flash white on the undersides in 2018. It still remains in a taxiable condition.
Left to right: Buccaneer S.2B (XX901) it was deployed to the Falklands in 1983 and saw action over Beirut. In 1991 it flew 14 operational missions during Gulf War I when it was painted in its current pink sand scheme and 'Flying Mermaid' and 'Sky Pirates' nose art.
English Electric Lightning F.6 (XS903) was built at Salmesbury and first flew in 1966. XS903 served with 5 and 11 Squadron at RAF Binbrook before being flown to Elvington for preservation in 1988.
Left to right: Dassault Mirage IVA (45 'BR') arrived at the museum on March 30, 2017, following more than twelve years of negotiations to get around Strategic Arms Limitations Treaty protocols in order to allow the 51-year-old nuclear bomber to transfer to Elvington's Allied Air Forces Memorial, as a gift from the French government. Elvington had hosted two French units of Bomber Command, 346 'Guyenne' and 347 'Tunisie' Squadrons during World War Two. No.45 is the only Mirage IV exhibited outside France, it had previously been on display at the Citée des Sciences Museum in Paris. Of the 62 plus 4 prototypes built, less than 20 appear to have been preserved.
Left to right: Dassault Mirage IIIE (538 '3-QH'). Built 1968 it is preserved in the markings of EC.3/3 'Ardennes' at BA 133 Nancy – Ochey Air Base, Armée de l' Air. Arriving at the museum in 1993 it is the only Mirage III in the UK.
Left to right: Mirage IIIE (538 '3-QH').
Left to right: Lockheed Canadair CT-133 Silver Star (133417 '12417').
Left to right: de Havilland DH.115 Vampire T.11 (XH278 '42').
Left to right: Hunting Percival Jet Provost T.3A (XN582 '95').
Jet Provost T.4. (XP640 'M').
Left to right: Fairey Gannet AEW.3 (XL502).
Left to right: Hawker Hunter FGA.78 (QA10 also N-268) ex Qatar Emiri Air Force and Dutch Air Force. It was built under licence by Fokker-Aviolanda in 1958 and served with the Royal Netherlands Air Force before conversion to an FGA.78. It was one of a batch of ex Dutch and Belgian Hunters refurbished for Qatar.
Left to right: Panavia Tornado GR.1 (ZA354).
Left to right: Westland Dragonfly HR.5 (WH991). The first helicopter produced by Westland, the Dragonfly was built under licence from Sikorsky and used by the Royal Navy for Search and Rescue. WH991 first flew in 1953 as an HR.3 but converted to HR.5 standard in 1958. It operated on a number of ships including trials with Indian Navy aboard INS Vikrant. It was struck off charge in 1970. From 1976 it spent years with the Lincolnshire Aviation Museum at Tattershall Thorpe before ending up in a scrapyard by 1988. From 1994 it was acquired and restored by the Yorkshire Helicopter Preservation Group and donated to the Yorkshire Air Museum. WH991 is one of 15 Dragonfly survivors worldwide.
Left to right: Devon C.2 (VP967).
Left to right: Douglas DC-3 Dakota IV (G-AMYJ formally KN353).
Left to right: Beagle Terrier 2 (G-ASCD) restored as a Auster AOP.6.
Avro Anson T.21 (VV901).
Westland Lynx HAS.3S (XZ233 '636').
Left to right: Fairchild Argus II (G-AJOZ).
Left to right: Mignet Flying Flea (G-AFFI).
Left to right: de Havilland DH.98 Mosquito NF.II (HJ711). It has since moved to East Kirkby for further restoration to taxiing standard.