Neil Atterbury's Baby, a Jaguar GR.1 (XX764)
Enstone
August 2023
SEPECAT Jaguar GR.1 (XX764 '13' 9010M) in June 2021.
This SEPECAT Jaguar GR.1 (XX764 '13' later 9010M) was delivered to 14 Squadron coded 'J' at RAF Brüggen, Germany in July 1975 before transferring to 226 OCU at RAF Lossiemouth in Scotland in November 1975. By 1984 it was put into storage at RAF Shawbury prior moving to St Athan for ground instructional duties. The airframe was sold in 2005 to Haywood and Green, a south coast based parts dealer. In 2017 Neil Atterbury acquired the gutted and now neglected airframe shell from a farm in Woodmancote, he moved it to Enstone airfield as a restoration project.

An interview with Neil Atterbury in August 2023.
Why did you choose Enstone? "I wanted the Jaguar in an aviation environment. Not through any aspirations to fly it! I just felt that it would be a better environment than being at a farm." Adding, "I haven't got room for it in my garden. I live about 25 minutes from Enstone, so basically I just started working my way out from home looking at old World War Two airfields. I spoke to some airfields, but they appeared reluctant to have an aeroplane like this. I'd love to be in a hangar, but I can't justify the cost. Eventually I spoke to these guys and they were happy for it to come here."

Why buy a Jaguar? "For the budget that was available, Harriers and Tornados sit at a considerably higher price point for a restoration project, and as I learned since, they are considerably more complex. The Jaguar is a frontline aircraft and more interesting than a Jet Provost. I haven't really got any connection or association with Jaguar prior to buying one. I found with access to the manuals it's actually quite a straightforward aeroplane to work on. I have grown to love it."
Neil had been buying Jaguar parts as a collector for some years before buying XX764. His working career started as an avionics apprentice for a business jet company. Carrying his skills forward he joined the motor sport business and now self employed he works for teams racing at Le Mans and around the world. He admits that caring for the Jaguar is a huge financial drain and its only his motor racing contracts that enable him to buy the missing Jaguar parts he needs.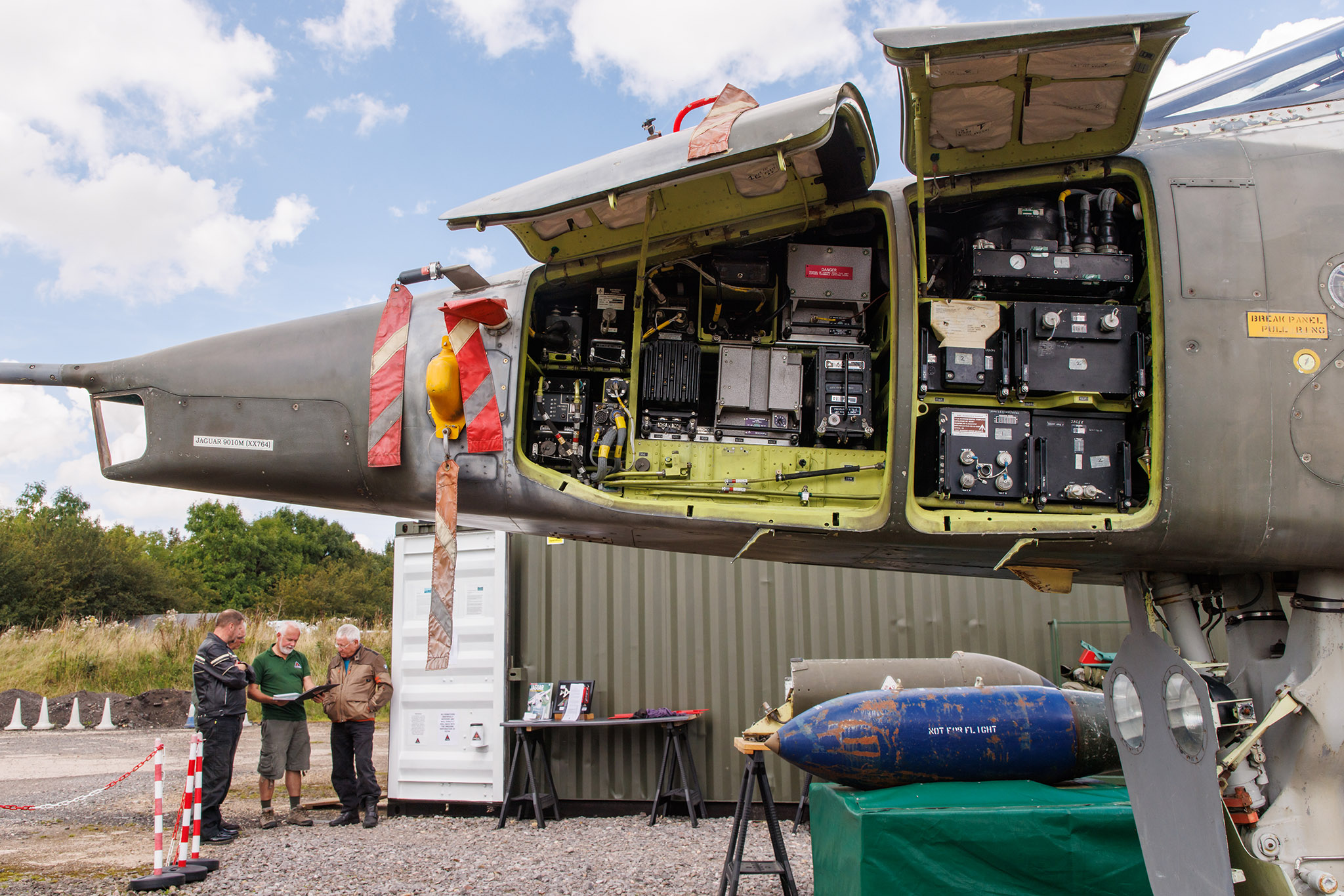 Open any panel and you will find it now full of installed avionics boxes. Neil is in the background discussing his restoration project with a group of visitors.
"I'm not doing a lot of riveting, but I am doing some tin bashing, fabricating parts where I need them and when I can't source the equivalent part.", says Neil.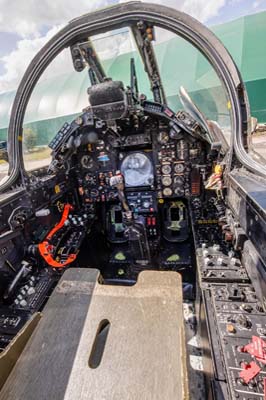 The cockpit gauges and controls had all been removed when Neil bought the Jaguar, he has now installed and connected them all. The ejector seat has been removed for better access.

He accepts that the Jaguar will never fly, indeed he can't justify buying the missing engines. He says his restoration plans are purely cosmetic. When he opens up any of the panels and shows you the now installed avionics kits he has wired in, you realise this is more than a cosmetic restoration. Using all the now acquired SEPECAT drawings he is slowly putting his aircraft back together, component by component. He says; "Initially, a lot of parts were coming from eBay, that was my main source. I still check eBay on a daily basis because bits are coming out of the woodwork all the time." Continuing he says, "I will sit on the laptop every evening searching eBay or an auction sale catalogue hoping to find something I can identify and need."

"There are lots of areas that I've not got to yet, but I'm sure I will. I have been quite lucky that I've got a range of spares I've been able to acquire and I take small steps to get things to the point where they're working, but there's still a long to go. It will never be finished. I'll always open a panel and find something missing.", spoke Neil.

So if you move the control column, is any surface going to move? "At the moment, no, but I'd like to think they will one day. I have to be very careful, I'm not just going to put a rig on and expect it all to work. It has to be small steps. The Jaguar has a hand pump system where you could prime systems and put some pressure into it. So that would be my first step."

There are many challenges in re-fitting all the missing hydraulic, electrical and mechanical parts he has found. Describing his progress, "I have to be realistic about what I can achieve. At the moment we've got DC [direct current] power, some limited AC [alternating current], from a static inverter fitted on the aircraft. The next step is to get external AC power and then I'll be able to get a lot more systems powered up. I'm working with hardware that's 40 or 50 years old, so I have limited hope for some of it.

Your skills are mostly electrical, so are you concentrating on all the electrics, making needles move rather than flaps move? "That's probably more realistic, I am probably in a better place with spares to achieve that. I can't focus on just the electrics and ignore other systems. I'm not fighting fires, but I'm juggling a lot of balls simultaneously. If a hydraulic component came up for sale, for example on eBay and I thought it was something I needed in a couple of years time, I would buy it rather than pass on it. I've learned from experience that when you do pass on something because you think I don't need that for a while, you may never see it again."

The hydraulic components were removed from the aeroplane because they were high value pieces. I would like to eventually get some hydraulics working. Until I can be sure that I have got the hydraulic system complete, I could end up with a very expensive puddle. I also don't want to put a hydraulic rig on with 200 bar of pressure and suddenly move something outside its limits and do some mechanical damage."

Neil is always realistic as to his capabilities, "I'm not aiming to do landing gear retractions. That's just beyond the scope of what I need to worry about."

For this project he is very content spending a thousand or more hours a year single handedly working on XX764. He has not set himself any goals for completing the restoration, indeed he accepts that the project will never be complete; "There will always be something to do, even if I consider something finished, I could go back and improve it. I know I'll never make some of this kit work."
Eventually he does hope to be able to re-paint his aircraft, perhaps with 14 Squadron markings on one side and 226 OCU markings on the other, to reflect its operational history. To do this will require considerable funds from many more motor sport contracts.

Do you think you'll never sell it? "No, my partner says I am going to be buried in it. I probably will have to gift it to someone or something in the end."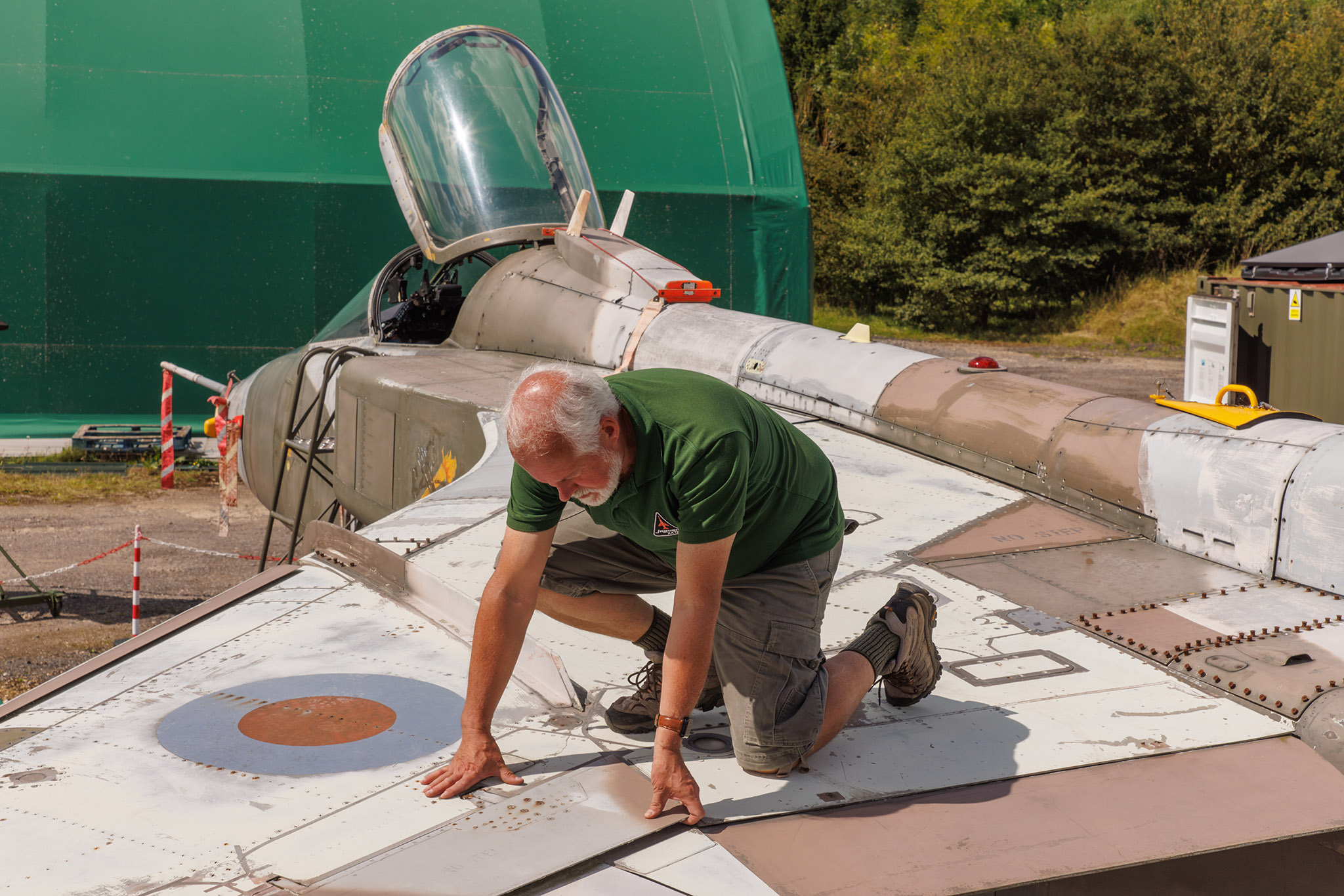 It could be some time before he is able to operate the control surfaces.
Left to right: Most of Neil's spare time is spent working on his Jaguar. The recent fitting of two burner units finishes off the back end very nicely. All too often when the engines have been removed then you see daylight right through to the intake or just a red blanker board.
See the 'The XX764 Restoration Page' in Facebook for regular updates on his progress.
Left to right: Jaguar GR.1 (XX764 '13') at Enstone in June 2020.