Flying Legends 2007
Duxford
July 7, 2007
From black threatening clouds came fleeting showers during this years weekend of historic flying warbirds. Once again large crowds flocked to Duxford the former World War II airfield. Enthusiasts, photographers and families who just want a cracking day out come each year.

Unusually this year saw a modern jet fighter display. Opening the show was an F-15E Strike Eagle of the USAFE's 48th Fighter Wing from nearby RAF Lakenheath. Many puritans, me included were disappointed to see this departure from the norm. From the reactions in the crowd I don't think I was the only one to take a disliking to the unwelcome sound.
Yes it did eventually link up with some World War II warbirds, but surely Duxford's 'Flying Legends' is not the place modern jet aircraft.
P-38 'Glacier Girl' was billed as the star for this year's 'Flying Legends' show, unfortunately 'Glacier Girl' failed to make it across the Atlantic for technical reasons. The Fighter Collection's (TFC) latest warbird TF-51D 'Miss Velma' performed at the show just days after her Atlantic crossing. 'Miss Velma' was flying as part of the F-15E formation with TFC's P-51D 'Twilight Tear' and P-39Q 'Brooklyn Bum 2nd' and also flew later in the day.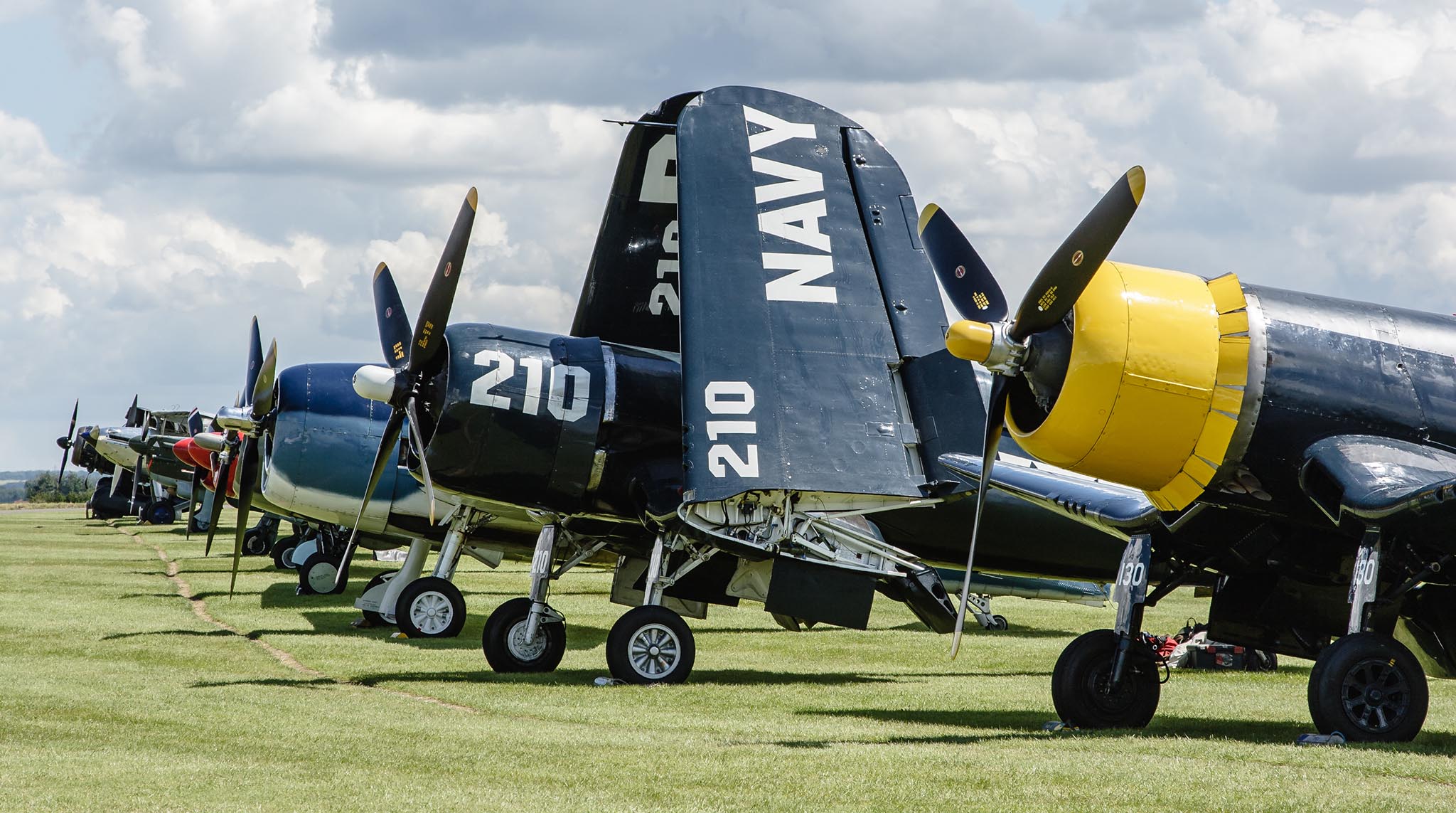 Just part of the very impressive line-up of Warbirds presented just a few feet away the public.
An F-15E Strike Eagle with a Warbird escort, not the sound that everyone appreciated. Most had come to hear the magnificent sound of Warbird such as 'Old Crow' a P-51D Mustang.
F-6F Hellcat (40467 '19'/G-BTCC) in its US Navy scheme from its time in the Pacific during World War II.
The warbirds colours contrast beautifully with the blackest of rain clouds over the weekend.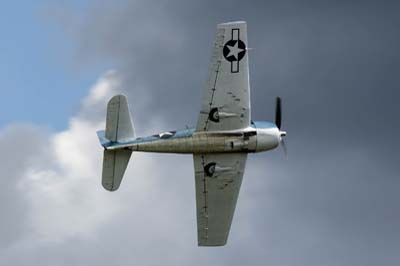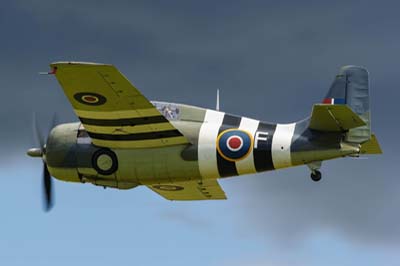 Left: This Hellcat is the only example flying outside the States. It was built in 1943 and flew with VF-6 (as depicted) and VF-18 before being retired with only 318 flying hours on the clock in 1944. Restoration started in 1990 at 'Planes of Fame' of Chino, California before being completed by TFC. She has a maximum speed of 380 mph and range of 945 miles.

Right: Grumman FM-2 Wildcat (JV579 'F' / G-RUMW / N4845V). The Royal Navy Fleet Air Arm employed Wildcats from 1940 in the fighter escort role. This particular aircraft flew for the first time in 30 years in 1993, following restoration by the Yanks Air Museum and Fighter Rebuilders of Chino, California. It was later transported by sea to the UK and onto Duxford. It is currently the only Wildcat flying in Europe. It has a maximum speed of 332 mph and range of 900 miles.
Part of the line-up photographed during the morning.
Left to right: On static display only was new build Flug Werke Fw.190A-8/N (980554 / G-FWAB). Owned by Spitfire Limited it is cared for by the Aircraft Restoration Company
Historic Aircraft Collection's (HAC) Hawker Nimrod II (K3661), it was built in 1934. Found on a dump in 1972 it passed to the RAF Museum. Restoration started in 1992 before and the aircraft was acquired by HAC in 1993.
Association Morane Charlie Fox Morane-Saulnier D-3801 MS.406 C1 (HB-RCF '1' c/n 194).
Tom Blair's Spitfire LF.5C (G-LFVC/JG891 'T-B') is painted to represent a 249 Squadron aircraft when operating out of Malta. The Spitfire is ex 79 Squadron RAAF and was found Kiriwina Island in New Guinea in the 1970s. Initial restoration was in New Zealand with its first post restoration flight in November 2006.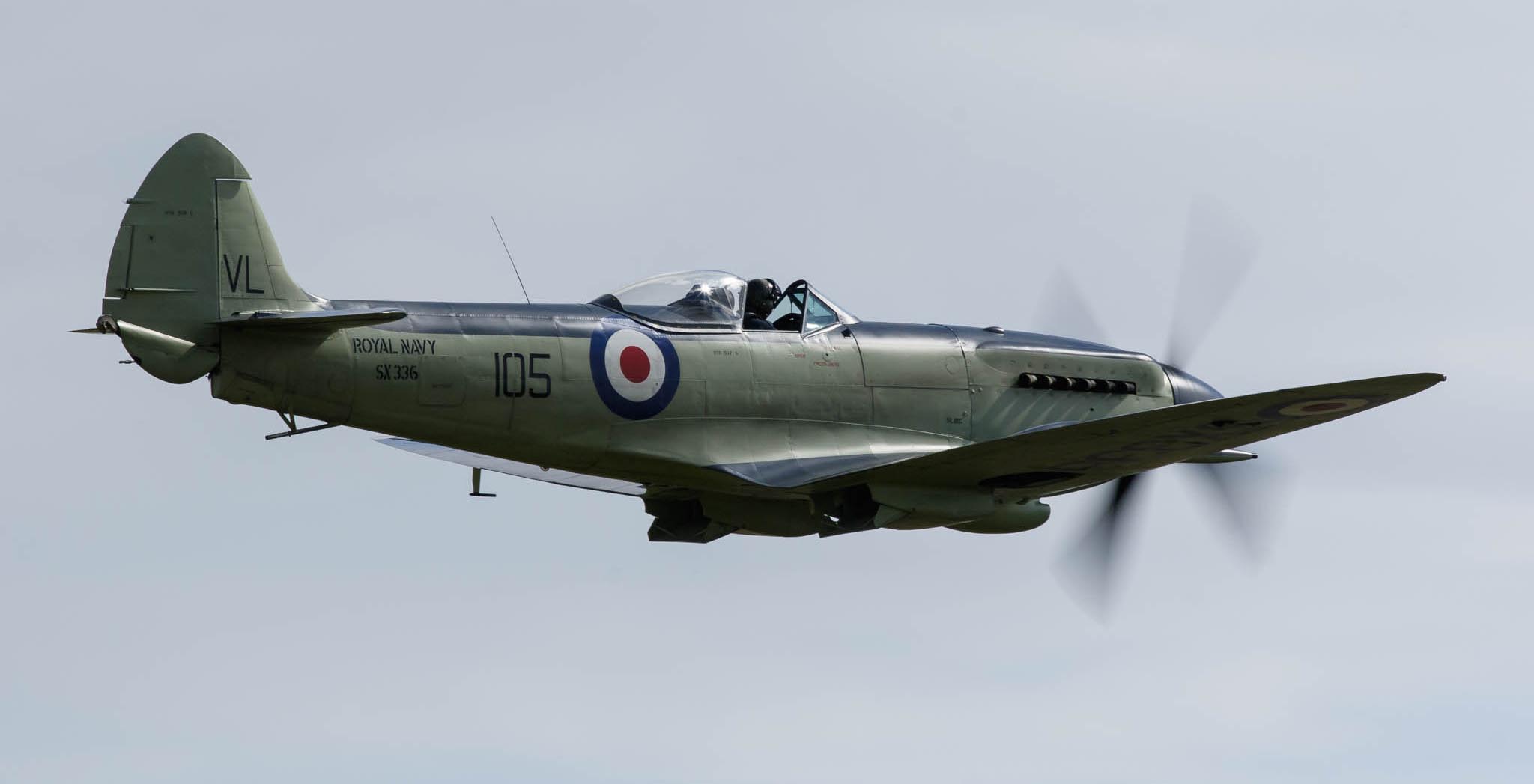 Kennet Aviation's Seafire Mk.17 (SX336 coded VL-105 / G-KASX).
Complimentary to the mass of Spitfires present this is one of the only two airworthy Seafires.
Left to right: Spitfire LF.5C (G-LFVC/JG891 'T-B') flying at Flying Legends for the first time.
One of the unusual visitors to the show was Corsair Warbird's Spitfire PR.19 (PS890/F-AZJS) sporting a contra-rotating propeller powered by a Griffon engine taken straight from an Avro Shackleton.
Left to right P-51D Mustang's (413704 coded 'B7-H' / G-BTCD) 'Ferocious Frankie' and P-51D Mustang (G-HAEC/472218 coded WZ-I) 'Big Beautiful Doll' both of the Old Flying Machine Company (OFMC).
Left to right: Arrow Active II (G-ABVE c/n 2) of the Real Aeroplane Company (RAC) was originally built in 1932 and later rebuilt in 1951 and in 1989. For the second year Hispano HA1112-M1L Buchón (Spanish license-built Me.109) (Red '1' / G-BWUE ex C.4K-102) owned by Spitfire Ltd and cared for by the Aircraft Restoration Company based at Duxford was displayed.
Left to right: Junkers Ju-52/3m from the Association Jean-Baptiste Salis (AJBS). This aircraft was thought to be a Spanish built CASA 352 until during it's restoration the fuselage was mysteriously found to have Junker's construction plates (No.24), the wings were from a Spanish built CASA 352 however. It was bought from Aces High in 1990 following its departure from Spain in 1976.
Ju52/3mg2e ('D-AQUI' D-CDLH/5489) of Lufthansa Traditionsflug.
The Shuttleworth Collection Westland Lysander Mk.3A (G-AZWT / V9367 'MA-B' c/n Y1536).
The Association Morane Charlie Fox Morane-Saulnier D-3801 MS.406 C1 (HB-RCF '1' c/n 194).
Left to right: Gloster Gladiator Mk.1 ('K7985' L8032 / G-AMRK) and the Hawker Hind (G-AENP/K5414 coded 'XV') both of the Shuttleworth Trust.
Left to right: The new 'Team Guinot' with their four Boeing PT-17 Stearman Kaydets demonstrating wing walking.