Flying Legends 2006
Duxford
July 8, 2006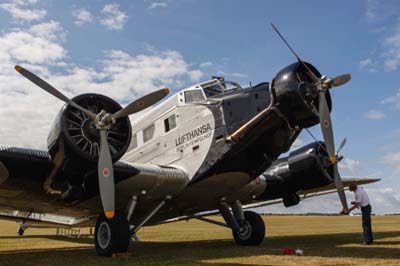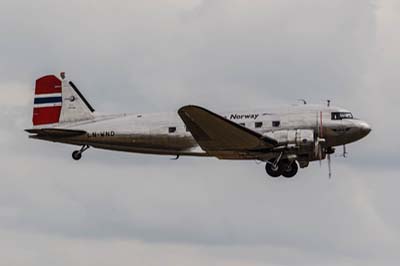 The Flying Legends show is a must every July, for everyone who has been to the show before. People keep coming back not for the noise and speed of a fast jet, but for the sound of a piston engine and the grace of an historic warbird. Nostalgia plays a very big part for the many veterans who continue to visit Duxford. For the vast majority who were not alive during the World War Two, I am not sure that nostalgia is the reason, it's more admiration and wonderment that aerial warfare could have been fought with such lovely warm sounding aircraft.

This years show was as good as ever, opening with eleven Spitfires in a mass launch a fantastic spectacle. The sound of a single Rolls Royce Merlin and Griffon engine Spit' is heart warming, eleven engines in unison was just amazing.
They all swooped down in groups tail-chasing, first from the east and then back from the west.....
Each year the Flying Legends team manage to come up with at least one débutante. This year was no exception when the Real Aircraft Company (RAC) displayed their Hispano HA1112-M1L Buchón for the first time at a public event. Also Spitfire HF.9 (TA805 code 'FX-M') made it's first public display. From France came Les Ailes de l'Aero's F4U-7 Corsair which has not been seen in the UK before. Another first was the appearance of Neptune Association's Dutch based Catalina, flying gracefully around the skies with the ever popular Duxford based Catalina owned by Plane Sailing.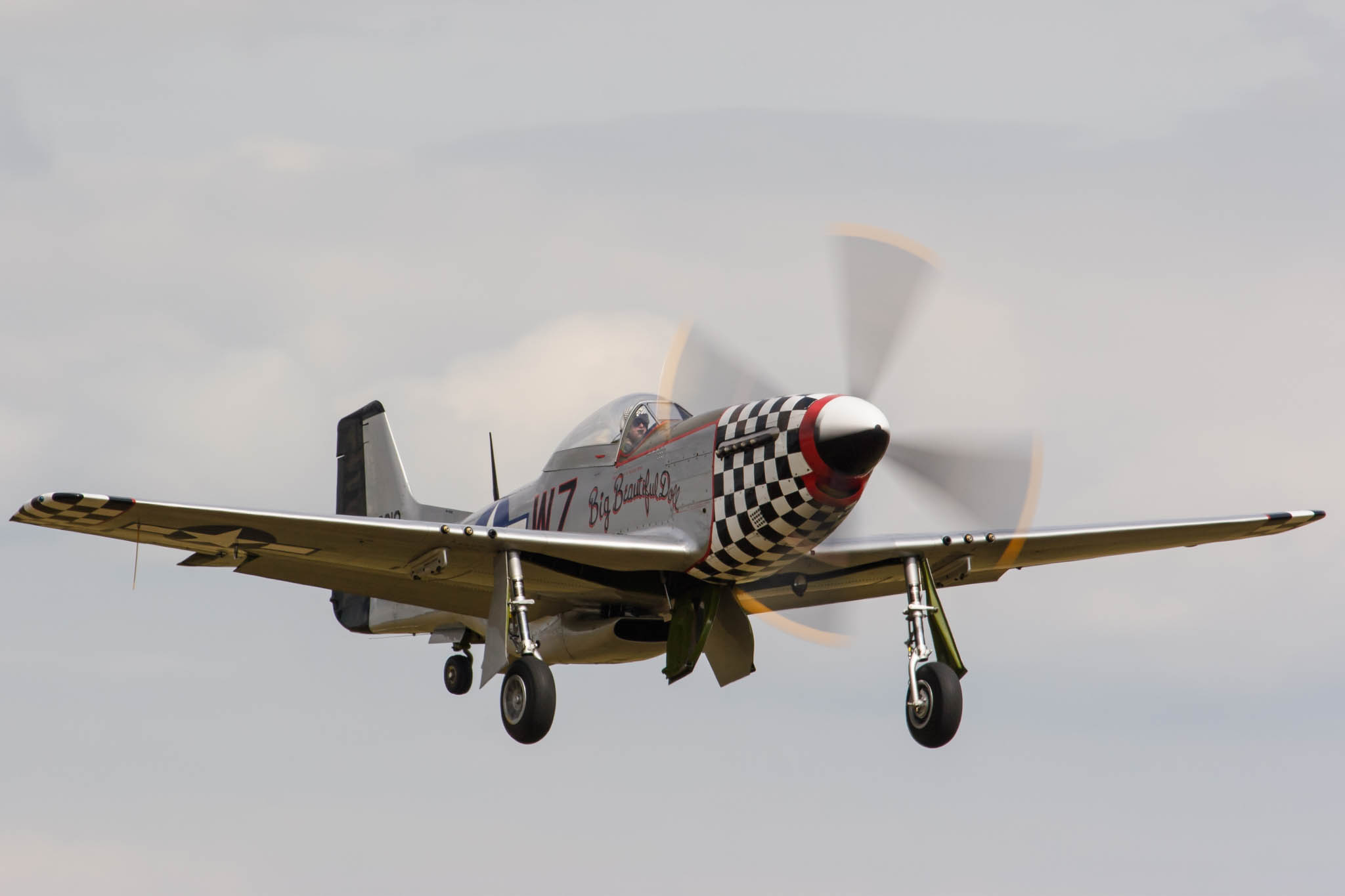 P-51D Mustang (472218 coded 'WZ-I' also G-HAEC)
Left to right: Hispano HA1112-M1L Buchón (BF109) (Red '1' / G-BWUE ex C.4K-102 c/n 223), Spitfire HF.9 (TA805 code 'FX-M'), Consolidated PBY-5A Catalina's (PH-PBY / 16-218) also on it's debut appearance and (G-PBYA) returning after the combined display.
Spitfires left to right: Spitfire LF.16E (TD248 coded 'CR-S' / G-OXVI), Spitfire Mk.8 (MT928 coded 'ZX-M' / G-BKMI), Spitfire F Mk.14E (RN201 / G-BSKP) of HFL and Spitfire LF.5B (EP120 coded 'AE-A' / G-LFVB) of TFC.
Spitfires left to right: Spitfire HF.9 (TA805 'FX-M' / G-PMNF) owned by Peter Monk and Mike Simpson during it's debut display, Spitfire LF.16E (TD248 coded 'CR-S' / G-OXVI) and Spitfire LF.5B (EP120 coded 'AE-A' / G-LFVB) of TFC.
Kennet Aviation's Seafire Mk.17 (SX336 coded VL-105 / G-KASX).
Left to right: F-8F-2P Bearcat (121714 coded 'B-201' / G-RUMM) of TFC, AD-4NA Skyraider (126922 'AK-402' / G-RADR ex G-RAID) of Kennet Aviation, P-51D Mustang (44-72773 'QP-M' / G-SUSY) called 'Susy' another member of the Real Aircraft Company from Breighton and TFC's Bristol F.2B Fighter (D-8084 coded 'S' / G-ACAA).
Above: French based B-17G Flying Fortress (44-8846 coded 'DS-M' / F-AZDX) 'Pink Lady' is operated by the Association Fortresse Toujours Volant en France and was in good company with B-17G (124485 coded 'DF-A' / G-BEDF) of the B-17 Preservation Society, simulating double engine fires!
If you are able to get a flight line tour, then you can really get up close and personal with the aircraft and perhaps try for those more unusual images.
Left to right P-51D Mustang's (413704 coded 'B7-H' / G-BTCD) 'Ferocious Frankie' of the OFMC and P-51D (414450 coded 'B6-S' / N167F) 'Old Crow' of the Scandinavian Historic Flight. Also the same pair in action later in the day, when the best light had gone.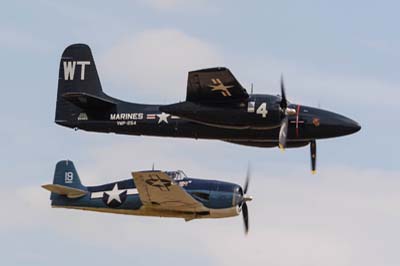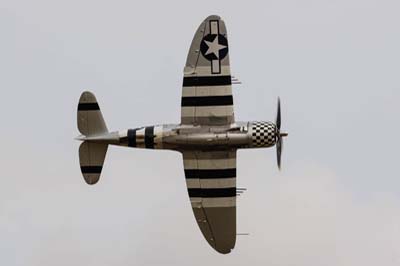 Flying for the last time at 'Legends'
For two Flying Legends favourites, the Grumman F-7F-3 Tigercat and the P-47M Thunderbolt 'No Guts - No Glory!' it was their final show before being shipped off to the States. The Thunderbolt is being packed off for Chino, California where it will be put up for sale. The Tigercat has already been sold.