Bulgaria Air Force - Bulgarski Voennovazdyshini Sili
Graf Ignatievo Air Force Base
3rd Fighter Air Base (Iztrebitelna Avio Basa - 3.IAB)
Bulgaria
2009 to 2010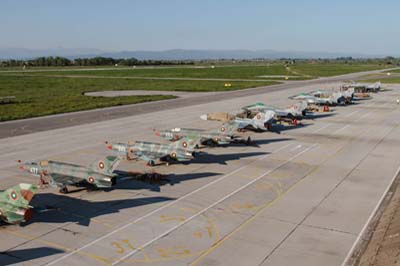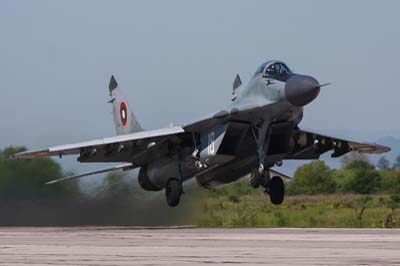 Defence Minister Anyu Angelov announced in May 2010 that under NATO's Host National Support strategic investment program for modernisation of Bulgaria's air bases, Graf Ignatievo has been allocated 7.5 million euro for an air traffic and air defence control and communication system. The Bulgarian Air Force in recent times has not been able to secure anywhere near all the funds it had hoped for to enable it to fulfil all its ambitions. Hopefully Angelov will be able to deliver the promises made.



Built in the 1930s Graf Ignatievo has been subject to a number of national interests. Leading up to World War Two and until 1944 the German's influenced the airfields development. The Soviet Union followed in 1945 with the era of the jet aircraft. Then in 2004 Bulgaria joined NATO and with the closure of many of its airfields, Graf Ignatievo became Bulgaria's sole air defence air base.
Currently Graf Ignatievo designated the 3rd Fighter Air Base (Iztrebitelna Avio Basa – 3.IAB) itis the home of two squadrons; 1st Fighter Squadron (Iztrebitelna Avio Eskadrila – 1/3.IAE) with a few remaining MiG-21s and the 2nd Fighter Squadron (2/3.IAE) with the MiG-29.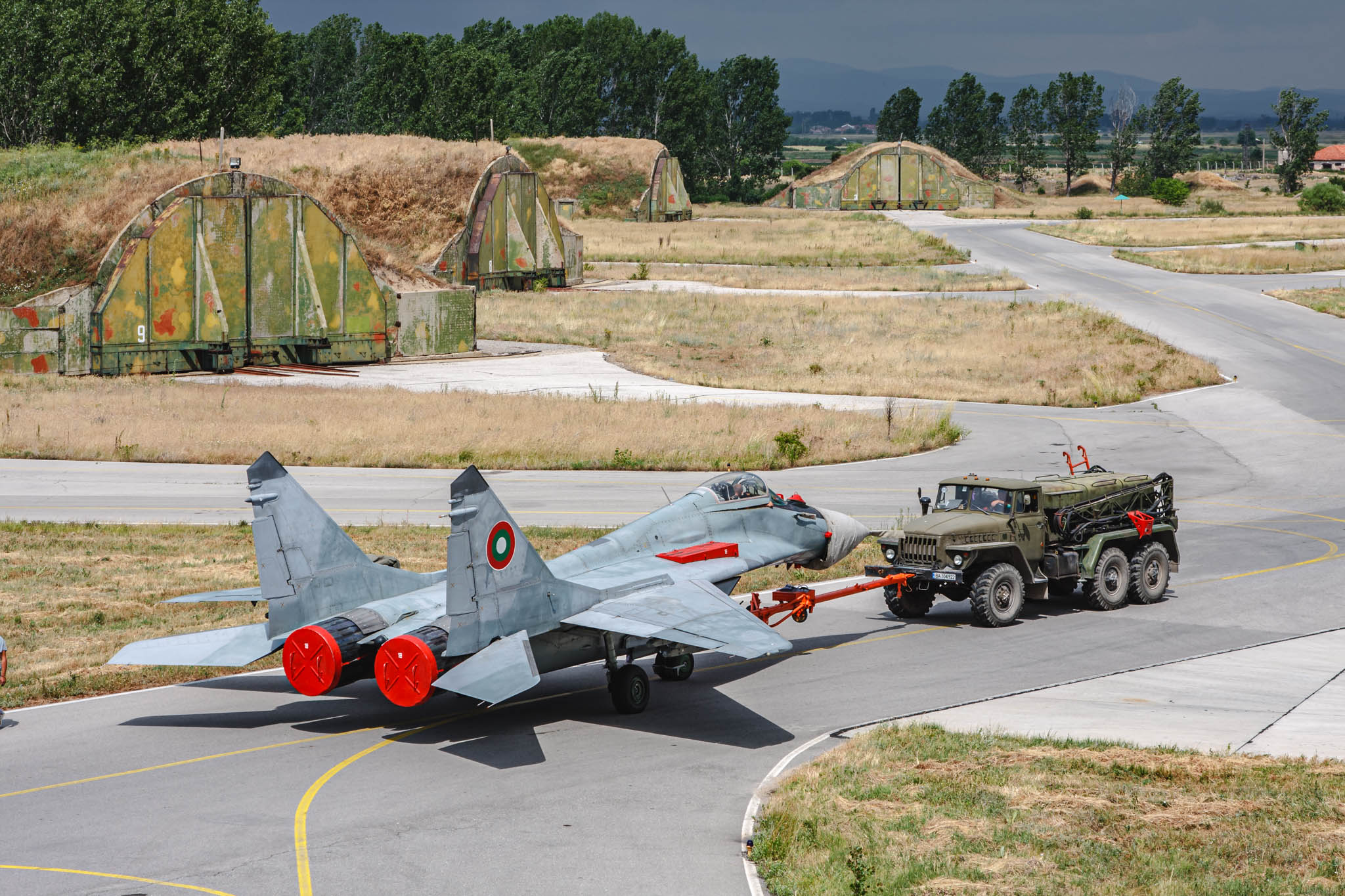 A Mikoyan Gurevich MiG-29 (18) in the HAS area, they do not taxi out of this area but are towed to the main ramp on the other side of the airfield.
Left to right: MiG-29UB (33) in a Hardened Aircraft Shelter (HAS) built many years ago for the smaller MiG-21 they are only just wide enough. With only a few centimeters to spare, they are so narrow that the MiG-29 has to be backed onto rails before they can be pushed into the HAS.
MiG-29 (38) in the maintenance hangar. Terem also have maintenance facilities here.
The MiG-29's of 2nd Fighter Squadron (2/3.IAE) 'Sharks'


The Mikoyan Gurevich MiG-29 was designed in the 1970's in response to the development of the General Dynamics F-16 Fighting Falcon for the air superiority role. It first entered service in Russia in 1983 and was given the NATO designation of 'Fulcrum-A'
Mikoyan Gurevich MiG-29 'Fulcrum-A' (24) recovering at Graf Ignatievo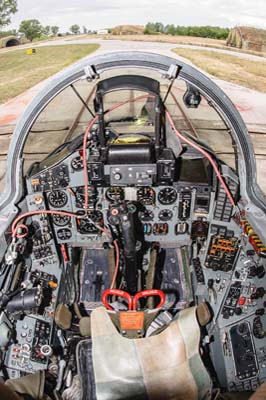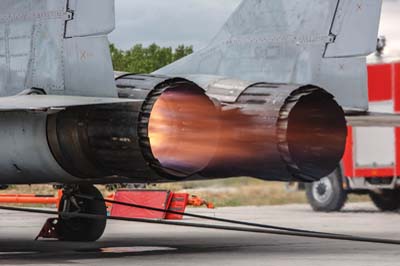 The MiG-29 replaced the MiG-21PFM's of 1st Squadron, 15th Fighter Regiment (1/15 IAE) based at Ravnetz. In 1994 the 15th Fighter Regiment was split into two, the 5th Air Base (5 IAB) at Ravnetz and the 6th IAB at Balchick, as the 1/5 IAE and 1/6 IAE respectively. Also in 1994 MiG-29 (serial 25) was lost when the pilot lost control during an aerobatic display over Ravnetz. In 2000 1/5 IAE was relocated to Graf Ignatievo and became the 2nd Squadron of the 3rd Air Base (2/3.IAE). Following serviceability issues when only three MiG-29s remained operational, RSK MiG refurbished and life extended six aircraft by 2003.

On joining NATO in April 2004, the BuAF were charged with providing Quick Reaction Alert (QRA) coverage. From 2007 12 single-seat and all four two-seat aircraft were restored to operational service by RAC MiG as a result of a $48 million contract to extend the life of the aircraft by 4,000 hours. Bulgaria's MiG-29s are expected to be in service until 2030.
The 18 single-seat MiG-29s were given serials 15 to 32. The two-seat MiG-29UBs originally carried serials 01 to 04. They have been since re-serialled 11 to 14, with 14 later becoming 33.

Left: Inside the front cockpit of a MiG-29UB (33).
Right: MiG-29 (18) during a engine vibration test. The power plant of the MiG-29 are two Klimov/Sarkisov RD-33 afterburning turbofans.
Two-seat MiG-29UB 'Fulcrum-A' (12) returning to the main ramp.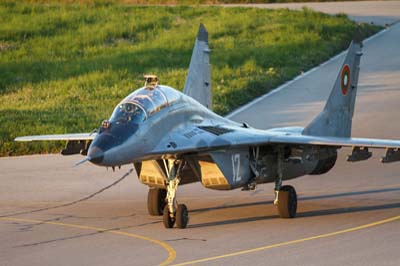 The MiG-29 was the first aircraft to be fitted with dual mode air-intakes. The intake ducts are closed during ground operations including during take-off, this is to protect the engine from Foreign Object Damage (FOD). During ground operations louvre designed intakes on top of the aircraft open to allow sufficient air to be fed to the engines. Along with its rugged designed under-carriage the MiG-29 is a very robust aircraft very much suited to rough conditions.
A retractable periscope system is fitted to the two-seat MiG-29UB 'Fulcrum-B' to improve the instructor view from the back-seat, it is deployed at the same time the landing gear is extended. The back-seater's forward view awareness is further enhanced with a Head Up Display (HUD) repeater. The two-seat variant is used for training purposes only, it is not combat capable. Some fuel capacity was lost to fit the back-seat and the N-019 radar was removed giving it a shorter nose. The chaff and flare strakes were also not fitted.
On Quick Reaction Alert (QRA) duty at Graf Ignatievo
On Quick Reaction Alert (QRA) duty. On joining NATO in April 2004, the MiG-29 was immediately employed on QRA duty as part of NATO's integrated air defence system.
The Vympel R-27R (NATO AA-10 'Alamo') radar-guided air-to-air missiles (AAM) on the inboard pilons. It is a medium-range Beyond Visual Range (BVR) weapon with an effective range of over 40 miles for head-on attacks.
The Vympel R-73 (NATO AA-11 'Archer') short range (15 miles) air-to-air missile, it can be connected to the pilot's helmet for exceptional targeting of opposing aircraft.
Vympel State Engineering Design Bureau is based in Moscow.
Left to right: MiG-29 Fulcrum-As (23 and 26).
The MiG-21s of 1st Fighter Squadron (Iztrebitelna Avio Eskadrila – 1/3.IAE)
The Mikoyan-Gurevitch MiG-21 'Fishbed' is the most produced supersonic jet ever. Production of the short-range interceptor started in 1959 and by 1985 when it had ended 10,645 aircraft had been built and delivered to over 60 nations. Today only two European air forces operate the MiG-21, Romania who upgraded their MiG-21M/MF/UM from 1995 to produce the MiG-21 LanceR-A/B/C and Bulgaria.

The Bulgarian Air Force received 228 MiG-21's in eleven variants;
MiG-21F-13 (12 delivered in 1963, withdrawn in 1988)
MiG-21PF (12 delivered in 1965, withdrawn by 1991)
MiG-21PFM (50 delivered from 1965 to 1986, withdrawn by 1992)
MiG-21U (1 delivered in 1966, withdrawn in early 1990's)
MiG-21M (15 delivered from 1969 to 1970, withdrawn by 1990)
MiG-21US (5 delivered in 1969 to 1970, withdrawn in 1992)
MiG-21MF (20 delivered from 1974 to 1975, withdrawn in 2000)
MiG-21R (6 delivered in 1969, withdrawn in 1995)
MiG-21UM (29 delivered from 1974 to 1982 and 6 more in 1990, most withdrawn in 2000
MiG-21bis-SAU (36 delivered from 1983 to 1985, most withdrawn in 2000)
MiG-21bis-Lasur (36 delivered in 1990, withdrawn from 2000)

By mid 2010 up to nine MiG-21bis-SAUs (045, 114, 243, 261, 294, 358, 388, 392 and 427) were operational with 1st Squadron (1/3.IAE) at Graf Ignatievo, with two two-seat MiG-21UMs (28 and 29) which were used for conversion training are now used for check rides and dogfight training sorties. A series of upgrades have been proposed over recent years, for each funding never materialised. The remaining aircraft are expected to be in service until 2012. Replacements for the MiG-21 have been also considered by way of second-hand western aircraft, but again lack of funding has prevented and firm decisions from being made.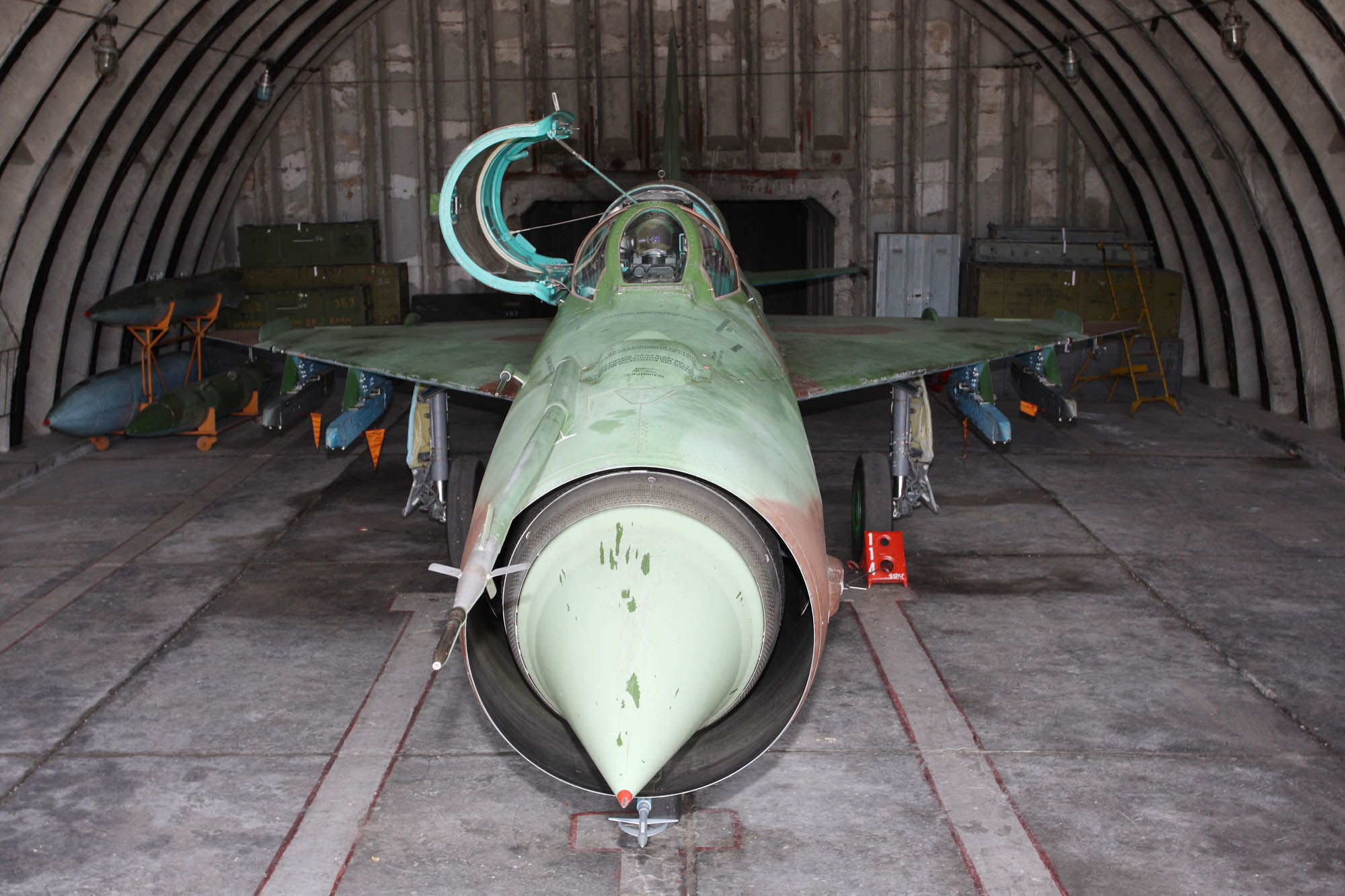 Still operational MiG-21bis-SAU 'Fishbed' (114).
Left to right: MiG-21bis-SAU (427 ex 407) being refuelled after a engine check flight.
MiG-21bis-SAU (427) are all shut down on the main ramp before being towed back to the HAS.
MiG-21bis-SAU (243) on the main ramp.
One of the two remaining two-seat MiG-21UMs (28) still in service.
Night flying at Graf Ignatievo
MiG-29 'Fulcrum-A' (18) ready for another night flying sortie on the main ramp.
The MiG-29 can be turned around exceptionally quickly between flights, the Graf Ignatievo groundcrew check tyres, oils and filters and replace oxygen and fuel ready for the next pilot in around 30 minutes.
Left to right: groundcrew prepare two-seat MiG-29UB 'Fulcrum-B' (12) for the next sorite. Between 20:30 when the first jet took to the air and mid-night when the last jet shut down, 21 sorties were flown.
The pilot of MiG-29 (18) about to be waived off by groundcrew.
MiG-21bis-SAU (294) being prepared for flight. Lights on and it is about to taxi out.
MiG-21bis-SAU 'Fishbed' (243)