Bulgaria Air Force - Bulgarski Voennovazdyshini Sili
Sofia-Vrazhdebna Air Force Base
16th Transport air base (Transportna Aviobasa - 16.TrAb)
Bulgaria
April 2010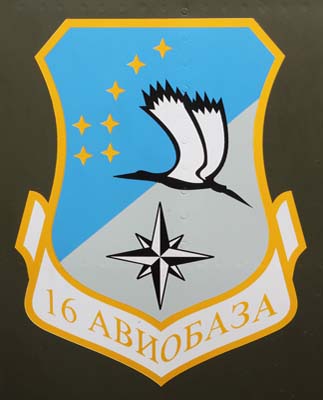 Vrazhdebna airfield was built in the 1930's as a training base. In 1941 Luftwaffe Bf 110's and Bf 109's were deployed here. Today it is the military section of Sofia International Airport and the home of the 16th Transport Squadron (1/16 Transportna Avio Eskadrila -1/16.TrAe), since it relocated to here from Dobroslavtsi in 1993. Government VIP aircraft operate from the International side of the airport.



In these tough times for the Bulgarian Government very few of the transport fleet based here is active. The two Alenia C-27J Spartan twin-turboprop tactical transports are perhaps the only active aircraft. They are part of a five aircraft contract placed in 2006 to replace the aging Antonov An-26's., the first aircraft was delivered in 2007.
The first two Alenia C-27J Spartans of the 16th Transport Squadron (1/16 Transportna Avio Eskadrila -1/16.TrAe).
Left to right: Alenia C-27J Spartan (072) performing touch and goes at Bezmer in June 2009.
Left to right: C-27J Spartans (072 and 071) and the cockpit and cabin of '072'.
Left to right: Antonov An-2T Colt (027) believed to be with Korpus Protivovazdushna Otbrana (Air Defence Corps) and used for parachute jumping, KPO HQ Flight, although it has not flown for quite a while due to a lack of aviation fuel.
Pilatus PC-12M (020) delivered in 2003 it is still operational.
Mil Mi-8S (LZ-CAM) It is marked 'United Nations Humanitarian Air Service' and WFP (World Food Program) and has c/n 10318 which is in sequence with BuAF examples, it was civil registered in 1994.
The 'Open Skies Treaty' provides for a continued series of unarmed aerial surveillance flights over the entire territory of an treaty member. From January 1, 2002 more than 30 states have signed up to its conditions. By enabling Treaty members to gather information on military facilities and equipment any concerns or suspicions can be investigated and substantiated.
Other 'Open Skies' certified aircraft are; Hungarian An-26, POD Group (i.e. Belgium, Canada, France, Greece, Italy, Luxembourg, Netherlands, Norway, Portugal and Spain) C-130H, Romanian An-30, Russian An-30, Ukrainian An-30 and United States Boeing OC-135B.
Left to right: Antonov An-30 'Clank' (055). Delivered in 1976 it was used for 'Open Skies' missions.
Left to right: Inside the 'Open Skies' An-30 (055), cockpit, nose and large down looking camera in the cabin.

Left to right: Let-410s (063, 064 and 065) and Let-410UVP-E (066).
Left to right: Let-410UVP-Es (067, 068, 066 and 068). Another Let-410UVP-E (069) was also here at this time.
Antonov An-26 'Curl' (087) one of five An-26s in open store.
The An-26s were delivered in 1984.
Left to right: An-26s (070, 075 and 080).
Left to right: An-26s (087 and 090).