Exercise 'Anatolian Eagle 2015/1'
Konya Air Base
Turkey
June 2015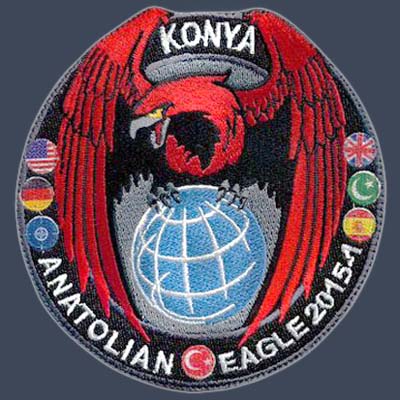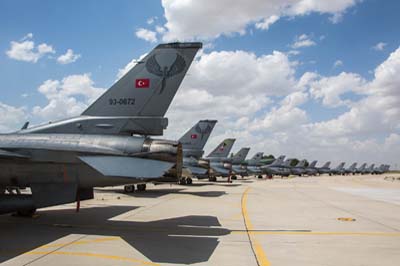 F-16C block 50 Fighting Falcon (93-0672) of 132 Filo 'Dagger' based at Konya the first of 30+ F-16s lined up on the 'S' shaped ramp.

Providing the highest standard of air warfare training.





In 2000 the Turkish Air Force (TurAF - Türk Hava Kuvvetleri) began plans to emulate the western world's premier military tactical training exercise known as Red Flag held at Nellis Air Force base in the United States. The Red Flag exercises comes under the control of the US Air Force Warfare Centre (USAFWC) at Nellis air force base who are tasked with training pilots to become the best combat aviators in the world. The first Red Flag was held in 1975 and did not involve foreign air forces, however in 1983 the TurAF were invited to attend giving them an insight as observers to advanced training techniques. It was not until 1997 did the TurAF attend with their own aircraft consisting of six F-16s.



Turkey is a NATO member and is located at the junction between Soviet, Arab and Greek borders and so has to be mindful in protecting its territory. Its air force has to be well trained to the highest standards. In 2001 Turkish Air Force Command consequently established its own air warfare training centre at Konya air base to be known as 'Anatolian Eagle' (AE).



The highest aims


Today AE has a first class reputation for providing the highest standard of pilot training. Its declared aims to provide pilots with flying training experience that will protect them from the early stages of actual air warfare and so reduce losses of their fighter aircraft. By creating the most realistic of operational environments graduate pilots gain the high quality experience which will increase their mission effectiveness. Fighter pilots can execute tactics with large scale flying packages or COMAOs (Composite Air Operations). Forums allow pilots and mission planners to exchange ideas. AE is not just for pilots though, ground defences (principally surface to air missiles) are deployed to the three available ranges along with Ground Controlled Interception (GCI) their radar controllers also receiving valuable training.
AE also aims to develop joint and combined operating procedures with its own units and with the attending foreign air forces. The TurAF realise that the quality of this training increases with the participation of foreign air forces with their different types of aircraft (DACT - Dissimilar Air Combat Training) and weapons systems. Since 2001 14 countries have participated at AE; Belgium, Germany, Italy, Netherlands, Saudi Arabia, United Arab Emirates, United States, France, Israel, Jordan, Pakistan, Qatar, Spain, United Kingdom and NATO with the E-3 AWACS (Airborne Warning And Control System). Around 100 aircraft attend each exercise and by 2014 AE had attracted 2,570 aircraft flying a total of 21,873 sorties, demonstrating that this is now one of the World's finest training centres. Around four AE exercises a year are held at Konya with usually only one per year involving multiple foreign air forces.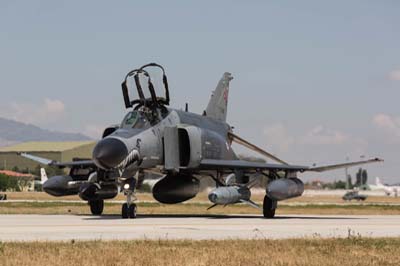 F-4E Phantom 2020 (77-0299) of 111 Filo 'Panterler' based at Eskisehir it is equipped with the AGM-142 Popeye standoff missile.

Well structured


The AE Training Centre at Konya comprises a Command and Control Centre with the following units under them. Squadron Command, 131st AEW (Airborne Early Warning ) Squadron, 132nd Weapons and Tactics Squadron, 135th CSAR (Combat Search and Rescue) and FAC (Forward Air Controller) Squadron, EWT (Electronic Warfare Training) and Training Squadron and the Control Reporting Post. The exercise areas are large situated in southern Turkey and the Mediterranean Sea and close to Konya reducing transit time, the two main areas are 180 nautical miles (nm) by 215 nm and the other 140 nm by 75 nm.



Planning for the complex missions


The planning for AE starts seven months before the two week flying exercise with an initial conference followed by the main planning conference with three months to go. The final documents are released with three weeks to run. Visiting air forces can specify individual requirements for their pilots to ensure the training they receive is as relevant as possible. In the month after the flying has finished an analysis report is issued. Following the deployment of the aircraft and the mass briefings, the large scale missions involving COMAOs, air refuelling tankers, AWACS and other assets including TurAF and Turkish Army helicopters are flown in two main waves each day, known as 'Eagle 1' and 'Eagle 2'.
ACMI (Air Combat Manoeuvring Instrumentation) equipment feeds data in real time to the White Force HQ at the command and control centre at Konya to provide pilots, instructors and mission planners with precise details of what each aircraft has done during the air warfare (Blue Air versus Red Air) phase. The data used for analysis includes; position, altitude, speed and weapons utilised relative to all the other aircraft involved. Claimed 'kills' can be verified or rejected and all results are presented and analysed.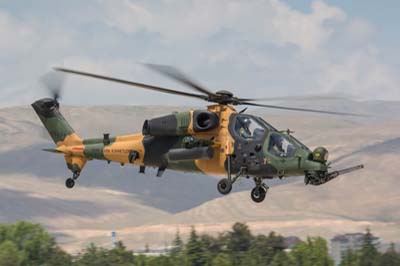 T-129 ATAK Helicopter (BG13-1004) of Turkish Army (TKK - Türk Kara Kuvvetleri). The TAI/AgustaWestland T129 is an attack helicopter based on the Agusta A129 Mangusta it was developed by Turkish Aerospace Industries (TAI).

In utilising an array of aircraft, weapons in different scenarios a whole series of missions are flown, from; OCA (Offensive Counter Air), SEAD (Suppression of Enemy Air Defences), DEAD (Destruction of Enemy Air Defences), Reconnaissance, CSAR (Combat Search and Rescue), CAS (Combat Air Support), HVAA (High-Value Air Asset) for offensive and defensive roles and ASuW-Maritime (Anti-surface warfare). Which was introduced for the first time this year.



The final analysis


After AE 2015/1 had been completed it was revealed that 104 aircraft had attended flying 996 sorties involving 1,300 personnel. 65 of the aircraft were TurAF (mostly F-16s and F-4Es). The foreign air forces deployed 12 USAF F-15C/D Eagles, eight RAF Typhoons, six Spanish AF F/A-18s, one German AF A.310 and six Pakistan AF F-16s. All attending air forces were quick to praise the training they received,
Wing Commander Chris Layden Officer Commanding XI Squadron said; "We're here at Anatolian Eagle to exercise with our NATO and regional partners to optimise our skills in high end warfighting which is not something we get to practise on this scale very often at home", adding "The value here comes on a number of levels. On the first level it is effective air-air training and slightly different to what we do in other theatres. Second, the scale on which they operate on Anatolian Eagle is almost unsurpassed in the world".
Lt. Col. John Stratton, 493rd FS commander, said the exercise was similar to Red Flag; "It increases our interoperability because it gives our pilots a chance to come together, to mission plan, brief, execute and debrief, so we can see what works and what doesn't in a joint coalition setting so we know how well we're going to be able to execute in any future mission."
U.S. Air Force Capt. Jason Ford, 493rd FS pilot, reported "Anatolian Eagle wasn't just a great training exercise, but an opportunity to strengthen relationships with our allies" continuing; "The partnerships we build here in the exercise while we're in Turkey are very important not only today, learning from each other but also maybe those partnerships that we rely on tomorrow with our allied countries."
Turkey with the second largest air force within NATO is quite rightly proud of its AE air warfare training centre and can boast of the advanced training it can offer. The training and scenarios will surely evolve over time to reflect the needs of its military forces in protecting its vulnerable borders on NATO's south-eastern flank.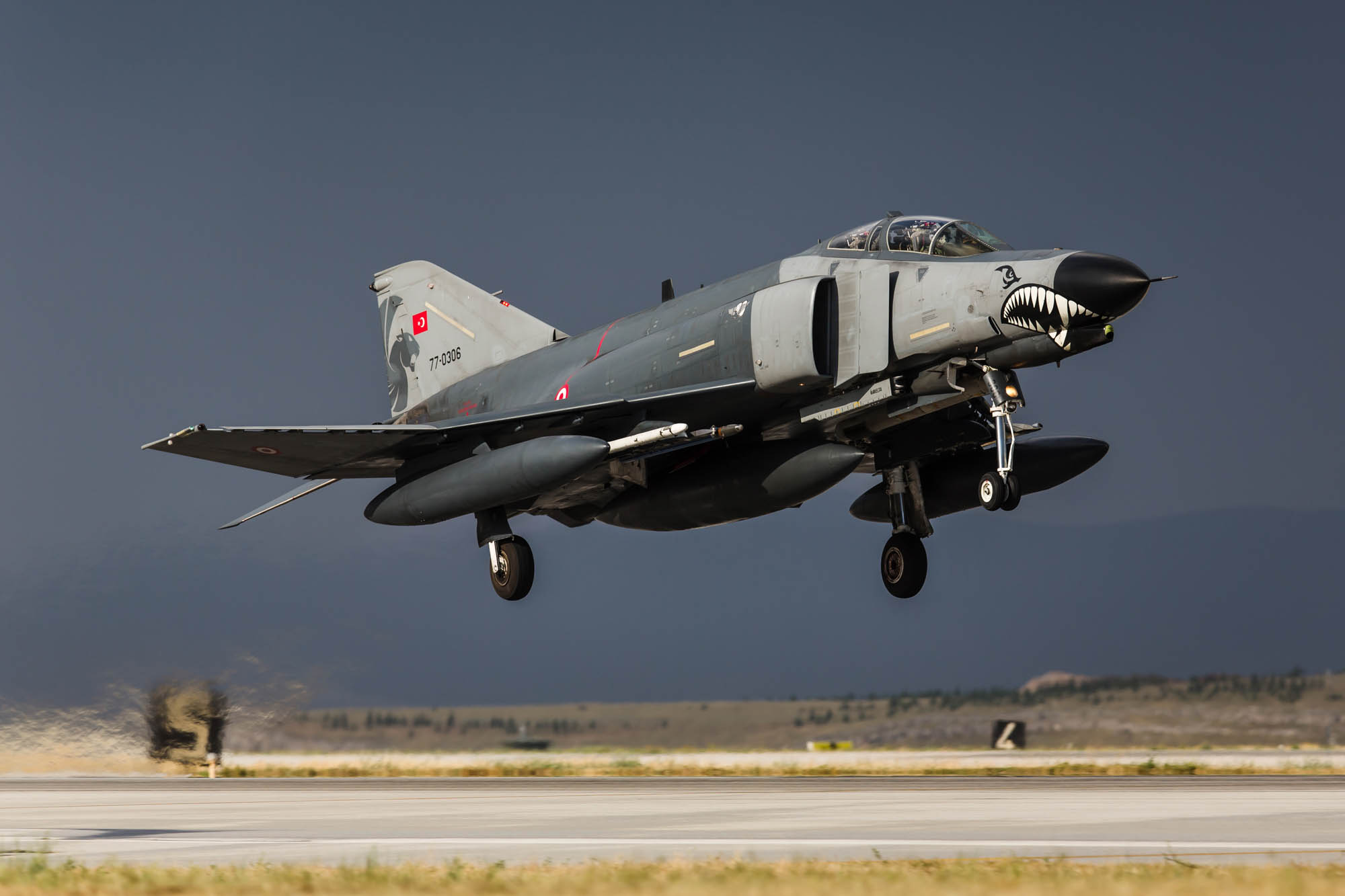 F-4E Phantom 2020 (77-0306) of 111 Filo 'Panterler' based at Eskisehir.
The Air Assets Involved for Anatolian Eagle 15/1



Turkish Air Force: 65 F-16s comprising;
F-16C block 50 Fighting Falcons 132 Filo at Konya.
F-16C block 30 Fighting Falcons of 141/142/143 from Ankara.
F-16C/D block 40 Fighting Falcons of 151/152 at Merzifon/Amasya.
F-16C/D block 40/50+ Fighting Falcons of 161/162 at Bandirma.
F-16C block 40/50 Fighting Falcons of 181/182 Filo at Diyarbakir.
F-16C block 40/50 Fighting Falcons of 191 Filo from Balikesir.

12 x F-4E/2020 Phantoms from 111 Filo at Eskisehir and 171 Filo at Malatya/Erhac.
1 x Boeing KC-135R Stratotanker flying from Incirlik.
2 x CN.235M-100 of 202 Filo 'Sark' from Diyarbakir and 212 Filo Logistics Commander at Erkilet.
1 x Boeing 737 AEW&C E-7T 'Peace Eagle' 131 Filo at Konya.
2 x Eurocopter AS-532 Cougar.

Turkish Army (TKK - Türk Kara Kuvvetleri):
2 x Sikorsky S-70A Blackhawk
2 x TAI T-129 ATACK helicopter

Pakistan Air Force: 6 x F-16 A/B MLU Fighting Falcons, 38 Wing, 9 Squadron based at Mushaf.

Royal Air Force: 8 x Typhoon FGR4/T3s of XI Squadron based at Coningsby.

Spanish Air Force: 6 x EF-18M Hornet, Ala 15 from Zaragoza.

US Air Force: 12 x F-15C/D Eagles of 493FS, 48FW from Lakenheath.

German Air Force: 1 x Airbus A 310, Köln-Bonn.

NATO: 2 x E-3A Geilenkirchen in Germany.
Left to right: RAF Typhoon FGR.4 (ZJ932 'DB) of 11(F) Squadron leaving the foreign air force ramp.
Boeing 737 AEW&C E-7T Wedgetail (13-001) from 131 Filo based at Konya were utilised each day in the airborne early warning and control role. It was supplied to Turkey under 'Project Peace Eagle' with Turkish Aerospace Industries (TAI) as the primary subcontractor.
F-15C Eagle (84-0001 'LN') the pilot has retracted the under-carriage just a few feet above the runway.
Spanish Air Force EF-18M Hornet (C.15-25 '15-12') taxiing out in ahead of the main COMAO.
F-16A MLU Fighting Falcons (84707 and 84709) with 38 Wing, 9 Squadron 'Griffin' Pakistan Air Force taxi out together.
Photography at Konya and Anatolian Eagle.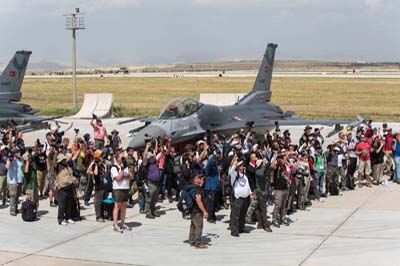 The Turkish Air Force Media Support Team really did a fine job in assisting the photographers during the event. Excellent food was sauced from a top hotel in Konya and prepared in a nearby HAS. We were positioned by the taxiway on the first morning and bussed to the other side of the runway when the sun turned in the early afternoon and finally taken to the F-4E Phantom ramp in the early evening.

The following day was to be beside the taxiway again but as the wind had chnaged and the runway direction, we were route marched across the taxiway to the far end for a great morning shooting the COMAO departures. In the afternoon the busses took us to the 's' shaped ramp to shoot 30+ Turkish Air Force F-16s.

After a presentaion in the Anatolian Eagle facility the highlight of the day was to shoot the departing aircraft in the early evening light and straight after a thunderstorm. On the negative side three days of access were scheduled and at the end of the second day we were told the exercise had effectively ended and we could not shoot the rest of the departing aircraft on the final as they would be leaving very early in the morning.