Low-level Flying
Philip Stevens on television!
Forces TV - 'Fast Jets Long Lenses'


February 3-4, 2015
My shot of Tornado GR.4 (ZA553 '045') as presented by Forces TV
In February 2015 Will Inglis a presenter for Forces TV invited me to take part in a program on low-level flying photography called, 'Fast Jets and Long Lenses'. click; Fast Jets and Long Lenses - Full story

The Forces TV program click; Fast Jets and Long Lenses
Japanese TV (Challenge Series)


March 2017 and April 2018
I was approached by a Japanese television production company who wanted to film in the Mach' Loop. The theme of the program was to film well known television presenters taking part in various challenges. In the week they had raced in power boats off the Isle of Wight, shot down zip wires and danced around a Maypole, plus a few other bizarre activities. At the Mach' Loop they were to watch the jets shoot past. They had seen a shot by Peter Lewis (Welshy) of an F-15E Strike Eagle on the Internet which looked dramatic as onlookers appeared to be extremely close to the action. I was to act as an advisor and take still shots of the TV presenters watching the action. As the weather was appalling there was no chance of any low passes. Never-the-less they still all climbed up Cad' West only to get cold and wet. I was interviewed (and presumably later dubbed into Japanese) while they acted (they spoke no English) shocked on 'hearing' me say there was no low flying today.
A year later we tried again but failed again due to even worse weather ruining preventing any low flying. We spent the time in the local Cross Foxes pub rather than get wet and cold this time.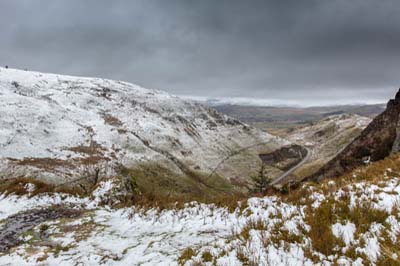 Left to right: Cad' West from the Bwlch and Cad' East showing the poor weather conditions.
Left to right: The production team including the presenters. Enjoying a drink in the warmth of the Cross Foxes pub a year later.
Left to right: The sort of images they were looking for, but better than these which happened by accident and typically are deleted!
An F-15E Strike Eagle passing through Cad' West.
Ionian TV, Greece


April 2019
It was assumed that there was an interest in the Iniohos exercise by the local population by Ionian TV. Consequently the Icarus team was persuaded to cooperate in a news documentary discussing low level flying photography or 'Plane Spotting' as they are happy to call it. I was surprised to be asked for my contribution as a foreign photographer working alongside Greek photographers in the Peloponnese mountains.

Ionian TV full 45 minute report, click; Plane Spotting (My contributions are in English).