European Luscombe Tour 2006
Lane Farm, Painscastle, Powys
June 10-11, 2006
While surfing the internet I came across an article entitled on the European Luscombes website which caught my eye. Nige 'Bertie' Barratt, a Luscombe pilot and the website manager, had proposed a tour of some very interesting airfields across England and Wales over a weekend in June. This was apparently the second tour, somehow I had missed the first in 2005. As a photographer and huge fan of classic civilian aircraft built before 1960, this was an opportunity to photograph these aircraft in an attractive setting and it was not to be missed.
A dozen Luscombe 8s lined up at the farm landing strip Lane Farm, Painscastle on the second day of tour.

The tour was to start at Popham in the south and fly north to White Waltham, North Weald, Old Buckenham and on to Fenland. From here the Luscombe flight would turn west for Leicester and go on to Wellesbourne Mountford where they were to night stop. Early next morning the tour would continue to Lane Farm, Shobdon, Upfield Farm, Eaglescott finishing at Farway Common on the Sunday. I was to find out later that 18 of the vintage aircraft were to take part in the tour, but not all were able to complete the full two day event.
The Luscombe is an aircraft whose modern looks and design hide its age. Don Luscombe started designing and producing racing aircraft in the late 1920s, starting with the Monocoupe when part of the Monocoupe Aircraft Corporation, before moving on to the Phantom in 1934 which was manufactured till 1941. However in 1939 Don Luscombe was lost control of his company and Leopold Klotz took over. They were later to go bankrupt in 1949 with Silvaire Aircraft taking control in 1954.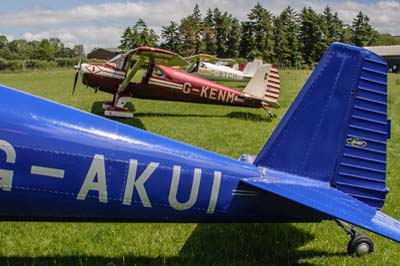 The Luscombe 8 was Don Luscombe's biggest success, it had an all metal fuselage and fabric covered wings. Production began in 1938 in Trenton, New Jersey before moving to Dallas, Texas with the model 8, 8A (1939-1949) and the 8B (1940-1941). Production continued to 1940 with the 8C (1940-1942) and 8D (1941-1945) models. With Leopold Klotz the 8E version was produced and later the 8F in 1948, production continued with the 8F Silvaire till 1960. Around 4,500 8As and 5,500 8Es were built. The Luscombe 11A was in production from 1946-1949 and continues with the 11E to the present day.

Left: In 1947 squared tail units were introduced, however as these tails are interchangeable the aircraft still flying today's can have either tail fitted. In foreground Luscombe 8E with its square tail and a modified Luscombe 8EF with an older round tail fitted.
Lane Farm, Painscastle, Powys


With diary and map in hand I studied the airfield locations in detail. Nige's European Luscombe website gave some very useful links to all the airfields and landing strips, obviously to aid the pilots but also giving me all the information I needed to make my decision. I knew most of the main airfields and immediately discounted them as too large and having other non-vintage aircraft around which was likely to spoil the 'Luscombe affect'. Lane Farm caught my eye, situated in the foothills of the Brecon Beacons in South Wales, four miles north of the lovely town of Hay on Wye, famous for it's second hand book shops. As the name suggests Lane Farm is a farm landing strip and looking at it's own website Lane Farm - landing strip is set in very attractive countryside. My mind was made up, this was the place to go for. A brief email to the landing strip owners John & Evelyn Bally confirmed that I would be very welcome. On the day I met Evelyn who was indeed very friendly, but warned me not go to close to their herd of deer which were likely at this time of the year to take exception to my presence.

The first arrival and twenty minutes late was Luscombe 8A G-BUKT on greeting the pilot, he said that he had come straight from Sleap in Shropshire and had not been part of the Saturday tour. Together we waited for a further twenty minutes before the very welcome appearance of a eleven more Luscombe's appeared from the East. Nige was flying the lead aircraft and by this time a number of deer were roaming across the landing field. Swooping with some intent and after several extremely low passes he managed to encourage the deer to move to the side. Soon all the remaining Luscombe pilots still on the tour were on the ground enjoying Evelyn's tea and biscuits.
Left to right: First to arrive from Sleap Luscombe 8A (G-BUKT) followed by Nige Barratt in Luscombe 8E (G-BRUG) flying low over landing strip to 'encourage deer to stop grazing on runway (Note Lane farm is in the background). Luscombe 8A (G-EITE).
Left to right: Luscombes 8A (G-AGMI), 8A (G-AFZN) - DSLR x1.6 sensor + Canon EF 28-135mm (109mm) 1/125 f16 and 8E (G-AKUI).
Left to right: Luscombes 8EF (G-KENM), 8E (G-BRUG) on the ground while another is on the approach, 8E (G-BSSA) taxi's in to take its place in the extraordinary line up.
Left to right: Luscombe 8E (G-BTIJ with NC2467K on tail) with Luscombe 8A 'Silvaire' (G-BULO) arriving.
Left to right: Luscombe 8E (G-BUKU) with 8E (G-BTCH). The line-up before starting from the right hand end the Luscombe flying circus begins to to head off to Shobdon.
Left to right: G-BULO leads the Luscombe Tour off to Shobdon followed by Luscombe 8A (G-AFZN), 8E (G-AKUI) and 8E (G-BSSA).
As a photographer who was potentially gate crashing a party, I was still made to feel very welcome by everyone. Nige mobilised his troupe to get them to man handle their aircraft to form a complete line of Luscombe's for photographs to be taken to record the occasion.

They were behind schedule and so gulping down the rest of the coffee were told to 'start your engines' and prepare for the short 15 minute flight to Shobdon. The mass launch of a dozen vintage aircraft in as many minutes was a delight. Once over the horizon, Lane Farm's deer were again free to enjoy the tranquil South Wales countryside. What a great bunch of people and what a great experience.
Left to right: The final departures with shutter speeds of 1/60th are Luscombe's 8E (G-BRUG), 8A (G-EITE) and finally first to arrive and and last to leave 8A (G-BUKT).
Luscombe 8E G-BRUG arrives with Lane Farm in the background.
I was using a DSLR x1.6 sensor + Canon EF 28-135mm IS lens using shutter speeds from 1/125th down to 1/60th to ensure decent prop blur.