Hungarian Air Force - Magyar Légierő
Pápa Air Base
August 5, 2005
The story of how Pápa Air Base in western Hungary ended up with over 80 assorted MiGs and Sukhoi's goes back a long way.


With the formation of the Warsaw Pact or Treaty of Friendship as Nikita Khrushchev the Russian leader preferred to call it, is a good starting point. The Treaty, signed in 1955, was designed to be a military alliance between all the Eastern Bloc countries, but dominated by the Soviet Union, who designed and supplied most of the military hardware.
The Magyar Légierô (Hungarian Air Force) was already operating Soviet aircraft in the early 1950s, including Mikoyan Gurevich MiG-15s, Lisunov Li-2 (DC-3s) and Yak-12s and 18s. However the influence of Russia over Hungary was not popular and short-lived 1956 Hungarian uprising was the consequence. The uprising was swiftly crushed and Soviet dominance continued. By 1957 the MiG-15s were reinforced with the all weather radar equipped MiG-17and later the MiG-19 in 1960. The MiG-21s, of which Pápa now has almost 70 in open store, started to arrive in 1961. 83 MiG-21F-13s were delivered from October 1961 and deliveries continued until the end of 1962. From 1964 a further 24 MiG-21PFs were delivered. The MiG-21PF operating from Pápa and Taszar (now closed) soldiered on till 1989 when they were eventually retired.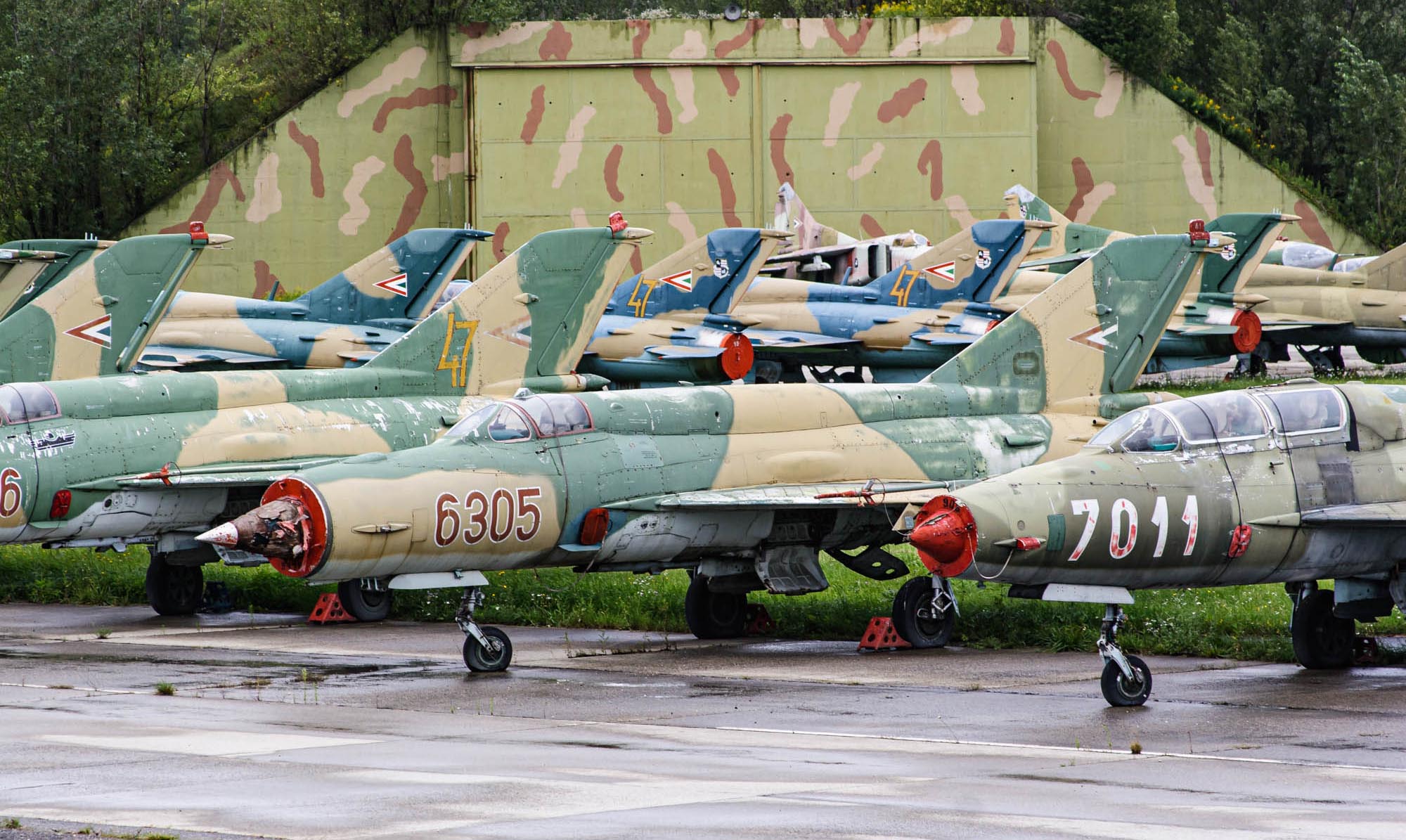 Pápa's MiGs in open storage in front of one of the many hardened shelters.
By 1971 the much improved MiG-21MF was in operation, initially with twelve examples, but by 1974 further batches of twelve and later 24 were added. The MiG-21MF flew with the Hungarian Air Force till their eventual retirement in 1996. Following their final flight at Kecskemét in 1994, the remaining operational jets were transferred to here at Pápa.
Left to right: MiG-21MFs 4403, 4404, 4408 and 9604.
The latest variant the MiG-21bis 'Fishbed' were delivered in a batch of 62 from 1975.
Left to right: MiG-21bis 1857, 41, 1867 and 6115 in it's special markings.
Finally in the forty year old MiG-21 'Fishbed' story, the two-seat MiG-21UM trainers that were delivered during the 1980s flew from Kecskemét and Pápa until their retirement August 24, 2000 with a final flying display at Pápa. A MiG-21bis (see 6115 above) was specially painted up with '1961-2000' over Hungarian flag markings down the fuselage for the occasion. Also a MiG-21UM two-seat (see 907 above) had '1961-2000' applied to the nose in black with six MiG-21 silhouettes applied. The August ceremony brought the end of MiG-21 operations at their final operational base at Pápa of the MH 47 Pápa. Regiment.
Left to right: MiG-21UM 'Mongol' 907, 096, 18 and 53.
The MH 47 consisted of two Squadrons, 'Griff' with the MiG-21bis and 'Sámán' with the MiG-21UM. Both Squadron badges can be seen on the images above with the large '47' tail markings.
Left to right: MiG-21UMs 906 with 'Sámán' Squadron badge, 5531 (with 'Griff' Squadron badge and three stars on the fuselage), 6021 (showing clearly the '47' markings representing the MH 47 Regiment when based at Pápa) and 6264 (formally of 31 HRO and looking immaculate).
Eight of the surviving Sukhoi Su-22 'Fitters' of the 15 delivered from 1981 can also be found in open store at Pápa. The original batch consisted of twelve Su-22M3s and three Su-22UM3 two-seat trainers. They arrived in 1997 for storage whilst they were partly through an upgrade program when funding was withdrawn.
Left to right: Su-22M3 'Fitters' 02, 02 and 04, 10 and 05.
Pápa also has the MiG-23MF 'Flogger' in open store with seven examples remaining here, including one of the two surviving two-seat MiG-23UBs (serial 15). MH 47 Regiment at Pápa originally received twelve MiG-23MFs with three two-seat UBs in 1979. However following a series of crashes a further MiG-23UB was delivered, this attrition replacement (serial 20), has just been transferred to Kecel museum from Pápa. The MiG-23 was finally retired from service in December 1996.
Above: MiG-23s 02 nose on, 02 again, 03 and 08.
Above: Mig-23s 10, 11, 02 and finally the only two-seat here, MiG-23UB 15.
With the collapse of the Warsaw Pact in the early 1990s Hungary has moved closer to the West. By March 1999 Hungary had become a full NATO member. In 1991 Hungary has 23 operation military bases. Today they only operate from Kecskemét, Szolnok and Pápa in a vastly reduced role. In the front line role they use their MiG-29 'Fulcrums' and are due to receive Saab Gripens next year. Hungary clearly has come a long way since it's Soviet dominated days and is now part of the European Union.

Pápa now has only two Mi-8 helicopters operating from the base and they are in the Search and Rescue (SAR) role. The air base however is scheduled to resume upgrading to NATO standard quite soon. But where does this leave it's current relics, which have been in store for some five years? Whilst one or two have and will continue to be relocated to local and perhaps more distant museums, the fete of the remaining cold wars jets looks grim. Attempts to sell the aircraft to other countries have failed over the years for various reasons. The current rumour from the base is that they will be scrapped perhaps over the next few months starting as early as this September, to allow for NATO upgrading of the shelter areas and hard standings where they currently reside.



Finally some of the interesting angles that were possible:
Clambering up the revetments I was able to look down on these aging relics from the 'cold war'.

Left to right: MiG-21bis 'Fishbed' (2098) at the back of a line up, taken from some steps, MiG-21bis (6253) at the front of the same line up, MiG-21UM (7011) the last delivered and taken with a long lens to capture the line of MiG-21UMs in the background. Again taken from on top of a revetment. Finally guards shelter from rain under the first MiG-23 'Flogger' delivered 01.


Photography Note: I was using a Canon 20D with a Sigma f1.8 20mm wide angle lens and also DSLR x1.6 sensor + Canon EF 28mm-135mm IS lens. The latter was used with it's full focal length. I really like the 135mm shots showing groups of aircraft with the telephoto foreshortening effect. The military appeared to be very tolerant if not mildly bemused at our interest in their aircraft. I was able to climb up ladders and the revetment around the shelter/dispersal areas to get some very interesting photographic angles.



A special thanks to the Hungarian authorities in opening up their treasure trove of obsolete aircraft here at Papa, perhaps for the last time.