Hungarian Air Force - Magyar Légierő
Szolnok Air Base
August 2005
The Hungarian Air Force has been rationalising it's air bases, now leaving it with Kecskemét for fast jets, Pápa for long term storage of obsolete MiGs and Sukhoi's and possible NATO upgrade and Szolnok. Tököl (An-26s) was closed in Spring of 2000 and Taszar was closed since the US forces moved out in June 2004. Also the military have vacated helicopter base at Szentkiralyszabadja, many of the useable Mil-8s and Mil-24s have been transported to Szolnok in recent months. Currently there are over 30 helicopters (some ex German Army) remaining at Szentkirályszabadja their fete is uncertain since the airfield was sold by the military and closed down September 2004.

Szolnok is now the home of MH 59s with 3 Transport Squadron (An-26s) and 4 Training Squadron (Yak-52s). It also has based MH 86 Helicopter Regiment with 1 Transport Helo Battalion (Mi-8/17s) and 2 Attack Helo Battalion (Mi-24P/V's).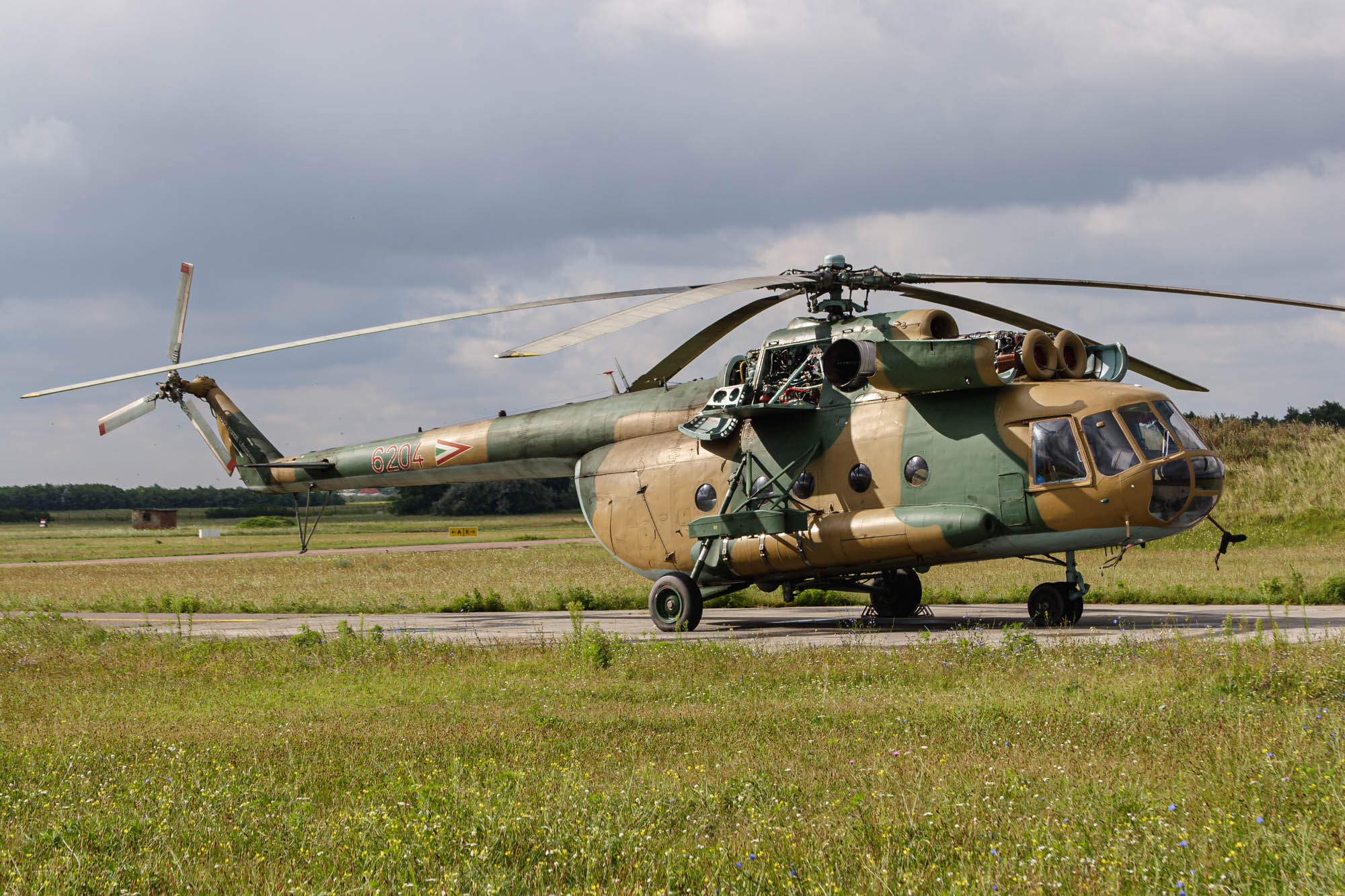 Mil Mi-8T (6204) of the Hungarian Air Force MH 86 1st Helicopter Transport Battalion based at Szolnok.
The An-26s were delivered from April 1974 to the air force, the earlier examples have been withdrawn, replaced with 'newer' machines in 2004, the latest '110' came from the Ukraine in March 2004. They currently appear to have just five aircraft in use. (405, 406, 407, 603 and 110). 603 is currently stored at Kecskemét, however. 204 in it's all white colour scheme, was withdrawn from use some time ago.
Left to right: Three An-26s (405, 406 and 407) flying at Kecskemét for the show, complete with flares. 204 in open storage at Szolnok.
Twelve Romanian built YAK-52s (serials 01 to 12) were purchased in 1974. Following an accident with '08' in November 2003, only eleven aircraft are left and only eight of these are serviceable with three in open storage awaiting overhaul. They are expected to remain in service till 2009. These basic trainers are used by trainee pilots, till they are transferred to Moose Jaw in Canada on the NATO Flying Training program (NFTC), for fast jet training on the Hawk 115.
Left to right: Three Yak-52s An-26s (01, 02 and 03) flying at Kecskemét for the show. Yak-52s (10, 05) plus and anonymous one in protective bag at Szolnok.
The Mil Mi-8 'Hip' were delivered from 1968 and are the oldest helicopters still in use with the Hungarian Air Force. The initial delivery was 14 Mi-8T transport helicopters and two Mi-8P passenger variants. Further deliveries continued in 1972 and 1973 of more Mi-8Ts. Ten Iraqi Air Force Mil-8s on overhaul in Hungary were embargoed during the first Gulf War and subsequently transferred to the Hungarian Air Force in 1992. Whilst all Hungarian Air Force helicopters are based at Szolnok a detachment of two Mi-8T's on SAR duties are detached to Pápa and rotated with Szolnok. The 26 remaining Mi-8s are expected to be withdrawn from service in 2006.
Left to right: Mil Mi-8T (10434 x2, 10440, 6204)
Seven Mil Mi-17 (serials 701 to 707) were delivered from 1987. Two examples were modified in 1990 for the electronic warfare role (Mi-17TPB) went into storage in 1998. They were later converted back to the transport role in 2004 and will eventually be upgraded.
Left to right: Mil Mi-8T (6207), Mil Mi-17 (703) and a former electronic warfare Mi-17TPB (706) now converted back to standard transport configuration.
44 Mil Mi-24D 'Hinds' were delivered from 1978, some later arriving by train from Germany in 1995 for spares, these are now mostly stored with around just eight operational today. Ten Mil Mi-24V-1 (serials 711 to 720) were delivered in the mid 1980s.
The Mil Mi-24P's are ex-German Army and were delivered in July 1995. Two were subsequently overhauled at Tököl (serials 335 and 336) before entering service in June 2004 and are now based at Szolnok. The remaining four helicopters are still at Szentkirályszabadja, their fete is uncertain.
Left to right: Mi-24P (335) and Mi-24V-1s (720 and 712).
Under routine maintenance at Szolnok, Mi-24V-1 (582) and Yak-52 (06).
Some of the aircraft recently transported from Szentkirályszabadja and are dispersed around the airfield. They look like they are being worked upon for returning to service. Left to right: Mil Mi-8S 'Hip' (10445) and Mil Mi-24V-1 'Hind' (717). Some aircraft have been withdrawn from service and have or will be canibalised for spares, such as this Mil Mi-8T which still retains it's 'SFOR' titles.
The is also a Technical School at Szolnok. Most of their numerous ground instructional aircraft are not fired up, however the MiG-21UM 'Mongol' (0465) is engine run during the technical training courses, I was told. Mil Mi-2 (7831) withdrawn from service in 2001 after 20 years of service, before transferring to the technical school. Aircraft assigned to the Technical school include; L-39, Mi-2, Mi-8, Mi-24, MiG-21s, MiG-23 and a Su-22.