Photographic Portfolio of 2014
Images and photographic notes of my successes for the year
Each year I like to produce a collection of my best and favourite images. Most have been published in books and magazines and possibly in conjunction with features and as such were chosen by the editor in question. I hope you like this snapshot of my best work from 2014.
338 Mira F-4E(AUP) Phantom II (01524)




One of my favourite images from an amazing photo shoot in Greece


(DSLR full-frame sensor + Canon EF 400mm f2.8 L IS Mk.II plus x1.4 extender at 1/1250 f.8 ISO 200 -2/3 stop exposure compensation).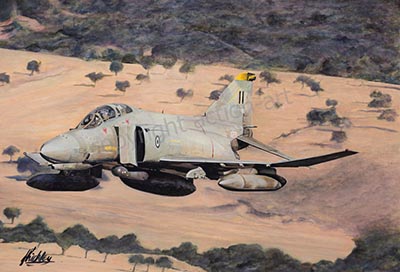 Hellenic Air Force F-4E(AUP) Phantom Painting, by Fran Richley

A new friend of mine approached me last year wanting to paint one of my images. After some debate we decided on an image of an Hellenic Air Force F-4E(AUP) Phantom flown at low-level by an exceptional pilot I know. On completion a limited edition of 120 prints (signed by the pilot, myself and Fran the painter) have been produced, two of which we have sent to the pilot, one for him personally and one for 338 Squadron at Andravida.

If you like aviation art then please visit Fran Richley's website at Action-Art.

Low level flying portfolio

- Click here for more images and reports.
This is my real passion. Finding a steep sided valley and waiting for some fast jet action is very relaxing. You might only get one or two jets in a day, but who cares? The scenery is often stunning and when you are alone it gives you a good chance to unwind from the pressures of life. The anticipation of a jet flying up your valley is exciting. The thrill of capturing a jet with the ground as a backdrop is more than you can imagine.
Air to air portfolio
- Click here for more images and reports.
Five images including back cover for European Air Forces Directory 2014/15 published by Ian Carroll / Mach III.
Swedish Air Force Saab JAS 39C Gripen (39233 '233' and 39230 '230').
Finnish Air Force (Ilmavoimat) Hawk T.51A (HW-355) Mach loop September 2013.
Hellenic Air Force T-2E Buckeye (160066) at Kalamata in November 2013.
Swedish Air Force North American (NA-265-60) Tp86 Sabreliner 40 (86-001) at RAF Northolt night photo shoot.
French Army Aviation EC665 Tigre (2031 'BHX') during exercise Marne 2013 in May 2013.
Beyond the Horizon – The History of AEW&C Aircraft by Ian Shaw with Sérgio Santana

My image was used in the section on the Boeing E-3 Sentry, it was presented with the caption: 'During the conflicts in the Balkans, Royal Air Force E-3Ds frequently teamed up with Panavia Tornado F.3 interceptors'.
On base and exercises portfolio
- I visited a number of bases in 2014, click here for more images and reports.
My written article for Pacific Wings magazine; 'Flying the Fox One' (2,100 words and ten images).
Air shows, Museums and Classic Aircraft portfolio
- I covered just a few air shows in 2014, click here for more images and reports.
FlyPast magazine March 2014, double page image of

Canberra PR.9 (XH134 registered G-OMHD)

for the article; 'Eye in the sky' on the PR.9 the best of the photo-recce Canberras.
FlyPast magazine April 2014, image for air show guide.
Five images for DH Moth Club's program for the 2014 rally at Woburn Abbey see also Woburn 2014