Photographic Portfolio of 2016
Images and photographic notes of my successes for the year
Each year I like to produce a collection of my best and favourite images. Most have been published in books and magazines and possibly in conjunction with features and as such were chosen by the editor in question. I hope you like this snapshot of my best work from 2016.
de Havilland Sea Vixen FAW.2 modified to a Drone D.3 (XP924 registered G-CVIX) at th Eastbourne airshow, more here.
Air to air portfolio
- Click here for more images and reports.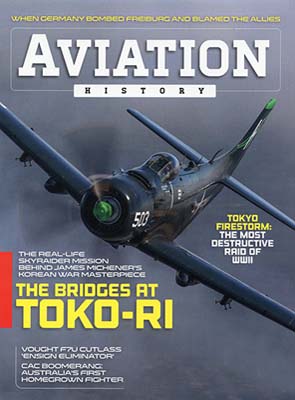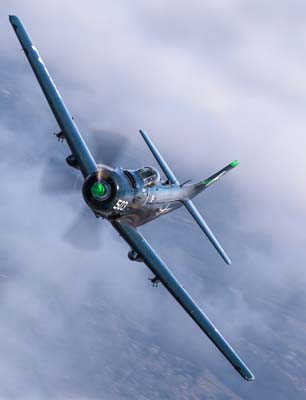 Front cover and extended caption for Aviation History article on the Douglas AD-4NA Skyraider in September 2016.


Douglas AD-4NA Skyraider (126922 coded H-503 and registered G-RADR) was flow by veteran ex Royal Navy pilot John Beattie during the Sanicole air show in Belgium in September 2013.
This AD-4N Skyraider (c/n 7722) was built in 1948 at the Douglas El Segundo plant, California and delivered to the US Navy. In 1960 it was transferred to the French Air Force (Armée de l'Air) as serial 42 to be utilised in the close air support role in Chad, Djibouti and Madagascar, Africa. In 1976 it was donated with seven others to the Gabon Air Force (Armée de l'Air Gabonaise) with serial TR-KMM and it was flown by French mercenaries serving with the Groupment Aerient Presidentiel.
By 1985 it was back in France and registered F-AZED and eventually was acquired by the Amicale Jean-Baptiste Salis collection at La Ferté Alais, France. Here it was painted as; 126922 with code 'JS-937' of VF-152 "Fighting Aces" as flown from the USS Intrepid and USS Hornet. In 1991 the Fighter Collection at Duxford bought her and she was registered G-RAID in 1993. In 2003 Kennet Aviation now at North Weald took ownership and re-registered her G-RADR. It was then painted as 126922 with code 'AK-204' of VA-176 'Thunderbolts' when flying from the USS Intrepid from 1955 until 1966 during the Vietnam war.
Its current authentic gloss sea blue scheme is from when 126922 then coded 'H-503' served during the Korean War from 1953 with VA-155 squadron aboard USS Princeton (CV-37).

Low level flying portfolio

- Click here for more images and reports.
This is my real passion. Finding a steep sided valley and waiting for some fast jet action is very relaxing. You might only get one or two jets in a day, but who cares? The scenery is often stunning and when you are alone it gives you a good chance to unwind from the pressures of life. The anticipation of a jet flying up your valley is exciting. The thrill of capturing a jet with the ground as a backdrop is more than you can imagine.
This year I have been concentrating on my book on low-level flying and the images I have for this project will be kept under wraps until the book is published in 2018.

....

On base and exercises portfolio
- I visited a number of bases in 2016, click here for more images and reports.
My joint article as an 'expert' with my 'apprentice' for PhotoPlus Canon magazine 'Apprentice - Shoot with a Pro' article on Ascent Flight Training at RAF Valley. My people shots sample 'expert' photographer shots.
Three of my images were used in the European Air Forces Directory 2016/17 published by Mach III and compiled by Ian Carroll.
Image for Haynes - Owners' Workshop Manual for the de Havilland Comet.
Images for Haynes - Owners' Workshop Manual for the Vickers VC-10.