Lingering MiGs and other relics
'What's happening to Slovakia's proud aviation heritage?'
Slovakia,
June 2004
Slovakia once part of Czechoslovakia and the Soviet Eastern Block has and still is, moving towards the west with unprecedented speed. The Slovak Republic is not a wealthy country and so does not spend a vast amount on its Air Force. Its main strike force now is the MiG-29 which are based Sliac Air Base in central Slovakia. These MiGs were supplied in 1994 and 1995 as a payment of the Russian debt. They are currently upgrading 18 MiG-29 with NATO compatible avionics.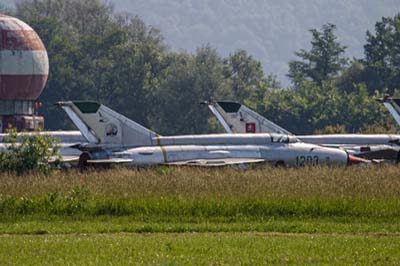 I was travelling around Slovakia to catch up with what was happening to its once large fleet of Soviet designed military aircraft and to see the fruits of Czechoslovakia's proud aircraft manufacturing history. A legacy from its Communist past.

Earlier, between 1963 and 1966 nearly 200 MiG-21Fs 'Fishbed' entered service. Further MiG-21R entered service in 1969 and MiG-21MFs in 1975. At the end of 2002, the Slovak Air Force retired its last operable MiG-21MFs at Sliac (see left/right), where they have been put out to grass. 18 months later there are still over 25 in open storage.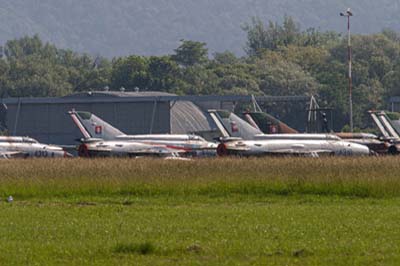 It was hoped that they could be sold on, like others in the past, but now museums and village ornaments seem the most likely destination. Slovakia does not appear to be scrapping its hardware. A visit to the former military base at Piestany, revealed a line up of 13 MiG-21s, comprising of F, U, R, UM, MF and PFM variants. These Soviet built relics are currently not accessible to the public, until the new museum here is opened in the autumn, I was told. Whilst the line up is dominated by the MiG-21, the far from immaculate line of airframes, included an SU-25, two Mil Mi-8s, two SU-22, five L-29s and a YAK 40.
Moving up the road to Trencin and the Letecke Opravovne Trencin (LOT) facilities, where the Slovak Air Force conducts its heavy maintenance, another line up of ageing hardware was found. My visit was at the weekend and the locked electronic gates looked like an obstacle that was not to be overcome. However, after some minutes and trying to make some failed phone calls to the airfield manager's number, the gates mysteriously opened. Not concerned that it was some 'venus fly trap', I boldly drove in. The Slovak people, I was already aware, are very friendly. I was greeted by a number of curious individuals, who spoke next to no English. However, on pointing to the stored airframe and my camera, I was welcomed with smiles and a wave of the hand, which indicated to me, that I was free to walk around the airfield. There was an exception and that was not to go in the military maintenance area.
Stored by the hangers and hidden from the outside of the airfield, were many of the 'missing' MiG-21s. Here in long grass were ten MiG 21s of several variants, accompanied by a Mil-8 a Mil-2 and a pair of LET L-29s. As an indication as to what is happening to the former military airframes, an immaculate L-29 carrying civil marks (OM-JET) was in a nearby hanger. The Aero Vodochody L-29 Delfin (Dolphin) first flew in Czechoslovakia in 1959 and was a successful primary jet trainer and an advanced combat and weapons trainer.
In the middle of the airfield was a row of four MiG 21s (U, F, PF, PFM variants). They have been there a number of years, many more were reported as being in the middle of the airfield in 2001, having come from Sliac Air Base.

Like at Piestany, it is intended that these aircraft will be part of a new museum. The line up also included a pair of Sukhoi SU-7s 'Fitter' and a LET L-410 Turbolet. The L-410 is an aircraft once manufactured by the Czech aviation factory LET Kunovice, as an airliner and general utility aircraft.
Saving the best to last, the Trencin airfield revealed a sorry looking Avia 14S by the aero club buildings. The Avia 14 is the Czechoslovakian variant of the Illyushin IL-14 'Crate' and the largest aircraft ever produced in Czechoslovakia. This particular example (ex Czechoslovak Air Force 5101) is the non-pressurised variant, as denoted by its square windows.

On thanking my hosts for the afternoon, I was shown a new looking Let L-200 Morava (OM-OFH) which had been pulled out of the flying club hanger. From 1957 to 1964 around 360 of these, Smrcek designed and majestic looking aircraft, were built in the Kunovice plant. It brought back memories of PFA rallies in the 70s, this example was in mint condition. Still not being able to communicate with anyone there, one old gentleman, could see my obvious interest in this fine '50s light general purpose aeroplane. He held out his hand for my camera, gesticulating that he wanted to take a picture of me, in front of it. This picture for the generosity it represents, will be a treasured memory.
Travel is easy in Slovakia, there aren't too many cars using the motorways, which are frantically being built to accommodate their growing economy. I was soon on my way looking for the newly built town of Nova Dubnica and more importantly its sports centre. Whilst interested in sport and I like to keep fit, my reason for coming here was a reported Lisunov Li-2, a Russian built DC-3. I asked some locals, for directions, as despite the aircraft's size, it was not immediately found. I was soon mixing with the local children who were playing all around it. After all it was in their playground. Incidentally the last flying Li-2 crashed in June 2004. Further discussions revealed that the MiG-15SB 'Fagot', which should have accompanied it, had moved recently to the small parachuting centre at Slavnica, just 15 miles up the road.

To complete the day and in fading light, I worked my way up to the civil airfield of Martin. From the last report I had, I was to expect four stored airframes. I suppose I should not have been too surprised to find much more on show. In a grass field, along side the drive to the airfield, was what could be described as an open museum. The collection consists of a MiG-19S, a MiG-21PFM, a MiG-21F, a MiG-16bis, an L-29 and an SU-7BKL, all in military marks. Looking quite healthy there was another L-410 in civil marks.

Early next morning in Banska Bystrica, to commemorate the 1944 Slovak National Uprising (SNP) against the German occupation was another former Czechoslovak Li-2, positioned tightly along side the SNP museum. Travelling on, I made my way to the small village of Vyhne, where what promised to be a MiG-15bis. I was not to be disappointed, it stood alongside the village hall in reasonable condition.