Militaire Luchvaart Museum
(Military Aviation Museum)
Kamp Zeist, Soesterberg, Netherlands
December 2011
The Museum was first opened on July 3, 1968, utilising a hangar on the Soesterberg Air Base and opening on Saturdays only. In 1980 the museum moved to two halls at nearby 'Kamp van Zeist' for greater accessibility for the public. Now that the Soesterberg air base is closed the museum is due to return there very soon. Some aircraft are currently in store at the former F-15 Eagle air base.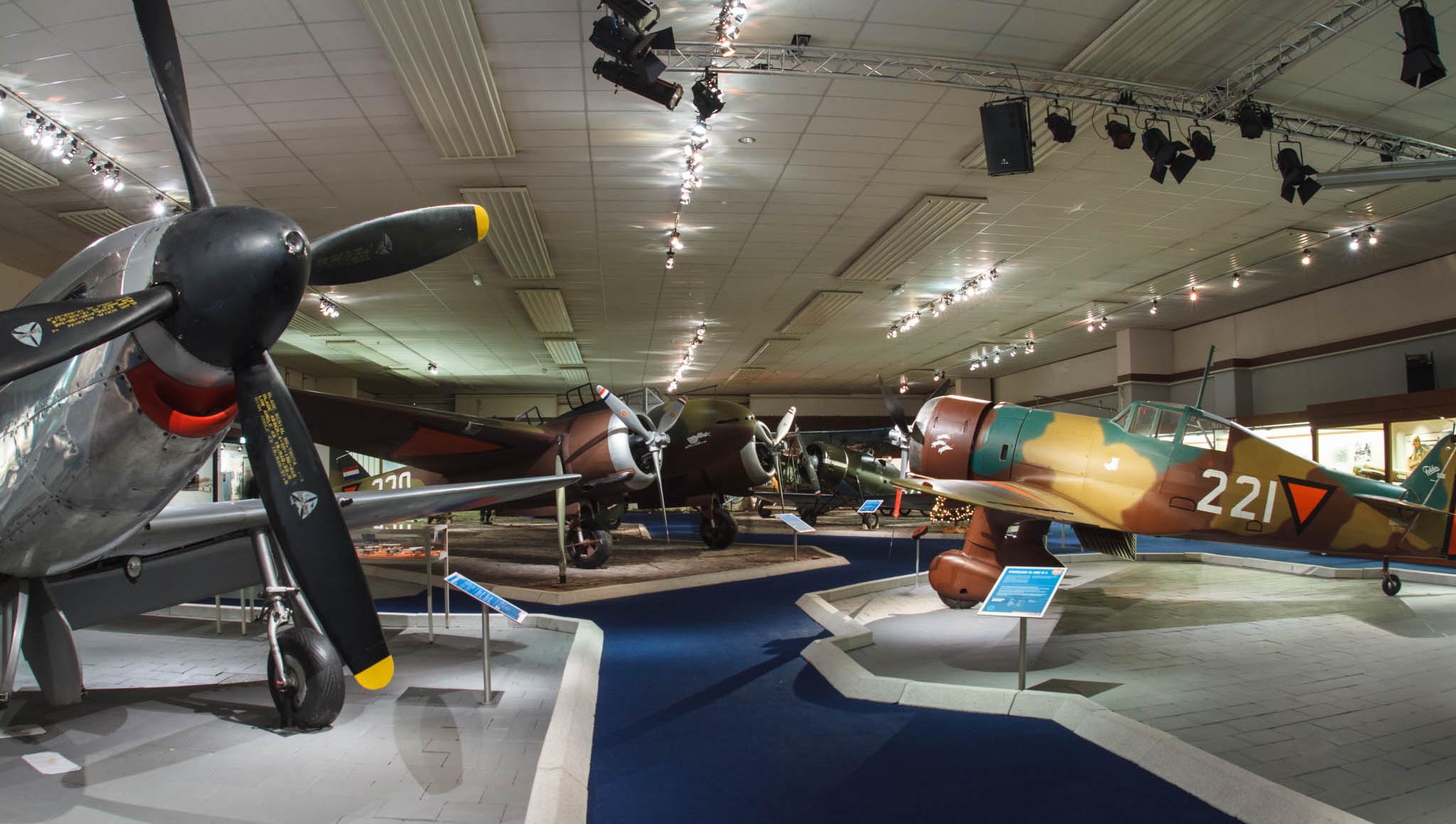 Left to right:


Fokker D.VII

('266' c/n 2523). This is one of the 142 D.VII´s shipped to the USA after World War One. It was registered on the US civil register and was used in Howard Hughes epic move 'Hell's Angels' and also 'Men With Wings'. Later it ended up in the Wings and Wheels collection before it was bought in 1981 by the Fokker company for the museum. The D.VII was completely rebuilt and put on display in the museum as "266" from the Dutch LVA. Credit Hans Vossers Aerofile.



Koolhoven F.K.51

(429) A replica of this Pre-war Dutch trainer.



de Havilland DH.89B Dominie

(BV-3 ex NF869 and PH-OTA c/n 6740) The Royal Netherlands Air Force (Koninklijke Luchtmacht - KLu) operated four aircraft as transports from 1944 to 1956, they werre assigned to 334 Squadron KLu. The Dominie was built by de Havilland as a military version of the DH 89 Dragon Rapide. The DH 89 was first flown in 1934 and by the time production ended about 10 years later, 728 had been built over 530 Dominies served with the Royal Air Force.
Left to right:


Fokker D.XXI

('221') Replica of the aircraft which entered service in Holland in 1938. It was built in 1988 to commemorate the 75th anniversary of the RNLAF and based on an original fuselage (J-49 at Vandel in Denmark) which loaned to the museum for two years.
Left to right:


Fokker G-1A

(330). A replica of the twin-engine heavy fighter operated by the Royal Netherlands Air Force. On May 10, 1940, when the Germans attacked of the 23 G-1s were in service around 20 aircraft were destroyed on the ground. One aircraft escaped to the UK but was scrapped in 1945.
Left to right:


de Havilland DH.82A Tiger Moth

(A-10 ex PG690 ex PH-UFC c/n 86587). In total over 8,700 Tiger Moths have been built, 4,200 of them for the RAF. The Dutch received 56 (serials A-1 to A-56) from 1946 they remained in service until the early 1960s.



Noorduyn (North American) (A)T-16ND Harvard IIB

(marked 099 'K' really B-103 ex KLu c/n 14A-1459 ex RAF FT419 and 43-13160), marked falsely as a UT-6 Kon Marine (Marine Luchtvaartdienst - MLD). One of 200 (serials B-1 to B-200) supplied to the Royal Netherlands Air Force by Noorduyn in Canada.
17,096 AT-6s were built before and during the World War Two. In USAAF service it was known as the AT-6 Texan, the 5,000 supplied to British and Commonwealth Air Forces were known as the Harvard.



Noorduyn (North American) (A)T-16ND Harvard IIB

(unmarked). This should be B-175 ex RCAF FH131, 42-12518 c/n 14-765 which is reported as being with the museum.
Left to right:


Vickers-Supermarine Spitfire LF.IX

(H-1 ex MJ143 CBAF.IX.907) of the Royal Netherlands Air Force. In June 1943, 322 (Dutch) Squadron was formed equipped with the Supermarine Spitfire. The Spitfire LF.IX was used by 322 sqn until 1954.
Left to right:


North American P-51K Mustang

('H-307' really ex 44-12125 c/n 111-30258) it was apparently acquired in 1946 for use as an instructional airframe in Holland, it has AT-16 wheels.



North American B-25J Mitchell

(M-464 ex 44-31258 c/n 108-37333) A is a twin-engine medium bomber it has been restored as Royal Netherlands East Indies Air Force, it is ex Indonesian Air Force. In 1942, 18 (NEI) Squadron, a joint Dutch-Australian unit was established was equipped with B-25 Mitchell and saw action in the New Guinea campaign and over the Dutch East Indies.

Left to right:


Dornier Do.24T-3

(X-24 ex Spanish Air Force HD.5-1 c/n 5342). The Dornier Do 24 is a 1930s German designed three-engine flying boat. 1944 twelve Dutch-built Do 24s were delivered to Spain on the understanding they would be used to aid downed airmen of both sides.



Hawker Sea Fury FB.50

(6-43). The MLD received 22 Hawker built Sea Fury Mk.50/60 for use on board the carrier Hr.Ms Karel Doorman they were delivered in 1950, they were eventually given serials 6-1 to 6-22. Fokker built 25 FB.51 under license at their Schiphol factory, these were delivered from 1951 and were allocated serials 6-23 to 6-47. The example on display moved in 1956 to the Aviation Section of the Technical University at Delft, later it was donated to the National Aviation Museum Aviodrome.



Grumman US-2N Tracker

(160 'V' c/n 721) formally based at Valkenburg and also operated from the Dutch Navy's aircraft carrier Hr.Ms. Karel Doorman.
Left to right:


Gloster Meteor F.4

(I-69 ex VZ409). The Royal Netherlands Air Force received 65 Meteor F.4s, acquired in 1948 for air defence these were the first jet aircraft the Air Force initially flown by 322 Squadron. They also received 43 Meteor T.7s and 160 Meteor F.8s from 1951. They were replaced by the Hawker Hunter.



Republic F-84G Thunderjet

(K-171 'DU-24' ex 51-10806). These aircraft were supplied by the United States under the Mutual Defense Aid Program from 1952 to 1956.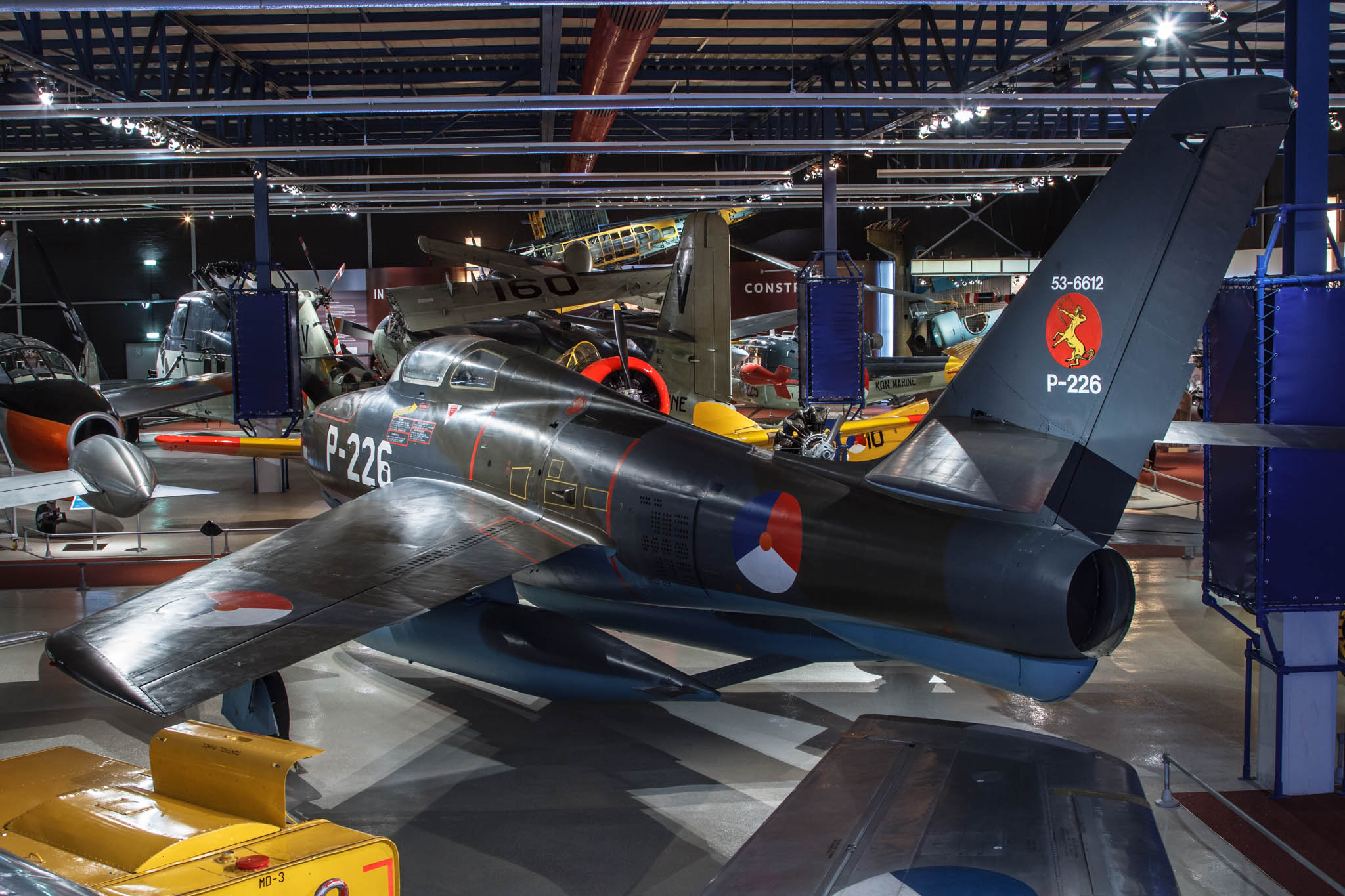 Republic F-84F Thunderstreak

(P-226). The F-84F was developed after the F-84G and was a vastly different aircraft. It had 40 degree swept back wings, instead of the straight wings of the F-84G. It was originally designated the YF-96A and was capable of speeds of 695 m.p.h.
80 F-84F Thunderstreaks were received by the Royal Netherlands Air Force between 1955 and 1958, delivered as a part of the 'Mutual Defense Aid Program' (MDAP). The F-84F was supplied to NATO countries, of the 2,711 built 1,301 went to Europe.
Left to right:


Fokker S14 Mach Trainer

(L-11). The S-14 was one of the world's first dedicated jet trainers, unfortunately due to tough compeition it failed to impress the Worlds air forces and only a few were produced operating with the Dutch Air Force for around ten years.



North American F-86K Sabre

(painted as 'Q-305' it is really ex AMI MM53-8305 c/n 207-33). 700, 701 and 702 Squadrons operated the F86 Sabre all-weather fighter from 1956 to 1964.



North American F-86K Sabre

(Q-283 ex 54-1283 c/n 213-53).



North American F-86F Sabre

(52-5385 'FU-385' c/n 191-876 ex Portuguese Air Force 5307).
Left to right:
Hawker Hunter F4 (N-144) The Hawker Hunter is a single-engine single-seat jet fighter aircraft produced by Hawker Siddeley Aircraft and also produced under license by Avions Fairey in Belgium and by Fokker in the Netherlands.



Hawker Sea Hawk FB.5

(painted as '131 D' really ex RAF XE489 c/n 8644). In 1956, 30 Mk.50 Sea Hawks were ordered by the Dutch, to be paid for with NATO funds.



Lockheed F-104G Starfighter

(D-8022). The first F-104A Starfighter flew in 1954. Production of this multi-role, all-weather strike fighter was started in many of the countries which adopted this unique aircraft, such as Fokker in Holland, Fiat in Italy, Messerschmitt in Germany and SABCA in Belgium. D-8022 was the first Starfighter built by Fokker for the RNLAF. 323 and 322 Squadrons received the F-104G in 1964, 311 Squadron in 1965 and 312 Squadron in 1966. From 1980 the F-104Gs were replaced by the General Dynamics F-16A .
Left to right:


Convair F-102A Delta Dagger

(painted as '56-1032 FC-032' ex Hellenic Air Force 61052).



North American F-100D Super Sabre

(painted as '54-1871 FW-871' really 54-2265 c/n 223-145) ex French Air Force.



Northrop NF-5B Freedom Fighter

(K-4011). 313, 314, 315 and 316 Squadrons flew the NF-5 Freedom Fighter from 1969 to 1992.



General Dynamics F-16A Fighting Falcon

(J-215). The YF-16 first flew in 1974, entering service a year later. To date over 4,400 F-16s have been delivered to at least 23 countries, with production in Europe in both Holland and Belgium.
Left to right:


Hiller OH-23C Raven

(O-36 c/n 937). It is a single-engine three-seat light utility helicopter produced in the US Hiller Helicopters Inc. it was first flown in 1948. The UH-12 in service with the US Army was designated H-23 Raven, redesignated OH-23 Raven (Observation Helicopter) in 1962.



Sud Aviation SE3130 Alouette II

(painted as 'H-4' really A-29 ex Belgian Air Force). The Alouette first flew in 1955, it was the first Gas turbine powered helicopter, by 1975 1500 had been built.



Sikorsky (S-58) UH-34J Seabat

(134 'V' 58-1725) of the Royal Netherlands Navy (Koninklijke Marine - MLD).
Left to right:


Agusta Bell AB204B

(225 'K' c/n 3023) of the Royal Netherlands Navy (Koninklijke Marine - MLD).



Sud Aviation SE3160 Alouette III

(A-465) painted in the Dutch display team 'Grasshoppers' scheme.



Bolkow Bo-105CB-4

(B-37 c/n S-237) it carries former KFOR markings.
Address:


Militaire Luchtvaart Museum
Kampweg 120
3769 DJ Soesterberg
The Netherlands.