National Military Museum
(Nationaal Militair Museum)
Soesterberg, Holland
May 2018
This very modern museum houses aircraft representing the Royal Netherlands Air Force (RNLAF). It also has a large collection of military vehicles transferred from Delft which I did not dwell on. Situated on the former RNLAF air base at Soesterberg which became the home of the USAFE's 32 TFS flying F-15A Eagles in 1968. The US military are mostly responsible for the air bases modern infra-structure. The air base was closed in 2008 surplus to requirements.



Construction on the new museum started in 2013, it was opened in December after most of its aircraft had moved from the Militaria Luchvaart Museum just down the road at Kamp Zeist, which closed its doors in 2013.

My visit here was totally unplanned and came a day after a similarly unplanned visit to one of my favourite aircraft museums the Royal Army and Military History Museum (Musée Royal de l'Armée et d'Histoire Militaire) in Brussels which represents the Belgian Air Force. I could not but notice the stark difference between these two important museums. Firstly, the Belgian museum (Musée Royal de l'Armée et d'Histoire Militaire) is housed in the historic Jubilee Palaces built in 1875 and 1910 near to the city centre. This is a magnificent museum but is sadly in very poor condition. Paint is peeling off the walls and the glass roof has leaked badly for many years. Meaningful Government funding desperately needed to renovate this building does not appear to be available. On the other side of the border is the National Military Museum with its very large purpose-built glass sided hall. It has lifts to its floors, lots of chrome and is air conditioned. Many aircraft hang from the ceiling. Outside there are huge concrete ramps capable of holding a hundred or more aircraft. There is a long runway still in superb condition. New exhibits of any size can be easily flown in and can taxi to the museum's door. Also, building 9 holds a large collection of museum aircraft in storage not generally available to the public.

Unfortunately, this museum for me lacks the character of the other museums I have mentioned, its purpose-built ultra-modern building has no sole, unlike the aircraft that are on display.



Use of tripods


I must talk of the use of tripods in museums in general and at these two museums. Many museums are quite happy for serious and careful aircraft photographers to use these devices to steady their cameras to aid long exposures due to the low light. The Italian Air Force Museum at Vigna di Valle, Rome (my favourite museum) has no restrictions. The Royal Air Force Museum at Hendon in London asks photographers to request a tripod authorisation badge from the desk on the day.
Before visiting the Brussels Museum, I normally email them in advance to request permission to use a tripod, some days later permission is granted and all's well. Arriving with my tripod under my arm on the day it was pointed out that without a permit it could not be used. Also, I could not apply for a permit on the day. The museum was almost empty, but I was followed around by guys with walkie-talkies, to make sure that my tripod remained under my arm for the whole day I was there.

At Soesterberg it was different again. At the ticket desk I was told no backpacks (I had a range lenses that could not be carried easily without my bag). There were lockers which I could use. After paying at the desk and walking through the barrier I was told that my tripod was not allowed without a permit. Not happy at all, but still very polite I complained, asking how to do I get a permit? He made a call to his manager and amazingly said it was alright for me to use the tripod if I was careful (today was a public holiday and so the museum was busy). I was not to use flash on the military uniforms, not a problem I said and I was in, although I had to visit my locker for my lens changes.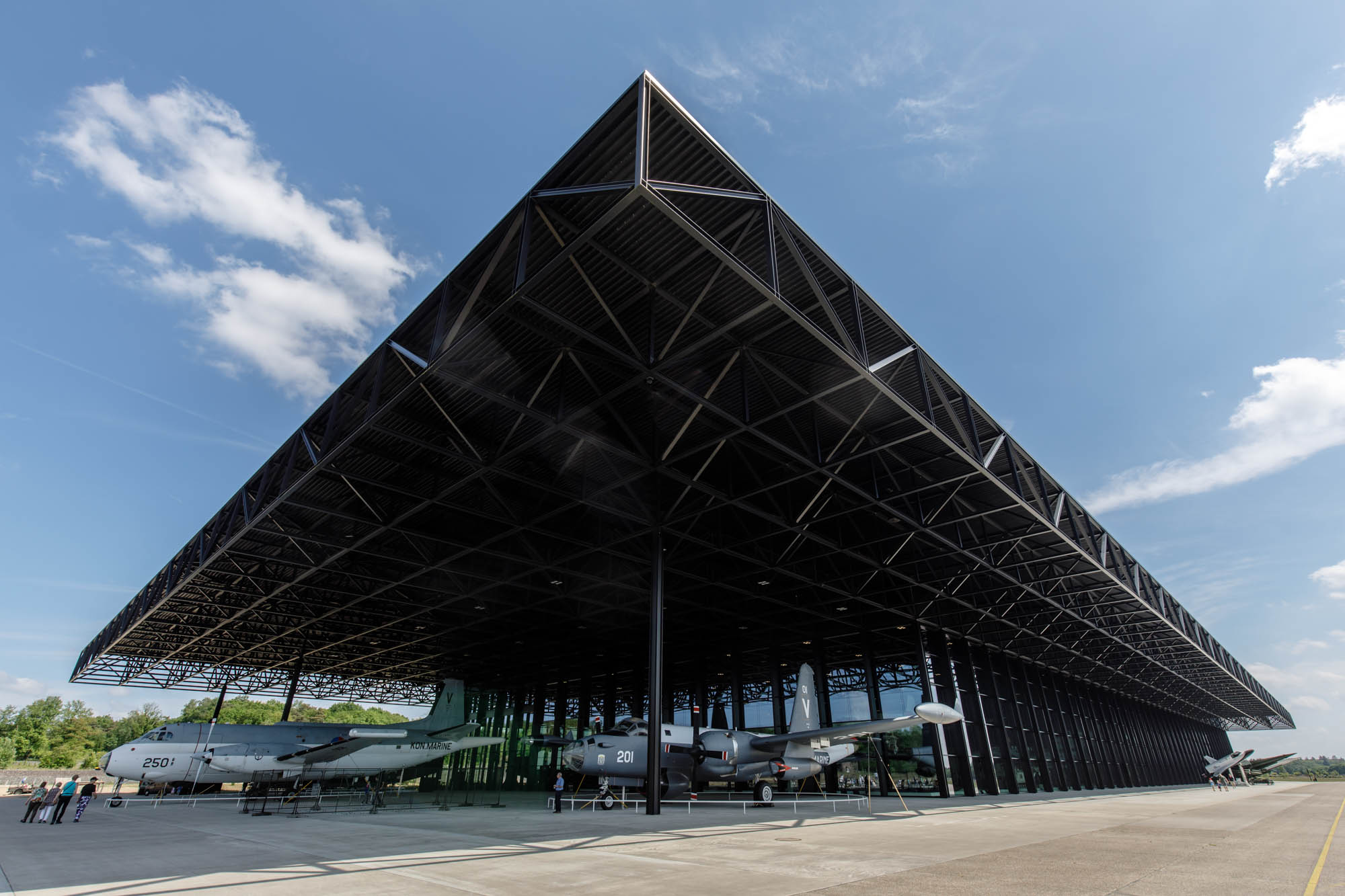 Left to right:


Convair F-102A Delta Dagger

(painted as '56-1032 FC-032' ex Hellenic Air Force 61052).



North American F-86F Sabre

(52-5385 'FU-385' c/n 191-876 ex Portuguese Air Force 5307).



Mikoyan-Gurevich MiG-21PFM 'Fishbed'

('47 red') ex Soviet Air Force.
Left to right:


Lockheed SP-2H Neptune

(201).



Bréguet 1150 Atlantic ELINT

(V-250).
Left to right:


de Havilland DH.82A Tiger Moth

(A-10 ex PG690 ex PH-UFC c/n 86587). In total over 8,700 Tiger Moths have been built, 4,200 of them for the RAF. The Dutch received 56 (serials A-1 to A-56) from 1946 they remained in service until the early 1960s.



Noorduyn (North American) (A)T-16ND Harvard IIB

(marked 099 'K' really B-103 ex KLu c/n 14A-1459 ex RAF FT419 and 43-13160), marked falsely as a UT-6 Kon Marine (Marine Luchtvaartdienst - MLD). One of 200 (serials B-1 to B-200) supplied to the Royal Netherlands Air Force by Noorduyn in Canada.
17,096 AT-6s were built before and during the World War Two. In USAAF service it was known as the AT-6 Texan, the 5,000 supplied to British and Commonwealth Air Forces were known as the Harvard.



Vickers-Supermarine Spitfire LF.IX

(H-1 ex MJ143 CBAF.IX.907) of the Royal Netherlands Air Force. In June 1943, 322 (Dutch) Squadron was formed equipped with the Supermarine Spitfire. The Spitfire LF.IX was used by 322 sqn until 1954.
Left to right:


Hawker Sea Fury FB.50

(6-43). The MLD received 22 Hawker built Sea Fury Mk.50/60 for use on board the carrier Hr.Ms Karel Doorman they were delivered in 1950, they were eventually given serials 6-1 to 6-22. Fokker built 25 FB.51 under license at their Schiphol factory, these were delivered from 1951 and were allocated serials 6-23 to 6-47. The example on display moved in 1956 to the Aviation Section of the Technical University at Delft, later it was donated to the National Aviation Museum Aviodrome.



Hawker Sea Hawk FB.5

(painted as '131 D' really ex RAF XE489 c/n 8644). In 1956, 30 Mk.50 Sea Hawks were ordered by the Dutch, to be paid for with NATO funds.



North American P-51K Mustang

('H-307' really ex 44-12125 c/n 111-30258) it was apparently acquired in 1946 for use as an instructional airframe in Holland, it has AT-16 wheels.
McDonnell Douglas F-15A Eagle (132 'CR 32 FG')
Left to right:


McDonnell Douglas F-15A Eagle

(132 'CR 32 FG')



General Dynamics F-16A Fighting Falcon

(J-215). The YF-16 first flew in 1974, entering service a year later. To date over 4,400 F-16s have been delivered to at least 23 countries, with production in Europe in both Holland and Belgium.



Northrop NF-5B Freedom Fighter

(K-4011). 313, 314, 315 and 316 Squadrons flew the NF-5 Freedom Fighter from 1969 to 1992.
Left to right:


Republic F-84F Thunderstreak

(P-226). The F-84F was developed after the F-84G and was a vastly different aircraft. It had 40 degree swept back wings, instead of the straight wings of the F-84G. It was originally designated the YF-96A and was capable of speeds of 695 m.p.h. 80 F-84F Thunderstreaks were received by the Royal Netherlands Air Force between 1955 and 1958, delivered as a part of the 'Mutual Defense Aid Program' (MDAP). The F-84F was supplied to NATO countries, of the 2,711 built 1,301 went to Europe.
Left to right:


Hawker Hunter F4

(N-144) The Hawker Hunter is a single-engine single-seat jet fighter aircraft produced by Hawker Siddeley Aircraft and also produced under license by Avions Fairey in Belgium and by Fokker in the Netherlands.



Gloster Meteor F.4

(I-69 ex VZ409). The Royal Netherlands Air Force received 65 Meteor F.4s, acquired in 1948 for air defence these were the first jet aircraft the Air Force initially flown by 322 Squadron. They also received 43 Meteor T.7s and 160 Meteor F.8s from 1951. They were replaced by the Hawker Hunter.



Lockheed F-104G Starfighter

(D-8022). The first F-104A Starfighter flew in 1954. Production of this multi-role, all-weather strike fighter was started in many of the countries which adopted this unique aircraft, such as Fokker in Holland, Fiat in Italy, Messerschmitt in Germany and SABCA in Belgium. D-8022 was the first Starfighter built by Fokker for the RNLAF. 323 and 322 Squadrons received the F-104G in 1964, 311 Squadron in 1965 and 312 Squadron in 1966. From 1980 the F-104Gs were replaced by the General Dynamics F-16A .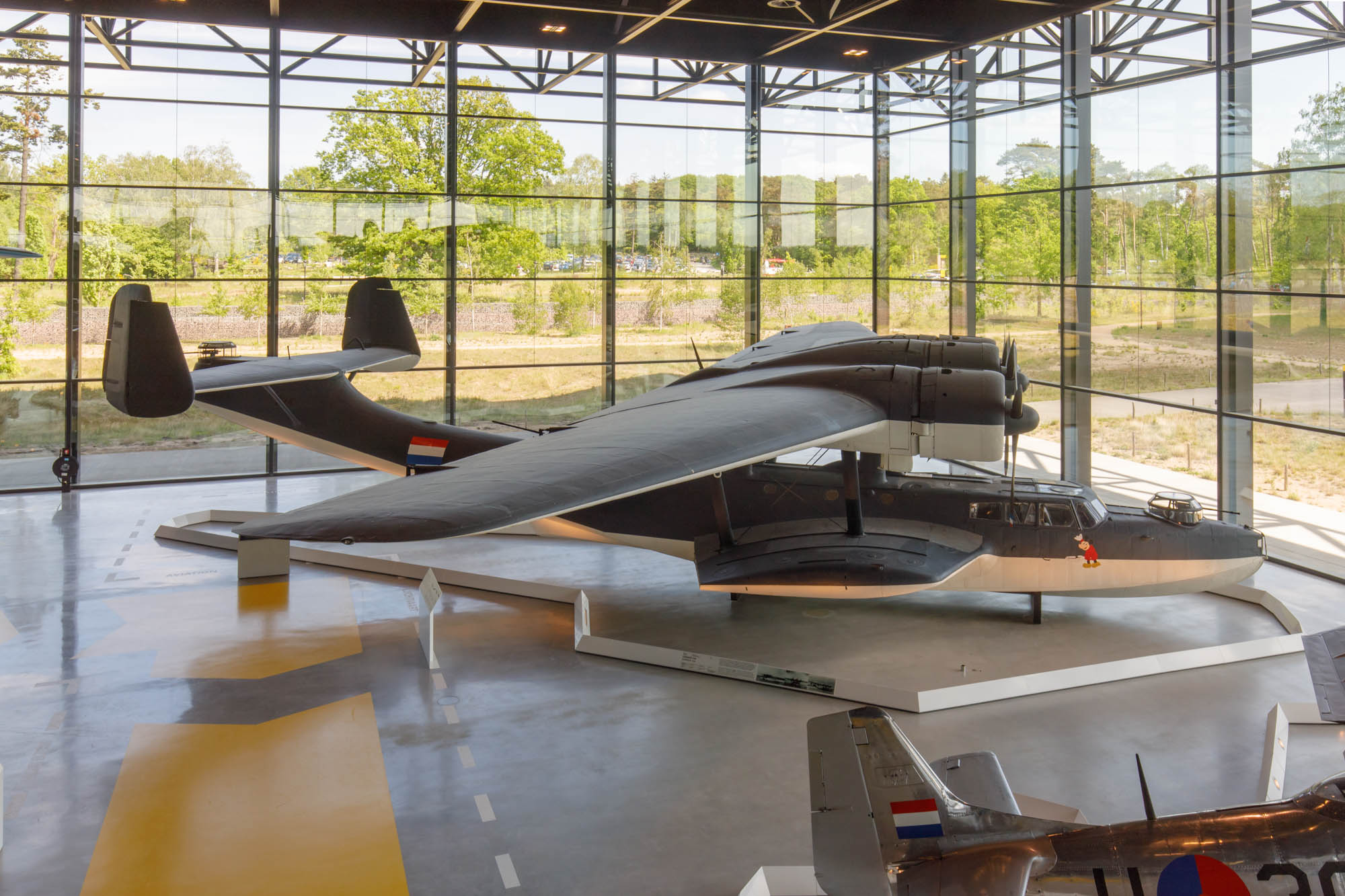 Left to right:


Dornier Do.24T-3

(X-24 ex Spanish Air Force HD.5-1 c/n 5342). The Dornier Do 24 is a 1930s German designed three-engine flying boat. 1944 twelve Dutch-built Do 24s were delivered to Spain on the understanding they would be used to aid downed airmen of both sides.



Lockheed 12-26 Electra Junior

(L2-38 c/n 1306).



Douglas C-47A

(43-15652, K-688 RDAF and painted as 'T-443').
Left to right:


North American B-25J Mitchell

(M-464 ex 44-31258 c/n 108-37333) A is a twin-engine medium bomber it has been restored as Royal Netherlands East Indies Air Force, it is ex Indonesian Air Force. In 1942, 18 (NEI) Squadron, a joint Dutch-Australian unit was established was equipped with B-25 Mitchell and saw action in the New Guinea campaign and over the Dutch East Indies.
Left to right:


Hiller OH-23C Raven

(O-36 c/n 937). It is a single-engine three-seat light utility helicopter produced in the US Hiller Helicopters Inc. it was first flown in 1948. The UH-12 in service with the US Army was designated H-23 Raven, redesignated OH-23 Raven (Observation Helicopter) in 1962.



Sikorsky (S-58) UH-34J Seabat

(134 'V' 58-1725) of the Royal Netherlands Navy (Koninklijke Marine - MLD).



Agusta Bell AB204B

(225 'K' c/n 3023) of the Royal Netherlands Navy (Koninklijke Marine - MLD).



Sud-Est Allouette III

(H-20).