In Action
51 Squadron - RAF Waddington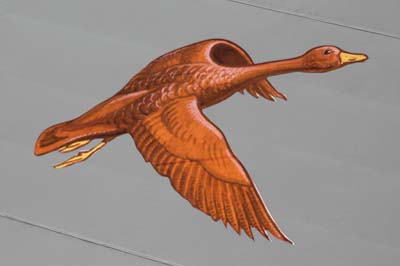 As a replacement for the aging Comet R.2, three Nimrod R.1s were ordered in 1969 for electronic reconnaissance duties. Essentially the same as the Nimrod MR1 but without the Magnetic Anomaly Detector tail boom it also had blanked out windows and basically empty aircraft were delivered to RAF Wyton for fitting out. XW664 was first to be delivered 51 Squadron on July 8, 1971. XW665 and XW666 followed in 1974. Throughout the Cold War (1945 to 1991) both East and West listened to opposing electronic communications to gather intelligence on each other's military activities. The Nimrod R.1 was very well equipped to carry out its secretive Electronic Intelligence (ELINT) gathering role. Before the warming of relations between the Allies and the Soviet Union the Nimrod R.1 also gathered intelligence during the Falklands Campaign in 1982 from what is still classified forward operation base, but believed to be in Chile. In 1990 the aircraft played a vital role during the first Gulf War in 1990 after Iraq had invaded Kuwait when operating from RAF Akrotiri in Cyprus. During the Yugoslav Wars and the Kosovo War the Nimrod R.1 was deployed to Italy. During this time 51 Squadron were awarded the Battle Honour 'Kosovo 1999' for their outstanding service in helping end the mass ethnic cleansing by the Serbs and making way for the formation of independent states.

In April 1995 51 Squadron moved to their present home of RAF Waddington after 32 years in residence at RAF Wyton. Weeks later Nimrod R.1 XW666 following a major service at RAF Kinloss during an air-test caught fire and the pilot was forced to ditch in the Moray Firth where the seven man crew were all rescued. With only two remaining R1s Nimrod MR2 XV249 was converted under Project Anneka to the R1 standard. It was stripped of its Anti-Submarine Warfare (ASW) equipment at BAE Woodford and ferried to RAF Waddington to the Electronic Warfare and Avionics Detachment (EWAD) in December 1996 for the installation of the mission systems. In 1997 XV249 flew for the first time as a Nimrod R.1.
In 2000 a £100 million contract was awarded to Raytheon Strategic Systems for a new electronic warfare collection system known as 'Extract' to be fitted to the three Nimrod R.1s. By April 2003 the first upgraded aircraft was back in service.

In 2008 it was announced that the out-of-service date (OSD) for the Nimrod R.1 was to be March 31, 2011, this was later extended by three months as it was required for in support of Operation Ellamy (Libya). Only two R1s remained in service during the Nimrod's final year (XW664 and XV249). A third Nimrod R.1 (XW665) had already been withdrawn and put into storage at RAF Waddington late in 2009. XV249 flew its last operational sortie from RAF Waddington on June 9 and flew for the last time on June 30, 2011 for the OSD Parade.

The Nimrod R.1 was used for reconnaissance and electronic intelligence gathering. Three aircraft are currently in use with 51 Squadron based at RAF Waddington. Originally the Nimrod, which was based on the old Comet airliner, was designed for maritime patrol and anti-submarine duties. Three Nimrod MR.1s were later modified to R.1 standard, but after losing one in 1995 an addition Nimrod MR.2 was modified to an R.1. Initially in 1974 the Nimrod R.1s were based at RAF Wyton, they were later moved to Waddington when Wyton was closed. In flight refuelling probes were added in 1982.

The replacement for the Nimrod R.1 is sometime away from entering service. The Boeing RC-135W Rivet Joint electronic intelligence-gathering aircraft has been selected. The first 'Air Seeker' as it has been named should be in service with 51 Squadron in 2014 and the third by 2018. Three former USAF Boeing KC-135R Stratotankers (ZZ664 ex 64-14833, ZZ665 ex 64-14838 and ZZ666 ex 64-14830) are currently being converted by prime contractor L-3 Communications' at their Greenville site in Texas to the Rivit Joint configuration. 51 Squadron crews have already begun training on Rivet Joint with the US Air Force arriving at 55th Wing at Offutt Air Force Base, Nebraska, on January 11. RAF crews should be 'co-manning' operations on the aircraft up until their own RC-135W Air Seeker's are in service.
Boeing RC-135W Rivet Joint (ZZ666) departing RAF Waddington in September 2019.
Left to right: RC-135W Rivet Joint (ZZ666) callsign 'RFR7266' departing Waddington in September 2019.
Nimrod R.1 (XV249) returns after its final flypast on June 28, 2011
Left to right: Nimrod R.1 (XV249).
Left to right: Nimrod R.1 (XV249).
Left to right: Nimrod R.1 (XW664) in July 2005.
'Project Helix' scheduled for implementation in 2007, defined a new airborne mission system which is associated with ground stations and training facilities.
Nimrod R.1 (XW664) of 51 Squadron when refuelling with 101 Squadron VC-10 in 2004.
Nimrod R.1 (XW664) over the North Sea in 2004.