Keeping Vulcan 655 Alive
Wellesbourne Mountford
July 2017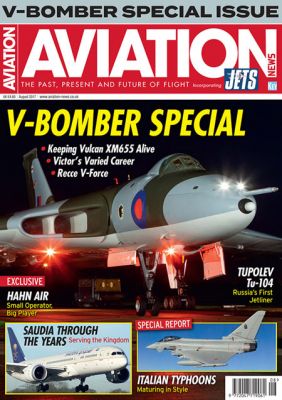 Philip Stevens for Aviation News
has visited 655 Maintenance and Preservation Society at Wellesbourne Mountford to find out the work they do to keep Vulcan XM55 alive.
When Squadron Leader Joe L'Estrange flew Avro Vulcan B Mk.2 XM655 on its final flight with the RAF into Wellesbourne Mountford airfield on February 11, 1984, he surely would not have believed the V-Bomber's new owner Roy Jacobsen would be able to keep it flying. For Jacobsen it was a dream to continue to fly the 30 year old aircraft. He had registered it as G-VULC and even as N655AV on the American civil register, with every intention of flying her as the 'Vulcan Memorial Flight' at air shows across Europe and North America. After all 655 was the third from last Vulcan to be built and was in fine condition with only 5,744 hours on the clock.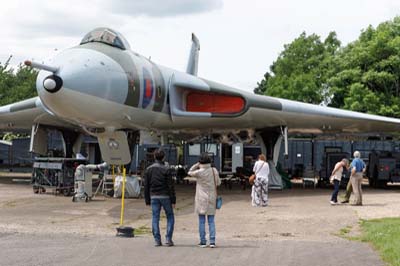 With storage and porta-cabins in close proximity to the Vulcan. Ground crew and visitors can get very close to where the maintenance work is being done each weekend. 655MaPS members are always happy to talk to visitors and conduct cockpit tours.

XM655 was surprisingly handed over with the H2S Radar, the Terrain Following Radar (TFR) and Identification Friend or Foe (IFF) systems all still in-place, along with a suite of Electronic Counter Measures (ECM) equipment. The only item removed was the in-flight refuelling probe, which was to be replaced some time later.
The Civil Aviation Authority was not so nearly keen to see her fly again, making it clear that stringent conditions would have to be met first. Further funds were sought but in the next two years very little progress was made in getting 655 back in the air. After Jacobsen had bought another Vulcan (XL426) which was flown to Southend his interest in 655 appeared to evaporate. When parking fees at Wellesbourne remained unpaid the airfield owners took Jacobsen to court and they ended up owning the Vulcan.

655 rested for another ten years lacking any care and attention, all hopes of her ever flying again had gone. Worst still vandals had broken into the cockpit damaging the instruments, they even used a hacksaw to remove the co-pilot's control column. Delta Engineering Association eventually gained control with the ambitious intention of restoring her to ground running condition. With the hydraulics systems and instruments restored Delta were able to perform some engine runs. Unfortunately Delta moved from Wellesbourne to Kemble in 1996 and the Association was wound up, once again 655 sat abandoned.



655 Maintenance and Preservation Society takes over


In 1998 with the generosity and support of the Vulcan's owners and some very determined and resilient volunteers the 655 Maintenance and Preservation Society (655MaPS) was formed. With a properly constituted society, members and other donors were able to acquire an impressive range of workshops, storage units and ground equipment to support and service the Vulcan.

655MaPS has gone from strength to strength, it now has approaching 550 members paying annual subscriptions to help fund the Vulcan's ongoing maintenance, their website is www,xm655.com. For members there is an impressive quarterly newsletter and run member's days with guest speakers talking about their time involved with the Vulcan when it was in service. Members are welcome to offer their services on any Saturday to help with ongoing maintenance or they can just chat to the technicians about the latest project.

Fund raising by 655MaPS is not limited to member subscriptions, every Father's Day in June they have a Wings and Wheels event attended by 1,500 to 6,000 (in 2014) enthusiasts who can see the Vulcan taxi to the runway for a demonstration of an aborted take-off. However for various reasons beyond the control of 655MaPS a Wings and Wheels event has not been planned for 2017.
A Vulcan night photoshoot which is now held each October and run by Time Line Events (www,timelineevents.org) will raise a considerable sum for 655MaPS.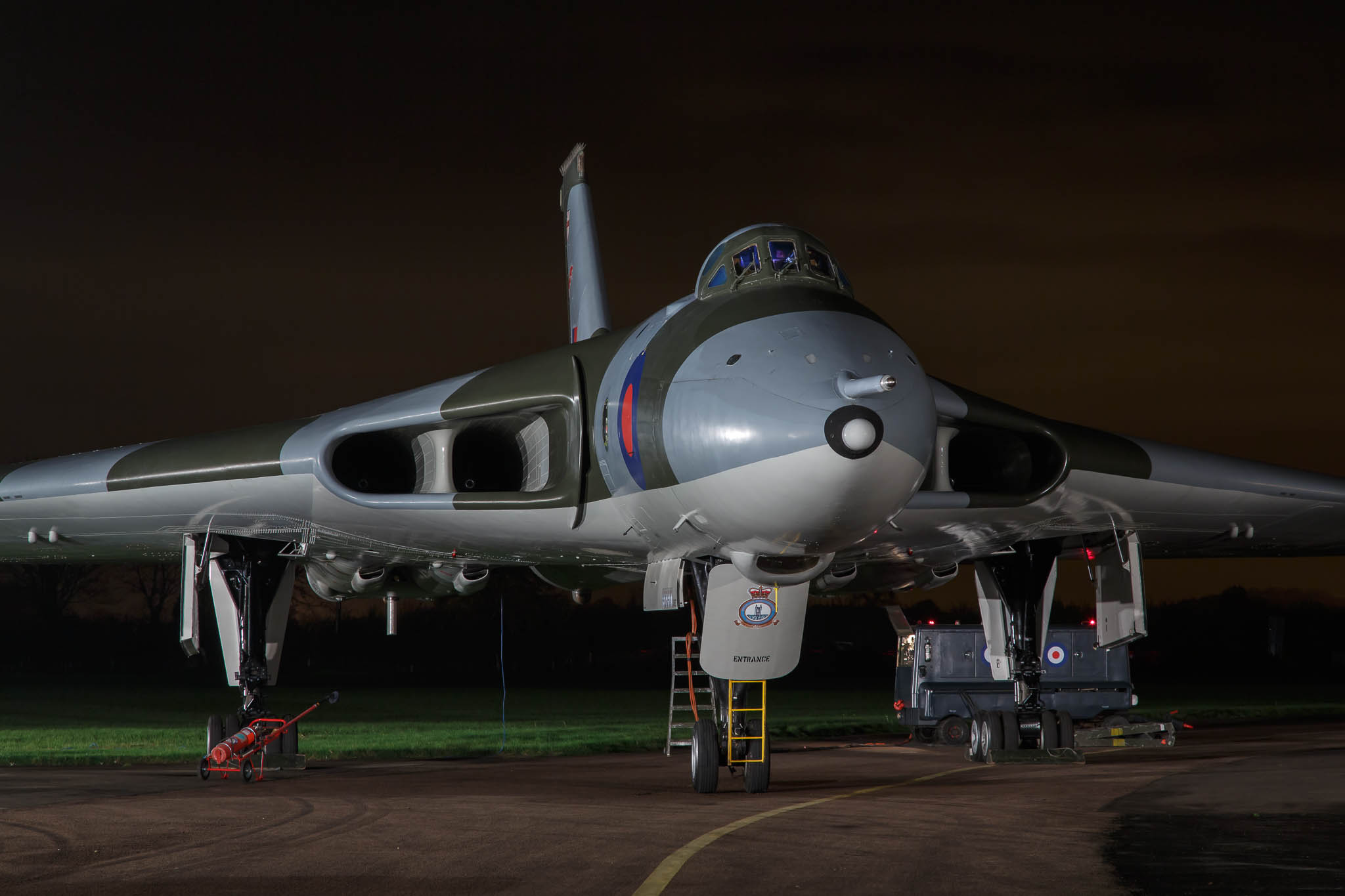 TLE Night Photography Shoot
Left to right: Wg Cdr Mike Pollitt sitting alongside the AEOs seat below the cockpit. "When I got back in the cockpit it was like sitting in your favourite armchair". He recalled the Cold War planned missions for low-level strikes at 80 feet (24.4m) to the Soviet Union he was trained on the Vulcan for; "We were told to head for Turkey after the strike but my plan was to head for Cyprus. I thought we had a chance of getting back. It was virtually a suicide mission in the 70s and eighties as they had improved their air defences".

655MaPS are preparing XM655 for a fresh paint scheme by buffing away using special non-damaging tools to remove any flaky paint. The 50+ year old XM655 has been repainted several times to keep the inevitable corrosion under control. The aircraft will maintain its 50 Squadron markings of two leaping greyhounds which was derived from their World War One call sign of Dingos and an insignia of the two greyhounds chasing a dingo.

Len Hewitt experienced in Vulcan avionics frequently has to inspect and test the systems, here inside the bomb bay. "I came to Wellesbourne in 2009 just to take a look, as soon as I climbed the ladder to the cockpit I remembered the smell from 30 years ago" he said.

The rear facing control panel where sat the; Navigation plotter and Nav' radar operator and AEO. "It was one of the worst environments for aircrew, they were flying at low-level facing backwards in darkness with blinds over the small windows".
The new 655MaPS chairman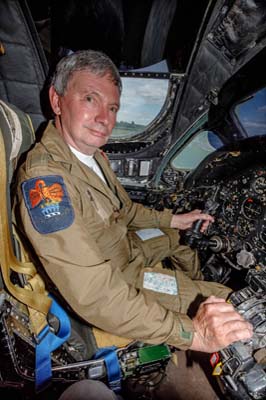 Wg Cdr Mike Pollitt very much at home in the Vulcan's cockpit with his hands on the stick and engine throttles.

655MaPS committee members formally elected Wing Commander Mike Pollitt as chairman in May 2017. For Mike Pollitt he says it's more of a responsibility than an honour after his 20 years of active involvement with 655MaPS. "I am conscious this is 90% an engineering project, but our chief engineer Eric Ranshaw is far too busy to be chairman. I have taken over until a more suitable candidate appears", says a modest Mike Pollitt adding, "I am happy to continue for as long as it takes".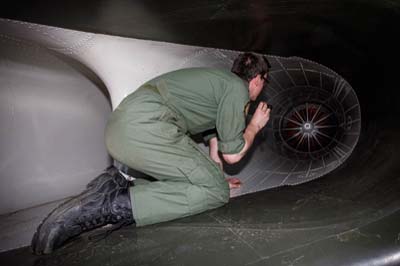 The Rolls-Royce Olympus 301 engine fan blades and intakes are visually inspected for any damage, debris, cracks or signs of corrosion. The earlier Olympus 201 engines were more reliable than the more powerful 301 engines which tended to throw a turbine so titanium plates were later put between the each engine to stop one engine taking out the other. 655MaPS have acquired two spare serviceable 301 engines which were located at BAE Systems at Woodford.

Serving for 34 years in the RAF with 4,000 hours as a pilot in his logbook, Mike Pollitt has flown the Hunter, Jet Provost and Vulcan, including a low-level night flying sortie with XM655. Transferring from the Hunter TWU at RAF Brawdy he spent six months with the Vulcan OCU at RAF Scampton in 1977. Moving to RAF Waddington he says he flew the Vulcan by "seat of his pants" till his squadron disbanded in 1981, just before the Falklands campaign. The V-Bomber's strike mission included flying training at low-level at 250 feet (76m) over land and down to 100 feet (30.5m) over the sea. Mike Pollitt was immediately impressed with the Vulcan's performance; "I came to it from the Hunter, the Vulcan has the same performance, she is very responsive, blessed with the [Rolls-Royce Olympus] 301 engines. She is immensely powerful, perhaps only be beaten by the Lightning to 40,000 feet [12,192m]".

His association with 655MaPS started over 20 years ago when he was invited by David Thomas, the last Vulcan display pilot, to help out in the cockpit during ground runs and taxiing as they did not have anyone to sit in the right hand seat able to operate the controls and switches. "When I got back in the cockpit it was like sitting in your favourite armchair" says Mike Pollitt. Starting the engines is all done with flight reference cards, that was the easy bit but admitted remembering where the switches were was the hardest part of his return to the cockpit.

Although the Vulcan was designed to operate from 9,000 foot (2,743m) runways, they only have 3,000 feet (914m) to work with at Wellesbourne. "The biggest skill required is not for the abortive take-off display but the manoeuvring the Vulcan on the narrow 150 feet [46m] wide runways and taxiways when 200 feet [61m] is what we used to have" says 655 display pilot Mike Pollitt. "If I was to just use the nose wheel steering I would go off the side of the runway so I have to use differential breaking in to the turn before using the nose wheel". This is practiced three times a year.

"I used to pitch up as just a few times a year for events and cockpit tours, now it's more like every three Saturdays in four", says Mike Pollitt. "Today is an engineering day but still people will turn up hoping to be shown around, for £10 they can get a cockpit tour from me which is wonderful".



The 655MaPS team and the challenges they face


Mike Pollitt runs a team of 25 who give up most of their Saturdays to maintain the aircraft, some with key skills. Eric Ranshaw worked on Olympus engine with Rolls Royce, together with Derek Powell they played a big part in the aircraft's original refurbishment after it had been left to deteriorate for ten years up to 1994. Derek Powell has agreed to come back with Fred Bartlett to do another repaint later this year.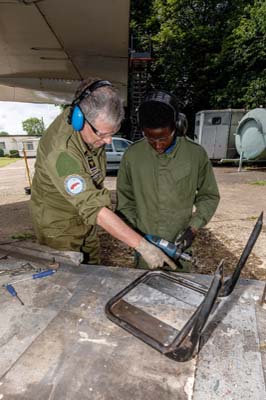 David McCulloch of 150 Squadron ATC based in Oxford has been supervising young Air Cadets at Wellesbourne for the last seven years. This Air Cadet is de-rusting the seat frames of the Vulcan's US built Coleman aircraft tug.

Tim Deeley is a former RAF electrical engineer, the aircraft's weakness is on the electrical side he says suggesting that the frequent electrical problems are probably down to damp weather. Barry Masefield is the Air Electronics Officer (AEO) with considerable Vulcan experience, he was actually in 'Black Buck 1' which had to abort the first bombing mission to the Falklands in 1982 due pressurisation problems.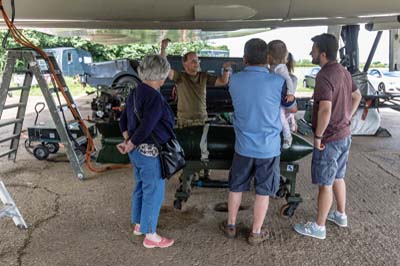 Len Hewitt conducts an impromptu discussion with visitors of bomb loading beside their authentic 1,000 pound practice bomb.

Another key maintenance team member is Len Hewitt as 655s avionics expert he said; "the biggest challenge I face is a shortage of spares, it very much make do and mend. Today I was working on the emergency airbrakes which had stopped working, it has now been traced to a three phase 200 volt fuse". The team have tried to get the radar scanner rotating properly; the screen was fuzzy due to the age of the crystals which cannot be found. "It's the sense of satisfaction when the thing is working and also one big nostalgia trip", for those who used to work on the Vulcan says Len Hewitt. He spent nine years at RAF Waddington and got to know the Vulcan extremely well, "I flew twice when one was being ferried to Bitteswell for major servicing and we collected another for acceptance checks". As Bitteswell's runway was short the pilot instead of setting the engines at 97% set them at 104%. "We soon left the runway and with our low fuel load quickly climbed to 45,000 feet [13,716m]".

The members and helpers who work on 655 are not exclusively made up of retired aviators and technicians, there are also many younger helpers. The events coordinator Damaris Tapp, she brought her son Ben to help when he was ten, he is now taking his 'A' levels and has been a volunteer engineer for the last six years. He has been taught to drive the aircraft tug and is now a qualified crew chief. He will be outside the aircraft connected to the aircrew during our engine runs, coordinating all the ground equipment such as the Houchin ground power unit (GPU) and the Turbomeca Palouste air compressor which is basically a small jet engine used to start the engines.

David McCulloch with 150 Squadron ATC based in Oxford has been supervising Air Cadets at Wellesbourne over the last seven years for at least one Saturday a month. The Air Cadets have previously jacked up the aircraft and have taken an engine out. "The goal is to get young people interested in engineering by working on this aircraft" says David McCulloch. Whilst 60 to 100 help out for 'Wings and Wheels', it's just one staff supervisor per up to five cadets on maintenance days.



Our ultimate aim is to get her 100% serviceable


"It's a continual refurbishment", says Mike Pollitt. Recently they have been trying to get the H2S ground scanning radar system to work and also mend their auxiliary power unit. Earlier this year they had to fix the Vulcan's emergency air brake motor.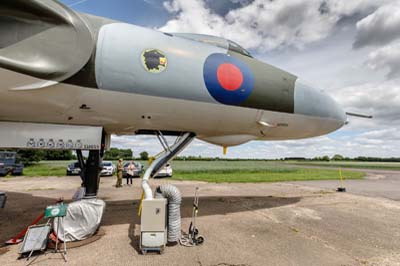 On the warmer days an air conditioning system is set-up to cool the confined cockpit during the tours. The authentic two stars were applied when it was realised they were present when XM655 was used by AOC 1 Group Air Vice-Marshall David Parry-Evans on a visit to Goose Bay in April 1983.

"The aeroplane as usual dictates the engineering priorities rather than the other way round", chuckled Mike Pollitt. "Our ultimate aim is to get her 100% serviceable". So when was she actually 100% serviceable? "Good question, last month we did a ground run starting all four engines and winding up all the systems. We did some 'figure of eights' which is literally taxiing to check out the nose wheel steering. In the past when I have put on the power for the flying controls the pitch and yaw dampers have never worked, with the main warning lights on and three MIs [magnetic indicators] which should show black, usually at least one is white indicating an error", explained Mike Pollitt; "On this ground run I was looking at no main warning lights and three black MIs, this I have not seen in the last twenty years on this airframe". His theory for why there was a rare warning free instrument panel was down to a recent repair on the second pilot's intercom, "There is a mass of wiring we had to get through before we could reach it.
Looking aft in the bomb bay, the 1,000 pound bombs were made out of fibreglass by members of the 655MaPS using their original bomb as a template. It is props like this that help make the tours around the aircraft more fascinating for all ages.

We think when we cleaned up this wiring it sorted out the pitch dampers!" The electronic counter measures (ECM) system is one thing that is left inoperable, the fuse for the ECM was pulled as soon as the Vulcan arrived at Wellesbourne; "if it was activated it would block out all air traffic control communications at the airfield", admitted Len Hewitt.



Continued support


Michael Littler is airport manager and a member of the family which owns Wellesbourne airfield and Vulcan. He is very supportive and shows an interest in what 655MaPS are doing. Despite continued talk of housing developments the airfield appears to be secure. "They have kindly said to us that the future of the aircraft is assured, even if the site is further developed with a loss of the runway", says Mike Pollitt adding. "We would hope to secure a hangar for 655 but this would mean we could not start the engines. The aircraft could never be removed to another airfield because we could not put her back together again so she was able to taxi. The hydraulic and fuel lines for example were not designed to come apart".

A project for this year is to add two number one fuel tanks which the aircraft lacks, built from scratch by GKN. Without these tanks filled with fuel the aircraft's centre of gravity is shifted towards the rear, the concern being with a lot of snow on the wings she would end up sitting on her tail. It is an endless task maintaining the Vulcan but Mike Pollitt says, "Many of our guys are in the 70s but still happy to pitch up, I am not concerned about the future. I am 67 and feel quite capable to taxiing her for the next five years". With continued good management of 655MaPS and with the support of its owners the future of XM655 appears assured.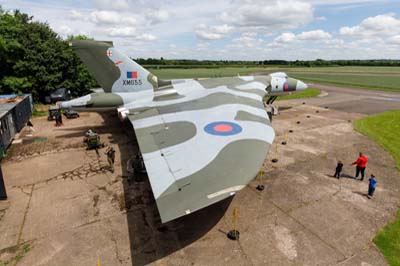 655MaPS are preparing XM655 for a fresh paint scheme by buffing away using special non-damaging tools to remove any flaky paint. The 50+ year old XM655 has been repainted several times to keep the inevitable corrosion under control. The aircraft will maintain its 50 Squadron markings of two leaping greyhounds which was derived from their World War One call sign of Dingos and an insignia of the two greyhounds chasing a dingo.





Vulcan B.2 XM655, 20 years of service


From 1960 deliveries of the improved Vulcan B.2 were made featuring the more powerful Bristol Olympus 301 engines, a larger wing, an improved electrical system and electronic countermeasures (ECM). Some aircraft were modified to accept the Blue Steel missile however the final 28 B.2s including XM655 were only partially fitted to accept the Douglas GAM-87 Skybolt air-launched ballistic missile to be fitted one under each wing, Skybolt was to be cancelled in 1962.

Of the 89 Vulcan B.2s built nine were converted for Maritime Radar Reconnaissance (MRR) role with the TFR removed. Six B.2s were converted to K.2 standard for air-to-air refuelling using a Hose Drum Unit (HDU) mounted in the tail cone and three bomb-bay drum tanks. XM655 was not selected for these modifications.

Built at Woodford XM655 was delivered to RAF Cottesmore on November 23, 1964 to serve in a Wing consisting 9, 12 and 35 Squadrons which were tasked initially to operate in the high altitude free-fall bombing role with the 'Yellow Sun' Mk2 nuclear bomb. However before XM655 was delivered the role changed to low-level strike and she was delivered in the camouflage scheme to 9 Sqn. Later with 35 Sqn XM655 took part in a series of overseas bombing exercises to Malta (Luqa), Singapore (Tengah), United States (Offutt) and Canada (Goose Bay) in 1965 alone.

On January 12, 1968 XM655 was transferred RAF Waddington Wing consisting of 44, 50 and 101 Squadrons and by 1975 included 9 Sqn. Her first year's operations included low-level flying sorties to Germany (Wildenrath) with 44 Sqn and to Goose Bay (Ex Goose Ranger), Malta and Libya (El Adem) with 50 Sqn. In 1970 XM655 flew its first round-the-world trip to demonstrate and test the capability to re-inforce Singapore. The route taken for exercise 'Sunflower' was; Goose Bay, Offutt, McLellan, Hickham, Wake Island and Anderson to arrive at Tengah six days later. The return flight passed through; Gan, Masirah and Akrotiri. In 1983 the Wing was depleted and XM655 finished her flying days with 50 Squadron operating alongside Vulcan K.2s in the air defence role. With the 50 squadron due to disband in March 1984, XM655 was put up for disposal.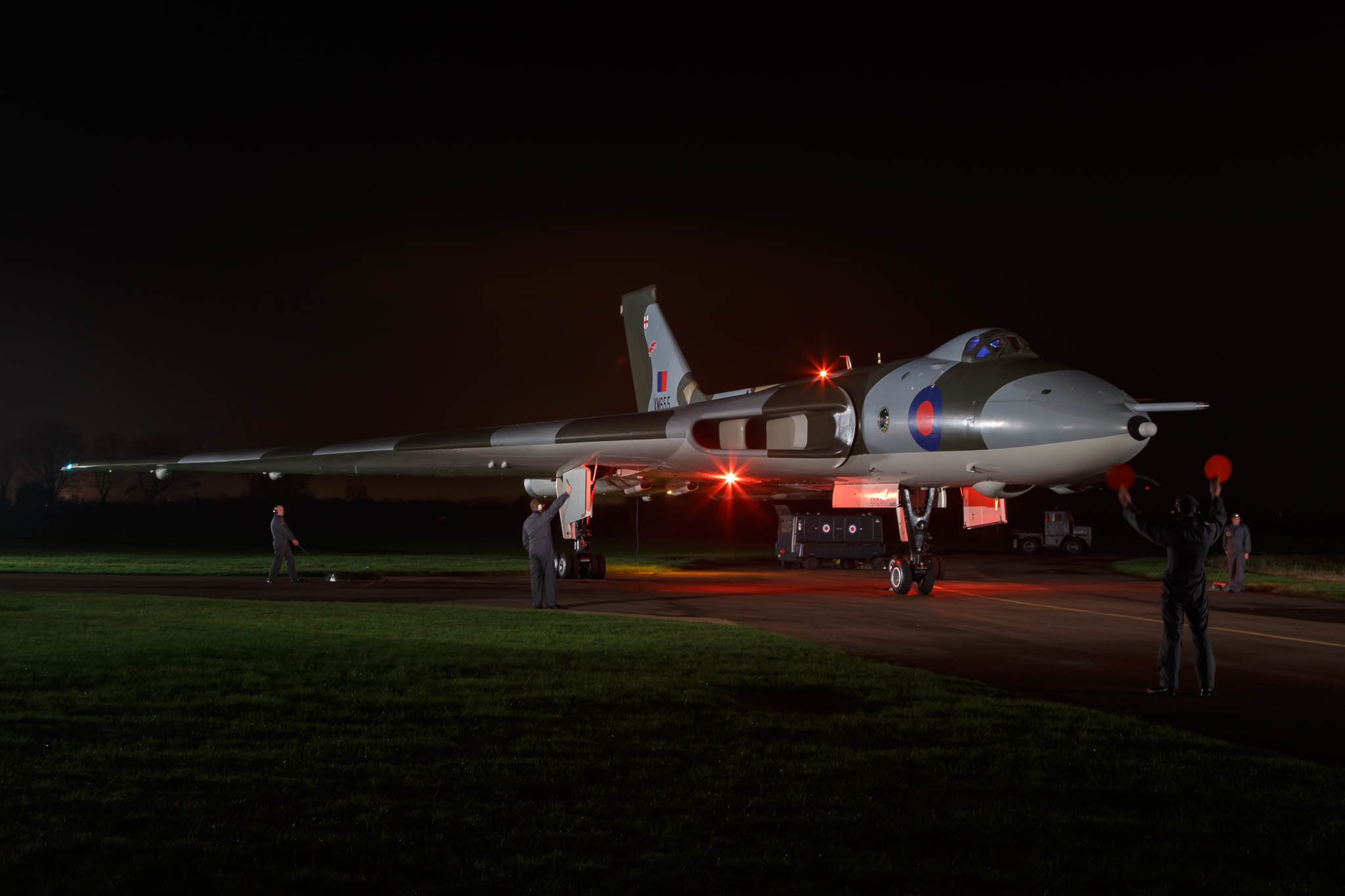 XM655 resplendent in all her glory and repositioned on a taxiway during a Time Line Events night photoshoot. Re-enactors are used to recreate cameos of a Vulcan ready to scramble from an RAF base during the Cold War. XM655 set in a full state of 'ready to depart' with all her lights on and the ground crew chief giving her pilot directions from the taxi way.