Air to Air Photography
North American Rockwell OV-10B Bronco (99+18 / G-ONAA)
Cotswold Airport formally RAF Kemble
May 3, 2014
The Aviation PhotoCrew, headed by Eric Coeckelberghs organised the air to air photo shoot utilising Short SC.7 Skyvan (G-PIGY) of Invicta Aviation for this photo shoot Eric had arranged for the Bronco Demo Team's North American Rockwell OV-10B Bronco (99+18 registered G-ONAA) flown by Tony De Bruyn to fly with us on its transit from Cotswold airport to Abingdon.

18 OV-10B Broncos were supplied to the West German Air Force from 1970 to be utilised as target tugs until 1990 when they were replaced by Pilatus PC-9s. The OV-10B was designed for Germany with a target towing pod mounted beneath the fuselage and a clear dome replaced the rear cargo door. 99+18 was put on display at Manfred Pflumm International Aviation Museum in Villingen-Schwenningen from 1991, returned to flight in 2012 following extensive restoration it moved to Manston when it flew again in 2014 in time for the display season. Its first show was at Abingdon the day after the photo shoot. OV-10B 99+26 is also under restoration with the Bronco Demo Team. OV-10B 99+32 was destroyed in a crash at Kemble in 2012 when flown by Tony De Bruyn he was extremely lucky to survive it.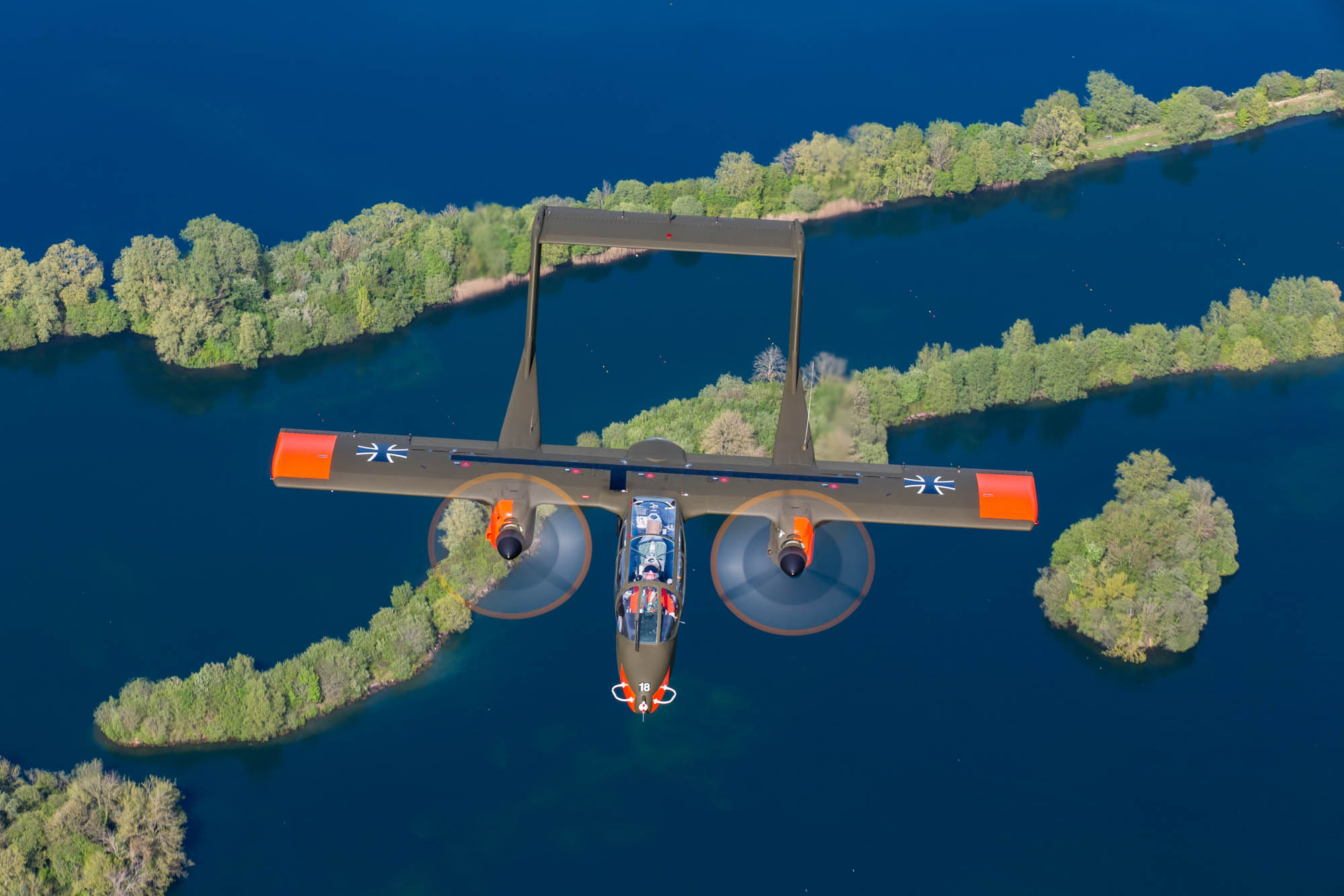 OV-10B Bronco (99+18) over Cotswold Water Park between South Cerney and Hoburne Cotswold.
Canon EOS 5D III + Canon f2.8L 70-200mm (123mm) f14 1/100, -1 stop exposure compensation, ISO 100
Cotswold Water Park south of Cirencester and east of Cotswold airport. The lakes were formed in the 1970s when limestone gravel mining ceased.
OV-10B Bronco (99+18) over a field of oilseed rape
Canon EOS 5D III + Canon f2.8L 70-200mm (190mm) f20 1/100, -1 stop exposure compensation, ISO 100
OV-10B Bronco (99+18) over the Gloucestershire countryside
Canon EOS 5D III + Canon f2.8L 70-200mm (140mm) f14 1/125, -1 stop exposure compensation, ISO 100
OV-10B Bronco (99+18) over Cotswold Water Park.
Canon EOS 5D III + Canon f2.8L 70-200mm (95mm) f11 1/160, -1 stop exposure compensation, ISO 100
OV-10B Bronco (99+18) over Oxfordshire
Canon EOS 5D III + Canon f2.8L 70-200mm (100mm) f11 1/100, -1 stop exposure compensation, ISO 50
OV-10B Bronco (99+18) over the Cotswold Water Park.
Canon EOS 5D III + Canon f2.8L 70-200mm (90mm) f25 1/160, -1 stop exposure compensation, ISO 100