Hellenic Air Force - Elliniki Polemiki Aeroporia
Hellenic Air Force Academy
Tatoi, Greece
September 2010
The Hellenic Air Force Academy comes is under the Hellenic Air Training Command (HATC) and is located at Dekelia Air Base in Tatoi which is north-west of Athens. The HATC was set up in 1955 to improve training for the Hellenic Air Force personnel.
Cessna T-41D Mescalero (69-7197) of the 360 MAE touching down at Dekelia/Tatoi.
360 MAE (Mira Arhikis Ekpedefsis - Basic Training Squadron).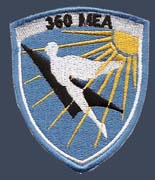 Their mission is to provide basic training for air cadets with basic procedures and flight manoeuvres to enable the selection of those deemed capable of advancing to flight training. Currently 360 MAE comprises; 18 instructor pilots, 38 mechanics/technicians, eight civilians and nine soldiers.

The Supreme Air Council defines the course for the student pilots. In the first year each student starts with the transition or pre-solo section which consists of 12 sorties and 14.5 hours in duration as a co-pilot. This is followed by the orientation section which has three sorties totalling 4.2 hours in duration as a co-pilot ending followed by the student's first solo flight which is a take-off and landing just 20 minutes later. The course adds up to 16 sorties and 19 hours in the air. Back in 2004 25% of the 100 students failed to meet the necessary standard and were rejected. Since that time standards have improved Major (Pilot) Dimitris Zervos a 360 MAE instructor reported that he would expect this year around 15% of the 110 students will be lost after the initial screening which takes place after two to three months and at the end of the first stage.
Ground training is provided with flight preparation lessons, lectures, flight simulators and computer based training. They have found that Microsoft's PC based Flight Simulator for the Cessna 172 to be of great benefit. It is not unusual for students to 'play' with the simulator at home typically using the F-16 Fighting Falcon package, which is not discouraged by the instructors as reported by Major Zervos.



Cessna T-41D Mescalero


Initial flight training aircraft is completed on the Cessna T-41D Mescalero (military version of the Cessna 172 Skyhawk). The Hellenic Air Force received 21 T-41 between 1969 and 1970, today 19 remain in service. One aircraft was lost in September 2005 in the mountains due to engine failure. The student survived the impact in part due to the HAF's policy of using flying helmets. All maintenance for the aircraft is carried out onsite. The Dekelia based T-41D are also utilised for fire-fighting air patrols and for the renewal of flying licenses.
The United States Air Force (USAF) in 1964 decided to use the Cessna 172 Skyhawk as its primary trainer to screen potential pilots. They initially ordered 237 T-41A's, later the US Army followed with an order for the T-41B. In 1968 the USAF ordered 52 of the upgraded T-41C variant aircraft for use in the USAF Academy. The T-41Cs, unlike the T-41As with the old 145hp, have a 210hp engine. In 1996 the T-41D was produced as an upgrade with better avionics and a constant speed variable pitch propeller. Eventually 855 T-41s were built by Cessna for military operators around the world. The engine is so powerful for its size it can cruise at speeds are around 120 to 125 knots and climb speeds of 1,000 feet (305 meters) to 1,750 ft (533m) per minute. All versions of the T-41 have fixed landing gear. The T-41D is equipped with modern avionics and other equipment consistent with military missions, including a GPS system.
For the students that pass the first year of the course they progress to the 120 Air Training Wing (Pteriga EkpitheysIs Aeros) at Kalamata where they will fly the Raytheon T-6 Texan II and a further 48 flights of 60 hours in duration. In the final year students fly 54 sorties which total 70 hours. With a total 150 flight hours successful pilots graduate from the academy with the rank of Pilot Officer (Anthiposminagos). Conversion training continues at their allocated Wing.
Left to right: Cessna T-41D Mescalero (69-7186 and 69-7197).
359 MAEDY (Mira Exipiretisis Dimosion Ypiresion - Public Services Air Support Squadron)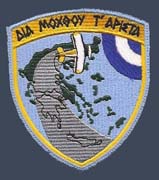 The 359 MAEDY was established in March 1968 to provide the public sector with aerial fire-fighting and agricultural services, including crop-dusting and aerial seeding. The unit was initially established with Bell 47G-3B-2 and Bell 47G-5 helicopters for crop-dusting from Elefsis air base before they moved to their current base at Dekelia in 1970. Here they were allocated Douglas C-47A/B Dakotas which were adapted for crop-dusting.

In May 1974 the unit was equipped with ten Grumman G.164A and followed by an additional 13 aircraft in 1976. From 1983 30 PZL Mielec M.18 Dromader were received over the next two years. In 1984 359 MAEDY came under the Hellenic Air Force Training Command (HAFTC), in 1988 they were transferred to the Hellenic Air Force Support Command (HAFSC). Today 359 MAEDY has the main objective of early spotting and extinguishing of forest fires in addition to crop-dusting and aerial fertilization. Used a first response a pilot in the PZL M.18 can spot and extinguish small fires very quickly and cheaply before they spread.

They can make the decision to call in the larger more effective aerial water bombers of the 355 Tactical Transport Squadron with the Canadair CL-215 and the Canadair CL-415 operated by the 388 Special Operations and Firefighting Squadron. Their fleet today consists of 19 single-seat PZL M.18 Dromaders, three two-seat training PZL M.18BS Dromaders which were delivered in 2002 and eleven Grumman G.164A aircraft. Their aircraft are routinely deployed to potential hotspots during the dry summer season.



The Grumman G.164A were withdrawn from service in Spring 2010.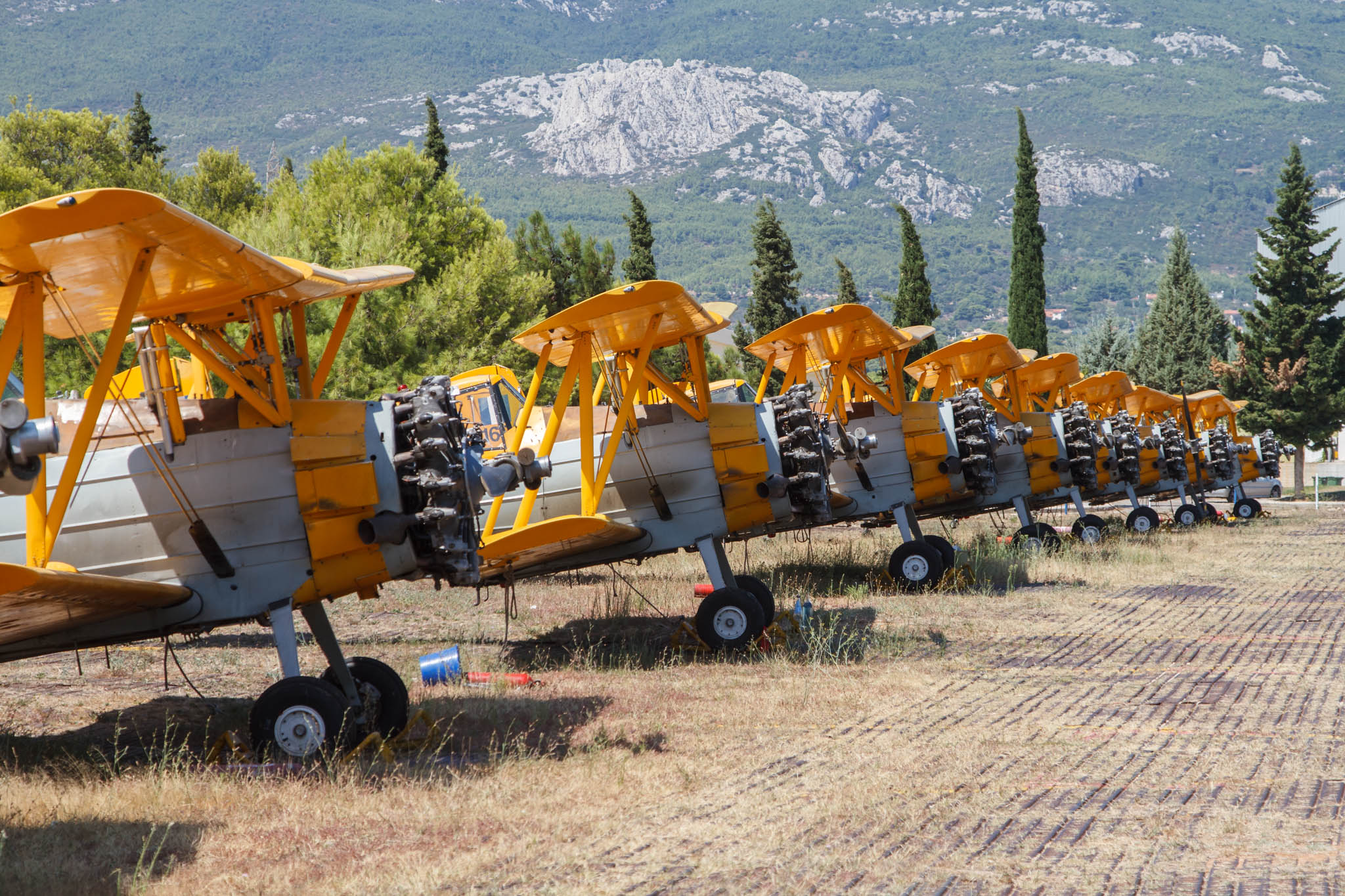 Part of a line up of Grumman G.164A of 359 MAEDY
Left to right: Grumman G.164A (line up, 1269, 1260 and 1221).
Left to right: Grumman G.164A (1604, 1269 and 1547).
359 MAEDY PZL M.18B Dromader (026) deployed to Andravida
Left to right: PZL M.18B Dromader (026) deployed to Andravida. aircrew and groundcrew walk back from their aircraft at Dekelia after a fire spotting sortie. A pair of two-seat PZL M.18BS Dromader (805 and 807) at Dekelia.
The first CL-215 aircraft arrived in Greece in 1974 and they were allocated to 359 MAEDY forming a firefighting flight. In December of 1975 the aircraft were transferred to 355 MTM.
Left to right: Canadair CL-215s (1043, 1045 and 1041) of 355 MTM (Tactical Transport Squadron) deployed to Andravida for the dry summer months (June until October) and normally based at Elefsis.
Left to right: To supplement the Hellenic firefighting assets civillian contractors are called in. At Andravida was a Sikorsky S-64 Skycrane (N218AC '741' 'Elsie') operated by Erikson Air-Crane Inc. another similar helicopter was seen at Dekelia.
A Cessna 172RG Cutlass (AC-1) by the Hellenic Coast Guard (Liminiki Astinomia) from Dekelia air base. It is one of two similar aircraft delivered in 1982.