Flying Legends 2004
Duxford
July 11-12, 2004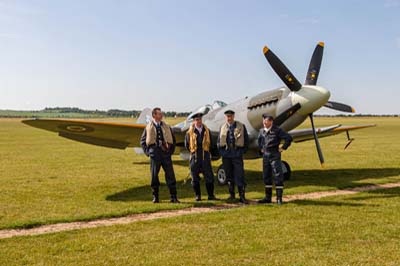 This legendary show continues from strength to strength. Each year we are treated to something new and this year's Flying Legends was no exception. As there were so many débutantes displaying throughout the day, it is impossible to pick out any particular star at this year's thrilling display.

The sight of a ten Spitfires (three Griffon and seven Merlin powered), swooping across this historic airfield, is worth the entrance fee alone. Whilst the weather was very changeable throughout the weekend, nothing dampened the spirits of the huge enthusiastic crowd. I have said it before, the atmosphere at 'Flying Legends' is second to none, you feel you are going back 50 or more years in time. You can get right up close to these priceless veteran aircraft. Actors in period uniforms are happy to pose in front of any machine to add something extra to the countless amounts of photographs that would have been taken at this show.
Panoramic view of some of the many World War Two fighters on display.
Just 4 Spitfires from the formation of ten in the final mass fly past.
Left to right: Spitfire FRXIVe ('MV268' 'JE-J' also G-SPIT) painted to represent World War Two ace 'Johnnie' Johnson's aircraft.
As there were so many newcomers, perhaps I should start with the first I saw. This was the 'Super Constellation Flyers Association's (SCFA) C-121 Super Constellation (N73544). It arrived early on the Saturday morning, purring down the runway as it taxied in to its parking place, so incredibly close to the crowd line, that it's wings passed over the heads of the gathered masses, as it took position. Later in the day we were presented with some majestic flying, by this 1950s luxury airliner. This Swiss based queen of the skies, is operated by SCFA and sponsored by Breitling, was brought over from California in April this year.
Retired to Davis Monthan in 1972, this particular ex USAF machine, was rescued from the scrap man and later taken to Camarillo in California in 1984. Grounded for ten years it was restored to flying condition and flown once again in 1994. The SCFA lease this classic machine from its U.S. owner, Daryoush 'Benny' Younesi and so guarantee it is kept in tip top condition. This was also its first British air show appearance.

Another newcomer to the show and star performer in many peoples eyes, was the Bell P-39Q Airacobra (42-19993) owned by the Duxford based The Fighter Collection (TFC) and organisers of Flying Legends. 'Brooklyn Bum – 2nd' as painted on the nose in yellow, first flew in 1943 and operated in the South Pacific. Left behind in New Guinea it was not until 1974 that it was recovered.
After being displayed in New Zealand it later passed through Florida and onto TFC at Chino in California for restoration. Mounted in the nose is a 37mm cannon and with its tricycle undercarriage it is certainly a distinctive bird. It is one of only two examples still flying in the world today and the first example to grace Britain's skies since the 1940s.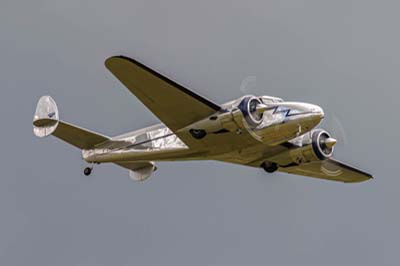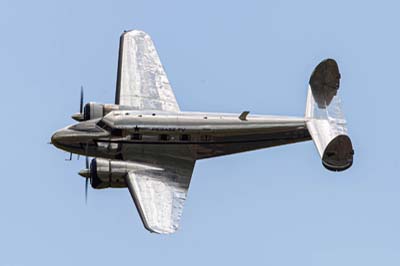 The distinctively French sound of Bernard Chabbert owner of the polished and gleaming Lockheed 12A Electra (F-AZLL), describing his wonderful aircraft, as his son flew it around the airfield, was one of the many highlights of the show for me. The escapades of its original owner Sydney Cotton a Naval Attache and volunteer spy, were told to the enthralled spectators.
Left to right: To celebrate the 70th anniversary of the Dragon Rapide six splendid examples were flown in close formation, to everyone's delight. Nobody can remember when such a large formation of Dragon Rapides last took to the skies. The star of the flight was the recently restored DH.89A G-AGJG which had taken to the skies this year, following it's 27 year rebuild. It was immaculate inside and out.
A rare (it's the only one still in existence) and unusual aircraft, which immediately caught the eye, was the Polikarpov I-15 (02089) which had only been assembled from its transporting crate two days earlier. As you know the Russian built Polikarpov I-15 first flew in 1933 and featured extensively in the Spanish Civil War from 1936 to 1939. It was the last Soviet bi-plane.
This example was restored by Aviarestavratsia at Novosibirsk in deepest Siberia. Over the weekend it was flown by Oleg Federov a champion aerobatic pilot.
Hawker Nimrod Mk.1 (S1581 '573' registered G-BWWK). The Nimrod was a single-seat fighter, it first flew in 1930 and went in to service with the Fleet Air Arm. However by the start of the World War Two it had been relegated to training duties. This is one of only two surviving Nimrods and the first to be returned to flying condition in 2004.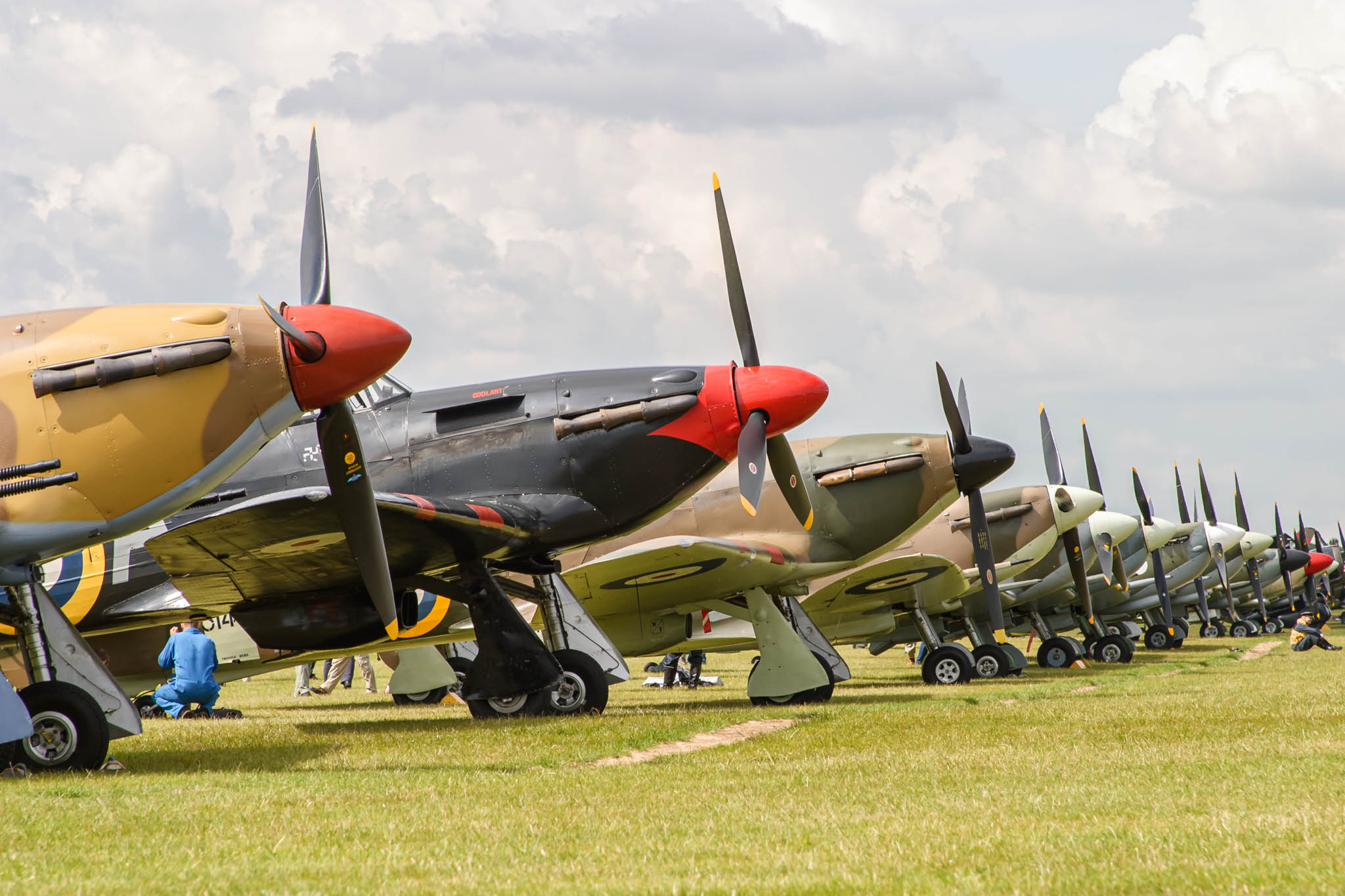 13 Spitfires of various marks with their Griffon or Merlin engines and rounded or clipped wings for low-level manoeuvrability, graced this historic airfield over the weekend. The final mass fly past or 'Balbo' is surely the most impressive way to ever end any flying display, Duxford's 'Balbo' is second to none. There was so much to see at this show, it is a must for any warbird enthusiast so make plans to attend next years 'Flying Legends' display. Who knows what treats are in store for us then? I can hardly wait.
The Imperial War Museum's Avro Vulcan and the SCFA Super Constellation watch over the impressive line up of Warbirds.
Left to right: B-17G Flying Fortress (44-8846 coded 'DS-M' registered F-AZDX) with 'Sally B' and a North American B-25D-30NC Mitchell II (KL161 'VO-B' registered N25644) of Vulcan Warbirds in Seattle.
Left to right: Spitfire LFVb (BM597 'JH-C' / G-MKVB), Spitfire F Mk.14E (RN201 / G-BSKP) of HFL.
Left to right: Spitfire FRXIVe ('MV268 'JE-J' registered G-SPIT) and Spitfire LF.9E (MK356 '21-V') of the of the Battle of Britain Memorial flight (BBMF).
Left to right: Junkers Ju52/3m 'D-AQUI' registered D-CDLH of Deutsche Lufthansa Berlin-Stiftung in a Lufthansa livery, from Berlin Templehof. Bücker Bü-133C Jungmeister ('LG+01' registered G-AYSJ) when with the The Fighter Collection (TFC) and Gloster Gladiator Mk.1 ('427' L8032 registered G-AMRK).
Left to right: Grumman F-6F Hellcat (40467 '10' registered G-BTCC), Grumman F-8F-2P Bearcat (121714 coded 'B-201' registered G-RUMM) of TFC.
Left to right: P-51D Mustang (413704 coded 'B7-H' registered G-BTCD) 'Ferocious Frankie' and P-51D Mustang (G-HAEC/472218 coded 'WZ-I') 'Big Beautiful Doll' of OFMC and P-51D Mustang (44-72216 'HO-M' registered G-BIXL) inscribed 'Miss Helen' is owned by Robert Lamplough.
Left to right: AD-4NA Skyraider (126922 'AK-402' registered G-RADR ex G-RAID) now with Kennet Aviation, P-47D Thunderbolt (42-26671 registered G-THUN) 'No Guts - No Glory!' and Vought F-4U-4 Corsair (97264 'B-210' registered F-AZVJ) is owned by Christophe Jacquard and based at Dijon-Darois following restoration by Charles Hall, Ramona California from 1985 to 1992.