Military Low-Flying Training
Aircraft Using the United Kingdom Low Fly System (UKLFS)
The UK's military forces have a number of aircraft types that are routinely flown at low-level as part of the pilots training requirements. Elementary flying training is on the Grob Tutor T.1. Potential fast-jet students will progress from the Tucano to the Hawk. Graduates of the advanced flying training course will move on to the Tornado, the Harrier or the Typhoon.
The US Air Force's UK based aircraft, such as the Hercules and F-15, can freely use the low-fly System for training. Additionally for flight systems testing and test pilot training, pilots with QinetiQ at Boscombe Down fly the Alpha Jet and Andover at low-level. BAE Systems frequently flight-test a range of aircraft at low-level from the Pilatus PC-9 to the Typhoon.
Foreign air forces can be authorised to utilise the UKLFS, but strictly on a reciprocal basis and can only fly at heights that UK aircraft can fly in their country. NATO and non-NATO Squadron exchanges take place from time to time, allowing aircrew to swap experiences and fly with each other's aircraft at low-level. In 2008-2009 329 hours were flown by foreign pilots in their aircraft in the UKLFS.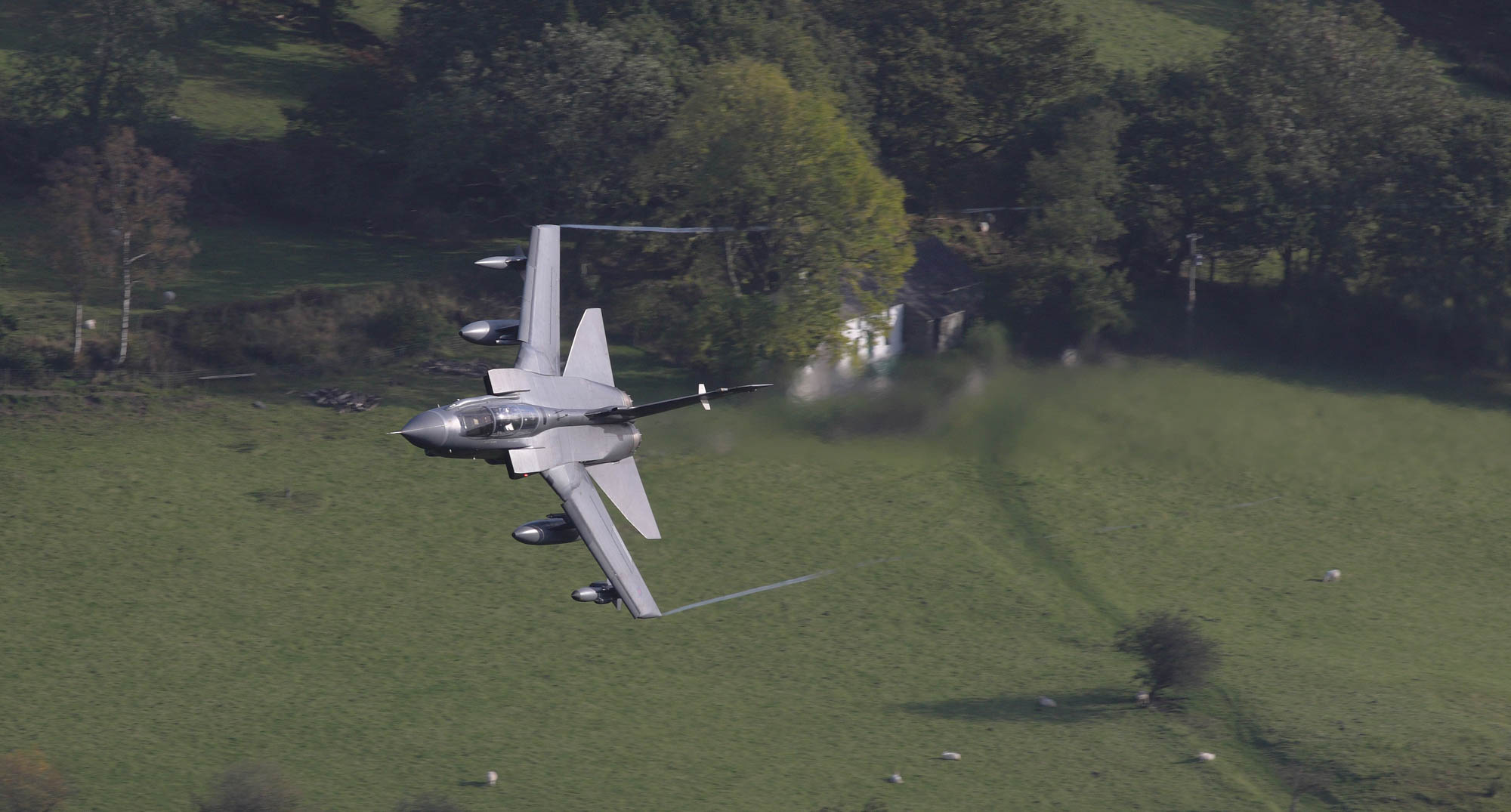 Grob 115E Tutor T.1


The Tutors are civilian registered and as such are only cleared down to 500 feet (152m) for low-level flight training, imposed under CAA rule 5. They will fly at 120 knots, which equates to two miles per minute which keeps the maths very simple for students.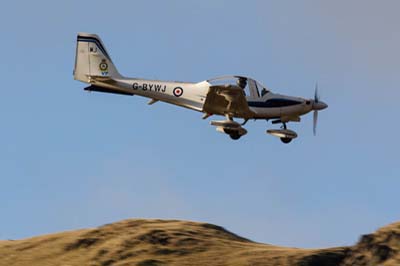 The Tutor is used for Elementary Flying Training (EFT) by the 14 University Air Squadrons (UAS) and by 12 Air Experience Flights (AEF) around the UK. UAS students numbering around 75 per squadron experience up to 15 hours of flying per year. The AEFs introduce cadets from the Air Training Corps (ATC).
New students undertake a 60 hour course over four months learning basic airmanship, radio communications and aerobatics. EFT starts with six hours of ground tuition, followed by 35 hours of flying where they are given instruction on take-offs, landing, circuits, tight turns, spins and aerobatics. After a mid course test students undertake five hours of basic instrument flying. After five hours of formation flying and another five hours of general handling and aerobatics they are ready for the final 12 hours of solo flying to complete the course. The Elementary Flying Training course includes authorisation for low-flying sorties with Practice Forced Landings down to a Minimum Separation Distance (MSD) of 100 feet (30m) dual and 500 feet (152m) solo. The low-level navigational exercises are at 500 feet (152m) MSD.
The Tutor is also used by the Central Flying School and for basic navigator training with 55(Reserve) Squadron, which consists of 14 hours on the Tutor, at RAF Cranwell. On October 1, 2008 1 Elementary Flying Training School (EFTS) at Cranwell became 16(R) Squadron, 2 EFTS at Wyton became 57(R) and 3 EFTS at Church Fenton became 85(R) Squadron.
Shorts Tucano T.1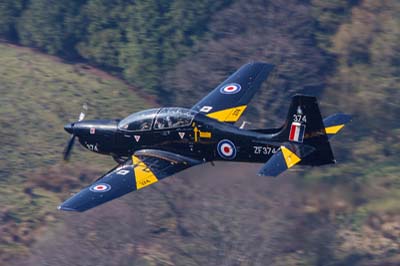 All potential fast-jet pilots for the RAF and Royal Navy attend the Basic Fast-Jet Training (BFJT) course at 1 Flying Training School (1 FTS) at RAF Linton-on-Ouse to fly the Tucano T.1. Around 70 students each year graduate and pass on to advanced flying training. 1 FTS comprises four squadrons. 72(Reserve) and 207(Reserve), which are responsible for BFJT, the Central Flying School Tucano Squadron (CFSTS), which are tasked to train exchange pilots and to provide future instructor pilots. 76(Reserve) also known as Tucano Air Navigation Squadron (TANS), which provides basic navigation training for its student pilots was disbanded in May 2011.
The fundamentals of low-flying are taught during basic flying training on the Tucano, with low-flying navigational exercises. Student pilots will have already demonstrated an ability to fly during elementary flying training on the Tutor or Firefly.
The four BFJT courses are run simultaneously and comprise 120 hours of flying over the 40 weeks. Around 80 sorties are flown every day, requiring around 25 aircraft to be serviceable each morning from a total fleet of 55 aircraft.
Flying at 210 knots (389 km/h) or 3.5 miles per minute students are initially cleared down to 500 feet (152m) MSD before being cleared down to 250 feet (76m). Students will use a stopwatch and map to navigate while visually estimating their altitude when flying at low-level. Despite the recent addition to the Tucano's equipment of the Traffic Collision Avoidance System (TCAS), students are expected to keep a good look out for any conflicting traffic.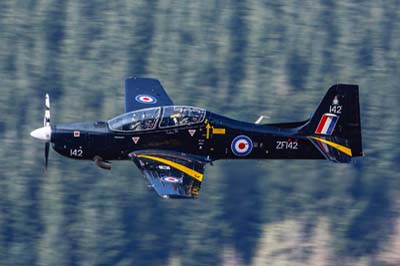 Students are expected to fly solo on the 9th sortie. By sortie 25 they are ready to be tested before being cleared for solo aerobatics. On sortie 50 students are tested on basic handling and navigation, including the more demanding low-level navigation flying at a minimum height of 500 feet (152m) MSD. Most low-level flying is conducted over the nearby Yorkshire Dales. Now, at the halfway stage student's move onto tactical flying training. This includes; formation, night, instrument and further navigational training exercises. Progressing to low-level flying at 250 feet (76m) they will use Initial Points (IP) for attacks on targets and fly fighting-wing formations. A final navigation test is flown on around sortie 96. This highly demanding test requires students to fly to a designated airfield at both high level and at low-level for a planned simulated attack on a target to within five seconds, before returning to base after 1¼ hours of flying. In the final ten hours of the course students are taught tactical low-level flying as a fighting pair. A final test involves flying as a fighting pair in close formation with tactical flying at low-level; it also includes landing at an unfamiliar airfield, typically Prestwick, Leuchars or Kinloss. During the return flight they start as a pair before breaking off to fly home at low-level.
On graduating and receiving their 'Wings' most students will join 208(Reserve) Squadron at RAF Valley to fly the Hawk T.1. A few students are 'creamed' off and move to the Central Flying School (CFS) to be trained as flying instructors. Of the 40 qualified flying instructors (QFI) at Linton, most have come from fast-jet squadrons, the rest have multi-engine or rotary engine experience, one or two have returned from CFS.
BAE Systems Hawk T.1/T.1A/T.1W/T.2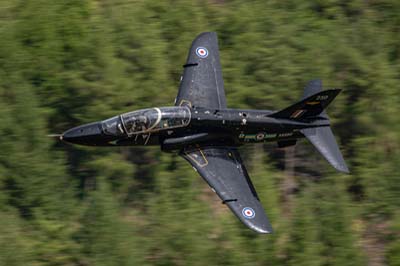 The Hawk T.1/T.2 are used for advanced flying training and operates with 4 Flying Training School (FTS) comprising Hawk T.1s of 208(Reserve) and 19(Reserve) until they were disbanded in November 2011 and Hawk T.2s of 4(Reserve) Squadron at RAF Valley. 100 Squadron at RAF Leeming and the Royal Navy's Fleet Requirements and Direction Unit (FRADU) at RNAS Culdrose also fly the Hawk T.1.
The Hawk T.1A is equipped to an operational standard and has two under-wing pylons cleared to carry BL755 cluster bombs or Sidewinder AIM-9L air to air missiles. 144 Hawks were re-winged between 1989 and 1995, some of which had their outer wing pylon activated and were designated T.1W. It can also carry a 30mm Aden canon in a pod fitted underneath the fuselage centre-line. Aiming for the T.1A's attack modes is provided by an integrated strike and interception system, with a Vinten video recording system records weapon sighting.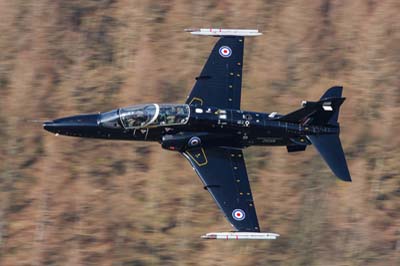 Following basic training on the Tucano all potential fast jet pilots with the RAF go through to 4 FTS. Initially students will join 208(Reserve) Squadron for conversion onto the Hawk T.1/T.2 and advanced flying training. Flying tactics and weapons training follows and is conducted by 19(Reserve) Squadron.
Each year the staff instructors are responsible for around 100 students as part of 208(R) Squadron's training syllabus (phase one) in three parallel 20-week courses flying the Hawk T.1. 208s role is to train pilots the fundamental skills of flying fast-jets. Aided by the instructors, students must demonstrate that they are able to fly the aircraft in all weather conditions day and night and with great accuracy. Students should progress to close and tactical formation flying, followed by navigational-training sorties, some of which are at low-level.
On passing phase one, students will pass on to 4(R) Squadron for the Tactical Weapons course (phase two), flying in the Hawk T.2. Students with 4(R) will learn how to use the Hawk as a weapons platform, flying in tactical formations at low-level to attack targets. The training course is designed to be as realistic as possible, 15% of it is at low-level. Students will basically learn; how to drop bombs, strafe targets and the basics of air-to-air combat. It involves air defence with simulated missiles and live bombing on the range at Pembrey. The Hawk can carry the same practice weapons as the frontline aircraft they move on to. The final exercise on the course requires the student to lead a wingman on an attack on two targets at low-level. A third Hawk flown by an instructor will be used to 'bounce' the pair.
To complete a course a successful student will have; planned, briefed and led a pair of Hawks to attack a target. They also fly with the threat of being 'bounced' by a staff instructor simulating an attack by an enemy fighter. Following completion of this course, graduates will be assessed for single or two seat operations for a move onto an Operational Conversion Unit (OCU), before being assigned a frontline squadron. It is generally accepted that the most gifted pilots will be posted to single seat aircraft. 20 students throughout the year are transferred to NATO flying training at Cold Lake or Moose Jaw in Canada.
Around five students will be diverted or 'creamed' off from the OCU course to become instructors. These 'creamies' as they are known will either go to Linton-on-Ouse on the Tucano or remain at Valley for a further three years to instruct on the Hawk, before then moving on to an OCU.
Training is also provided to exchange officers and foreign and Commonwealth officers. When the Indian Air Force ordered 66 Hawk Mk.132 from BAE Systems, they set up the Hawk Synthetic Training Facility (HSTF) at RAF Valley. 75 Indian Air Force pilots undertook flying training as part of the 41-month program, which started in July 2004.
100 Squadron is based at RAF Leeming and in utilising the Hawk, offers a very cost-effective range of services, such as providing radar blips for the School of fighter Control practice intercepts. Their main task however is to provide operational support for the OCU's and frontline squadrons and principally those flying the Typhoon. They can be employed to simulate 'mud-movers' for air defenders to 'bounce' and as aggressors for helicopters and transport aircraft conducting fighter evasion exercises. 100 Squadron will provide Dissimilar Air Combat Training (DACT) when requested.
Additionally the Squadron will be utilised during the final phase of the Weapons Systems Officer (WSO) training for those selected for the Tornado GR.4. Support is also provided to the Joint Forward Air Control Training and Support Unit (JFACTSU) for Close Air Support (CAS) missions.
Before the Dominie was retired in January 2011 students who had successfully completed the Advanced Fast Jet Dominie Module (AFJDM) with 55(Reserve) Squadron will transfer to the Navigational Training Unit at 100 Squadron for 35 hours on the Hawk T.1. The main training requirements are for Navigators and Fighter Controllers.
Panavia Tornado GR.4/A


The Tornado GR.4 and GR.4A operates in front-line service from RAF Lossiemouth and RAF Marham. The Marham Tornado Wing consists of 2(Army Cooperation), 9(Bomber) and 31 Squadrons. Lossiemouth is the home base for 12(Bomber), 15(Reserve) and 617 Squadrons. 41(Reserve) Squadron operates a small number of GR.4s for weapons testing as does QinetiQ at Boscombe Down and BAE Systems at Warton.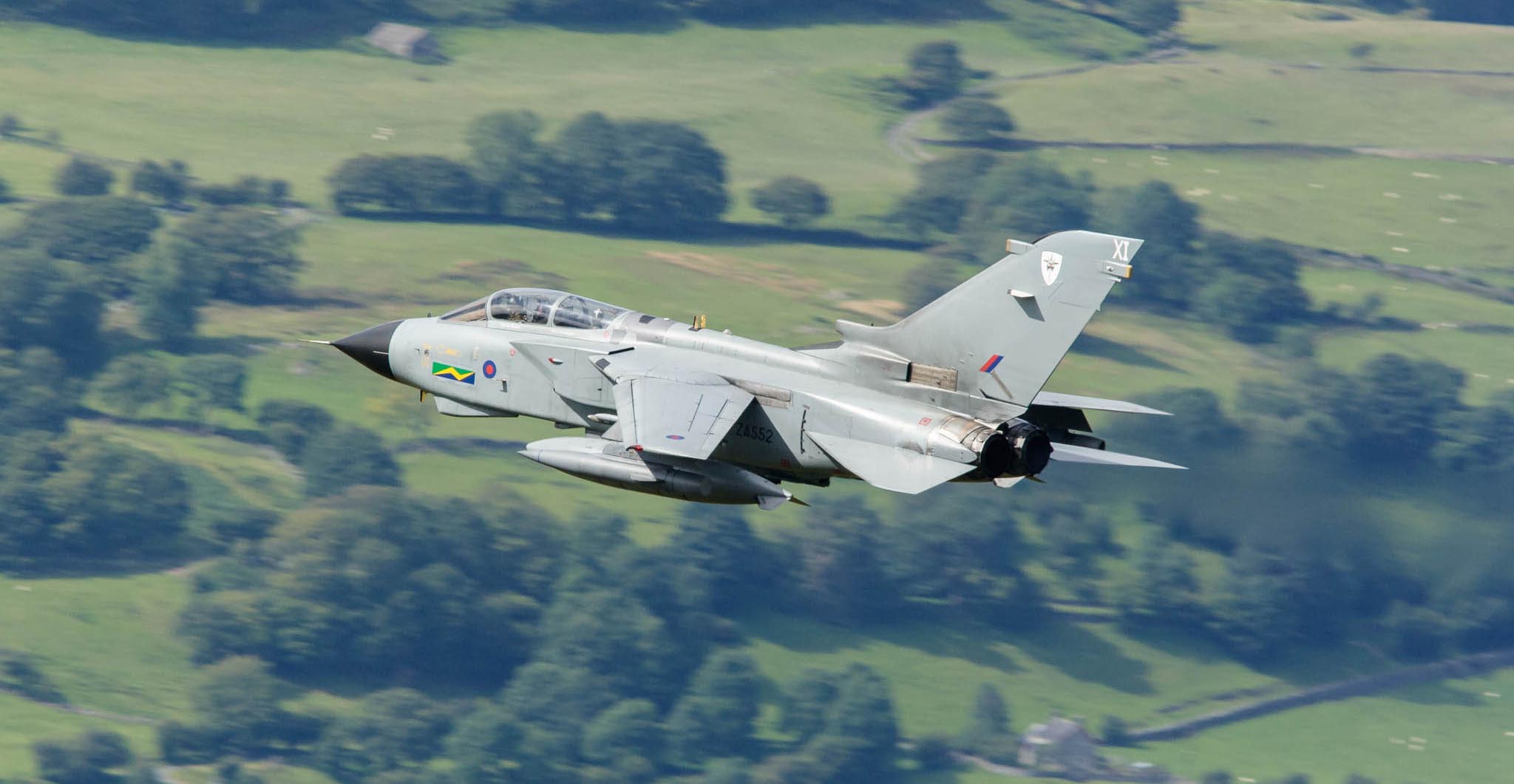 Around 36 graduate pilots from 4 Flying Training School at RAF Valley and Weapon Systems Operators (WSO's) a year are transferred to the Tornado (GR.4) Operational Conversion Unit (TOCU) with 15(Reserve) Squadron at RAF Lossiemouth. Following ground school and time on the Tornado simulator, students start their 50 sorties and further simulator instruction. The student pilot for their first six sorties will fly with an instructor pilot. The student WSO's will get four sorties to complete their conversion to the Tornado. The WSO will then fly the first of three missions with an instructor navigator, before the first all student crew sortie. This is followed by a Terrain Referenced Navigation/Terrain Following Radar (TRN/TFR) sortie flown with an instructor navigator.
The next phase of four sorties involves student pilots and student WSO's formation flying, including tactical formations at low and medium level, both in the lead and wingman positions. Two dedicated sorties involve a student crew meeting up with an aerial refuelling tanker and repeatedly linking with the basket.
The fifth phase brings student crews in contact with the delivery of a basic range of weapons in a variety of flying profiles. A check mission by an instructor completes the phase.
Sorties with operational manoeuvring or air combat training follow, using AIM-9 Sidewinder air-to-air missiles at medium level during one versus one exercises. Defensive manoeuvres and the dispensing of chaff and flares are included. These sorties for the student pilots and WSO's are flown with instructor pilots and lead to handling surface to air missile threats, both at medium and low-level. The first of these sorties are flown as singletons, followed by five more as a pair. These sorties lead to students being issued a target for which they have to decide the attack profile and tactics to be employed.
The next phase involves night flying including the use of night-vision goggles (NVG), students will progress from flying as a singleton, a pair, a three and finally as a four-ship. Passing the final check-ride completes the course and the successful student's pass through to the front-line squadrons qualified to Limited Combat-Ready (LCR) status, before they are fully trained on a range of weapons carried by the GR.4.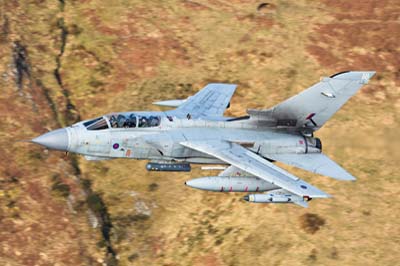 To increase their effectiveness, some GR.4 squadrons specialise on certain advanced weapon systems.
12(B) Squadron is the lead unit for Air Launched Anti-Radiation Missile (ALARM) for the Suppression of Enemy Air Defence (SEAD). It is a defensive missile used to destroy Surface to Air Missiles (SAM) sites.
14 Squadron were the lead unit utilising the new Litening III targeting pod with Precision Guided Munitions (PGM) such as Paveway II and III Laser Guided Bomb's (LGB) until they were disbaned in 2011.
Following live firing trials with Brimstone equipped GR.4s of 41(R) and 31 Squadron at the China Lake range in 2005, 31 Squadron was declared fully operational with the missile to become the lead unit with the weapon followed by 9(B) Squadron. Brimstone has been developed utilising both high altitude dive and low-level attack profiles. It is a fire-and-forget missile for use against armoured targets on the ground. Target designation can be made using the Head Up Display (HUD) and through the Thermal Imaging Airborne Laser Designator (TIALD) pod. The missile when fired from as far as six miles (10km) from the target, drops to a cruise height and using its own terrain avoidance radar, proceeds to the target.
Storm Shadow is a fire-and-forget missile and is used to destroy command bunkers. It uses terrain matching navigation and GPS positioning to follow at low-level a pre-programmed route to the target. The missile was first used in anger during Operation Telic over Iraq in 2003. The lead Squadron for Storm Shadow is 617.
Continuous and frequent low-level training is essential for GR.4 crews to perfect and maintain their skills. Low-level missions are flown over the Nevada Test and Training Range during Red Flag exercises to validate tactics. During adverse weather during Red Flag 07-02 the US SEAD assets were forced to cancel some night missions, while RAF's SEAD capable GR.4s completed their low-level sorties. During the Gulf War GR.4s flew at low-level 'Scud' missile hunting over a featureless Iraqi desert at night with great success.
2(AC) Squadron are tasked for the Tactical Reconnaissance role, initially using the GR.4A variant with the internally mounted TIRRS (Tornado infrared Reconnaissance System). However, the Reconnaissance Airborne Pod for Tornado (RAPTOR) is replacing the TIRRS system and can be mounted on both the GR.4 and GR.4A variants and is used by at least seven GR.4/4A squadrons. RAPTOR is a very advanced reconnaissance sensor capable of downloading in real-time, long stand-off range, oblique photography to ground stations for analysis during a sortie. The GR.4 is expected to be in service till 2025.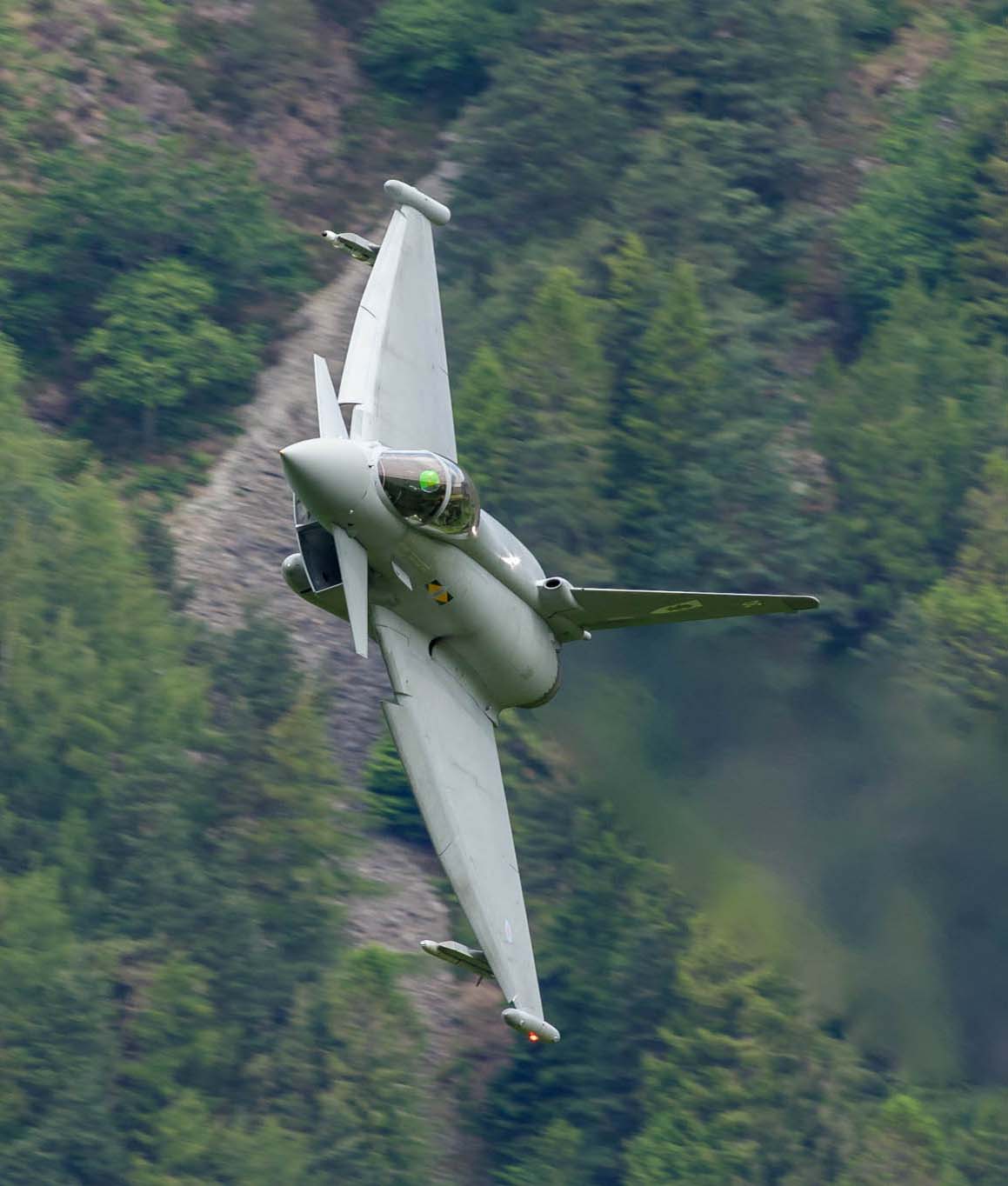 Eurofighter Typhoon T.1/T.3 and F.2/FGR.4
17(Reserve) Squadron was reformed as a Reserve Squadron on September 1, 2002 at BAE Systems, Warton and was tasked to bring the Typhoon in to operational service with the RAF. On April 1, 2005 the Squadron relocated to Coningsby. In July 2005 pilots from 17(R) Squadron, the Operational Test and Evaluation Unit for the Typhoon, attended the first formal course run by 29(Reserve). 17(R) was disbanded in April 2013 and its some Typhoons were transferred to 41(R)TES Squadron.
In September 2003 29(R) Squadron reformed as the Typhoon Operational Conversion Unit at BAE Systems at Warton with the two-seat Typhoon T.1 training aircraft. In June 2005 the squadron moved to RAF Coningsby, officially standing up on November 4, 2005. 29(R) is tasked with providing technical and tactical training of all engineers and pilots for the Typhoon.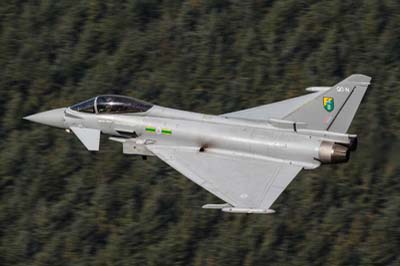 On April 1, 2006 3(Fighter) Squadron at Coningsby become the first frontline squadron to become operational on the single-seat Typhoon F.2. The initial allocation of ten aircraft was in operation by October 2006. On June 29, 2007 they took over responsibility for the Southern QRA replacing the 25(F) Squadron Tornado F.3 detachment.
11(F) Squadron followed, reforming at Coningsby on March 29, 2007. As the multi-role lead squadron, it is tasked to be the first front line Typhoon unit with an air-to-surface capability. Part of the Qualified Weapons Instructor (QWI) course, the Basic Surface Attack Module (BSAM) involves using heavy weapons, Close Air Support (CAS) and air interdiction. 11 Squadron were cleared to drop Paveway Precision Laser Guided Bombs (LGB) in November 2007.
In November 2007 Block 5 Typhoons were designated T.3 and FGR.4 which are equipped with the Passive infrared Airborne Tracking Equipment (PIRATE), having a sensor to the front right of the cockpit. The earlier T.1 and F.2 Typhoons will be upgraded to T.3 and FGR.4 standard.
6 Squadron reformed in September 2010 with the Typhoon at Leuchars, they took over the northern QRA from 111(F) Squadron Tornado F.3s on March 14, 2011. 1(F) was reformed with the Typhoon at RAF Leuchars in September 2012.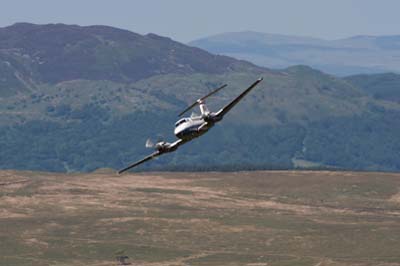 Beechcraft Super King Air B200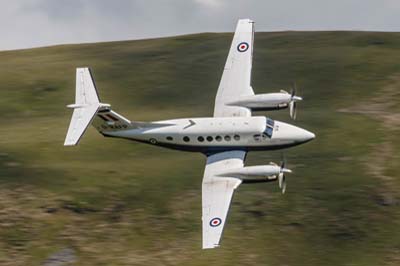 The Super King Air B200 first entered service in 2004 and is operated by 45(R) Squadron which is part of 3 Flying Training School based at RAF Cranwell. The King Air course utilises pilots streamed to fly multi-engine aircraft and have completed the MELIN course on the Firefly. The course is split into basic and advanced phases. In the basic phase, students learn essential multi-engine techniques such as general handling, asymmetric flying, emergency handling and radio-aids navigation and consolidate the multi-crew skills. In the advanced phase, the emphasis shifts towards developing captaincy, crew resource management and managing the King Air's advanced avionics systems. Students learn advanced skills such as formation flying, low-level flying and airways navigation. Students will eventually plan and manage composite missions involving several aircraft. Five of the seven assigned aircraft have military serials applied enabling them to fly as low 250 feet (76m). Army Air Corp (AAC) student pilots also attend the course before progressing on to the Islander or the rotoary wing.

Left: Super King Air B200 (ZK450 'J') of 45(R) Squadron, 3 FTS based at RAF Cranwell on a low-level navigational training sortie in mid-Wales in March 2009.
Right: Super King Air B200 (G-RAFP) of 45(R) Squadron, 3 FTS. When civilian registered it was not allowed below 500 feet (152m) in the UKLFS. Mid-Wales June 2010.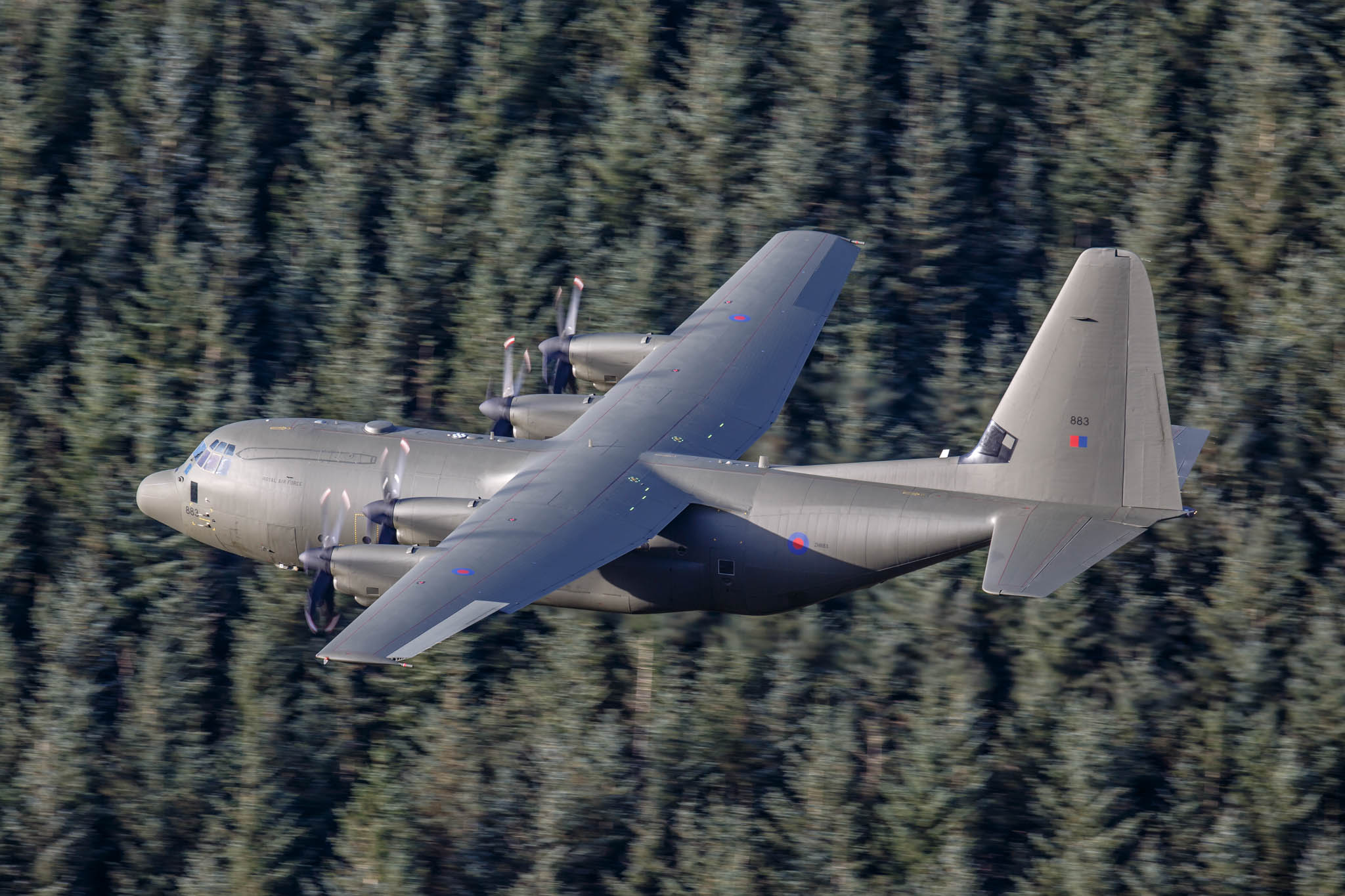 Lockheed C-130J Hercules C.1/C.3/C.4/C.5
RAF Lyneham in Wiltshire was the home of the RAF's transport fleet of Lockheed C-130 Hercules. It is over forty years since the first of 66 C-130K Hercules C.1 (most upgraded later to C.3 standard) were delivered to the RAF from August 1, 1967. Thirty or so years later a further 15 C-130J-30 Hercules C.4 and 15 C-130J Hercules C.5 were delivered to the RAF Brize Norton Transport Wing (BNTW). The remaining 'K' variants remained in operation till October 2013.
The BNTW comprises 24, 30, 47 and 70 Squadrons their role is Tactical Air Transport. The BNTW comes under the command of 2 Group Air Combat Support and Air Battle Management and the 38 Expeditionary Air Wing (EAW). 24 Squadron operates the C.4 variant, 30 Squadron the C.4 and C.5, 47 Squadron the C.1, C.3 and C.3A and 70 Squadron operate the C.3 variant only.
The C-130 fulfils a variety of roles for the RAF. In the Air Transport role the C-130 is ideal for short haul operations of troops and equipment. As the C-130 can land on short and unprepared landing strips, its rugged design means it is suited to Tactical Air Land Operations. Troops and equipment can be off-loaded in full fighting order in rapid time. If required troops, including Special Forces and equipment can be dropped by parachute on to a Drop Zone (DZ) within a five minute window. Delivery profiles can include High Altitude, High Opening (HAHO) or High Altitude, Low Opening (HALO). The Air Loadmaster who is responsible for everything behind the flight deck and can work with Ground Engineers working as threat observers, to airdrop troops and supplies day or night. Search and Rescue (SAR) operations have also been added to the C-130s role and in place of the Nimrod MR.2s on occasions. Inflatable life rafts and divers can be dropped into the sea. The fleet of C-130s is also available at short notice to deliver humanitarian aid and non-combatant evacuation.

Some operations demand that the crew fly the C-130 at low-level. Operating such a large aircraft at low-level is as demanding as it is thrilling. It involves managing a large crew and utilising defensive tactics with a comprehensive range of defensive aids. Unlike fast-jets the C-130 is unable to climb out of some tricky situations, pilots have to be constantly aware of their escape options. A typical low-level training sortie will include 'events' ranging from dummy drop zones, live drops to natural surface operations (NSO). NSO training requires aircrew to practice flying approaches without any visual references with landings on natural surface strips by day and night. The C-130 during low-level operations in hostile environments is potentially vulnerable to air-to-air threats, consequently crews practice fighter evasion exercises, often at night using night-vision goggles (NVG).
Helicopters, RAF, Army Air Corps, Royal Navy


Most military helicopter activity is essentially at low-level, but most is away from mountain valleys. Flying at slower speeds helicopter pilots often avoid the valleys frequently used by fast jets for safety reasons. When in the valleys they will fly at the lowest allowable height.
On completion of Elementary Flying Training, students selected for the Rotary Wing Pilot course, go to the Defence Helicopter Flying School (DHFS) at RAF Shawbury which is a tri-service helicopter school. RAF students are allocated to 60(R) Squadron, FAA students to 705 Squadron and AAC pilots to 660 Squadron. The students complete Basic and Advanced Rotary Flying Training on the Squirrel HT.1 helicopter before being streamed for an OCU. Pilots conduct low-level navigation down to 100 feet, mountain flying, winching, instrument and formation flying.
Successful students progress to the School of Army Aviation at Middle Wallop and the Operational Training Phase (OTP) course. 88 hours are flown on the Squirrel teaching the student how to use the aircraft rather than fly it. Before being posted to a Regiment students will complete the final Conversion to Type (CTT) course on the Gazelle, Lynx or Apache.
Left to right: Bell Griffin HT.1 (ZJ708 'K') on low-level navigation exercise it is from 60(R) Squadron Defence Helicopter Flying School (DHFS) at RAF Shawbury.
Royal Navy Lynx HMA.8SRU (XZ690 '404-IR') flying at just 50 feet above the lake's surface to avoid oncoming fast jets.
Westland Merlin HC.3 (ZJ125 'J') of 846 NAS, Royal Navy in mid-Wales in March 2016.
Westland Merlin HC.3A (ZJ998 'AE') still with 28(AC) Squadron at RAF Benson at 50 feet AGL in mid-Wales in December 2014.
Left to right: Eurocopter Squirrel HT.1 (ZJ254 '54') of 670 Squadron AAC on the Salisbury Plain Training Area (SPTA) within low-flying Area 1 (LFA 1).
Apache AH.1 (ZJ190) of AAC 662 Squadron 3 Regiment based at Watisham. Three Westland WAH-64 Apache AH.1s of the Army Air Corp (AAC) were forward deployed and using their own support this week at Caernarfon airfield. They were carrying out day time and night time mountain flying training sorties at low-level in the Welsh Military Training Area (MTA) in June 2006.
Chinook HC.2 (ZA707 'AO') of 18/27 Squadron of Odiham Wing transiting through the Lake District in March 2011.
Lynx AH.7 (XZ669 'I') of 671 (Training) Squadron AAC in the Snowdonia Rotary Mountain Flying Training Area (MFTA) in January 2013.
Left to right: Royal Navy Sea King HC.4 (ZF124 'L') of 846 Naval Air Squadron from RNAS Yeovilton on its way to RAF Valley.
Lynx AH.7 (XZ669 'I') of 671 (Training) Squadron heading north in Cumbria hugging the side of the valley at around 100 feet AGL in January 2012.
Sea King HAR.3 (ZA105 'Q') of RAF Rescue 22 Squadron 'C' Flight based at RAF Valley in Snowdonia in October 2012.
Lynx HMA.8SRU (XZ725 '339') callsign 'Skua 393' of 815 NAS HQ Flight based at RNAS Yeovilton in July 2015.
QinetiQ


QinetiQ is responsible for the Aircraft Test and Evaluation Centre (ATEC) and the Empire Test Pilots School (ETPS) and are both based at Boscombe Down. They regularly fly low-level sorties for weapons and system testing and to keep the aircrew current.
Left to right: Alpha Jet (ZJ645 '45') in a new black and white QinetiQ scheme in June 2009.
Gazelle AH.1 (XX453) of QinetiQ - Rotary Wing Test and Evaluation Squadron (RWTES) on the Salisbury Plain Training Area (SPTA) in November 2011.
Andover C.1 (XS606) of ETPS is not often seen at low-level this time it was in Wales in February 2008.
Gazelle HT.3 (XZ936 '6') of QinetiQ / Empire Test Pilots School (ETPS) on the Salisbury Plain Training Area (SPTA) with Copehill Down (FIBUA) in the background in November 2011.

BAE Systems


Based at Warton, BAE Systems frequently flight-test a range of aircraft at low-level ranging from the Pilatus PC-9 to the Typhoon.
Left to right: New Typhoon F.2 (ZJ914) test flying with BAE Systems at Warton before its delivery to the RAF in 2005.
Tornado GR.4A (ZA402) which is not a standard RAF aircraft but a systems test aircraft.
Pilatus PC-9 (ZK119 'Percy') in September 2010.
Left to right: Hawk 132 (ZK121) is with BAE Systems at Warton being flight tested prior to delivery to the Indian Air Force seen in May 2008.
BAE Systems Hawk 100 demonstrator (ZJ951) in a new paint scheme applied specially for the SBAC show in 2007 at Farnborough. A Hawk with BAE Systems was flying alongside as a cameraship.
Hawk T.2 (ZK018) of BAE Systems during a low-level training flight for a 19(R) instructor in preparation for the Hawk T.2 entering service with the RAF at Valley, seen in March 2009.
Cobham Aviation Services (formally FR Aviation)


Based at Bournemouth and Newcastle Cobham Aviation Services operate with NATO Air Forces in the air warfare training role.
Falcon 20EW (F-RAFR) when with FRA it as seen at an unusually low-level in mid-Wales in December 2008.
Foreign Air Forces based in the UK or visiting from abroad.
F-15C Eagle (84-010 'LN') of 493rd FS, 48FW based at RAF Lakenheath in April 2013
Left to right: F-22A Raptor (05-4081 'TY') assumed to be calling 'Mongol Flight' of 95th FS during a deployment to RAF Lakenheath in April 2016.
Left to right: F-15E Strike Eagle (96-0205 'LN') of the 492FS, 48 FW based at RAF Lakenheath in October 2008.
HH-60G Pave Hawk helicopter (88-26205 'LN') of 56th Rescue Squadron (56 RQS) based at RAF Lakenheath mountain flying training in Snowdonia in May 2012.
A-10A Thunderbolt IIs (81-0988 'SP' and 82-0650 'SP') of 81st FS, 52nd FW normally based at Spangdahlem in Germany, were deployed to Lakenheath in July 2007 while their runway was repaired.
Bell CV-22B Osprey (11-0058) using callsign 'Knife 75' from the 7th Special Operations Squadron based at RAF Mildenhall in July 2015.
Left to right: Westland Sea King Mk.41 (89+57) of MFG-5 German Navy (Marineflieger) passing through LFA 7 en route to RNAS Culdrose for an air show. It is cautiously hugging the right hand side of the valley.
Boeing CH-47D Chinook (D-102). Three RNLAF (Koninklijke Luchtmacht) CH-47D Chinooks and two Eurocopter AS532U2 Cougars from 298 Squadron based at Gilze-Rijen Air Base in Holland were based at Carlisle Airport were taking part in exercise 'TAC Blaze' which ran from March 12 to March 30, 2012.
Alpha Jet E (E7 '314-TU') from the French Air Force (Armée de l'Air) Ecole de L' Aviation de Chasse 00.314 based at Tours and was one of four Alpha Jets low-flying during a squadron exchange with 208(R) in May 2008.
Mirage 2000N (348 '125-AL') callsign 'Ramex 42' in the Lake District in October 2013.
Left to right:
Finnish Air Force (Ilmavoimat) Hawk T.51A (HW-355) from the Central Flying School (Ilmasotakoulu) based at Kauha during their deployment to RAF Valley in September 2013.
Panavia PA-200 Tornado ECR (46+49) of Jagdbombergeschwader 32 (JBG 32) based at Lechfeld. 14 German Air Force Tornado ECR/IDS jet were deployed to RAF Leuchars for Exercise Joint Warrior in October 2012 and flew numerous sorties in the UKLFS.
Swiss Air Force Pilatus PC-21 (A-107) seven aircraft were deployed to RAF Valley for a week in August 2015.
F-16AM Fighting Falcon (FA-127) of 1 Squadron Belgian Air Component based at Florennes flying low-level in Wales in April 2016 when deployed to RAF Marham.
F-15E Strike Eagle (96-0205 'LN') of 492 FS, 48 FW based at RAF Lakenheath low-flying through LFA 7 in June 2009.