Classic Air Force Moves to Cornwall
Newquay Cornwall Airport (formally RAF St.Mawgan)
March 28-31, 2013 + March and August 2015 updates
Classic Air Force is to be sold


In August 2015 it was announced by Mike Collett at age 72 and founder of Classic Air Force now at Coventry airport is to sell the collection due to his retirement.

"The absolute essential is that they keep flying," he said. "These are living pieces of history, capable of teaching piloting and engineering skills that could otherwise be lost. Our commitment has always been to keep these aircraft alive and operational rather than let them become dead museum pieces.
"All other considerations being second to that, I'm open to suggestions. If a committed, well-funded organisation puts a convincing proposition to me then it may well be possible for the whole collection to pass into new ownership. In many ways that's my favourite scenario.
"I'm not looking for a quick result," he added. "I'm committed to finding the right owners or partners. I'm quite happy if it takes a year to find the right homes for the remainder. Once I'm sure that these unique aeroplanes will keep on flying for future generations then I'll feel I've done my job."
Newquay site to close


On March 25, 2015 and just under two years since the grand opening (see below) the Newquay site of Classic Air Force (CAF) is to close. Optimistically CAF reports that flying operations will continue from their Coventry site known as 'Airbase' and is a seperate entity. There was no mention in the press release on Facebook today as to what will happen to the non-flying airframes at Newquay, many enthusiasts are concerned about the fate of many of the aircraft on display such as the grounded One-Eleven and VC-10 which were donated to the museum since its opening. It must be assumed that the estimates of paying visitors required to fund the charirty run museum were not matched by the actual figures and the charity simply ran out of money over the winter period when the collection was closed to the public.
The shock Facebook media release today puts an optimistic view on the future, "Our focus now is on our traditional home here in Coventry, where we'll be doing more flying, more events and adding more to see and do than ever before. Our task now is to maintain the fantastic visitor reputation our Cornwall guys achieved as the number one attraction on TripAdvisor. Thank you guys, you've done a truly outstanding job".
Lets hope that the future of the collection is assured and the museum's valuable aircraft will continue to be looked after. Its a very sad end for all those involved in Cornwall.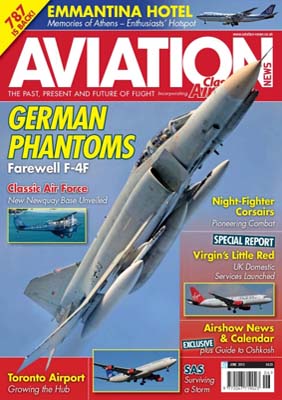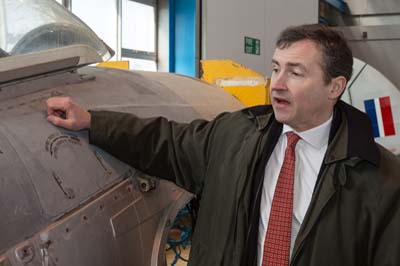 Tim Skeet is Chairman of the Classic Aircraft Trust.


The Classic Air Force has moved to Newquay Cornwall Airport.


Philip Stevens was there For Aviation News

for the opening of its new base.



The Classic Air Force (CAF) had a successful grand opening at its new home at Newquay Cornwall Airport (formally RAF St Mawgan) on March 29. 2,554 visitors on this first day of the Easter period were allowed in free to see what historic aircraft had arrived from their former home at Coventry.

The expanding collection of over 30 aircraft many owned by the Classic Aircraft Trust a registered charity since 2012 and others by Air Atlantique Ltd, are set to fill the massive 63,000 sq ft (19,202 sqm) Hangar 404. The largest building in Cornwall it had been used by the RAF for its BAE Systems Nimrods. Ironically the Trust's own Nimrod MR.2 will remain at Coventry under the care of the Shackleton Preservation Trust due to the excessive cost of moving it by road.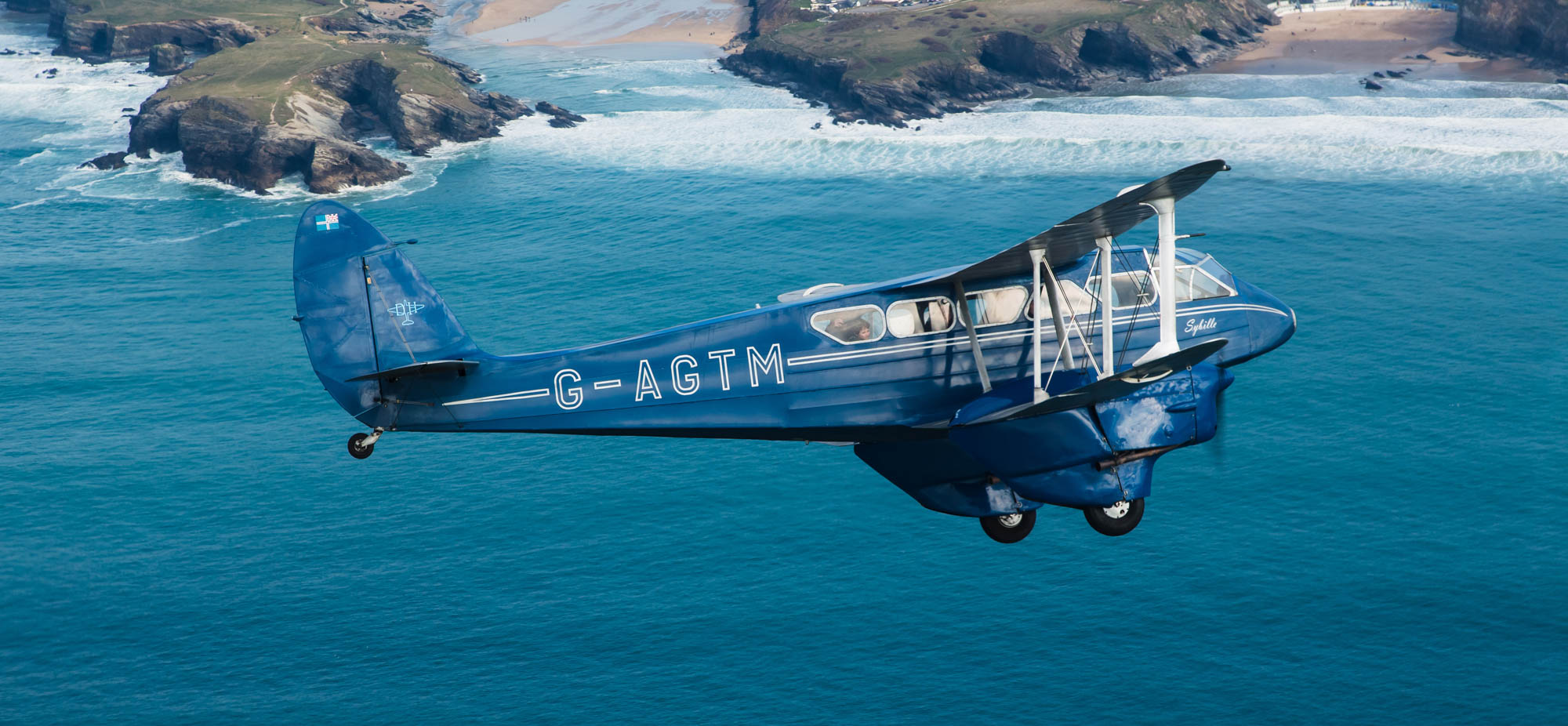 de Havilland DH.89A Dragon Rapide (G-AGTM) is available for pleasure flights from CAF's Newquay base. Passengers experience all the joys of flying in a vintage airliner and get to see Cornwall's spectacular coastline from the air.
Built in 1944 it initially served with the RAF before being civilianised at the end of the war when it was sold to the Iraq Petroleum Transport for operation in the Middle East where it remained until 1964. Returning to the UK it was utilised as a parachute trainer for the Army Parachute Association. Following a period operating as an air taxi it joined Air Atlantique in 1999.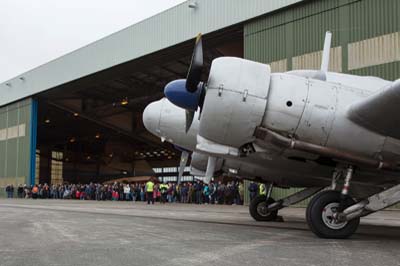 Avro 652A Anson (WD413 registered G-VROE) looks on as visitors crowd CAF's hangar at Newquay for its grand opening event on March 29.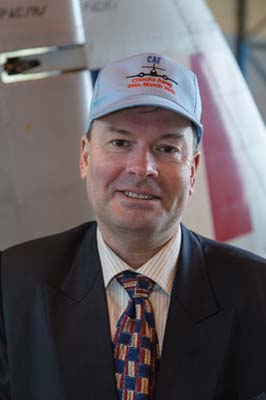 Davie Paton is Classic Air Force's Chief Executive Officer. "We need to be a family friendly tourist attraction in order to attract the numbers that we need to keep these aircraft flying."

The collection is the vision of one man, Michael Collett who started acquiring classic British built aircraft from 1970, while building his Air Atlantique Group which utilised the Douglas DC-3 Dakota, DC-6 and Lockheed Electra at Coventry from 1985. Later after fleet modernisation Mike Collett decided the break up his businesses with management buyouts to devote more time to fulfilling his desire to restore his aircraft to flying order.

It is easy to understand why the decision to move to Newquay was made with the impressive facilities on offer. David Blackburn Classic Aircraft Trustee has known Mike Collett since they learned to fly in their teens; "Mike had already decided that Coventry was not the right place before he was persuaded to move to the Cornwall Aerohub Enterprise Zone. The rent is significantly less and we have no rates to pay in the first year".

Richard Spencer-Breeze, General Manager has been delighted with the response from the people of Cornwall; "We held a meet and greet in January and nearly 50 turned up, a further 60 volunteers have since registered, its all been by word of mouth". The volunteers have a passion for classic aircraft and provide a wide range of skills. Some are ex-servicemen but many others are really just aircraft enthusiasts who are willing to do simple tasks such as; painting, washing and general administration.



The move south


Since the beginning of 2013 the aircraft have been flown down from Coventry when good weather and serviceability have prevailed. First to arrive was Auster J/1 Autocrat (G-JAYI) on January 5 taking three hours under low cloud. Over the following weeks some of de Havilland's finest migrated south; DH.89A Dragon Rapides (TX310 registered G-AIDL and G-AGTM), Vampire T.55 (G-HELV painted as 'XJ771' formally Swiss Air Force U-1215), Venom FB.50 (G-DHVM painted as 'WR470' formally Swiss Air Force J-1542) and Chipmunk T.10 (G-APLO formally WD379). Avro 652A Anson C.21 (WD413 registered G-VROE), Hunting Jet Provost T.3A (XM424 registered G-BWDS) and DC-3 Dakota (G-AMRA) were also flown down by CAF Chief Pilot Jon Corley, a Tom Cruise look alike he has one of the most varied piloting jobs in the vintage aircraft flying fraternity. Corley flew the immaculately restored Percival P.31 Proctor 5 (G-AKIU) which took to the air for the first time in over 20 years last September. It will be used for pleasure flying as soon as CAA approval has been gained with the two Dragon Rapides, Prentice and Chipmunk along with the Dakota if current discussions with the CAA prove fruitful. Gloster Meteor T.7 (WA591 'FMK-Q' registered G-BWMF), believed to be the World's oldest flying twin jet failed to make the grand opening despite several of aborted attempts due to less than ideal weather.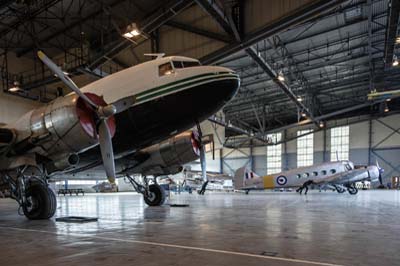 There is plenty of space inside the hangar CAF now occupy at Newquay. Hopes are high that Dakota G-AMRA will be able to join CAF's pleasure flying fleet. Here it shares hangar space with the Anson and J/1 Autocrat G-JAYI.

Non-airworthy aircraft transported by road were de Havilland Sea Devon C.20, (XK895 registered G-SDEV), Hawker Sea Hawk (WV798) and two Hawker Hunters a T.8C (WT722 registered G-BWGN) and Hunter GA.11 (WV256) which will be painted scarlet to represent the jet Neville Duke achieved a World air speed record in 1953, it is to be pole mounted at the museum's entrance. A recent addition to the collection is Vickers Varsity T.1 (WJ945 registered G-BEDV) which arrived by road from Duxford.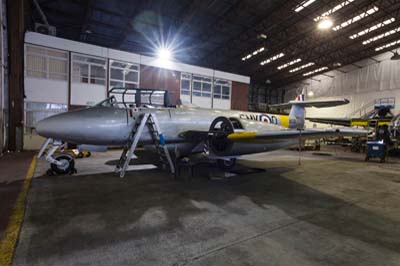 Gloster Meteor T.7 (WA591 'FMK-Q' also G-BWMF) it arrived at Coventry after a £500,000 rebuild at Kemble. Built in 1949 it is currently Worlds oldest twin engine flying jet. Operational issues conspired against making it to Newquay for CAF's opening event.

Working in partnership


The Trust works in tandem with Air Atlantique who through a formal service agreement maintain and operate the flyable aircraft. Tim Skeet Trust Chairman explained; "Mike Collett wants to retire and hand the collection over, but it has to stand on its own two feet. The ongoing cost and expenses incurred, including the development of this site, are currently funded by Air Atlantique from their resources on friendly credit terms. This means repaying any loans, covering its costs and building a fund for future expansion of the fleet. As a charity, the idea is not to make a profit, but to invest in the future".

The Trust has appointed Group Captain Davie Paton OBE RAF (retired) as Classic Air Force Chief Executive Officer to head the team and ensure the Trust starts to generate sufficient income to cover all costs including restoration work which will also transfer to Newquay.

With a café and shop, a flight simulator, cinema, static aircraft for visitors to sit and vintage aircraft pleasure flights more than ever it is about attracting the family. Cornwall welcomes four to five million visitors each year a target of 100,000 to 150,000 visitors to CAF by the end of the second year has been set. The revenue from visitors, grants, films, membership of the Classic Air Force Club, corporate sponsorship plus air show fees it is believed will ensure a long-term future. During the air show season the display aircraft will be repositioned to reduce transiting time.



More to come


The biggest challenge for Air Atlantique is the restoration to flight of the World altitude record breaking English Electric Canberra B.6 (WK163 registered G-BVWC) which is budgeted at £250,000. Five engines have been located, it has passed a corrosion inspection and the required Non-Destructive Testing is underway. Six Canberra technicians are working hard to complete the project in the coming months. The Scottish Aviation Twin Pioneer (G-APRS formally XT610) is also undergoing work principally to a spar to enable it to fly again. The de Havilland DH.104 Dove 8 (G-DHDV), Percival Pembroke (XL954 registered G-BXES) and Chrislea CH.3 Super Ace 2 (G-AKVF) are set to make the July 31 deadline to vacate the Coventry facility.

Tim Skeet like all others at CAF spoke with glowing praise of Mike Collett's passion, "He has a personal commitment to preserve Britain's aviation history", adding; "We are counting on his active role in retirement, he has put so much of his life, energy and money in to keeping these aircraft flying".



By April 20th the museum had 12,000 visitors and flown 100 passengers on pleasure flights.
Left to right: Jon Corley joined Air Atlantique (the licence holder for the Classic Flight fleet) as a cadet in 1997 and is today Chief Pilot. His CV includes: Auster J-1, Avro Anson, Cessna 152, Cessna 310, de Havilland Chipmunk, de Havilland Dove/Devon, de Havilland Rapide, de Havilland Vampire, de Havilland Venom, Douglas DC3, Fairchild Metroliner, Jet Provost T.3 and T.5, Percival Pembroke, Percival Prentice, Piper Cub and Scottish Aviation Twin Pioneer.

Recently restored and resplendent in the colours of a similar machine operated by the British Embassy in Washington, DC, Percival Proctor (G-AKIU) is likely to become available for pleasure flights as soon as an air operator's certificate (AOC) can be acquired from the Civil Aviation Authority (CAA).

There are several non-flying aircraft in the collection, including this de Havilland Sea Devon C.20 (XK895 registered as G-SDEV).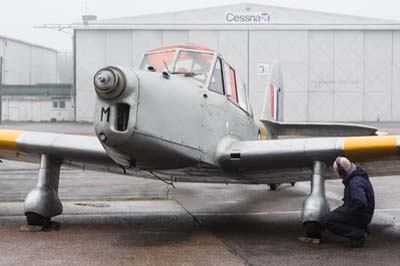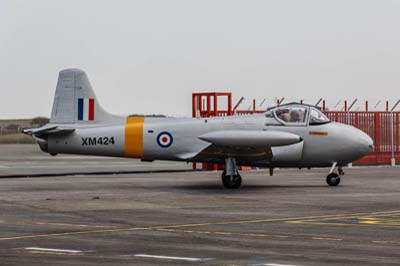 Left to right: Another Percival type, Prentice VR259, registered G-APJB, is already available for visitors to fly in.

Hunting Jet Provost T.3A (XM424 registered G-BWDS) wears RAF training colours from the period before red and white was adopted across the training fleet.
Left to right: Hunter GA.11 (WV256) which will be painted scarlet to represent the jet Neville Duke achieved a World air speed record in 1953, it is to be pole mounted at the museum's entrance. A recent addition to the collection is Vickers Varsity T.1 (WJ945 registered G-BEDV) which arrived by road from Duxford. Visitors will be able to go aboard as soon as it has been refurbished.
Left to right: Hunting Jet Provost T.3A (XM424) during a brief flying display on the grand opening. Avro 652A Anson (WD413 registered G-VROE).
Left to right: Percival P.40 Prentice T.1 (G-APJB formally VR259 'M') which ws built in 1947 and entered service with the RAF in 1948.