Air to Air Photography
de Havilland DH-89A Dragon Rapide
Newquay Cornwall Airport (formally RAF St.Mawgan)
March 30, 2013
I was on an assignment for Aviation News commissioned to write an article on the grand opening of the new Classic Air Museum at Newquay which had relocated from Coventry. Anticipating a double page spread for an exciting and meaningful image I requested a shoot with their de Havilland DH.89A Dragon Rapide (G-AGTM) during one of its first Cornwall pleasure flights. For this air to air photo shoot I flew in DHC-1 Chipmunk T.10 (G-APLO formally WD379). During the flight briefing it was decided to take off before the Dragon Rapide and circle around behind it and follow it down to Newquay while closing in fairly close over the town at 1,500 feet AGL. After following the coastline back to Newquay Cornwall Airport we performed a 360 degree orbit before breaking away (with a 2.5g turn) to land behind the Dragon Rapide and conclude the 20 minute flight.
I was shooting through a glass canopy with a Canon 24-105mm L zoom lens. I was discouraged from using a 70-200mm zoom due to the confined cockpit, on reflection I think I should have gone with that longer lens.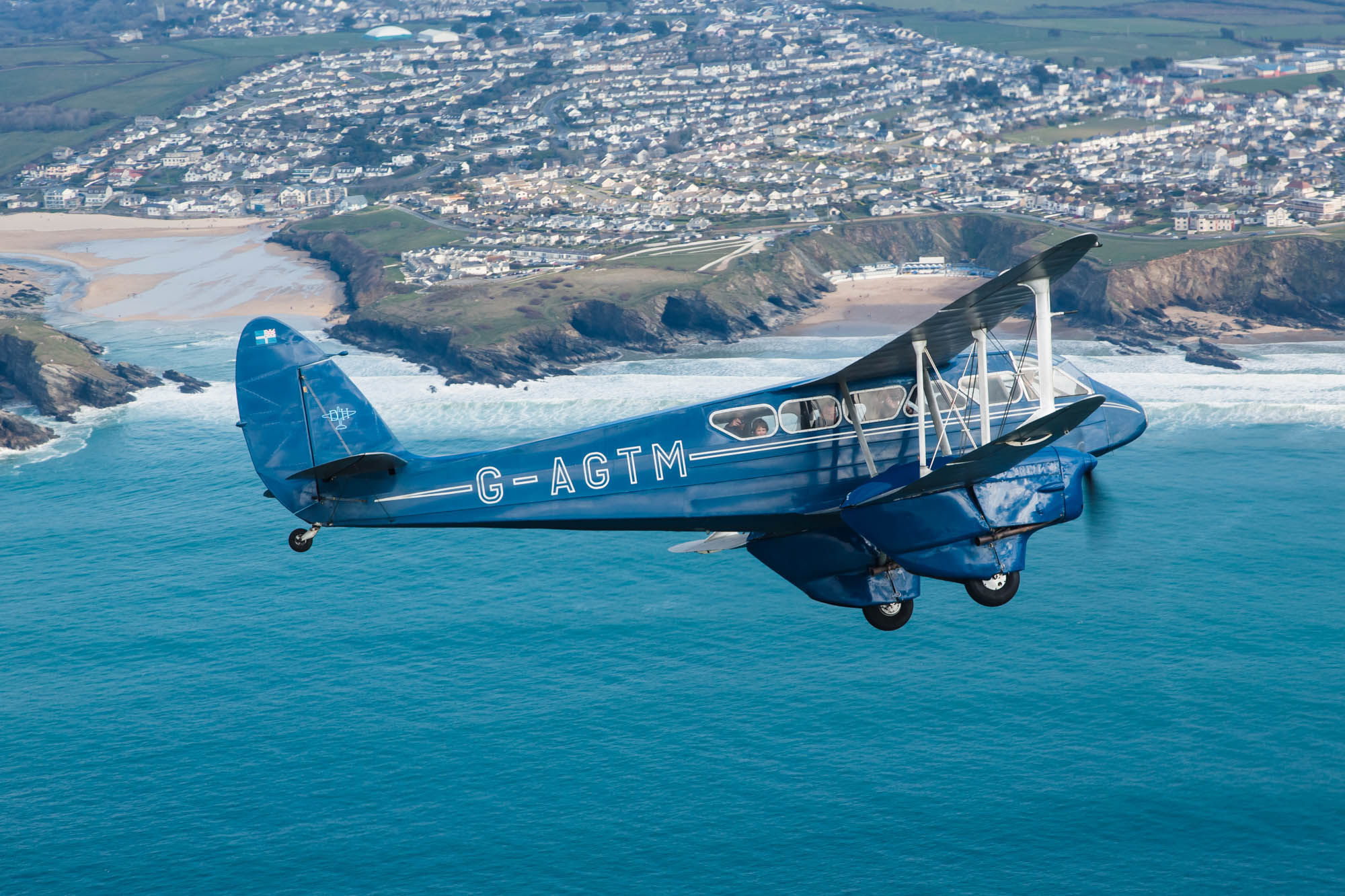 Left to right: de Havilland DH.89A Dominie Mk II (G-AGTM). Built in 1944 it initially served with the RAF before being civilianised at the end of the war when it was sold to the Iraq Petroleum Transport for operation in the Middle East where it remained until 1964. Returning to the UK it was utilised as a parachute trainer for the Army Parachute Association. Following a period operating as an air taxi it joined Air Atlantique at Coventry in 1999.
Left to right: Pre-flight maintenance checks before the pleasure flying.
Left to right: Over Newquay.
Over the sea during the orbit
Left to right: During the slow orbit.
Left to right: South down the coast back towards Newquay at 1,500 feet.
A little closer with the light fading
Left to right: The 2.5g turn over the Cornish coast and yours truly during the airfield approach in the backseat. At the end of the day back in the hangar.