Royal International Air Tattoo
Fairford
July 14-15, 2007
The Royal International Air Tattoo for many aviation enthusiasts is the highlight of the aviation calendar. It remains the largest airshow in Europe and the hundreds of thousands who attend, expect a full day's entertainment and get exactly that. This years display theme, was to commemorate the 60th anniversary of the United States Air Force and once again the show met with overwhelming approval of those that went. Crowds this year exceeded last year's total of 160,000 by up to 10%, two-thirds of which came on the Saturday due to the better weather forecast.

What comes with such a large event however and since 911 in particular, are huge security problems. It was reassuring to know that everyone was searched before they gained entry. However on the downside, long queues formed to get in, from as early as 7:30 a.m., but they were not too onerous. The static aircraft park was extensive and is very well laid out, most exhibits were separated to aid the photographer. Personally I prefer to photograph aircraft in action, so a good part of my time, over the action packed weekend, was spent on the crowd line. A crowd line, when compared with many European air shows, that is as close as you would wish. Most of the display aircraft these days are parked close to the spectators. All the preparations for flight can be seen easily, for photographers there are excellent opportunities for those start up and taxiing shots.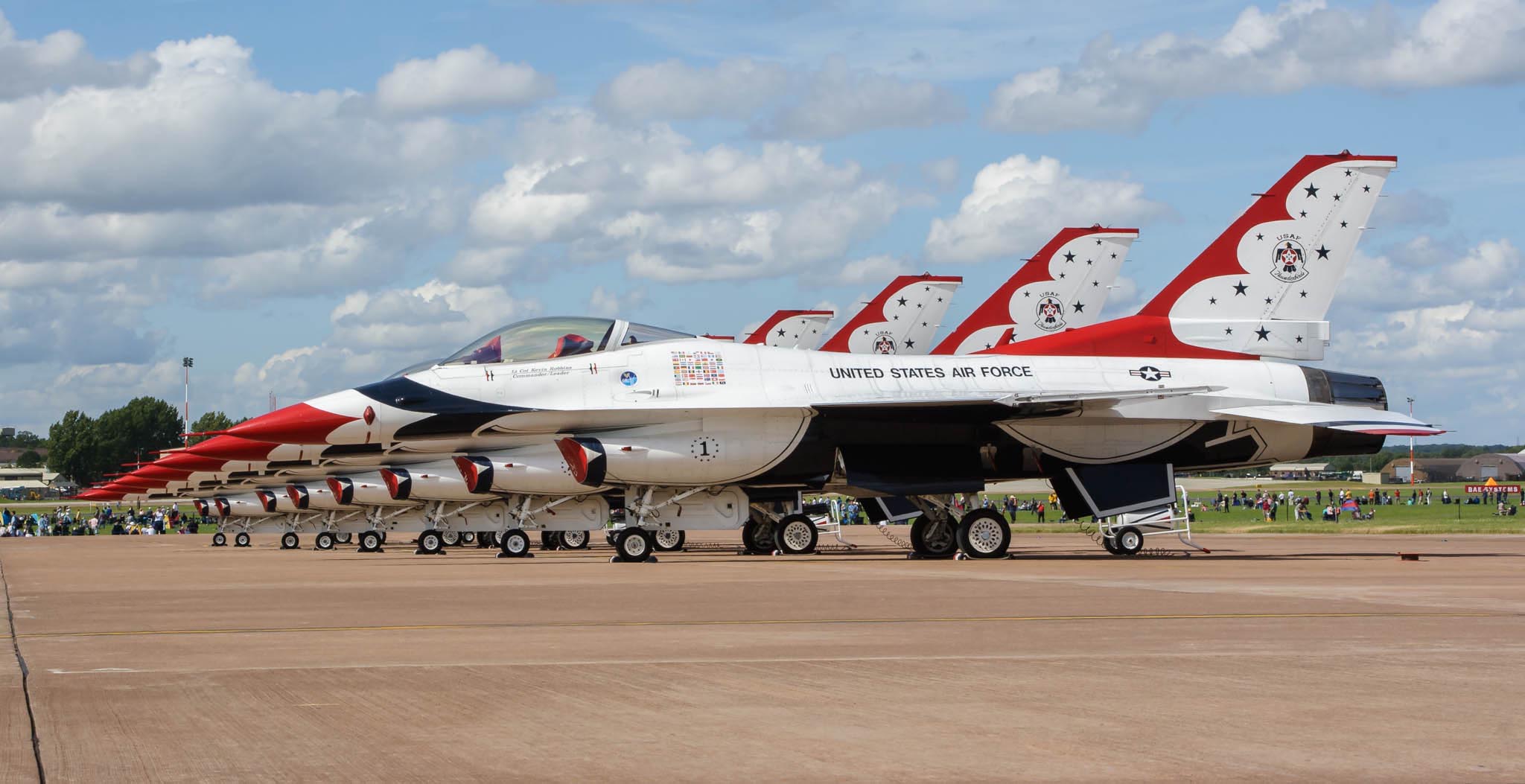 The 'The Thunderbirds' - USAF's Air Demonstration Squadron.
Precision flying combined with precision parking.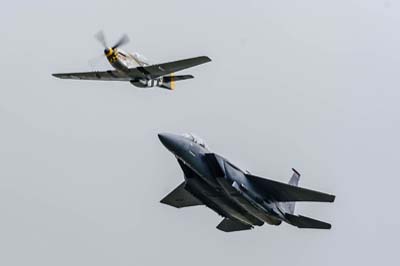 Its true people might have expected the USAF to provide more aircraft for the show, but no other Europe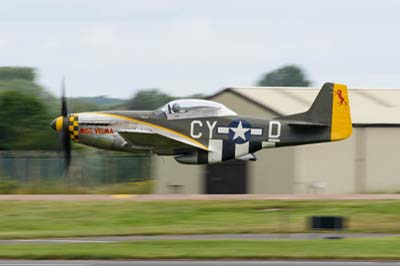 an show has anywhere the same level of USAF involvement as RIAT. The USAF Thunderbird display team with their F-16C/D Fighting Falcons were top of the bill and quite rightly so. They don't often cross over to the UK, the last time being seven years ago, it was their first display at RIAT. The Thunderbirds bring their own commentary team from Nellis AFB with extensive supporting equipment. Unfortunately for members of the media they were allocated a spot right in front of the media compound, blocking shots of the take-off and landings. The extensive Thunderbird display more than made up for any missed shots. The F-15E Strike Eagle Demo Team from the 4th FW at Seymour Johnson AFB crewed a borrowed 48th FW jet from RAF Lakenheath.

The Fighter Collection flew their latest acquisition the TF-51D Mustang 'Miss Velma' as part of the Heritage Flight display with the F-15E. 'Miss Velma' had recently made the Atlantic crossing to join the Fighter Collection at Duxford. Another historic USAF aircraft to fly was the immaculate F-86A Sabre owned by Golden Apple.
The B-1B Lancer from the 7th Bomb Wing display was impressive, for once offering stunning topside passes to delight the thousands of photographers. An F-117A Nighthawk from the 49th FW at Holloman AFB flew perhaps for the last time in Europe before its retirement and 15 years since its first public showing at Mildenhall.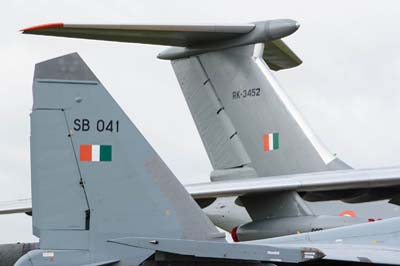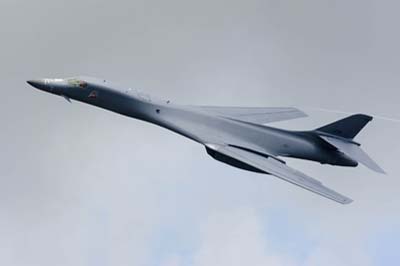 RIAT was not just a USAF 60th anniversary event of course, many air forces as usual from around Europe and beyond, attended the show. The most exotic being Indian Air Force, who had just completed exercise Indra Dhanush at RAF Waddington with 25 Squadron's Tornados, were persuaded to bring an IL-78MKI Midas and a pair of Sukhoi Su-30MKI Flanker's for the static display. They also briefly flew on the Saturday only another to complete a very special RIAT first.

The extensive flying display was concluded each day, Saturday in the much better weather, with a 'Tactical Role Demo'. This elaborate event consisted of Tornado GR.4s attacking Fairford with impressive pyrotechnics, were supported by an RAF E-3 Sentry for AWACS cover. Tornado F.3s, Chinook and Hercules completed the demonstration package.

Due to cuts in military budget and operational commitments around the world, its not surprising that the number of aircraft attending RIAT has fallen in recent years, however this year numbers were slightly up over last year with 320 aircraft from 24 countries attending. Some have said that the show had grown to become too big and now it is more manageable.

RIAT remains a top aviation event and will continue to attract large crowds. Tim Prince and his vast team of professionals and the 3,000 plus volunteers must be congratulated for pulling off yet again a wonderful fun event. Next year's show will be held on the weekend of July 12-13, the same one chosen by Duxford's Flying Legends show! I can't imagine why this would be done deliberately as many enthusiasts want to attend both shows in their entirety.
RIAT Display Awards


Left to right: The Stearman's (inc N74189) of Team Guinot - Steadman Display Sword (best display by a UK participant).
Swiss Air Force F/A-18C Hornet (J-5007), Capt Thomas 'Pipo' Peier, Fliegerstaffel 18 - Paul Bowen Solo Jet Trophy.
Finnish Air Force F-18C Hornet (HN-432 '32'), Capt Tommi Heikkala, HavLLv 11 - Lockheed Martin Cannestra Trophy (best display by overseas participant).
RAF Typhoon F.2 (ZJ920 'BX'), Flt Lt Jim Walls, 29(R) Squadron - Sir Douglas Bader Trophy (best individual flying demonstration) and 'As the Crow Flies' (best display as judged by FRIAT).
The F-16Cs and single F-16D of the Thunderbirds.......
The Thunderbirds bring their own commentary team from Nellis AFB with extensive supporting equipment. Unfortunately for members of the media they were allocated a spot right in front of the media compound, blocking shots of the take-off and landings. The extensive Thunderbird display more than made up for any missed shots.
Left to right: F-117A Nighthawk's (84-825 and 80-788 'HO') of 8th FS/49th FW based at Holloman AFB and F-86A Sabre (48-178 'FU-178').
Three Spitfire PR-19s (PS853 'C', PM631 and PS915) and Hurricane (LF363 'YB-W') created the best sound heard at RIAT.
They were flying to mark the BBMF's 50th anniversary.
Left to right: The Red Arrows arrive in formation with the three Spitfires and Hurricane (see above). The Frecce Tricolori MB-339s giving the Red Arrows a run for their money for the best display team at RIAT.
Left to right: The first display at RIAT of the new Nimrod MRA.4 (ZJ518 '18') from BAE Systems at Warton.
Left to right: Spanish Air Force Tifon (C.16-28 coded '11-08') of 113 Esc/Ala 11 based at Moron.
Left to right: Indian Air Force Ilyushin Il-78MKI (RK-3452).
Polly Vacher's PA-28 Cherokee Dakota on the

'Wings Around the Britain'

tour of every UK airfield.
Slovenian Armed Forces (Letalska Eskadrilja) Pilatus PC-9M (L9-61 '61') just about to start its flying display.
Left to right: Czech Air Force Mil Mi-24V Hind (0788) and a for me a very welcome site at Fairford Belgian Air Force Sea King Mk.48 (RS02).
Left to right: Belgian Air Component F-16AM (FA -131) and Royal Netherlands Air Force General Dynamics F-16AM Fighting Falcon (J-055) complete with flares.
The Role Demo at the end of the show.
E-3D Sentry AEW.1 (ZH105) of 8/23 Squadron, Tornado F.3 (ZG780) 25 Squadron special, Chinook HC.21 (ZA705 'AN') of 18/27 Squadron and Tornado GR.4 flying through the black 'bomb' smoke.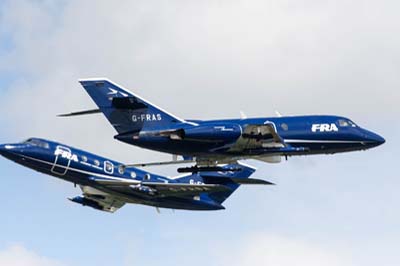 Photography Note

I was using a Canon 20D with a Canon 100-400mm L IS lens or Canon 300mm f2.8 L lens with and without a x1.4 extender. I was positioned at the mid-point of the runway, this is an ideal position for all the fast jet take-off's and for the displays themselves. I used ISO settings of 100 or 200. For jets an aperture of around f.8 was used, for props the setting was changed to no more than 1/350th, for helicopters I went down to 1/125th at times.

Right: The FRA Falcon 20EW crossover, a challenge for all photographers to capture. I just missed out getting the perfect shot this year. I will increase the ISO to obtain a shutter speed of 1/2000 or more to try a freeze both aircraft.