The de Havilland Moth Club
24th International Moth Club Rally
Woburn Abbey
August 21-22, 2004
Once again Woburn Abbey hosted the de Havilland Moth Club's annual International Moth Club Rally. However, foreign visitors were down on previous years, due to adverse weather conditions threatened for the weekend right across the continent. Never-the-less this did not detract from what was once again a wonderful weekend of flying nostalgia.



Following problems with a photographer last year, safety for the event was reviewed. Consequently there were a number of changes regarding passes and access to the aircraft this year. 'Serious' photographers could apply for a 'photographer pass' which gained them access to all areas. We were told that this could be withdrawn, should there be any indiscretion. The parking of the aircraft was also little different this year. Greater use was made of the eastern end, with general members of the public still given an excellent view of all the activity.

On speaking to Stuart McKay (organiser in chief) after the event, it appears that all went well this year, which is a relief, so well done to everyone involved. Next years fly-in has already been put in the diary for Woburn Abbey, it is to be held on 19th, 20th and 21st August 2005. I will be there as usual for the atmosphere, the special de Havilland aircraft and of course the brilliant opportunities for photography.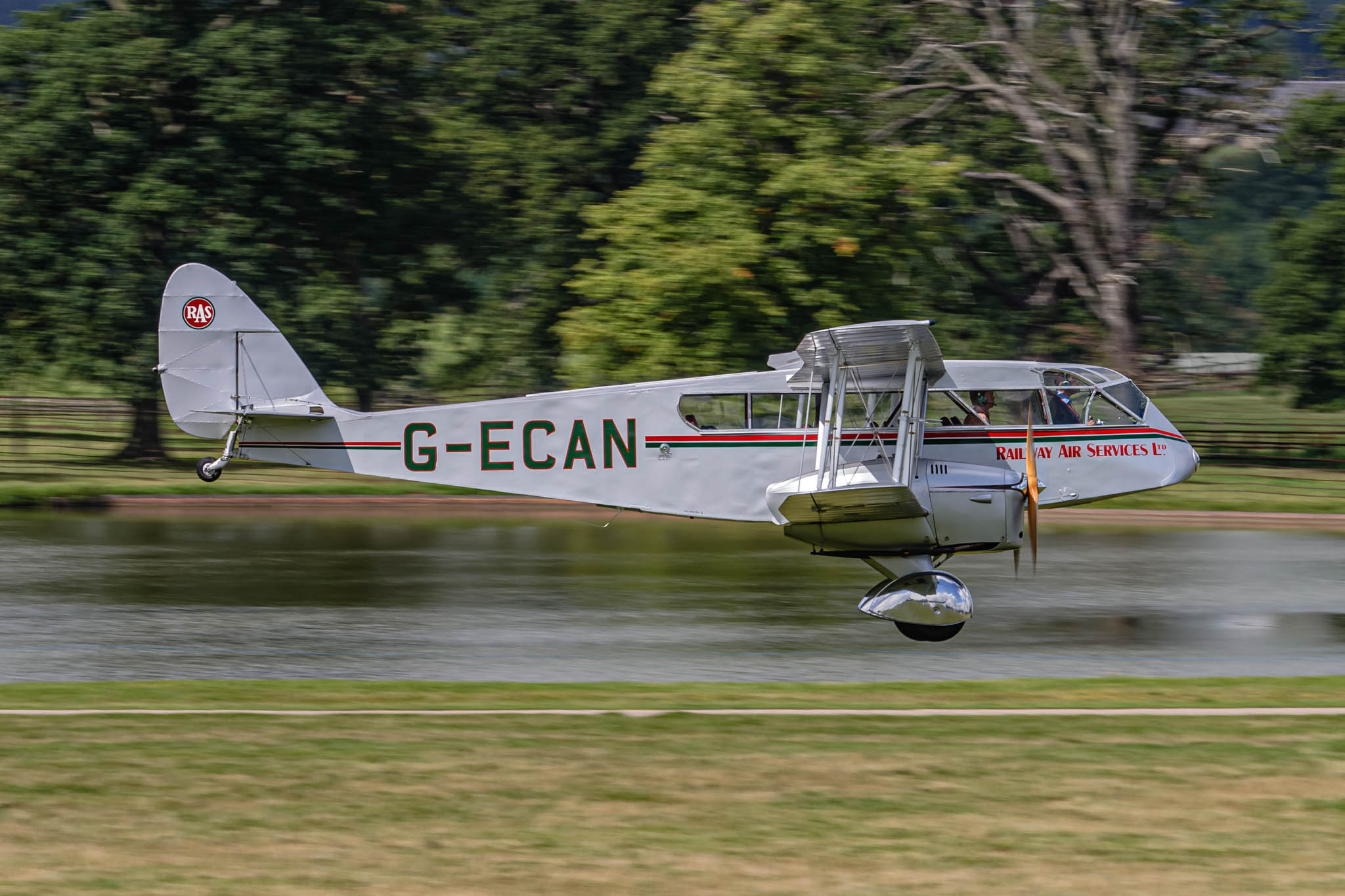 My favourite image for this years event is of the star of last years show,
DH.84 Dragon G-ECAN restored by Hants Light Plane Services last year and based at Chilbolton.
It is seen here arriving on Saturday morning. This year marks the 70th anniversary of the Dragon Rapide.
As always similar types of aircraft were parked together. This is especially good for the photographer. Even without the coverted 'photographer pass', members and the public were able to get very close to the aircraft. Members from 12:00 to 1:30pm were able to roam around the now quiet aircraft park, which contained 80 or so de Havilland types, including an ever growing number of Chipmunks graced this attractive grass airfield each day.
Left to right:
Various flying activities take place over the weekend. Jackeroo G-ANZT demonstrates 'limbo dancing', DH Moth Club style.
Tiger Moth G-BYTN as N-6720 'VX', its original RAF markings, has only been recently restored, so recently that the C of A licence only was issued the day before the show and so winning the Air-Britain award for the most recent restoration. The restoration started in 1992. It was also awarded the Arthur Hagg Trophy for the best Tiger Moth.
Hornet Moth W9385 YG-L accelerates down the grass runway. If you look closely you will see a large herd of deer grazing in the background. Woburn Abbey is a the stately home of the Dowager Duchess of Bedford, there is no other place like it on Moth Club weekend.
Once in the aircraft park, you can start to experiment with angles and light. DH.87B Hornet Moth G-ADLY and based in Holland, won the Peter Franklin for the best Leopard Moth or Hornet Moth.
Tiger Moth (T-6953 / G-ANNI) was one of the most colourful, in it's red/white chequered markings.
This shot typifies the sort of line-ups and the atmosphere they create at this photographers feast of vintage aircraft.
Left to right: DH.82a Tiger Moths (G-AZZZ, G-AFGZ, K4259 and G-ANEN).
Left to right: DH.82A Tiger Moths (T-7230, G-ADIA, G-AGHY and G-BHUM).
Left to right: DH.87B Hornet Moths (G-ADKK, G-ADLY, G-ADKC and W9385 registered G-ADND).
Left to right: DH.82A Tiger Moths (G-AJVE, G-ALWW, G-AIDS and N-6797).
Left to right: DH.90 Dragonfly (G-AEDU), DH.84 Dragon (G-ECAN) and DH.89a Dragon Rapide 6 (G-AIDL).
Left to right: DHC.1 Chipmunks (WB671/910, WG321/G, WG3nn and WP903).
Left to right: DH.82A Tiger Moths (G-AOJK, G-ANJD, G-APMX and R-5136).
Left to right: DHC.1 Chipmunk (G-AMUF), DH.83 Fox Moth (G-ACEJ), DH.60G Moth (G-AANV) and DH.85 Leopard Moth (G-ACUS).
Left to right: DH.82A Tiger Moths (NL750 / G-AOBH, G-ANMY / DE470 and T-6953 / G-ANNI).
Left to right: DH.82A Tiger Moths (G-AJHS, G-AODR AND G-AHUV).
Left to right: DH.87B Hornet Moths (G-AAZP and G-ADLY), DHC.1 Chipmunk (WP896) and Thruxton Jackeroo (G-ANZT).