Romanian Air Force - Forţele Aeriene Române
Boboc Air Base
Baza Aeriană 20
July 2006
Boboc is the 20th Air Base and the Air Force Application School 'Aurel Vlaicu', (Baza Aeriană 20 Şcoala de Aplicatie a Fortelor Aeriene 'Aurel Vlaicu' (S.A.p.F.A.)

The Aviation Officers School 'Aurel Vlaicu' was formed in 1953 and moved to Boboc in 1958. The 1989 Revolution meant that the communist training idiology was abandoned in favour of more western methods. In 1991 the Military Aviation School 'Aurel Vlaicu' became Military Aviation Institute "Aurel Vlaicu." The school now produces military aviation officers with technical engineering skills, pilots for military and civil aviation, air traffic controllers and meteorological officers for all aviation units.

At the time of our visit to Boboc, the airfield was being upgraded to NATO standard. The runway in particular needing repair, the work should be completed in 2007. The only aircraft active were the Antonov An-2Rs of 202 Squadron and the IAK-52s of 201 Squadron. The based IAR.316Bs were away at Tuzla preparing for RoIAS. 203 and 204 Squadrons with their IAR.99s were temporarily based at Lanca but have now moved to Bacau. The airfield had a number of the withdrawn Aero L.29 Delfins and Aero L.39ZA Albatros in open storage. 20th Air Base (Baza Aeriană 20) is currently the home of;
201 Squadron (201 Escadrila) with Iak-52,
202 Squadron (202 Escadrila) with An-2R,
203 Squadron (203 Escadrila) with IAR.99,
204 Squadron (204 Escadrila) with IAR.99,
205 Squadron (205 Escadrila) with MiG-21 LanceR,
206 Helicopter School Squadron (206 Escadrila Elicoptere Scoala) with IAR.316B.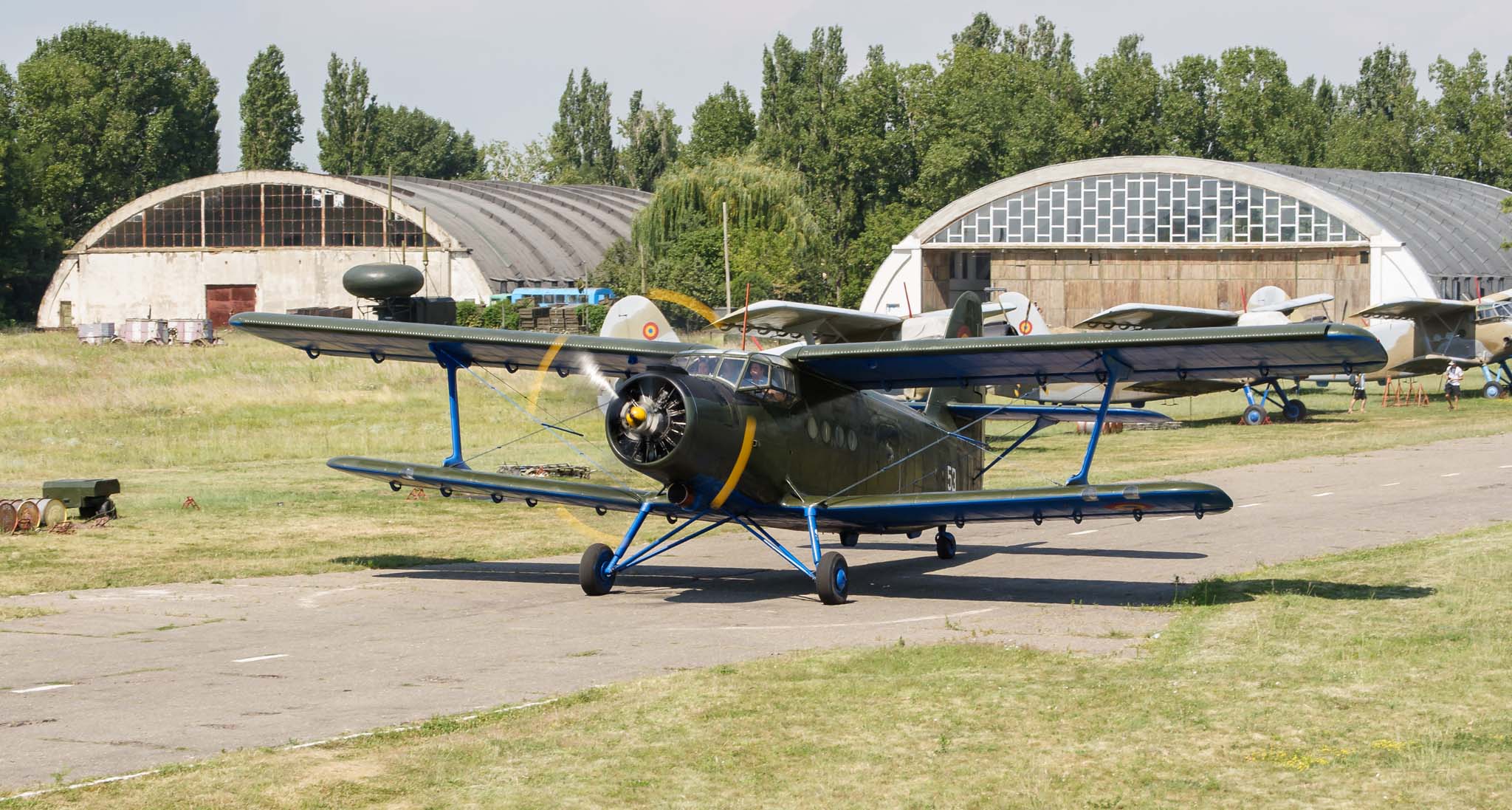 Antonov An-2R (53) taxis out for paradrop.
Described as the world's largest biplane, the prototype Antonov An-2 first flew on August 31, 1947. Production continued into the 1960s with many being manufactured in Poland and China. It is estimated that around 15,500 were built in total. The An-2 can fulfil a number of roles from light and VIP transport to crop-dusting. The Romanian Air Force received at least 24 An-2s with deliveries between 1977 and 1982. They are currently used for paratroop training and liaison duties. The An-2 has a crew of three and can carry ten passengers, reduced to six to eight when in a VIP configuration. Only seven An-2Rs appeared in service out of the 16 aircraft on the airfield.
Left to right: Antonov An-2Rs (53 and 59 x3).
Left to right: Antonov An-2R (59).
Left to right: Antonov An-2Rs (37 c/n 1G-12442, 60 x2 c/n 1G-19460, 53).
Left to right: Antonov An-2Rs (57 x2 c/n 1G-19457, 54 x2 c/n 1G-19454).
201 Squadron was formally the 21st Basic Training Squadron and is tasked to provide basic training for future helicopter and fixed wing pilots of the Air Force Academy at Boboc. The unit moved to Boboc in October 2003 from Brasov. They use the IAK-52, which is the Romanian designation of the Yakovlev Yak-52, which were built under license by Aerostar SA at Bacau. The first Iak-52 took to the air on May 20, 1978 and entering service with the RoAF in 1985. Of the 1,800 built in Romania most went to the USSR, but at least 30 are known to have served with the RoAF. Around 16 IAK-52 are still in service.
Left to right: Aerostar Iak-52s (40 x2, 43 and 39).
Withdrawn from service and in open storage
Left to right: Antonov An-2Rs (55 x3 c/n 1G-19455 and 35 c/n 1G-12135).
Left to right: An-2Rs (36 x3 c/n 1G-12443 and 56 c/n 1G-19456).
Left to right: An-2Rs (28 c/n 1G-12428 and 31 x3 c/n 1G-12431).
Aero L.29 Delfin (49) in open storage.
32 Aero L-39ZA Albatros were delivered in the early 1980s only a few remain in service. A number have been sold privately in the United States.
The first four L-29 Delfins were delivered to the Military Aviation School "Aurel Vlaicu" in 1966. By 1974 52 L-29 were in use as a basic jet trainer. They were built in Czechoslavakia by LET. At the end of their service in 2004 16 aircraft were still in operation. They were replaced by the IAR-99.
Left to right: Aero L-39ZA (124 x2) and Aero L-29 Delfins (30 and 44).
Left to right: L-29s (43, 28, 28 with 49 and 49).
Boboc - Wrecks and Relics


Many of the aircraft here have been withdrawn from service and are in outside storage. There are also a few preserved aircraft and a varied collection of ground instructional airframes with the technical school.
Left to right: Mikoyan Gurevich MiG-21PFM (8005), MiG-21F-13 (709) and SE.3160 (87).
Left to right: Mikoyan Gurevich MiG-155UTI (3020) and Aero L-29 Delfin (37).
The Technical Training School's aircraft
Left to right: MiG-21M (903) 'Dolly', MiG-21 LanceR-A (9701) and MiG-21PFM (4715).
Left to right: SA.330A Puma (09), IAR.316B (59) and MiG-21F-13 (706) 'Popic'.
Photography Note:

This was the third base on the Romanian Air Force press tour. Full access was given to all areas, with the exception of the centre of the grass airfield where An-2s were actively involved with paratroop training. Cockpit covers were removed for us. Some of us were able to stand on top of a fire engine which was on stand-by.