Romanian Air Force - Forţele Aeriene Române
Borcea-Fetesti Air Base
(Baza Aeriană 86)
July 2006
On August 9, 1958, the 206th Tactical Fighter Regiment moved to Borcea-Feteşti with its MiG-15 fighters. In 1959 it became the 86th Fighter Regiment eventually flying two squadrons of MiG-21F-13 from 1967 and a squadron of MiG-19s. In 1998 the 86th Fighter-Bomber Group (Grupul 86 Aviatie Vânatoare si Vânatoare-Bombardament) was the second unit to receive the MiG-21 LanceR. The unit had previously operated the MiG-21PFM and MF. From 1997 and in anticipation of joining NATO, some bases, including Borcea-Feteşti and their units started to adopt NATO procedures. In November 2002 Romania was invited to join NATO, formally entering on April 2, 2004. As part of NATO since 2004, Air Base 86 is now tasked with providing air defence for Romania and also to support NATO operations.
Borcea-Feteşti - Air Base 86 (Baza Aeriană 86 Bombardament)
861 Squadron (861 Escadrila Aviatie Vanatoare) operating the MiG-21 Lancer-C and B,
862 Squadron (862 Escadrila Aviatie Vanatoare) operating the MiG-21 Lancer-A and B.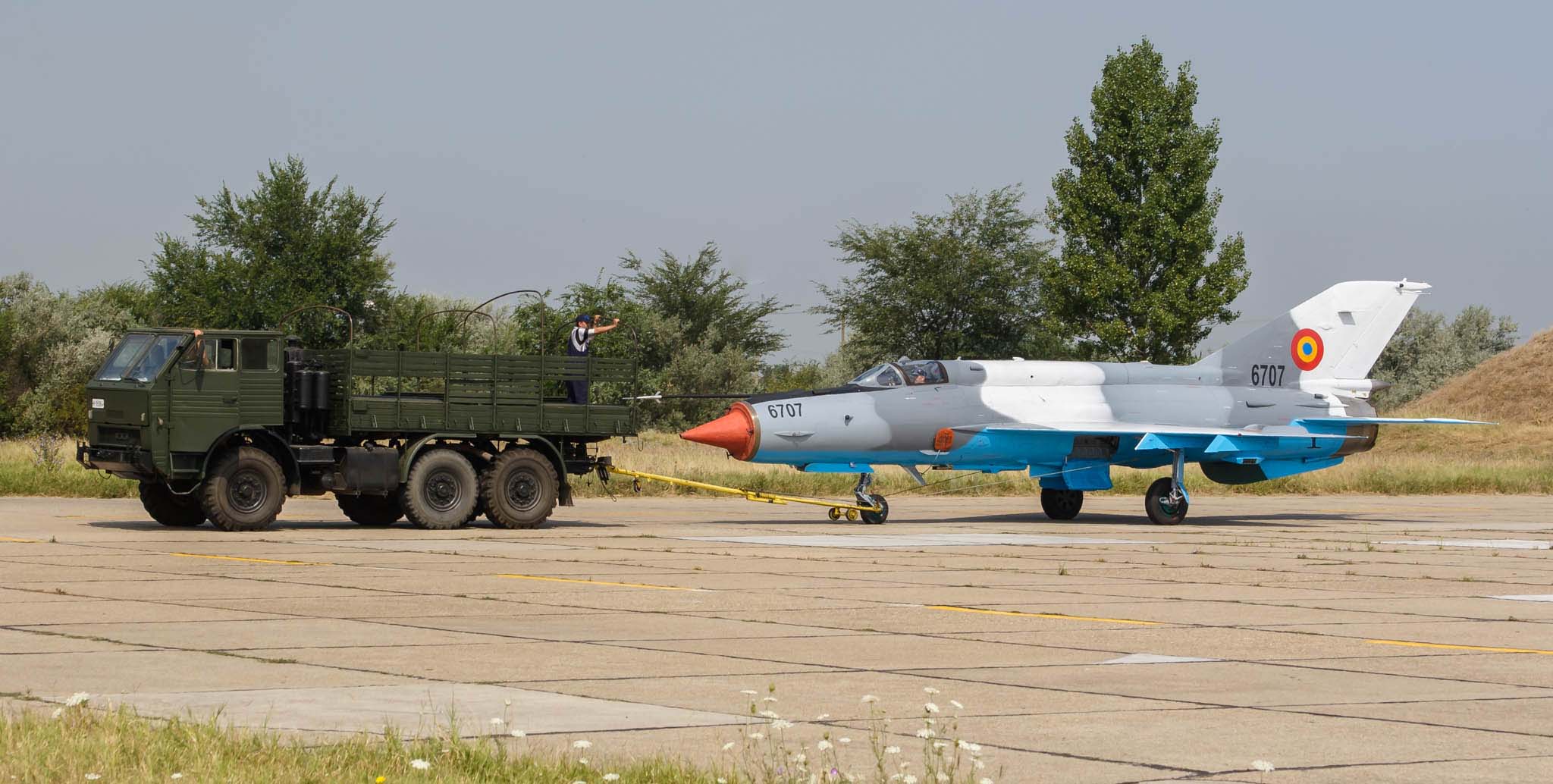 Mikoyan Gurevich-Aerostar MiG-21 LanceR-AC (6707) being towed back to the flight line after landing.
The MiG-21s on landing tended to shut down at the hard-standing at the end of the runway and towed back to the main ramp a while later.
Left to right: MiG-21 LanceR-As (911 and 913) and MiG-21 LanceR-C (6707 x2).
The Aerostar Iak-52s are based at Boboc with 201 Squadron (201 Escadrila).
Left to right: Aerostar Iak-52s (34 x2, 16 and 30).
Left to right: Aerostar Iak-52s (34 x2 and 153).
32 Aero L-39ZA Albatros were delivered in the early 1980s only a few remain in service. A number have been sold privately in the United States.
Left to right: Aero L-39ZA Albatros (145 x2, 146 and 149).
The IAR.99 was designed from 1975 to replace the L-29 Delfin. The RoAF started receiving the IAR-99 jet trainer from 1989 from Avioane Craiova. 17 were initially delivered (serials 701 to 717) and operated with the 67th Fighter Bomber Group/67th Advanced Operational Training and Flight Test Center based at Craiova, it was later disbanded in 2002. In 1997 a further four upgraded aircraft known as IAR-99C Soims were supplied (718-721). In 2004 Avioane Craiova and Elbit Systems were contracted to produce eight IAR-99C Soim's. These aircraft will be used both as a trainer and for Close Air Support (CAS) missions. They have been upgraded the Elbit Systems Advanced Combat Training System to assist in the transition to the upgraded MiG-21 LanceR.
Recently a number of upgraded IAR-99s were operating with the Scoala de Aplicatie a Fortelor Aeriene (S.A.p.A) at Boboc before they were forced to move to Bacau to allow much need runway repairs to be carried out at their home base.
Left to right: IAR-99s (720, 716 and 719 x2).
Left to right: IAR-99s (722/'318', 707 x3).
Left to right: IAR.330 SOCAT (53) arrived with the Head of the Air Force and departed an hour later, it is based at Otopeni.
Shooting into the sun and at some distance was not easy. This LanceR-C (5801) was taking off to join up with the flypast formation.
Fetesti - Wrecks and Relics
Left to right: Harbin/Hong H-5 (308) one of six stored here, the rest were at the far end. The Hong-5s were in service with 38 Reconnaissance Squadron (Escadrila 38 Reconuastere) from Air Base 86 at Borcea-Fetesti from 2000 till the last flight on August 26, 2001. Another four of the interesting aircraft were found at Bacau where they were maintained.
Photography Note:

This was the seventh air base tour of our week in Romania. The active aircraft were involved with practising for the following days flypast at Mihail Kogalniceanu Air Base for RoIAS.