Romanian Air Force - Forţele Aeriene Române
Otopeni Air Base / Henry Coanda IAP
(Baza 90 Aviatie de Transport)
July 2006
The first Romanian aviation transport unit was created in 1920 as a department within the Ministry of Communication. Otopeni airport was constructed around 50 years ago and in 1949 the 49th Transport Division was created. By 1971 the 50th Transport Fleet was also formed, with the 99th Transport Group set up with An-24, An-26, An-30 and IAR-316, Mi-8 helicopters in 1988.



As part of the 1995 restructuring of the Air Force, the 90th Transport Base was formed and in 1996 "Comandor Aviator Gheorghe Banciulescu" was added to its title. Moving towards NATO interoperability two Lockheed C-130B Hercules were delivered in October 1996, two more were added in the following year. An ex-Italian Air Force C-130H joined the fleet in 2004. Also in 2004 the 61st Helicopter Regiment was transferred to the 90th Transport Base, with a compliment of IAR.330 Puma SOCAT becoming the 904th and 905th Squadron. IAR.330L's of the 903rd Squadron are responsible for MEDEVAC operations. From 2004 many missions were performed outside Romania's border including; 'Enduring Freedom' in Afghanistan, Iraq and other humanitarian missions. Also 'ALTHEA 2005' in Bosnia-Hertzegovina as Alpha Detachment.

90th Transport Base (Baza 90 Aviatie de Transport 'Gheorghe Banciulescu') is currently comprised of;
901st Transport Squadron (901 Escadrila de Transport) with the Lockheed C-130B/H Hercules,
902nd Transport and Reconnaissance Squadron (2 Escadrila de Transport/Recunoastere) with An-24RT, An-26 and An-30,
903rd Squadron (903 Escadrila) with the IAR-330L Puma,
904th Squadron (904 Escadrila) with the IAR-330 Puma SOCAT,
905th Squadron (905 Escadrila) with the IAR-330 Puma SOCAT.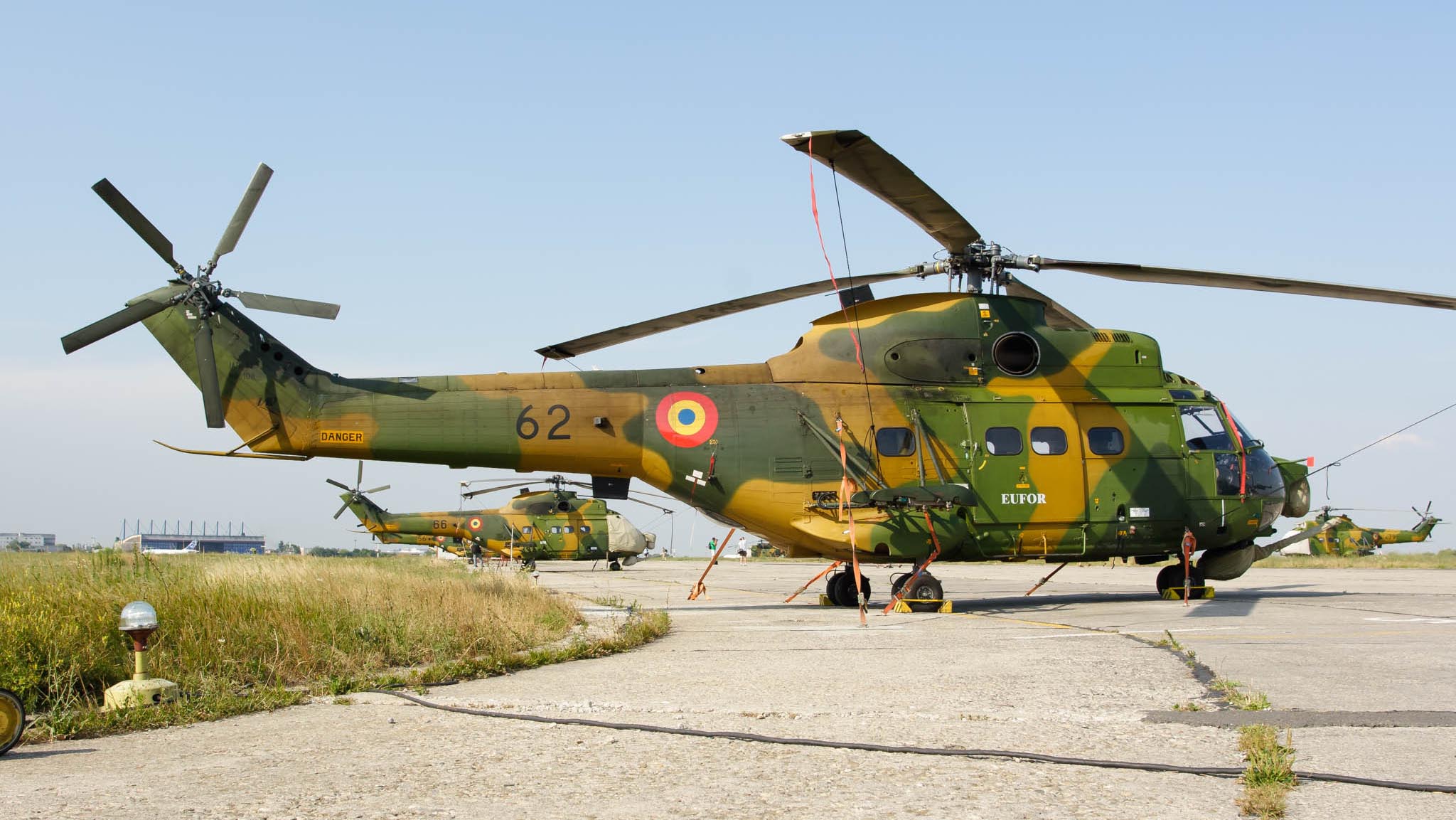 IAR.330 SOCAT (62) the 'EUFOR' title represents its deployment to Boznia-Herzegovina on peace keeping duties.
The IAR.330 Puma was license built in Romania from 1977 with 104 produced by IAR SA Ghimbay near Brasov. 24, plus another six, were upgraded for a transport and attack role. The SOCAT project enlisted the participation of Elbit systems from Israel. The IAR.330 SOCAT(Sistemul Optoelectronic de Cautare si Lupta Anti-Tanc - the Optoelectronic Anti-Tank Seek and Combat System) system claims technology more advanced than the AH-64 Apache's, especially regarding the cannon and targeting systems. It includes; a target acquisition and weapons control system and an Electro Optical Pod (EOP) with Forward Looking infrared (FLIR) with a laser range finder. The MIDASH Helmet Mounted Displays and Helmet Mounted Sight System with two image intensifier's, enables the pilot to 'follow' the missiles to their targets. night-vision goggles give the helicopter night-fighting capacity with self-defense taken care of by chaff and flare dispensers. Apart from Close Air Support (CAS) missions the SOCAT Puma is designed for the Combat Search and Rescue (CSAR) role.
Left to right: IAR.330 SOCAT (62), IAR.330L Puma's (55 and 96) and IAR.330L (03) which crashed in southern Romania on October 24, 2006, tragically killing the crew of three. Click for full story.
Antonov An-30 (1105) 'Open Skies'
Six Antonov An-24RT were delivered from 1970, with 12 An-26 arriving from 1974. Three An-30s were delivered in 1978, one of which was employed on 'Open Skies' missions. This Antonov transport fleet is now ageing and a number of aircraft are now in open store here. The current operational fleet of one An-24 and four An-26s will be out of hours by 2009. These aircraft are not NATO compliant and are lacking identification friend-or-foe (IFF) and countermeasures equipment and so are unsuitable for international operations. It is expected that the Alenia C-27J Spartan will be the aircraft chosen to replace the remaining Antonov aircraft.
Left to right: An-26s (801, 808, 810 and 809 departing from Câmpia Turzii).
Left to right: VIP transport SA.365N Dauphin (201) arrived in the early evening. An-26 (606, 801).
Left to right: Antonov An-30 (1105) 'Open Skies', An-30 (1104), Lockheed C-130B Hercules (5927).
Otopeni - Wrecks and Relics
Left to right: Lockheed C-130B Hercules (6150), Mil Mi-8T (723), Antonov An-24TV (1912) and Antonov An-24RT (5022).
Left to right: Withdrawn from service Antonov An-26s (706, 307 and 207).
Photography Note: This was the fourth base on the Romanian Air Force press tour and was arranged at last minute. We were fortunate be to able to go across to the storage area.